Abstract
Gall mite (Cecidophyopsis ribis) is the most serious pest of blackcurrant (Ribes nigrum L.), causing the damaging condition known as 'big bud' and also transmitting blackcurrant reversion virus (BRV) within and between plantations. The identification of resistant germplasm is at present a time-consuming and expensive process, dependent on field infestation plots. Resistance based on gene Ce introgressed from gooseberry has been used in UK breeding programmes for blackcurrant. Using a bulked segregant analysis, 90 AFLP primer combinations were screened and a linkage map constructed around the resistance locus controlled by Ce. Sixteen of the primer combinations produced a fragment in the resistant bulked progeny and the gall mite-resistant parent, but not in the susceptible bulked progeny and parent; subsequent testing on individual progeny identified an AFLP fragment closely linked to gall mite resistance. This fragment, designated E41M88-280, was converted to a PCR-based marker based on sequence-specific primers, amplifying only in resistant individuals. Validation of this marker across a range of susceptible and resistant blackcurrant germplasm with different genetic backgrounds confirmed its reliability in the identification of mite-resistant germplasm containing gene Ce. The conversion of an AFLP fragment to a sequence-based PCR marker simplifies its application and therefore increases its utility for selection of mite-resistant germplasm in high-throughput breeding programmes for blackcurrant.
This is a preview of subscription content, log in to check access.
Access options
Buy single article
Instant access to the full article PDF.
US$ 39.95
Price includes VAT for USA
Subscribe to journal
Immediate online access to all issues from 2019. Subscription will auto renew annually.
US$ 199
This is the net price. Taxes to be calculated in checkout.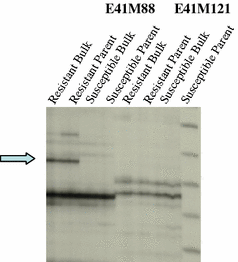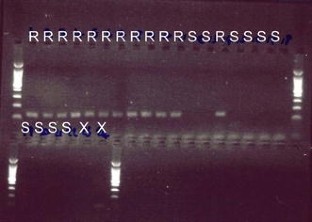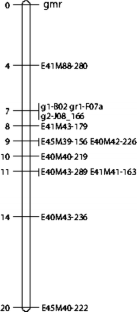 References
Austin DK, Hall KJ, Keep E, MacFie HJH (1983) Metabolic profiling as a potential aid to blackcurrant breeding. In: Proceedings of 10th international congress of plant protection, vol 2, p 835

Brennan RM (1996) Currants and gooseberries. In: Janick J, Moore JN (eds) Fruit breeding, vol II: Vine and small fruits crops. Wiley, New York, pp 191–295

Brennan RM, Robertson G, McNicol J, Fyffe L, Hall JE (1992) The use of metabolic profiling techniques in the identification of gall mite-resistant genotypes of black currant (Ribes nigrum L.). Ann Appl Biol 121:503–509

Brennan RM, Jorgensen L, Woodhead M, Russell J (2002) Development and characterisation of SSR markers in Ribes species. Mol Ecol Notes 2:327–330

Brennan RM, Jorgensen L, Hackett C, Woodhead M, Gordon SL, Russell J (2008a) The development of a genetic linkage map of blackcurrant (Ribes nigrum L.) and the identification of regions associated with key fruit quality and agronomic traits. Euphytica 161:19–34

Brennan RM, Russell J, Stewart D (2008b) Developments and progress in Ribes breeding. Acta Hort 777:49–56

Bus V, Ranatunga C, Gardiner S, Basset H, Rikkerink E (2000) Marker-assisted selection for pest and disease resistance in the New Zealand apple breeding programme. Acta Hort 538:541–547

Claverie M, Bosselut N, Lecouls AC, Voisin R, Poizat C, Dirlewanger E, Kleinhentz M, Lafargue B, Laigret F, Esmenjaud D (2004) Location of independent root-knot nematode resistance genes in plum and peach. Theor Appl Genet 108:765–773

Dirlewanger E, Graziano E, Joobeur T, Garriga-Calderé F, Cosson P, Howad W, Arús P (2004) Comparative mapping and marker-assisted selection in Rosaceae fruit crops. Proc Nat Acad Sci 101:9891–9896

Dussie CM, Quint M, Xu ML, Melchinger AE, Lubberstedt T (2002) Conversion of AFLP fragments tightly linked to SCMV resistance genes Scmv1 and Scmv2 into simple PCR-based markers. Theor Appl Genet 105:1190–1195

Goffe WL, Ferrier GD, Rogers J (1994) Global optimization of statistical functions with simulated annealing. J Econometrics 60:65–99

Gordon SC (2008) Raspberry and currant entomology—the drivers for change in Europe. Acta Hort 777:301–310

Grattapaglia D, Sederoff R (1994) Genetic linkage maps of Eucalyptus grandis and Eucalyptus urophylla using a pseudotestcross mapping strategy and RAPD markers. Genetics 137:1121–1137

Hackett CA, Pande B, Bryan GJ (2003) Constructing linkage maps in autotetraploid species using simulated annealing. Theor Appl Genet 106:1107–1115

Hemmat M, Brown SK, Weeden NF (2002) Tagging and mapping scab resistance genes from R12740–7A apple. J Am Soc Hort Sci 127:365–370

Herr R (1986) Investigations into the resistance mechanisms of the genus Ribes against the gall mite Cecidophyopsis ribis. In: Labeyrie V, Fabres G, Lachaise D (eds) Insects–plants. Junk, Dordrecht, pp 277–282

Jones AT (2002) Important virus diseases of Ribes, their diagnosis, detection and control. Acta Hort 585:279–286

Jones AT, Brennan RM, McGavin WJ, Lemmetty A (1998) Galling and reversion disease incidence in a range of blackcurrant genotypes, differing in resistance to the blackcurrant gall mite (Cecidophyopsis ribis) and blackcurrant reversion disease. Ann Appl Biol 133:375–384

Knight RL, Keep E, Briggs JB, Parker JH (1974) Transference of resistance to blackcurrant gall mite, Cecidophyopsis ribis, from gooseberry to blackcurrant. Ann Appl Biol 76:123–130

Lanham PG, Brennan RM (1999) Genetic characterisation of gooseberry (Ribes subgenus Grossularia) germplasm using RAPD, ISSR and AFLP markers. J Hort Sci Biotech 74:361–366

Lerceteau-Köhler E, Roudeillac P, Markocic M, Guérin G, Praud K, Denoyes-Rothan B (2002) The use of molecular markers for durable resistance breeding in the cultivated strawberry (Fragaria × ananassa). Acta Hort 567:615–618

Meksem K, Ruben E, Hyten D, Triwitayakorn K, Lightfoot DA (2001) Conversion of AFLP bands into high-throughput DNA markers. Mol Genet Genomics 265:207–214

Rozen S, Skaletsky HJ (1996, 1997) PRIMER 3. Code available at http://www-genome.wi.mit.edu/genome_software/other/primer3.html

Sabitov AS, Vedenskaya IO, Hummer KE (2002) Ribes from the Russian far East: perspectives for breeding. Acta Hort 585:161–166

Shan X, Blake TK, Talbert LE (1999) Conversion of AFLP markers to sequence-specific PCR markers in barley and wheat. Theor Appl Genet 98:1072–1078

Van Ooijen JW, Voorrips RE (2001) JoinMap® 3.0, Software for the calculation of genetic linkage maps. Plant Research International, Wageningen, The Netherlands

Voorrips RE (2002) MapChart: software for the graphical presentation of linkage maps and QTLs. J Heredity 93:77–78

Weber CA, Pattison J, Samuelian S (2008) Marker-assisted selection for resistance to root rot in red raspberry caused by Phytophthora fragariae var rubi. Acta Hort 777:311–316

Xu ML, Korban SS (2002) AFLP-derived SCARs facilitate construction of a 1.1 Mb sequence-ready map of a region that spans the Vf locus in the apple genome. Plant Mol Biol 50:803–818
Acknowledgments
Financial support for this work was provided by the Scottish Government Rural and Environment Research and Analysis Directorate.
Additional information
Communicated by H. Nybom.
About this article
Cite this article
Brennan, R., Jorgensen, L., Gordon, S. et al. The development of a PCR-based marker linked to resistance to the blackcurrant gall mite (Cecidophyopsis ribis Acari: Eriophyidae). Theor Appl Genet 118, 205–211 (2009). https://doi.org/10.1007/s00122-008-0889-x
Received:

Accepted:

Published:

Issue Date:
Keywords
Gall

Mite Infestation

Resistant Germplasm

AFLP Fragment

Mite Resistance