Abstract
A better understanding of the genetic factors controlling grain yellow pigment content (GYPC) is important for both pasta (high GYPC) and bread wheat (low GYPC) quality improvement. Quantitative trait loci (QTL) for GYPC have been mapped repeatedly on the distal regions of chromosome arms 7AL and 7BL in wheat, and the Phytoene synthase 1 (PSY-1) gene located in this region has been proposed as a candidate gene. We show here that PSY-E1, the tall wheatgrass orthologue, is completely linked to differences in GYPC, and that selection for white endosperm mutants in recombinant lines carrying this gene resulted in the identification of a mutation in a conserved amino acid of PSY-E1. These results, together with the association between GYPC and allelic differences in PSY-1 in hexaploid wheat, suggest that this gene plays an important role in the determination of GYPC. However, a second white endosperm mutant previously mapped to chromosome arm 7EL showed no mutations in PSY-E1 suggesting the existence of additional gene(s) affecting GYPC in this chromosome region. This hypothesis was further supported by the mapping of QTL for GYPC on 7AL proximal to PSY-1 in a cross between pasta wheat varieties UC1113 and Kofa. Interestingly, the Kofa PSY-B1 allele showed unusually high levels of polymorphisms as a result of a conversion event involving the PSY-A1 allele. In summary, our results support the hypothesis that allelic differences in PSY-1 and at least one additional gene in the distal region of the long arm of homoeologous group 7L are associated with differences in GYPC.
This is a preview of subscription content, log in to check access.
Access options
Buy single article
Instant access to the full article PDF.
US$ 39.95
Price includes VAT for USA
Subscribe to journal
Immediate online access to all issues from 2019. Subscription will auto renew annually.
US$ 199
This is the net price. Taxes to be calculated in checkout.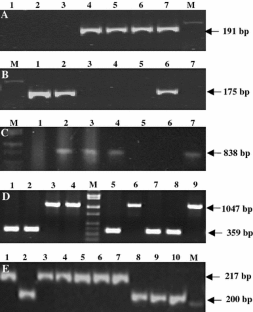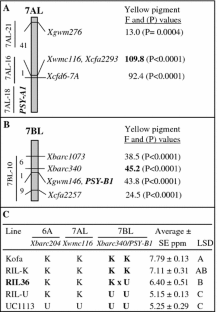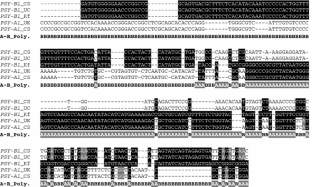 References
Atienza SG, Avila CM, Martin A (2007) The development of a PCR-based marker for PSY1 from Hordeum chilense, a candidate gene for carotenoid content accumulation in tritordeum seeds. Aust J Agric Res 58:767–773

Carrera A, Echenique V, Zhang W, Helguera M, Manthey F, Schrager A, Picca A, Cervigni G, Dubcovsky J (2006) A deletion at the Lpx-B1 locus is associated with low lipoxygenase activity and improved pasta color in durum wheat (Triticum turgidum ssp. durum). J Cereal Sci 45:67–77

Cenci A, Chantret N, Kong X, Gu Y, Anderson OD, Fahima T, Distelfeld A, Dubcovsky J (2003) Construction and characterization of a half million clone BAC library of durum wheat (Triticum turgidum ssp. durum). Theor Appl Genet 107:931–939

Cenci A, Somma S, Chantret N, Dubcovsky J, Blanco A (2004) PCR identification of durum wheat BAC clones containing genes coding for carotenoid biosynthesis enzymes and their chromosome localization. Genome 47:911–917

Ceoloni C, Forte P, Ciaffi M, Nenno M, Bitti A, De Vita P, D'Egidio MG (2000) Chromosomally engineered durum wheat: the potential of alien gene introgressions affecting disease resistance and quality. In: Royo C, Nachit MM, Di Fonzo N, Araus JL (eds) Durum wheat improvement in the Mediterranean region: new challenges, vol 40. International centre for advanced Mediterranean agronomic studies, Zaragoza, Spain, pp 363–371

DellaPenna D, Pogson BJ (2006) Vitamin synthesis in plants: tocopherols and carotenoids. Annu Rev Plant Biol 57:711–738

Elouafi I, Nachit MM, Martin LM (2001) Identification of a microsatellite on chromosome 7B showing a strong linkage with yellow pigment in durum wheat (Triticum turgidum L. var. durum). Hereditas 135:255–261

Gallagher CE, Matthews PD, Li FQ, Wurtzel ET (2004) Gene duplication in the carotenoid biosynthetic pathway preceded evolution of the grasses. Plant Physiol 135:1776–1783

He XY, Zhang YL, He ZH, Wu YP, Xiao YG, Ma CX, Xia XC (2008) Characterization of Phytoene synthase 1 gene (Psy1) located on common wheat chromosome 7A and development of a functional marker. Theor Appl Genet 116:213–221

Henikoff S, Henikoff JG (1992) Amino-acid substitution matrices from protein blocks. Proc Natl Acad Sci USA 89:10915–10919

Hentschel V, Kranl K, Hollmann J, Lindhauer MG, Bohm V, Bitsch R (2002) Spectrophotometric determination of yellow pigment content and evaluation of carotenoids by high-performance liquid chromatography in durum wheat grain. J Agric Food Chem 50:6663–6668

Knott DR (1968) Translocations involving Triticum chromosomes and Agropyron chromosomes carrying rust resistance. Can J Genet Cytol 10:695–696

Knott DR (1980) Mutation of a gene for yellow pigment linked to Lr19 in wheat. Can J Genet Cytol 22:651–654

Knott DR (1984) The genetic nature of mutations of a gene for yellow pigment linked to Lr19 in 'Agatha' wheat. Can J Genet Cytol 26:392–393

Lander ES, Green P, Abrahamson J, Barlow A, Daly MJ, Lincoln SE, Newburg L (1987) MAPMAKER: an interactive computer package for constructing primary genetic linkage maps of experimental and natural populations. Genomics 1:174–181

Lindgren LO, Stalberg KG, Hoglund AS (2003) Seed-specific overexpression of an endogenous Arabidopsis Phytoene synthase gene results in delayed germination and increased levels of carotenoids, chlorophyll, and abscisic acid. Plant Physiol 132:779–785

Mares DJ, Campbell AW (2001) Mapping components of flour and noodle colour in Australian wheat. Aust J Agric Res 52:1297–1309

Parker GD, Langridge P (2000) Development of a STS marker linked to a major locus controlling flour colour in wheat (Triticum aestivum L.). Mol Breed 6:169–174

Parker GD, Chalmers KJ, Rathjen AJ, Langridge P (1998) Mapping loci associated with flour colour in wheat (Triticum aestivum L.). Theor Appl Genet 97:238–245

Pozniak CJ, Knox RE, Clarke FR, Clarke JM (2007) Identification of QTL and association of a Phytoene synthase gene with endosperm colour in durum wheat. Theor Appl Genet 114:525–537

Prins R, Marais GF (1998) An extended deletion map of the Lr19 translocation and modified forms. Euphytica 103:95–102

Prins R, Marais GF, Janse BJH, Pretorius ZA, Marais AS (1996) A physical map of the Thinopyrum-derived Lr19 translocation. Genome 39:1013–1019

SAS Institute I (2006) SAS user's guide, version 9.1. SAS Institute Inc., Cary

Sears ER (1954) The aneuploids of common wheat, vol 572. Research bulletin, University of Missouri, Agricultural Experiment Station, pp 1–58

Sears ER (1972a) Agropyron-wheat transfers through induced by homoeologous pairing. Can J Genet Cytol 14:736

Sears ER (1972b) Chromosome engineering in wheat, vol 4. Stadler Symposia, Columbia, pp 23–38

Sharma D, Knott DR (1966) The transfer of leaf rust resistance from Agropyron to Triticum by irradiation. Can J Genet Cytol 8:137–143

Slade AJ, Fuerstenberg SI, Loeffler D, Steine MN, Facciotti D (2005) A reverse genetic, nontransgenic approach to wheat crop improvement by TILLING. Nat Biotechnol 23:75–81

Zhang W, Lukaszewski A, Kolmer J, Soria M, Goyal S, Dubcovsky J (2005) Molecular characterization of durum and common wheat recombinant lines carrying leaf rust resistance (Lr19) and yellow pigment (Y) genes from Lophopyrum ponticum. Theor Appl Genet 111:573–582
Acknowledgments
The authors thank Dr D.R. Knott for the seeds of the white endosperm EMS mutants, Dr J. Dvorak for the "Cappelli mutant" seeds, Dr M. Maccaferri and Dr R. Tuberosa for the durum germplasm, Dr B. Gill for the Chinese Spring deletion lines, Dr A. Lukaszewski for the 7E recombinant lines, and Dr H. Bockelman at the National Small Grain Collection for all the additional germplasm used in this study. The authors also thank Dr C. Uauy and PhD student I. Lowe for their valuable suggestions and careful review of the manuscript. The project was supported by the National Research Initiative of USDA's Cooperative State Research, Education and Extension Service, CAP grant number 2006-55606-16629.
Electronic supplementary material
Below is the link to the electronic supplementary material.
About this article
Cite this article
Zhang, W., Dubcovsky, J. Association between allelic variation at the Phytoene synthase 1 gene and yellow pigment content in the wheat grain. Theor Appl Genet 116, 635–645 (2008). https://doi.org/10.1007/s00122-007-0697-8
Received:

Accepted:

Published:

Issue Date:
Keywords
Quantitative Trait Locus

Hexaploid Wheat

Chinese Spring

Tetraploid Wheat

Recombinant Line