Abstract
This study describes the discovery and characterization of lipoxygenase-1 (LOX-1) null mutants in barley. Six lines did not exhibit any significant LOX activity in the silenced seed extract. Immunological analysis showed that these lines lacked the authentic LOX-1 protein. Genetic analysis of the F2 population revealed that this trait was governed by a single recessive gene located at the LoxA locus on chromosome 4H. The six LOX-1 null mutants shared similar features and the same unique polymorphism in a structural gene region, implying that these mutants might be derived from the same ancestral origin.
This is a preview of subscription content, log in to check access.
Access options
Buy single article
Instant access to the full article PDF.
US$ 39.95
Price includes VAT for USA
Subscribe to journal
Immediate online access to all issues from 2019. Subscription will auto renew annually.
US$ 199
This is the net price. Taxes to be calculated in checkout.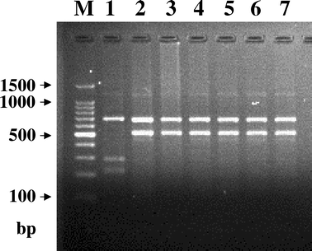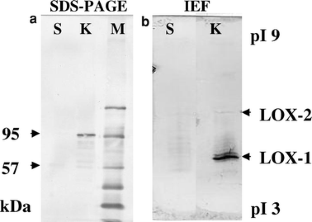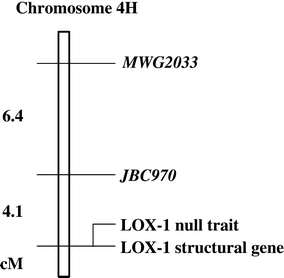 References
Bauer C, Grosch W, Weiser H, Jugel H (1977) Enzymatic oxidation of linoleic acid: formation of bittertasting fatty acids. Z Lebensm Unters-Forsh 164:171–176

Baxter ED (1982) Lipoxydase in malting and mashing. J Inst Brew 88:390–396

Davies CS, Nielsen NC (1986) Genetic analysis of a null-allele for lipoxygenase-2 in soybean. Crop Sci 26:460–463

Doderer A, Kokkelink I, van Der Veen S, Valk B, Schram AW, Douma AC (1992) Purification and characterization of two lipoxygenase isozymes from germinating barley. Biochem Biophys Acta 1120:97–104

Drost BW, van den Berg R, Freijee FJM, van der Velde EG, Holleman SM (1990) Flavor stability. J Am Soc Brew Chem 48:124–131

Graner A, Jahoor A, Schondelmaier J, Siedler H, Pillen K, Fischback G, Wenzel G, Herrmann RG (1991) Construction of an RFLP map of barley. Theor Appl Genet 83:250–256

Hildebrand DF, Hymowitz T (1982) Inheritance of lipoxgenase-1 activity in soybean seeds. Crop Sci 22:851–853

Jiang ZY, Woollard ACS, Wollff SP (1991) Lipid hydroperoxide measurement of Fe2+ in the presence of Xylenol Orange. Comparison with the TBA assay and an iodometric method. LIPIDS 26:853–856

Kaneda H, Takashio M, Shinotsuka K, Okahata Y (2001) Adsorption and desorption of beer components from a lipid membrane related to sensory evaluation. J Biosci Bioeng 92:221–226

Kaneko T, Hirota N, Yokoi S, Kanatani R, Ito K (1999) Molecular marker for protein Z content in barley (Hordeum vulgare L.). Breed Sci 49:69–74

Kaneko T, Zhang WS, Ito K, Takeda K (2001) Worldwide distribution of β-amylase thermostability in barley. Euphytica 121:223–228

Kitamura K, Davies CS, Kaizuma N, Nielsen NC (1983) Genetic analysis of a null-allele for lipoxygenase-3 in soybean seeds. Crop Sci 23:924–927

Kobayashi N, Kaneda H, Kano Y, Koshino S (1993) The production of linoleic acid hydroperoxides during mashing. J Ferment Bioeng 76:371–375

Kobayashi N, Segawa S, Umemoto S, Kuroda H, Kaneda H, Mitani Y, Watari J, Takashio M (2002) A new method for evaluating foam-damaging effect by fatty acid. J Am Soc Brew Chem 60:37–41

Kuroda H, Kobayashi N, Kaneda H, Watari J, Takashio M (2002) Characterization of factors that transform linoleic acid into di- and trihydroxyoctadecanoic acid in mash. J Biosci Bioeng 93:73–77

Kuroda H, Furusyo S, Maeba H, Takashio M (2003) Characterization of factors involved in the production of 2(E)-nonenal during mashing. Biosci Biotechnol Biochem 67:691–697

Lander ES, Green P, Abrahamson J, Barlow A, Daly MJ, Lincoln SE, Newburg L (1987) MAPMAKER: an interactive computer package for constructing primary genetic linkage map of experimental and natural populations. Genomics 1:174–181

Meilgaard MC (1975) Flavor chemistry of beer: Part II: Flavor and threshold of 239 aroma volatiles. MBAA Tech Q 12:151–168

Miyazaki C, Osanai E, Saeki K, Hirota N, Ito K, Konishi T, Saito A (2000) A barley linkage map using an F2 population compared with a map based on female recombination-derived double haploid lines. Breed Sci 50:241–250

Narvel JM, Fehr WR, Welke GA (1998) Agromnomic and seed traits of soybean lines lacking seed lipoxygenases. Crop Sci 38:926–928

Santino A, De Paolis A, Gallo A, Quarta A, Casey R, Mita G (2003) Biochemical and molecular characterization of hazelnut (Corylus avellana) seed lipoxygenases. Eur J Biochem 270:4365–4375

Takahashi R (1955) The origin and evolution of cultivated barley. Adv Genet 7:227–266

Van Mechelen JR, Smit M, Douma AC, Rouster J, Cameron-Mills V, Heidekamp F, Valk BE (1995) Primary structure of a lipoxygenase from barley grain as deduced from its cDNA sequence. Biochem Biophys Acta 1254:221–225

Van Mechelen JR, Schuurink RC, Smits M, Graner A, Douma AC, Sedee NJA, Schmitt NF, Valk BE (1999) Molecular characterization of two lipoxygenases from barley. Plant Mol Biol 39:1283–1289

Yabuuchi S (1976) Occurrence of a new lipoxygenase in germinating barley embryo. Agric Biol Chem 40:1987–1992

Yabuuchi S, Yamashita H (1979) Gas chromatographic determination of trihydroxyoctadecanoic acid in beer. J Inst Brew 85:216–218

Yang G, Schwarz PB, Vick BA (1993) Purification and characterzation of lipoxygenase isozymes in germinating barley. Cereal Chem 70:589–595

Yang G, Schwarz PB (1995) Activity of lipoxygenase isozymes during malting and mashing. J Am Brew Chem 53:45–49
Acknowledgements
We thank Dr. A. Graner for generously providing the RFLP probes. We also thank Mr. Syouichi Arai, Mr. Wataru Saito, Dr. Ryouichi Kanatani and Dr. Kensuke Ogushi for their excellent maintenance of the plant materials.
Additional information
Communicated by J. W. Snape
About this article
Cite this article
Hirota, N., Kaneko, T., Kuroda, H. et al. Characterization of lipoxygenase-1 null mutants in barley. Theor Appl Genet 111, 1580–1584 (2005). https://doi.org/10.1007/s00122-005-0088-y
Received:

Accepted:

Published:

Issue Date:
Keywords
Barley

Lipoxygenase-1

Null mutant

Gene mapping

Molecular marker