Abstract
Using amplified fragment length polymorphisms (AFLPs) and random amplified polymorphic DNAs (RAPDs), we have tagged and mapped Gm8, a gene conferring resistance to the rice gall midge (Orseolia oryzae), a major insect pest of rice, onto rice chromosome 8. Using AFLPs, two fragments, AR257 and AS168, were identified that were linked to the resistant and susceptible phenotypes, respectively. Another resistant phenotype-specific marker, AP19587, was also identified using RAPDs. SCAR primers based on the sequence of the fragments AR257 and AS168 failed to reveal polymorphism between the resistant and the susceptible parents. However, PCR using primers based on the regions flanking AR257 revealed polymorphism that was phenotype-specific. In contrast, PCR carried out using primers flanking the susceptible phenotype-associated fragment AS168 produced a monomorphic fragment. Restriction digestion of these monomorphic fragments revealed polymorphism between the susceptible and resistant parents. Nucleotide BLAST searches revealed that the three fragments show strong homology to rice PAC and BAC clones that formed a contig representing the short arm of chromosome 8. PCR amplification using the above-mentioned primers on a larger population, derived from a cross between two indica rice varieties, Jhitpiti (resistant parent) and TN1 (susceptible parent), showed that there is a tight linkage between the markers and the Gm8 locus. These markers, therefore, have potential for use in marker-aided selection and pyramiding of Gm8 along with other previously tagged gall midge resistance genes [Gm2, Gm4(t), and Gm7].
This is a preview of subscription content, log in to check access.
Access options
Buy single article
Instant access to the full article PDF.
US$ 39.95
Price includes VAT for USA
Subscribe to journal
Immediate online access to all issues from 2019. Subscription will auto renew annually.
US$ 199
This is the net price. Taxes to be calculated in checkout.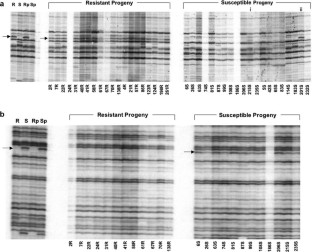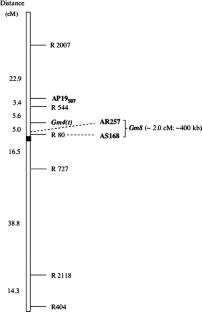 References
Behura SK, Nair S, Sahu SC, Mohan M (2000) An AFLP marker that differentiates biotypes of the asian rice gall midge (Orseolia oryzae, Wood-Mason) is sex-linked and also linked to avirulence. Mol Gen Genet 263:328–334

Bentur JS, Pasalu IC, Sarma NP, Prasada Rao U, Mishra B (2003) Gall midge resistance in rice. DRR Research Paper series 01/ 2003, Directorate of Rice Research, Hyderabad, p 20

Berruyer R, Adreit H, Milazzo J, Gaillard S, Berger A, Dioh W, Lebrun M-H, Tharreau D (2003) Identification and fine mapping of Pi33, the rice resistance gene corresponding to Magnaporthe grisea avirulence gene ACE1. Theor Appl Genet 107:1139–1147

Bonnema G, van den Berg P, Lindhout P (2002) AFLPs mark different genomic regions compared with RFLPs: a case study in tomato. Genome 45:217–225

Ellis RP, Mc Nicol JW, Baird E, Booth A, Lawrence P, Thomas B, Powell W (1997) The use of AFLPs to examine genetic relatedness in barley. Mol Breed 3:359–369

Harris MO, Stuart JJ, Mohan M, Nair S, Lamb RJ, Rohfritsch O (2003) Grasses and gall midges: plant defence and insect adaptation. Annu Rev Entomol 48:549–577

Hill M, Witsenboer H, Zabaeu M, Vos P, Kesseli R, Michelmore R (1996) PCR fingerprinting using AFLPs as a tool for studying genetic relationships in Lactuca spp. Theor Appl Genet 93:1202–1210

Hongtrakul V, Gordan MH, Knapp SJ (1997) Amplified fragment length polymorphism as a tool for DNA fingerprinting of sunflower germplasm: genetic diversity among oilseed inbred lines. Theor Appl Genet 95:400–407

Katiyar SK, Tan Y, Huang B, Chandel G, Xu Y, Zhang Y, Xie Z, Bennett J (2001) Molecular mapping of gene Gm6(t) which confers resistance against four biotypes of Asian gall midge in China. Theor Appl Genet 103:953–961

Kumar A, Srivastava MN, Shukla BC (1998) Inheritance and allelic relationship of gall midge biotype-1 resistant gene(s) in some new donors. Oryza 35:70–73

Kumar A, Bhandarkar S, Pophlay DJ, Srivastava MN (2000) A new gene for gall midge resistance in rice accession Jhitpiti. Rice Genet Newslett 17:83–84

Mackill DJ, Zhang Z, Redona ED, Colowit PM (1996) Level of polymorphism and genetic mapping of AFLP markers in rice. Genome 39:969–977

Maughan PJ, Saghai Maroof MA, Buss GR, Huestis GM (1996) Amplified fragment length polymorphism (AFLP) in soybean: species diversity, inheritance and near isogenic line analysis. Theor Appl Genet 93:392–401

Michelmore RW, Paran I, Kesseli RV (1991) Identification of markers linked to disease-resistance genes by bulked segregant analysis: a rapid method to detect markers in specific genomic regions by using segregating populations. Proc Natl Acad Sci USA 88:9828–9832

Mohan M, Nair S, Bentur JS, Prasada Rao U, Bennett J (1994) RFLP and RAPD mapping of the rice Gm2 gene that confers resistance to biotype 1 of gall midge (Orseolia oryzae). Theor Appl Genet 87:782–788

Mohan M, Nair S, Bhagwat A, Krishna TG, Yano M, Bhatia CR, Sasaki T (1997a) Genome mapping, molecular markers and marker-assisted selection in crop plants. Mol Breed 3:87–103

Mohan M, Sathyanarayanan PV, Kumar A, Srivastava MN, Nair S (1997b) Molecular mapping of a resistance-specific PCR-based marker linked to a gall midge resistance gene (Gm4t) in rice. Theor Appl Genet 95:777–782

Murray MG, Thompson WF (1980) Rapid isolation of high molecular weight plant DNA. Nucleic Acids Res 8:4321–4325

Nair S, Bentur JS, Prasada Rao U, Mohan M (1995) DNA markers tightly linked to a gall midge resistance gene (Gm2) are potentially useful for marker-aided selection in rice breeding. Theor Appl Genet 91:68–73

Nair S, Kumar A, Srivastava MN, Mohan M (1996) PCR-based DNA markers linked to a gall midge resistant gene, Gm4(t), has potential for marker-aided selection in rice. Theor Appl Genet 92:660–665

Sanger F, Nicklen S, Coulson AR (1977) DNA sequencing with chain terminating inhibitors. Proc Natl Acad Sci USA 74:5463–5467

Sardesai N, Rajyashri KR, Behura SK, Nair S, Mohan M (2001) Genetic, physiological and molecular interactions of rice and its major dipteran pest, gall midge. Plant Cell Tissue Organ Cult 64:115–131

Sardesai N, Kumar A, Rajyashri KR, Nair S, Mohan M (2002) Identification and mapping of an AFLP marker linked to Gm7, a gall midge resistance gene and its conversion to a SCAR marker for its utility in marker-aided selection in rice. Theor Appl Genet 105:691–698

Singh A, Negi MS, Rajagopal J, Bhatia S, Tomar UK, Srivastava PS, Lakshmikumaran M (1999) Assessment of genetic diversity in Azadirachta indica using AFLP markers. Theor Appl Genet 99:272–279

Vos P, Hogers R, Bleeker M, Reijans M, van de Lee T, Hoenes M, Frijters A, Pot J, Peleman J, Kuiper M, Zabeau M (1995) AFLP: a new technique for DNA fingerprinting. Nucleic Acids Res 23:4407–4414

Williams JGK, Kubelik AR, Livak KJ, Rafalski JA, Tingey SA (1990) DNA polymorphisms amplified by arbitrary primers are useful as genetic markers. Nucleic Acids Res 18:6531–6535

Williams MNV, Pande N, Nair S, Mohan M, Bennett J (1991) Restriction fragment length polymorphism analysis of polymerase chain reaction products amplified from mapped loci of rice (Oryza sativa L.) genomic DNA. Theor Appl Genet 82:489–498

Zhu J, Gale MD, Quarrie S, Jackson MT, Bryan GJ (1998) AFLP markers for study of rice biodiversity. Theor Appl Genet 96:602–611
Acknowledgements
This research was supported in part from a grant from the Rockefeller Foundation, USA, and a grant (CGP 320) from the Indian Council of Agricultural Research (ICAR), Government of India.
Additional information
The nucleotide sequence data reported here will appear in the EMBL, GenBank and DDBJ nucleotide sequence databases under the accession numbers AY545920–AY545923
Communicated by J.W. Snape
About this article
Cite this article
Jain, A., Ariyadasa, R., Kumar, A. et al. Tagging and mapping of a rice gall midge resistance gene, Gm8, and development of SCARs for use in marker-aided selection and gene pyramiding. Theor Appl Genet 109, 1377–1384 (2004). https://doi.org/10.1007/s00122-004-1774-x
Received:

Accepted:

Published:

Issue Date:
Keywords
Amplify Fragment Length Polymorphism

Scar Marker

Gall Midge

Amplify Fragment Length Polymorphism

RAPD Fragment