Abstract
A full-sibling F1 population comprising 153 individuals from the cross of 'Regent' × 'Lemberger' was employed to construct a genetic map based on 429 molecular markers. The newly-bred red grapevine variety 'Regent' has multiple field-resistance to fungal diseases inherited as polygenic traits, while 'Lemberger' is a traditional fungus-susceptible cultivar. The progeny segregate quantitatively for resistances to Plasmopara viticola and Uncinula necator, fungal pathogens that threaten viticulture in temperate areas. A double pseudo-testcross strategy was employed to construct the two parental maps under high statistical stringency for linkage to obtain a robust marker frame for subsequent quantitative trait locus (QTL) analysis. In total, 185 amplified fragment length polymorphism, 137 random amplified polymorphic DNA, 85 single sequence repeat and 22 sequence characterized amplified region or cleaved amplified polymorphic sequence markers were mapped. The maps were aligned by co-dominant or doubly heterozygous dominant anchor markers. Twelve pairs of homologous linkage groups could be integrated into consensus linkage groups. Resistance phenotypes and segregating characteristics were scored as quantitative traits in three or four growing seasons. Interval mapping reproducibly localized genetic factors that correlated with fungal disease resistances to specific regions on three linkage groups of the maternal 'Regent' map. A QTL for resistance to Uncinula necator was identified on linkage group 16, and QTLs for endurance to Plasmopara viticola on linkage groups 9 and 10 of 'Regent'. Additional QTLs for the onset of berry ripening ("veraison"), berry size and axillary shoot growth were identified. Berry color segregated as a simple trait in this cross of two red varieties and was mapped as a morphological marker. Six markers derived from functional genes could be localized. This dissection of polygenic fungus disease resistance in grapevine allows the development of marker-assisted selection for breeding, the characterization of genetic resources and the isolation of the corresponding genes.
This is a preview of subscription content, log in to check access.
Access options
Buy single article
Instant access to the full article PDF.
US$ 39.95
Price includes VAT for USA
Subscribe to journal
Immediate online access to all issues from 2019. Subscription will auto renew annually.
US$ 199
This is the net price. Taxes to be calculated in checkout.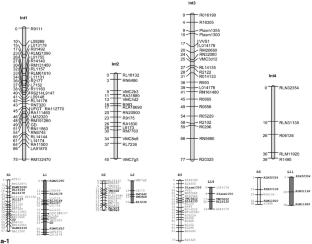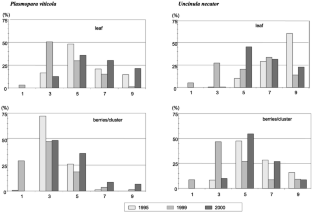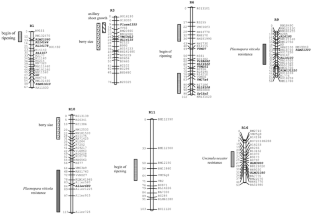 References
Ablett E, Seaton G, Scott K, Shelton D, Graham MW, Baverstock P, Lee SL, Henry R (2000) Analysis of grape ESTs: global expression patterns in leaf and berry. Plant Sci 159:87–95

Akkaya MS, Bhagwat AA, Cregan PB (1992) Length polymorphisms of simple sequence repeat DNA in soybean. Genetics 132:1131–1139

Alleweldt G (1996) Geilweilerhof aktuell 24(1):3–26

Ambrosi H, Dettweiler-Münch E, Rühl EH, Schmid J, Schumann F (1998) Farbatlas Rebsorten. Ulmer, Stuttgart

Anonymous (1983) Descriptor list for grapevine varieties and Vitis species. Office International de la Vigne et du Vin (OIV), Paris

Anonymous (2000) Descriptive list of varieties—Grapes 2000. Federal Office of Plant Varieties (ed). Landbuch Verlag, Hannover

Beckmann JS, Soller M (1990) Toward a unified approach to genetic mapping of eukaryotes based on sequence tagged microsatellite sites. Biotechnology 8:930–932

Boss PK, Davies C, Robinson SP (1996) Analysis of the expression of anthocyanin pathway genes in developing Vitis vinifera L. cv. Shiraz grape berries and the implications for pathway regulation. Plant Physiol 111:1059–1066

Bowers JE, Dangl GS, Vignani R, Meredith C (1996) Isolation and characterization of new polymorphic simple sequence repeat loci in grape (Vitis vinifera L.). Genome 39:628–633

Bowers JE, Dangl GS, Meredith C (1999) Development and characterization of additional microsatellite DNA markers for grape. Am J Enol Vitic 50:243–246

Cai Q, Guy CL, Moore GA (1994) Extension of the genetic linkage map in Citrus using random amplified polymorphic DNA (RAPD) markers and RFLP mapping of cold-acclimation-responsive loci. Theor Appl Genet 89:606–614

Dalbó MA (1998) Genetic mapping, QTL analysis and marker-assisted selection for disease resistance loci in grapes. Dissertation, Cornell University

Dalbó MA, Ye GN, Weeden NF, Steinkellner H, Sefc KM, Reisch BI (2000) A gene controlling sex in grapevines placed on a molecular marker-based genetic map. Genome 43:333–340

Davies C, Robinson SP (2000) Differential screening indicates a dramatic change in mRNA profiles during grape berry ripening. Cloning and characterization of cDNAs encoding putative cell wall and stress response proteins. Plant Phys 122:803–812

Di Gaspero G, Cipriani G (2003) Isolation and characterisation of resistance gene analogs (RGAs) in grape. In: Proceedings of the VIIIth International Conference on Grape Genetics and Breeding. Acta Hortic 603:419–427

Doligez A, Bouquet A, Danglot Y, Lahogue F, Riaz S, Meredith CP, Edwards KJ, This P (2002) Genetic mapping of grapevine (Vitis vinifera L.) applied to the detection of QTLs for seedlessness and berry weight. Theor Appl Genet 105:780–795

Donald TM, Pellerone F, Adam-Blondon AF, Bouquet A, Thomas MR, Dry IB (2002) Identification of resistance gene analogs linked to a powdery mildew resistance locus in grapevine. Theor Appl Genet 104:610–618

Driesel AJ, Lommele A, Drescher B, Töpfer R, Bell M, Cartharius I, Cheutin N, Huck JF, Kubiak J, Regnard P, Steinmetz A (2003) Towards the transcriptome of grapevine (Vitis vinifera). In: Proceedings of the VIIIth International Conference on Grape Genetics and Breeding. Acta Hortic 603:239–249

Faes G, Salmaso M., Segala C, Moser C, Stefanini M, Salakhutdinov I, Zyprian E, Töpfer R, Grando MS and Velasco R (2003) Genomic tools for marker assisted selection in grapevine. In: Proceedings of the VIIIth International Conference on Grape Genetics and Breeding. Acta Hortic 603:511–517

Grando MS, Bellin D, Edwards KJ, Pozzi C, Stefanini M, Velasco R (2003) Molecular linkage maps of Vitis vinifera L. and Vitis riparia Mchx. Theor Appl Genet 106:1213–24

Grattapaglia D, Sederoff R (1994) Genetic linkage maps of Eucalyptus grandis and Eucalyptus urophylla using a pseudo-testcross mapping strategy and RAPD markers. Genetics 137:1121–1137

Herbergs J, Siwek RP, Crooijmans RPMA, Van der Poel JJ, Groenen MAM (1999) Multicolour fluorescent detection and mapping of AFLP markers in chicken (Gallus domesticus). Anim Genet 30:274–285

Husfeld B (1932) Über die Züchtung plasmoparawiderstandsfähiger Reben. Gartenbauwissenschaft 7:15–92

Jiang C, Lewis ME, Sink KC (1997) Combined RAPD and RFLP molecular linkage map of asparagus. Genome 40:69–76

Kosambi DD (1944) The estimation of map distances from recombination values. Ann Eugenet 12:172–175

Lande R, Thompson R (1990) Efficiency of marker-assisted selection in the improvement of quantitative traits. Genetics 124:743–56

Lander ES, Botstein D (1989) Mapping Mendelian factors underlying quantitative traits using RFLP linkage maps. Genetics 121:185–199

Lodhi MA, Daly MJ, Ye G-N, Weeden NF, Reisch BI (1995) A molecular marker based linkage map of Vitis. Genome 38:786–794

Luo SL, He PC, Zhou P, Zheng XQ (2001) Identification of molecular genetic markers tightly linked to downy mildew resistant genes in grape. Acta Genet Sin 28:76–82

Marino R, Sevini F, Madini A, Vecchione A, Pertot I, Serra AD, Versini G, Velasco R, Grando MS (2003) QTL mapping for disease resistance and fruit quality in grape. In: Proceedings of the VIIIth International Conference on Grape Genetics and Breeding. Acta Hortic 603:527–533

Naqvi NI, Chatoo BB (1996) Development of a sequence characterized amplified region (SCAR) based indirect selection method for a dominant blast resistance gene in rice. Genome 39:26–30

Olmo HP (1937) Chromosome number and its relation to evolution of the genus Vitis. In: Proceedings of the 9th International Congress on Genetics, Bellagio, Italy

Paterson AH, Lander ES, Hewitt JD, Peterson S, Lincoln SE, Tanksley SD (1988) Resolution of quantitative traits into Mendelian Factors by using a complete linkage map of restriction fragment polymorphism. Nature 335:721–726

Pauquet J, Bouquet A, This P, Adam-Blondon AF (2001) Establishment of a local map of AFLP markers around the powdery mildew resistance gene Run1 in grapevine and assessment of their usefulness for marker assisted selection. Theor Appl Genet 103:1201–1210

Sarni-Manchado P, Verries C, Ageorges A, Tesniere CM (1995) NCBI data submission (AC U36586)

Sefc KM, Regner F, Turetschek E, Glössl J, Steinkellner H (1999) Identification of microsatellite sequences in Vitis riparia and their applicability for genotyping of different Vitis species. Genome 42:1–7

Shetty BV (1959) Cytotaxonomic studies in Vitaceae. Bibl Genet XVIII:167–272

Sparvoli F, Martin C, Scienza A, Gavazzi G, Tonelli C (1994) Cloning and molecular analysis of structural genes involved in flavonoid and stilbene biosynthesis in grape (Vitis vinifera L.). Plant Mol Biol 24:743–755

Staub JE, Serquen FC, Gupta M (1996) Genetic markers, map construction, and their application in plant breeding. Hortic Sci 31(5):729–740

Syntichaki KM, Loulakakis KA, Roubelakis-Angelakis KA (1996) The amino-acid sequence similarity of plant glutamate dehydrogenase to the extremophilic archaeal enzyme conforms to its stress-related function. Gene 168:87–92

Thomas MR, Scott N (1993) Microsatellite repeats in grapevine reveal DNA polymorphisms when analysed as sequence-tagged sites (STSs). Theor Appl Genet 86:985–990

Thomas MR, Matsumoto S, Cain P, Scott NS (1993) Repetitive DNA of grapevine: classes present and sequences suitable for cultivar identification. Theor Appl Genet 86:173–180

Van Ooijen JW (1999) LOD siginificance thresholds for QTL analysis in experimental populations of diploid species. Heredity 83:613-624

Van Ooijen JW, Voorrips RE (2001) JoinMap3.0, Software for the calculation of genetic linkage maps. Plant Research International, Wageningen, The Netherlands

Van Ooijen JW, Boer MP, Jansen RC, Maliepaard C (2000) MapQTL Version 4.0. User-friendly power in QTL mapping. Plant Research International, Wageningen, The Netherlands

Vos P, Hogers R, Bleeker M, Rijans M, Van de Lee T, Hornes M, Frijters A, Pot J, Peleman J, Kuiper M, Zabeau M (1995) AFLP: a new technique for DNA fingerprinting. Nucleic Acids Res 23:4407–4414

Weeden NF (1994) Approaches to Mapping in Horticultural Crops. In: Gresshoff PM (ed) Plant genome analysis. CRC Press, Boca Raton, pp 57–68

Williams JG, Kubelik AR, Livak KJ, Rafalski JA, Tingey SV (1989) DNA polymorphisms amplified by arbitrary primers are useful as genetic markers. Nucleic Acids Res 18:6531–6535

Williams JGK, Hanafey MK, Rafalski JA and Tingey VT (1993) Genetic analysis using random amplified polymorphic DNA markers. Methods Enzymol 218:704–740

Young ND (1996) QTL Mapping and quantitative disease resistance in plants. Annu Rev Phytopathol 34:479–501

Zabeau M, Vos P (1992) Selective restriction fragment amplification: a general method for DNA fingerprinting. European Patent Application, EPO

Zyprian E, Eibach R, Töpfer R (2003) Comparative molecular mapping of fungal disease resistance factors in segregating populations of grapevine. In: Proceedings of the VIIIth International Conference on Grape Genetics and Breeding. Acta Hortic 603:73–77
Acknowledgements
We would like to thank Bruce Reisch, Herta Steinkellner and Ferdinand Regner for communicating primer sequences prior to publication. Carole Meredith and Stella Grando provided information on grapevine genetic maps prior to publication. Sabine Wiedemann-Merdinoglu (INRA Colmar) participated in Plasmopara viticola resistance phenotyping of the plants with special expertise. AGROGENE SA (Moissy Cramayel, France) organized the SSR development in a joint effort of more than 20 participating research groups. This work was supported by the Deutsche Forschungsgemeinschaft (DFG, Zy11-4). Fellowships have been provided to Ilkhom Salakhutdinov (Deutscher Akademischer Austauschdienst, DAAD; Freunde und Förderer des Instituts für Rebenzüchtung Geilweilerhof) and Murat Akkurt (student fellowship from the University of Ankara) to facilitate their contribution to this work.
Additional information
Communicated by H.C. Becker
About this article
Cite this article
Fischer, B.M., Salakhutdinov, I., Akkurt, M. et al. Quantitative trait locus analysis of fungal disease resistance factors on a molecular map of grapevine. Theor Appl Genet 108, 501–515 (2004). https://doi.org/10.1007/s00122-003-1445-3
Received:

Accepted:

Published:

Issue Date:
Keywords
Quantitative Trait Locus

Linkage Group

Amplify Fragment Length Polymorphism

Downy Mildew

Amplify Fragment Length Polymorphism Marker