Abstract
The availability of a high quality linkage map is essential for the detection and the analysis of quantitative traits. Such a map should cover a significant part of the genome, should be densely populated with markers, and in order to gain the maximum advantage should be transferable to populations or cultivars other than the ones on which it has been constructed. An apple genetic linkage map has been constructed on the basis of a segregating population of the cross between the cultivars Fiesta and Discovery. A total of 840 molecular markers, 475 AFLPs, 235 RAPDs, 129 SSRs and 1 SCAR, were used for the two parental maps constructed with JoinMap and spanning 1,140 cM and 1,450 cM, respectively. Large numbers of codominant markers, like SSRs, enable a rapid transfer of the map to other populations or cultivars, allowing the investigation of any chosen trait in another genetic background. This map is currently the most advanced linkage map in apple with regard to genome coverage and marker density. It represents an ideal starting point for future mapping projects in Malus since the stable and transferable SSR frame of the map can be saturated quickly with dominant AFLP markers.
This is a preview of subscription content, log in to check access.
Access options
Buy single article
Instant access to the full article PDF.
US$ 39.95
Price includes VAT for USA
Subscribe to journal
Immediate online access to all issues from 2019. Subscription will auto renew annually.
US$ 199
This is the net price. Taxes to be calculated in checkout.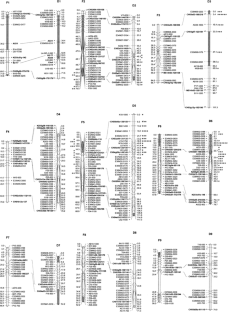 References
Cai Q, Guy CL, Moore GA (1994) Extension of the linkage map in Citrus using random amplified polymorphic DNA (RAPD) markers and RFLP mapping of cold-acclimation-responsive loci. Theor Appl Genet 89:606–614

Castiglioni P, Pozzi C, Heun M, Terzi V, Müller KJ, Rohde W, Salamini F (1998) An AFLP-based procedure for the efficient mapping of mutations and DNA probes in barley. Genetics 149:2039–2056

Chakravarti A, Kasher LK, Reefer JF (1991) A maximum likelihood method for estimating genome length using genetic linkage data. Genetics 128:175–182

Conner JP, Brown SK, Weeden NF (1997) Randomly amplified polymorphic DNA-based genetic linkage maps of three apple cultivars. J Am Soc Hort Sci 122:350–359

Dirlewanger E, Pronier V, Parvery C, Rothan C, Guye A, Monet R (1998) Genetic linkage map of peach [Prunus persica (L.) Batsch] using morphological and molecular markers. Theor Appl Genet 97:888–895

Ellis THN, Turner L, Hellens RP, Lee D, Harker CL, Enard C, Domoney C, Davies DR (1992) Linkage maps in pea. Genetics 130:649–663

Foolad MR, Arulsekar S, Becerra V, Bliss FA (1995) A genetic map of Prunus based on an interspecific cross between peach and almond. Theor Appl Genet 91:262–269

Gianfranceschi L, Seglias N, Tarchini R, Komjanc M, Gessler C (1998) Simple sequence repeats for the genetic analysis of apple. Theor Appl Genet 96:1069–1076

Grattapaglia D, Sederoff R (1994) Genetic linkage maps of Eucalyptus grandis and Eucalyptus urophylla using a pseudo-testcross mapping strategy and RAPD markers. Genetics 137:1121–1137

Haanstra JPW, Wye C, Verbankel H, Meijer-Dekens F, van den Berg P, Odinot P, van Heusden AW, Tanksley S, Lindhout P, Peleman J (1999) An integrated high-density RFLP-AFLP map of tomato based on two Lycopersicon esculentum ×L. pennellii F2 populations. Theor Appl Genet 99:254–271

Hemmat M, Weeden NF, Manganaris AG, Lawson DM (1994) Molecular marker linkage map for apple. J Hered 85:4–11

Hulbert SH, Ilott TW, Legg EJ, Lincoln SE, Lander ES, Michelmore RW (1988) Genetic analysis of the fungus Bremia lactucae, using restriction fragment length polymorphism. Genetics 120:947–958

Jarrell DC, Roose ML, Traugh SN, Kupper RS (1992) A genetic map of Citrus based on the segregation of isozymes and RFLPs in an intergeneric cross. Theor Appl Genet 84:49–56

Joobeur T, Viruel MA, de Vicente MC, Jauregui B, Ballester J, Dettori MT, Verde I, Truco MJ, Messeguer R, Batlle I, Quarta R, Dirlewanger E, Arus P (1998) Construction of a saturated linkage map of Prunus using an almond ×peach F2 progeny. Theor Appl Genet 97:1034–1041

Knott SA, Haley CS (1992) Maximum likelihood mapping of quantitative trait loci using full-sib families. Genetics 132:1211–1222

Koller B, Tenzer I, Gessler C (2000) SSR analysis of apple scab lesions. Integrated control of pome fruit diseases. IOBC/WPRS Bulletin Vol 23: pp 93–98

Lander ES, Green P, Abrahamson J, Barlow A, Daly MJ, Lincoln SE, Newburg L (1987) MAPMAKER: An interactive computer package for constructing primary genetic linkage maps of experimental and natural populations. Genomics 1:174–181

Landry BS, Hubert N Etoh T, Harada JJ, Lincoln SE (1991) A genetic map for Brassica napus based on restriction fragment length polymorphisms detected with expressed DNA sequences. Genome 34:543–552

Lespinasse D, Rodier-Goud M, Grivet L, Leconte A, Legnate H, Seguin M (2000) A saturated genetic linkage map of rubber tree (Hevea spp.) based on RFLP, AFLP, microsatellite and isozyme markers. Theor Appl Genet 100:127–138

Liebhard R, Gessler C (2000) Possible errors in genome mapping. Integrated control of pome fruit diseases. IOBC/WPRS Bulletin 23:127–135

Liebhard R, Gianfranceschi L, Koller B, Ryder CD, Tarchini R, Van de Weg E, Gessler C (2002) Development and characterisation of 140 new microsatellites in apple (Malus ×domestica Borkh.) Mol Breed 10:217–241

Lincoln ES, Lander ES (1992) Systematic detection of errors in genetic linkage data. Genomics 14:604–610

Maliepaard C, Van Ooijen JW (1994) QTL mapping in a full-sib family of an outcrossing species. In: Van Ooijen JW, Jansen J (eds) Biometrics in plant breeding: applications of molecular markers, Proc 9th Meeting EUCARPIA Section Biometrics in Plant Breeding, 6–8 July 1994, Wageningen, The Netherlands, pp 140–146

Maliepaard C, Jansen J, Van Ooijen JW (1997) Linkage analysis in a full-sib family of an outbreeding species: overview and consequences for applications. Genet Res 70:237–250

Maliepaard C, Alston FH, Van Arkel G, Brown LM, Chevreau E, Dunemann F, Evans KM, Gardiner S, Guilford P, van Heusden AW, Janse J, Laurens F, Lynn JR, Manganaris AG, Den Nijs APM, Periam N, Rikkerink E, Roche P, Ryder C, Sansavini S, Schmidt H, Tartarini S, Verhaegh JJ, Vrielink-Van Ginkel M, King GJ (1998) Aligning male and female linkage maps of apple (Malus pumila Mill.) using multi-allelic markers. Theor Appl Genet 97:60–73

Marques CM, Araujo JA, Ferreira JG, Whetten R, O'Malley DM, Lui BH, Sederoff R (1998) AFLP genetic maps of Eucalyptus globulus and E. tereticornis. Theor Appl Genet 96:727–737

Prince JP, Pochard E, Tanksley SD (1993) Construction of a molecular linkage map of pepper and a comparison of synteny with tomato. Genome 36:404–417

Remington DL, Whetten RW, Liu BH, O'Malley DM (1999) Construction of an AFLP genetic map with nearly complete genome coverage in Pinus taeda. Theor Appl Genet 98:1279–1292

Risterucci AM, Grivet L, N'Goran JAK, Pieretti I, Flament MH, Lanaud C (2000) A high-density linkage map of Theobroma cacao L. Theor Appl Genet 101:948–955

Sankar AA, Moore GA (2001) Evaluation of inter-simple sequence repeat analysis for mapping in Citrus and extension of the genetic linkage map. Theor Appl Genet 102:206–214

Sebastian RL, Howell EC, King GJ, Marshall DF, Kearsey MJ (2000) An integrated AFLP and RFLP Brassica oleracea linkage map from two morphologically distinct doubled-haploid mapping populations, Theor Appl Genet 100:75–81

Seglias NP, Gessler C (1997) Genetics of apple powdery mildew resistance from Malus zumi (Pl2). Integrated control of pome fruit diseases. IOBC/WPRS Bulletin 20:195–208

Stam P, Van Ooijen JW (1995) JoinMap version 2.0: software for the calculation of genetic linkage maps. Plant Research International, Wageningen, The Netherlands

Tanksley SD, Young ND, Paterson AH, Bonierbale MW (1989) RFLP mapping in plant breeding: new tools for an old science. Biotechnology 7:257–264

Van der Lee T, De Witte I, Drenth A, Alfonso C, Govers F (1997) AFLP linkage map of the oomycete Phytophthora infestans. Fungal Genet Biol 21:278–291

Viruel MA, Messegeur R, de Vicente MC, Garcia-Mas J, Puigdomenech P, Vargas F, Arus P (1995) A linkage map with RFLP and isozyme markers for almond. Theor Appl Genet 91:964–971

Voorrips RE (2001) MapChart version 2.0: Windows software for the graphical presentation of linkage maps and QTLs. Plant Research International, Wageningen, The Netherlands

Vos P, Hogers R, Bleeker M, Reijans M, van de Lee T, Hornes M, Frijters A, Pot J, Peleman J, Kuiper M, Zabeau M (1995) AFLP: a new technique for DNA fingerprinting. Nucleic Acids Res 23, pp 4407–4414

Vuylsteke M, Mank R, Antonise R, Bastiaans E, Senior ML, Stuber CW, Melchinger AE, Lübberstedt T, Xia XC, Stam P, Zabeau M, Kuiper M (1999) Two high-density AFLP linkage maps of Zea mays L.: analysis of distribution of AFLP markers. Theor Appl Genet 99:921–935

Wang D, Karle R, Brettin TS, Iezzoni AF (1998) Genetic linkage map in sour cherry using RFLP markers. Theor Appl Genet 97:1217–1224

Weeden NF, Hemmat M, Lawson DM, Lodhi M, Bell RL, Manganaris AG, Reisch BI, Brown SK, Ye GN (1994) Development and application of molecular marker linkage maps in woody fruit crops. Euphytica 77:71–75

Xu ML, Korban SS (2000) Saturation mapping of the apple scab resistance gene Vf using AFLP markers. Theor Appl Genet 101:844–851
Acknowledgements.
We thank Dr. Markus Kellerhals from FAW, Wädenswil, for providing leaf material of the progeny plants and the parental cultivars. We also acknowledge Andrea Jegerlehner, Kirstin Knapp, Daniel Füger, Giovanni Broggini, Angela Tenzer, Georg Feichtinger, Eve Dilworth and Barbara Bigler for their help in the lab, and Tecan Switzerland AG, Männedorf, for providing the liquid handling and fluorescence measurement devices and the support with their use. Eve Dilworth and Dr. Graham King are acknowledged for critically reviewing and linguistically improving the manuscript. This research was funded by the Swiss National Foundation for scientific research, SPP-Biotechnology, grant No. 5002-045052 and No. 5002-057830.
About this article
Cite this article
Liebhard, R., Koller, B., Gianfranceschi, L. et al. Creating a saturated reference map for the apple (Malus × domestica Borkh.) genome. Theor Appl Genet 106, 1497–1508 (2003). https://doi.org/10.1007/s00122-003-1209-0
Received:

Accepted:

Published:

Issue Date:
Keywords
AFLP

Genetic mapping

Microsatellites

Molecular markers

RAPD

SSR