Zusammenfassung
Mit der perkutanen Nephrolithotomie (PCNL) steht ein etabliertes minimal-invasives Verfahren zur Entfernung von Harnsteinen zur Verfügung. Sie hat für nahezu alle Indikationen die offene Steinchirurgie abgelöst.In diesem Beitrag werden die Indikationen, die Operationstechnik sowie das Komplikationsmanagement beschrieben.
Abstract
Percutaneous nephrolithotomy (PCNL) is a well-established minimally invasive treatment option for removal of kidney stones. This technique has now replaced open stone surgery for virtually all indications. This article describes the indications, the surgical technique and the complication management of PCNL.
This is a preview of subscription content, log in to check access.
Access options
Buy single article
Instant access to the full article PDF.
US$ 39.95
Price includes VAT for USA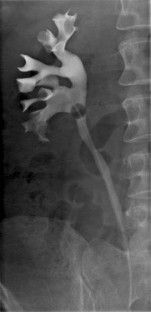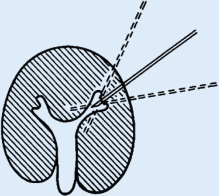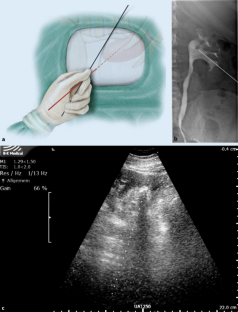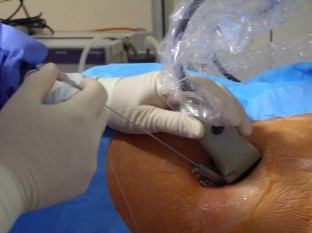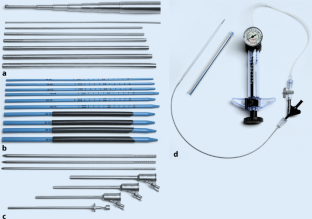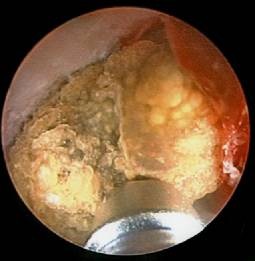 Literatur
1.

Fernström I, Johannsen B (1976) Percutaneous pyelolithotomy. A new extraction technique. Scand J Urol Nephrol 10:257–259

2.

Alken P, Hutschenreiter G, Günther R, Marberger M (1981) Percutaneous stone manipulation. J Urol 125(4):463–466

3.

Alken P (1985) The telescope dilators. World J Urol 3:7–10

4.

Hutschenreiter G, Alken P, Klippel KF (1979) Percutaneous nephrostomy under ultrasound guidance. Urologe A 18(3):157–163

5.

Knoll T, Michel MS, Alken P (2007) Surgical atlas. Percutaneous nephrolithotomy: The Mannheim technique. BJU Int 99(1):213–231

6.

Knoll T, Bach T, Humke U, Neisius A, Stein R, Schönthaler M, Wendt-Nordahl G (2016) S2k guidelines on diagnostics, therapy and metaphylaxis of urolithiasis. Urologe A 55(7):904–922. doi:10.1007/s00120-016-0133-2

7.

Türk C, Petřík A, Sarica K, Seitz C, Skolarikos A, Straub M, Knoll T (2016) EAU guidelines on Interventional treatment for urolithiasi. Eur Urol 69(3):475–482

8.

Knoll T, Wendt-Nordahl G, Alken P (2005) Perkutane Nephrolithotomie. Indikationen, Durchführung und heutiger Stellenwert. Urologe A 44:299–308

9.

Valdivia JG, Scarpa RM, Duvdevani M, Gross AJ, Nadler RB, Nutahara K, Croes PCNL Study Group (2011) Supine versus prone position during percutaneous nephrolithotomy: A report from the clinical research office of the endourological society percutaneous nephrolithotomy global study. J Endourol 25(10):1619–1625

10.

Yuan D, Liu Y, Rao H, Cheng T, Sun Z, Wang Y, Liu J, Chen W, Zhong Zhu WJ (2016) Supine versus prone position in percutaneous nephrolithotomy for kidney calculi: A meta-analysis. J Endourol 30(7):754–763. doi:10.1089/end.2015.0402

11.

Cracco CM, Alken P, Scoffone CM (2016) Positioning for percutaneous nephrolithotomy. Curr Opin Urol 26(1):81–87

12.

Cadeddu JA, Stoianovici D, Chen RN, Moore RG, Kavoussi LR (1998) Stereotactic mechanical percutaneous renal access. J Endourol 12(2):121–125

13.

Lopes T, Sangam K, Alken P, Barroilhet BS, Saussine C, Shi L, Clinical Research Office of The Endourological Society Percutaneous Nephrolithotomy Study Group (2011) The Clinical Research Office of the Endourological Society Percutaneous Nephrolithotomy Global Study: Tract dilation comparisons in 5537 patients. J Endourol 25(5):755–762

14.

Dehong C, Liangren L, Huawei L, Qiang WA (2013) Comparison among four tract dilation methods of percutaneous nephrolithotomy: A systematic review and meta-analysis. Urolithiasis 41:523–530

15.

Mager R, Balzereit C, Hüsch T, Herrmann T, Nicklas A, Nagele U, Haferkamp A, Schilling D (2016) Clearance of stone fragments and stone dust by continuous flow hydrodynamics in percutaneous renal surgery: An in vitro study. J Endourol 30(4):441–446 (Apr)

16.

Nicklas AP, Schilling D, Bader MJ, Herrmann TR, Nagele U (2015) The vacuum cleaner effect in minimally invasive percutaneous nephrolitholapaxy. World J Urol 33(11):1847–1853

17.

Desai MR, Kukreja RA, Desai MM, Mhaskar SS, Wani KA, Patel SH, Bapat SD (2004) A prospective randomized comparison of type of nephrostomy drainage following percutaneous nephrostolithotomy: Large bore versus small bore versus tubeless. J Urol 172(2):565–567

18.

Cormio L, Preminger G, Saussine C, Buchholz NP, Zhang X, Walfridsson H, Gross AJ, de la Rosette J (2013) Nephrostomy in percutaneous nephrolithotomy (PCNL): Does nephrostomy tube size matter? Results from The Global PCNL Study from The Clinical Research Office Endourology Society. World J Urol 31(6):1563–1568

19.

Schilling D, Winter B, Merseburger AS, Anastasiadis AG, Walcher U, Stenzl A, Nagele U (2008) Use of a gelatine-thrombin matrix for closure of the access tract without a nephrostomy tube in minimally invasive percutaneous nephrolitholapaxy. Urologe A 47(5):601–607

20.

Choe CH, L'Esperance JO, Auge BK (2009) The use of adjunctive hemostatic agents for tubeless percutaneous nephrolithotomy. J Endourol 23(10):1733–1738

21.

Knoll T, Wezel F, Michel MS, Honeck P, Wendt-Nordahl G (2010) Do patients benefit from miniaturized tubeless percutaneous nephrolithotomy? A comparative prospective study. J Endourol 24(7):1075–1079

22.

Zilberman DE, Lipkin ME, de la Rosette JJ, Ferrandino MN, Mamoulakis C, Laguna MP, Preminger GM (2010) Tubeless percutaneous nephrolithotomy – the new standard of care? J Urol 184(4):1261–1266 (Oct)

23.

Zhong Q, Zheng C, Mo J, Piao Y, Zhou Y, Jiang Q (2013) Total tubeless versus standard percutaneous nephrolithotomy: A meta-analysis. J Endourol 27(4):420–426

24.

Seitz C, Desai M, Häcker A, Hakenberg OW, Liatsikos E, Nagele U, Tolley D (2012) Incidence, prevention, and management of complications following percutaneous nephrolitholapaxy. Eur Urol 61(1):146–158

25.

Häcker A (2016) Perkutane Nephrolithotomie. In: Michel MS, Thüroff JW, Janetschek G, Wirth MP (Hrsg) Die Urologie. Springer-Verlag, Berlin Heidelberg
Ethics declarations
Interessenkonflikt
A. Häcker, A. Bachmann, T. Herrmann, R. Homberg, J. Klein, H. Leyh, A. Miernik, C. Netsch, P. Olbert, J. Rassweiler, M. Schoenthaler, K.D. Sievert, J. Westphal und A.J. Gross geben an, dass kein Interessenkonflikt besteht.
Dieser Beitrag beinhaltet keine von den Autoren durchgeführten Studien an Menschen oder Tieren.
Additional information
Prof. Dr. A. Häcker ist Autor für den Arbeitskreis Endourologie der Akademie der Deutschen Urologen. Dieser Beitrag basiert auf folgendem Buchkapitel: Häcker A (2016) Perkutane Nephrolithotomie. In: Michel MS, Thüroff JW, Janetschek G, Wirth MP (Hrsg) Die Urologie. Springer, Berlin Heidelberg [25] und entspricht einem Konsensuspapier des Arbeitskreises Endourologie zur operativen Therapie der Urolithiasis.
Redaktion
M.-O. Grimm, Jena
A. Gross, Hamburg
C.-G. Stief, München
J.-U. Stolzenburg, Leipzig
in Zusammenarbeit mit
A. Haferkamp, Mainz
Vorsitzender der Akademie
der Deutschen Urologen
CME-Fragebogen
CME-Fragebogen
Welche der folgenden Aussagen ist nicht korrekt? Indikationen für die perkutane Steintherapie sind …
Ausgusssteine.
Nierenbeckensteine >2 cm.
Unterkelchsteine ab 1 cm.
ESWL/URS-refraktäre Steine.
proximale Harnleitersteine.
Welche der folgenden Aussagen ist nicht korrekt? Kontraindikationen für die perkutane Steintherapie sind …
unbehandelte Harnwegsinfekte.
laufende Gabe von Acetylsalicylsäure (100 mg/Tag).
funktionslose Niere.
Tumoren der Niere.
Schwangerschaft.
Welche der folgenden Aussagen ist nicht korrekt? Zur präoperativen Vorbereitung für die perkutane Nephrolithotomie (PCNL) gehören …
Ausscheidungsurographie oder Computertomographie.
Urinuntersuchung.
Magnetresonanztomographie.
Probelagerung des Patienten.
Ausschluss von Kontraindikationen.
Welche Antwort ist falsch? Methoden der Dilatation des Punktionstraktes sind …
Teleskopdilatatoren nach Alken.
Ballondilatatoren.
"Single-step"-Dilatatoren.
Plastikdilatatoren.
Amplatz-Schaft.
Welche der folgenden Aussagen zur perkutane Nephrolithotomie (PCNL) ist korrekt?
Postulierter Vorteil der PCNL mit reduziertem Schaftdurchmesser ist die kürzere Operationszeit.
Die Nomenklatur der Begriffe "Standard-PCNL", "Mini-PCNL", "Ultra-Mini-PCNL" und "Mikro-PCNL" ist international einheitlich definiert.
"Standard-PCNL" bedeutet Schaftgrößen ab 10 CH.
Die Micro-PCNL erfolgt unter Verwendung eines Operationsmikroskops.
Die Miniaturisierung der Nephroskope und Instrumente ermöglicht die PCNL mit reduziertem Außenschaftdurchmesser.
Die Steindesintegration bei der perkutanen Nephrolithotomie (PCNL) sollte nicht erfolgen mit …
Ultraschallbohrsonden.
ballistischen Systemen.
kombinierten Systemen aus Ultraschall und Ballistik.
elektrohydraulischen Systemen.
Holmium:YAG Laser.
In welcher Situation gilt die sog. "Mini-PCNL" (perkutane Nephrolithotomie) nach den EAU-Leitlinien als Standard?
Großer Ausgussstein.
Großer solitärer Nierenbeckenstein.
Bei Kindern.
Solitärer Unterkelchstein mit einer Größe von 0,9 cm.
Die Mini-PCNL ist immer der Standard-PCNL vorzuziehen aufgrund geringerer Morbidität und Komplikationsrate.
Welche Aussage zur perkutanen Nephrolithotomie (PCNL) trifft zu?
Die PCNL kann nur in Rückenlage durchgeführt werden.
In Bauchlage treten signifikant mehr Komplikationen auf, insbesondere Darmverletzungen.
Die Punktion unter simultaner Ultraschall- und Röntgenkontrolle bietet keine Vorteile.
Die PCNL ermöglicht exzellente primäre Steinfreiheitsraten von >90 %.
Das antegrade-retrograde Vorgehen bei schwer zugänglichen peripher gelegenen Konkrementen ist keine Option.
Welche der folgenden Aussagen zur perkutanen Nephrolithotomie (PCNL) trifft nicht zu?
Am Ende der Operation wird in der Regel eine perkutane Nephrostomie (PCN) über den punktierten Kelch in das Hohlsystem eingelegt.
Die Auswahl des Durchmessers der Nephrostomie erfolgt anhand der Größe des Dilatationstrakts.
Für ausgewählte Patienten kann auf die Einlage einer Nephrostomie verzichtet werden ("tubeless procedure").
"Tubeless procedure" bedeutet, dass weder eine Nephrostomie noch eine Harnleiterscheine eingelegt werden.
Postulierte Vorteile der "tubeless PCNL" sind u. a. eine kürzere Krankenhausverweildauer und geringere postoperative Schmerzen.
Welche der folgenden Aussagen zu den Komplikationen trifft nicht zu?
Bei Punktion eines suprakostalen Kelches ist die Komplikationsrate höher.
Die häufigste Komplikation ist die venöse Blutung.
Arterielle Blutungen erfordern primär die offene Revision.
Verletzungen benachbarter Organe wie Leber, Milz, Pankreas oder Darm sind bei simultaner Verwendung von Ultraschall und Durchleuchtung bei der Punktion sehr selten.
Bei präoperativ testgerechter antibiotischer Therapie von Harnwegsinfekten und perioperativer Antibiose ist die Inzidenz von Fieber und Urosepsis deutlich gesunken.
About this article
Cite this article
Häcker, A., Bachmann, A., Herrmann, T. et al. Operative Technik der perkutanen Steintherapie. Urologe 55, 1375–1386 (2016). https://doi.org/10.1007/s00120-016-0229-8
Schlüsselwörter
Perkutane Nephrolithotomie

Perkutane Nephrolitholapaxie

Urolithiasis

Minimal-invasive Therapie

Operative Technik
Keywords
Percutaneous nephrolithotomy

Percutaneous nephrolitolapaxy

Urolithiasis

Minimally invasive therapy

Surgical technique