Zusammenfassung
Hintergrund
Neben stumpfen und penetrierenden Traumen von Penis und Skrotum gehören auch die Epididymitis, die Hodentorsion, der Priapismus und die Fournier-Gangrän zu den Notfällen des äußeren Genitale. Von der Epididymitis und Hodentorsion abgesehen, sind die übrigen Notfälle eher seltener. Trotz des geringen Auftretens ist es wichtig, dass die Diagnose frühzeitig und korrekt erkannt wird, damit eine unmittelbare Therapie eingeleitet werden kann, da diese für das Überleben (bei der Fournier-Gangrän) bzw. für den Erhalt des Hodens oder die erektile Funktion (Priapismus und Penisfraktur) von essentieller Bedeutung ist.
Ergebnisse
In den meisten Fällen reichen Anamnese und klinische Untersuchung für die Diagnostik aus, zusätzlich können u. U. bildgebende Verfahren wie Ultraschall, Computertomographie, Magnetresonanztomographie oder ein retrogrades Urethrogramm nützlich sein. Eine Urinuntersuchung sollte immer erfolgen. Bei penetrierenden Verletzungen oder einem Genitaltrauma der Frau sollte immer eine zusätzliche Bildgebung durchgeführt werden, da diese häufig mit Begleitverletzungen von Rektum, Vagina, Blase oder anderen intraabdominellen Läsionen assoziiert sind. Sonderfälle sind Schussverletzungen des äußeren Genitale, bei denen Typ und Kaliber der Waffe für das Ausmaß der Verletzungen eine Rolle spielen sowie Bissverletzungen durch Tiere oder Menschen. Bei Tierbissen sollte das Risiko einer Tollwutinfektion berücksichtigt werden und bei Menschenbissen an die Übertragung von HIV und Hepatitis gedacht und ggf. eine Postexpositionsprophylaxe durchgeführt werden.
Abstract
Background
In addition to epididymitis and testicular torsion, emergencies of the external genital are rare. Rapid diagnosis and therapy are essential so that immediate therapy can be provided, which is important for survival (Fournier gangrene) of the patient or for the preservation of erectile function (priapism and penile fracture). A detailed patient history and clinical examination are generally sufficient for correct diagnosis.
Results
Under certain circumstances, it might be useful to perform ultrasound, computed tomography scan or magnetic resonance imaging or retrograde urethrography. A urine analysis is obligatory. In case of penetrating injuries and genital trauma in females, additional imaging should be performed because these are often associated with concomitant injuries of the rectum, vagina, or bladder. Special cases are gunshot wounds, in which caliber and type of weapon play an important role for the degree of damage, and animal or human bites. For animal bites, the risk for rabies infection and in case of a human bite the risk for transmission of HIV and hepatitis should be taken into consideration and post-exposure prophylaxis should possibly be offered.
This is a preview of subscription content, log in to check access.
Access options
Buy single article
Instant access to the full article PDF.
US$ 39.95
Price includes VAT for USA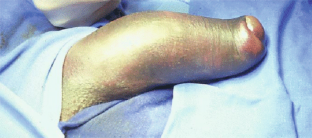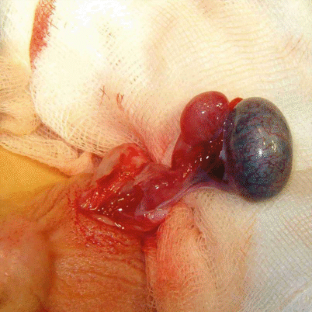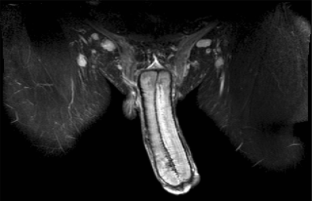 Literatur
1.

Anheuser P, Treiyer A, Steffens J (2009) Priapismus. Urologe 48:1105–1112

2.

Kulmala RV, Lehtonen TA, Tammela TL (1995) Priapism, ist incidence and seasonal distribution in Finland. Scand J Urol Nephrol 29:93–96

3.

Eland IA, van der Lei J, Stricker BH, Sturkenboom MJ (2001) Incidence of priapism in the general population. Urology 57:970–972

4.

Broderick GA, Kadioglu A, Bivalacqua TJ, Ghanem H, Nehra A, Shamloul R (2010) Priapism: pathogenesis, epidemiology and management. J Sex Med 7:476–500

5.

Levey HR, Kutlu O, Bivalacqua TJ (2012) Medical management of ischemic stuttering priapism: a contemporary review of the literature. Asian J Androl 14:156–163

6.

Kuefer R, Bartsch G Jr, Herkommer K, Kramer SC, Kleinschmidt K, Volkmer BG (2005) Changing diagnostic and therapeutic concepts in high-flow priapism. Int J Impot Res 17:109–113

7.

Witt MA, Goldstein I, de Saenz TI, Greenfield A, Krane RJ (1990) Traumatic laceration of intracavernosal arteries: the pathophysiology of nonischemic, high flow, arterial priapism. J Urol 143:129–132

8.

Dubocq FM, Tefilli MV, Grignon DJ, Pontes JE, Dhabuwala CB (1998) High flow malignant priapism with isolated metastasis to the corpora cavernosa. Urology 51:324–326

9.

Todd NV (2011) Priapism in acute spinal cord injury. Spinal Cord 49:1033–1035

10.

Lutz A, Lacour S, Hellstrom W (2012) Conversion of low-flow to high-flow prapism: a case report and review. J Sex Med 9:951–954

11.

Salonia A, Eardly I, Giuliano F, Hatzichristou D, Moncada I, Vardi Y, Wespes, Hatzimouratidis K (2013) European association of urology guidelines on priapism. Eur Urol 65:480–489

12.

Grabe M, Bartoletti R, Bjerklund Johansen TE, Cai T, Çek M, Köves B, Naber KG, Pickard RS, Tenke P, Wagenlehner F, Wullt B (2015) European association of urology guidelines on urological infections.http://uroweb.org/guideline/urological-infections. from 2015

13.

Kaminsky A, Sperling H (2015) Diagnostik und Therapie des Priapismus. Urologe 54:654–661

14.

Summerton DJ, Djakovic N, Kitrey ND, Kuehhas FE, Lumen N, Serafetinidis E, Sharma DM (2015) European association of urology guidelines on urological trauma. http://uroweb.org/guideline/urological-trauma. from 2015

15.

Erol B et al (2010) Fournier's gangrene: overview of prognostic factors and definition of prognostic parameter. Urology 75:1193–1198

16.

Sarani B et al (2009) Necrotizing fasciitis: current concepts and review of the literature. J Am Coll Surg 208:279–288

17.

Lau P, Anderson PA, Giacomantonio JM et al (1997) Acute epididymitis in boys: are antibiotics indicated? Br J Urol 79:797–800

18.

Somekh E, Gorenstein A, Serour F (2004) Acute epididymitis in boys: evidence of a post-infectious etiology. J Urol 171:391–394

19.

Berger RE et al (1984) Epididymitis. In: Holmes KK (Hrsg) Sexually transmitted diseases. McGraw-Hill, New York, S 650–662

20.

Ludwig M et al (1997) Tissue penetration of sparfloxacin in a rat model of experimental Escherichia coli epididymitis. Infection 25:178–184

21.

Visser AJ, Heyns CF (2003) Testicular function after torsion of the spermatic cord. Brit J Urol Int 92:200–203

22.

Tryfonas G, Violaki A, Tsikopoulos G et al (1994) Late postoperative results in males treated for testicular torsion during childhood. J Pediatr Surg 29:553–556

23.

Anderson MJ, Dunn JK, Lishultz LI et al (1992) Semen quality and endocrine parameters after acute testicular torsion. J Urol 147:1545–1550

24.

Haas CA, Brown SL, Spirnak JP (1999) Penile fracture and testicular rupture. World J Urol 17:101–116

25.

Uder M, Gohl D, Takahashi M et al (2002) MRI of penile fracture: diagnosis and therapeutic follow-up. Eur Radiol 12:113–120

26.

Tiguert R, Harb JF, Hurley PM et al (2000) Management of shotgun injuries to the pelvis and lower genitourinary system. Urology 55:193–197

27.

Cass AS, Luxenberg M (1991) Testicular injuries. Urology 37:528–530

28.

Patil MG, Onuora VC (1994) The value of ultrasound in the evaluation of patients with blunt scrotal trauma. Injury 25:177–178

29.

Muglia V, Tucci S Jr, Elias J Jr et al (2002) Magnetic resonance imaging of scrotal diseases: when it makes the difference. Urology 59:419–423

30.

Goldman HB, Idom CB Jr, Dmochowski RR (1998) Traumatic injuries of the female external genitalia and their association with urological injuries. J Urol 159:956–959

31.

Virgili A, Bianchi A, Mollica G et al (2000) Serious hematoma of the vulva from a bicycle accident. A case report. J Reprod Med 45:662–664
Ethics declarations
Interessenkonflikt
A. Kaminsky und H. Sperling geben an, dass kein Interessenkonflikt besteht.
Dieser Beitrag beinhaltet keine von den Autoren durchgeführten Studien an Menschen oder Tieren.
About this article
Cite this article
Kaminsky, A., Sperling, H. Notfälle im Bereich des äußeren Genitale. Urologe 55, 444–453 (2016). https://doi.org/10.1007/s00120-016-0065-x
Schlüsselwörter
Genitaltrauma

Fournier-Gangrän

Priapismus

Hodentorsion

Epididymitis
Keywords
Genital trauma

Fournier's gangrene

Priapism

Testicular torsion

Epididymitis