Zusammenfassung
Die urotheliale Melanose der Blase stellt eine Rarität dar. In der Literatur sind weniger als 10 Fälle beschrieben. Wir berichten über eine 80-jährige Patientin mit neurogener Blasenfunktionsstörung, bei der sich im Rahmen der Duagnostik eine histologisch gesicherte benigne Melanose des Urothels ergab. Differentialdiagnostisch ist eine maligne Erkrankung im Sinne eines malignen Melanoms auszuschließen. Bei zystoskopischem Verdacht auf eine Melanose sollte in jedem Fall eine Biopsie erfolgen. Regelmäßige zystoskopische Kontrollen sind zu empfehlen.
Abstract
Melanosis of the bladder is rare. Only 10 cases have been described in the literature. We present the case of an 80-year-old woman with neurogenic lower urinary tract dysfunction due to spinal paralysis. During the diagnostic work-up which included cystoscopy, black spots in the bladder wall were observed. Histopathological evaluation revealed a benign suburothelial melanosis. Thus, with cystoscopic suspicion of a malignancy (melanoma), a biopsy is mandatory and regular cystoscopic follow-up is recommended.
This is a preview of subscription content, log in to check access.
Access options
Buy single article
Instant access to the full article PDF.
US$ 39.95
Price includes VAT for USA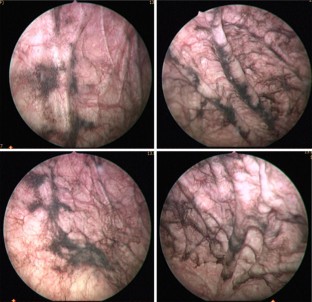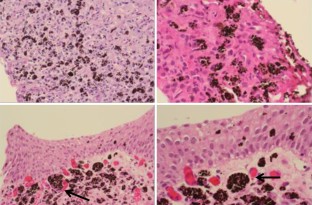 Literatur
1.

Chong FK, Wolfe GZ, Coukos WJ (1999) Melanosis vesica urinaria: is it a premalignant lesion? J Urol 161:1904–1905

2.

Di Fiore F, Pone D, Domizio S et al (2007) Melanosis of the bladder: a rare endoscopic and histopathological finding. Urol Int 78:185–187

3.

Engelhardt PF, Hohlbrugger G, Riedl CR (2006) Melanosis of the urinary bladder – a case report with 10 years of follow-up and review of literature. Aktuelle Urol 37:222–224

4.

Harikrishnan JA, Chilka S, Jain S (2012) Urinary tract transitional cell carcinoma and melanosis of the bladder: a case report and review of the literature. Ann R Coll Surg Engl 94:152–154

5.

Jin B, Zaidi SY, Hollowell M et al (2009) A unique case of urinary bladder simple melanosis: a case report and review of the literature. Diagn Pathol 4:24

6.

Patel P, Gotto G, Kavanagh A et al (2013) Urinary bladder melanosis associated with urothelial dysplasia and invasive urothelial carcinoma: a report of two cases. Anal Quant Cytopathol Histpathol 35:294–300

7.

Rossen K, Petersen MM (1999) Simple melanosis of the bladder. J Urol 161:1564

8.

Talmon GA, Khan AU, Koerber RK et al (2010) Simple melanosis of the bladder: a rare entity. Int J Surg Pathol 18:547–549

9.

Tzankov A, Peschel R, Stenzl A et al (2002) Lipofuscinosis of the urinary bladder: a complication of chronic interstitial cystitis. Virchows Arch 441:200–201

10.

Venyo AK (2014) Melanoma of the urinary bladder: a review of the literature. Surg Res Pract 2014:605802
Einhaltung ethischer Richtlinien
Interessenkonflikt. J. Wöllner, J. Janzen und J. Pannek geben an, dass kein Interessenkonflikt besteht. Dieser Beitrag beinhaltet keine Studien an Menschen oder Tieren.
About this article
Cite this article
Wöllner, J., Janzen, J. & Pannek, J. Melanose der Harnblase. Urologe 55, 68–70 (2016). https://doi.org/10.1007/s00120-015-3953-6
Schlüsselwörter
Melanose, suburotheliale

Blasenfunktionsstörung, neurogene

Zystoskopie

Biopsie

Drangsymptomatik
Keywords
Suburothelial melanosis

Neurogenic lower urinary tract function

Cystoscopy

Biopsy

Urinary incontinence, urge