Zusammenfassung
Der Eingriff der Hodenentfernung ist ein technisch unkomplizierter Eingriff am äußeren Genitale. Er kann in Abhängigkeit von der gegebenen Indikation (Tumor, Infarzierung, Entzündung u. a.) über einen skrotalen oder inguinalen Zugang erfolgen. Trotz seiner Überschaubarkeit birgt auch dieses operative Verfahren Risiken und mögliche Komplikationen, die beachtet werden müssen: Nachblutung und Hämatombildung, Wundinfektion und Wundheilungsstörung mit defizitärem kosmetischen Ergebnis können ebenso auftreten wie Nervenverletzungen mit temporären oder persistierenden Parästhesien und Schmerzen, wie auch die Aufarbeitung des eigenen Patientenguts mit einem malignen Hodentumor zeigt.
Abstract
Inguinal excision of testis is technically an elementary surgical procedure. According to the indication (e.g., malignant tumors, infarction, inflammation), an inguinal or alternatively a transcrotal approach is possible. Despite its straightforwardness, surgery of the scrotum includes remarkable risks and complications such as postoperative hemorrhage, hematoma formation, infections, and disturbances of wound healing followed by insufficient unfavorable cosmetic results. Nerve injury may be accompanied by temporary or persistent paresthesias which have been documented in our patients undergoing orchiectomy.
This is a preview of subscription content, log in to check access.
Access options
Buy single article
Instant access to the full article PDF.
US$ 39.95
Price includes VAT for USA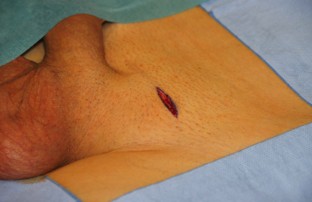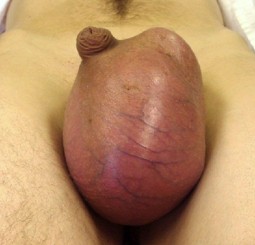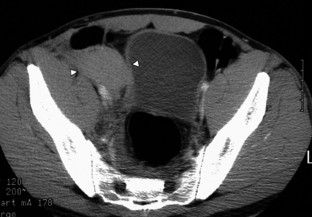 Literatur
1.

Akca O, Melischek M, Scheck T, Hellwanger K et al (1999) Postoperative pain and subcutaneous oxygen tension. Lancet 354:41–42

2.

Al-Assiri M, Kevin Z, Binsaleh S, Chan PT (2005) Surgical approach of giant testicular cancer. Case report and literature review. Can J Urol 12(1):2557–2559

3.

Albers P, Dieckmann K-P (1998) Hodentumoren: Diagnostik und Therapie des Primärtumors. Onkologe 4:487–493

4.

Allen DB, Maguire JJ, Mahdavian M et al (1997) Wound hypoxia and acidosis limit neutrophil bacterial killing mechanisms. Arch Surg 132(9):991–996

5.

Bokemeyer C, Frank B, Schöffski P et al (1993) Phantom sensations after orchiectomy for testicular cancer. Int J Oncol 2(4):633–636

6.

Boy D, Carl P (2002) Akzeptanz von Silikonhodenprothesen im Langzeitverlauf. Urologe A 41:462–469

7.

Browder J, Gallagher JP (1948) Dorsal cordotomy for painful phantom limbs. Ann Surg 128:456–469

8.

Chelmow D, Hennesay M, Evantash EG (2004) Prophylactic antibiotics for non-laboring patients with intact membranes undergoing cesarean delivery: an economic analysis. Am J Obstet Gynecol 191(5):1661–1665

9.

Cuthbertson AM, McLeish AR, Penfold JC, Ross H (1991) A comparison between single and double dose intravenous Timentin for the prophylaxis of wound infection in elective colorectal surgery. Dis Colon Rectum 34(2):151–155

10.

Dieckmann KP, Becker T, Bauer HW (1987) Testicular tumors: presentation and role of diagnostic delay. Urol Int 24(4):241–247

11.

Dieckmann KP, Frey U, Lock G (2013) Contemporary diagnostic work up of testicular germ cell tumours. Nat Rev Urol 10(12):703–712

12.

Dieckmann KP, Heidenreich A (2009) Therapie des Primärtumors. In: Rübben H (Hrsg) Uroonkologie, 5. Aufl. Springer, Berlin Heidelberg New York, S 651–656

13.

Gillis L (1964) The management of the painful amputation stump and a new theory for the phantom phenomena. Br J Surg 51:87–95

14.

Hopf HW, Hunt TK, West JM, Blomquist P et al (1997) Wound tissue oxygen tension predicts the risk of wound infection in surgical patients. Arch Surg 132(9):997–1005

15.

Houbiers JG, Velde van de CJ, Watering van de LM, Hermans J et al (1997) Transfusion of red cells is associated with increased incidence of bacterial infection after colorectal surgery: a prospective study. Transfusion 37(2):126–134

16.

Huse E, Larbig W, Flor H, Birbaumer N (2001) The effects of opioids on phantom limb pain and cortical reorganization. Pain 90(1–2):47-55

17.

Huse E, Larbig W, Birbaumer N, Flor H (2001) Kortikale Reorganisation und Schmerz. Schmerz 15:131–137

18.

Kjonniksen I, Andersen BM, Sondenaa VG, Segadal L (2002) Preoperative hair removal-a systematic literature review. Aorn J 75(5):928–938, 940

19.

Milone M, Musella M, Maietta P et al (2013) Outpatient surgical procedure: which is the ideal teaching procedure for a resident surgeon? G Chir 34(11–12):311–314

20.

Mishriki SF, Law DJ, Jeffrey PJ (1990) Factors affecting the incidence of postoperative wound infection. J Hosp Infect 16(3):223–230

21.

Moro ML, Carrieri MP, Tozzi AE et al (1996) Risk factors for surgical wound infections in clean surgery: a multicenter study. Italian Prinos Study Group. Ann Ital Chir 67(1):13–19

22.

Neues C, Haas E (2000) Modification of postoperative wound healing by showering. Chirurg 71(2):234–236

23.

Parkes CM (1973) Factors determining the persistance of phantom pain in the am- putee. J Psychosom Res 17:97–108

24.

Pessaux P, Msika S, Atalla D et al (2003) Risk factors for postoperative infectious complications in noncolorectal abdominal surgery: a multivariate analysis based on a prospective multicenter study of 4718 patients. Arch Surg 138(3):314–324

25.

Pühse G, Wachsmuth JU, Kemper S et al (2010) Phantom testis syndrome: prevalence, phenomenology and putative mechanisms. Int J Androl 33(1):216–220

26.

Rösch WH (2012) Komplikationen in der Kinderurologie: Orchidopexie. In: Anheuser P, Steffens J (Hrsg) Risiken und Komplikationen in der Urologie. Thieme, Stuttgart, S 269–272

27.

Weissbach L, Janssen PL, Bach D (1979) Die Implantation von Hodenprothesen unter Berucksichtigung psychischer Aspekte. Urologe A 18(3):151–156

28.

Yossepowitch O, Aviv D, Wainchwaig L, Baniel J (2011) Testicular prostheses for testis cancer survivors: patient perspectives and predictors of long-term satisfaction. J Urol 186(6):2249–2252
Einhaltung ethischer Richtlinien
Interessenkonflikt. P.Anheuser, J. Kranz, J. Will und K.P. Dieckmann geben an, dass kein Interessenkonflikt besteht. Dieser Beitrag beinhaltet keine Studien an Menschen oder Tieren.
About this article
Cite this article
Anheuser, P., Kranz, J., Will, J. et al. Komplikationen bei inguinaler Ablatio testis und skrotaler Orchiektomie. Urologe 53, 676–682 (2014). https://doi.org/10.1007/s00120-014-3487-3
Schlüsselwörter
Hodentumor

Wundinfektionen

Nachblutungen

Hypästhesie

Parästhesie
Keywords
Testicular neoplasms

Wound infection

Hemorrhage

Hypesthesia

Paresthesia