Zusammenfassung
Hintergrund
Das adrenogenitale Syndrom (AGS) ist mit einer mittleren Inzidenz weltweit von 1:14.500 das häufigste Krankheitsbild unter den Störungen der sexuellen Differenzierung (DSD). Bei weiblichem Kerngeschlecht führt der pränatale Androgenüberschuss zu einer Virilisierung des äußeren Genitale. Dies beinhaltet eine Klitorishypertrophie und mit zunehmendem Grad einen immer höheren Konfluens von Urethra und normal angelegter proximaler Vagina, die dann den Sinus urogenitalis bilden. Die inneren Geschlechtsorgane sind weiblich.
Methode
Bislang war es üblich, innerhalb der ersten 18 Lebensmonate eine feminisierende Operation durchzuführen. Dies betraf zumindest die Klitorishypertrophie. Kann durch die Operation ein kosmetisch gutes Ergebnis erzielt werden, wurde funktionell oftmals von Schäden berichtet wie einer mangelnden klitoralen Sensibilität.
Ergebnisse
Die in den letzten Jahren heftige Diskussion um die Behandlung von Intersexbetroffenen hat auch beim AGS, das im Formenkreis Intersexualität eine Sonderstellung einnimmt, zu der Empfehlung geführt, frühe Operationen zu vermeiden und stattdessen die Entwicklung des Kindes abzuwarten, bis dieses selbst entscheiden kann, ob und wie es operiert werden möchte. Die Richtigkeit dieses Sinneswandels wird durch Publikationen zu Langzeitverläufen Betroffener unterstützt, deren geschlechtliche Entwicklung in eine ganz andere Richtung ging, als von Ärzten und Eltern gedacht.
Abstract
Background
With a mean global incidence of 1:14500, congenital adrenal hyperplasia (CAH) is the most common disorder of sexual differentiation (DSD). In case of female karyotype, the prenatal surplus of androgens causes virilization of the external genitalia. This includes clitoral hypertrophy and an increasing higher confluence of the urethra and normal developed proximal vagina, creating the urogenital sinus. Internal genitalia are female.
Method
Until recently feminizing surgery was performed within the first 18 months of life, at least concerning clitoroplasty. Though the cosmetic result of this kind of surgery is quite good, functional shortcomings like clitoral hyposensibility were often reported.
Results
The latest discussion about treatment of intersex patients resulted in recommendations to prevent early surgery and observe the development of the child, until the child can decide for itself, if and in what direction it wants to undergo surgery. Though CAH patients are seen as a special group within intersex disorders, these recommendations should also be considered for them. The appropriateness of this change in treatment strategy is supported by publications concerning the long-term follow-up of patients, who finally chose a gender that was different from what physicians and parents had expected.
This is a preview of subscription content, log in to check access.
Access options
Buy single article
Instant access to the full article PDF.
US$ 39.95
Price includes VAT for USA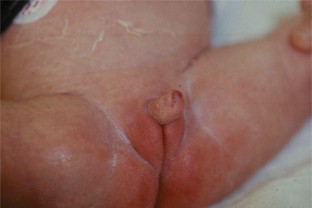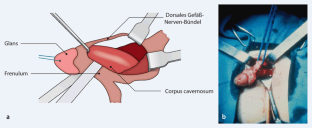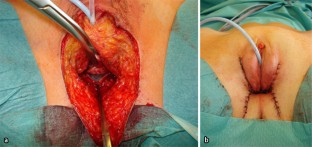 Literatur
1.

Callens N, Zwan YG van der, Drop SLS et al (2012) Do surgical interventions influence psychosexual and cosmetic outcomes in women with disorders of sex development? Endocrinol (Epub ahead of print)

2.

Creighton SM, Minto CL, Steele SJ (2001) Objective cosmetic and anatomical outcomes at adolesence of feminising surgery for ambiguous genitalia done in childhood. Lancet 358:124–125

3.

Deutscher Ethikrat (2012) Intersexualität – Stellungnahme. Deutscher Ethikrat, Berlin

4.

Faggerholm R, Santtila P, Miettinen PJ et al (2011) Sexual function and attitudes toward surgery after feminizing genitoplasty. J Urol 185:1900–1904

5.

Fröhling U (2003) Leben zwischen den Geschlechtern: Intersexualität – Erfahrungen in einem Tabubereich. Ch. Links, Berlin

6.

Fortunoff S, Lattimer JK, Edson M (1964) Vaginoplasty technique for female pseudohermaphrodites. Surg Gynecol Obstet 118:545–548

7.

Gonzalez R, Fernandes ET (1990) Single-stage feminization genitoplasty. J Urol 143:776–778

8.

Hendren H, Crawford JD (1969) Adrenogenital syndrome: the anatomy of the anomaly and its repair. Some new concepts. J Pediatr Surg 4:49–58

9.

Krege S, Walz KH, Hauffa BP et al (2000) Long-term follow-up of female patients with congenital adrenal hyperplasia from 21-hydroxylase deficiency, with special emphasis on the results of vaginoplasty. BJU Int 86:253–259

10.

Kuhnle-Krahl U, Bullinger M (1999) Intersexualität: Probleme der sexuellen Identität bei erwachsenen Frauen mit adrenogenitalem Syndrom. Korasion Fachzeitung für Kinder- und Jugendgynäkologie 14:13–17

11.

Kumar H, Kiefer JH, Rosenthal E, Clark SS (1974) Clitoroplasty: experience during a 19-year period. J Urol 111:81–84

12.

Minto CL, Liao KL, Conway GS, Creighton SM (2003) The effect of clitoral surgery on sexual outcome in individuals who have intersex conditions with ambiguous genitalia: a cross-sectional study. Lancet 361:1252–1257

13.

Nordenström A, Frisen L, Falhammar H et al (2010) Sexual function and surgical outcome in women with congenital adrenal hyperplasia due to CYP21A2 deficiency: clinical perspective and the patients' perception. J Clin Endocrinol Metab 95:3633–3640

14.

Pang S, Wallace MA, Hofman L et al (1988) Worldwide experience in newborn screening for classical adrenal hyperplasia due to 21-hydroxylase deficiency. Pediatrics 81:866–870

15.

Passerini Glazel G (1989) A new 1-stage procedure for clitorovaginoplasty in severely masculinized female pseudohermaphrodites. J Urol 142:565–568

16.

Schott G, Rösch W, Dörr HG, Schrott KM (1992) Diagnostik und operatives Vorgehen bei Kindern mit Intersexualität. Pädiat Prax 44:235–244

17.

Sircili MHP, Mendonca BB de, Denes FT et al (2006) Anatomical and functional outcomes of feminizing genitoplasty for ambiguous genitalia in patients with virilizing congenital adrenal hyperplasia. Clinics (Sao Paulo) 61:209–214

18.

Van der Zwan YG, Janssen EHCC, Callens N et al (2013) Severity of virilization is associated with cosemtic appearance and sexual function in women with cogenital adrenal hyperplasia: a cross-sectional study. J Sex Med 10:866–875

19.

Werder EA, Siebenmann RE, Knorr-Mürset G et al (1980) The incidence of congenital adrenal hyperplasia in Switzerland – a survey of patients born in 1960–1974. Helv Paediatr Acta 35:5–11

20.

Wisniewski AB, Migeon CJ, Malouf MA, Gearhart JP (2004) Psychosexual outcome in women affected by congenitaö adrenal hyperplasia due to 21-hydroxylase-deficiency. J Urol 171:2497–2501
Einhaltung ethischer Richtlinien
Interessenkonflikt. S. Krege gibt an, dass kein Interessenkonflikt besteht. Dieser Beitrag beinhaltet keine Studien an Menschen oder Tieren.
About this article
Cite this article
Krege, S. Das adrenogenitale Syndrom beim Mädchen/junger Frau. Urologe 53, 206–212 (2014). https://doi.org/10.1007/s00120-013-3385-0
Schlüsselwörter
Klitorisreduktionsplastik

Vaginalplastik

Androgenüberschuss

Klitorishypertrophie

Intersexualität
Keywords
Clitoroplasty

Vaginoplasty

Excess androgens

Clitoris hypertrophy

Intersexuality