Zusammenfassung
Hauptrisikofaktor für das Auftreten maligner Erkrankungen ist das Alter. Dies trifft auch auf die meisten Krebserkrankungen des Urogenitaltrakts zu. Zusammen mit dem demographischen Wandel in Deutschland und den meisten anderen Ländern wird daher die Zahl alter Patienten mit Krebserkrankungen des Urogenitaltrakts deutlich zunehmen. Onkologische Therapien sind mit Risiken für unerwünschte Wirkungen behaftet. Altern ist ein sehr heterogen verlaufender Prozess. Das chronologische Alter eines Patienten gibt seine individuellen Ressourcen, Defizite und Risiken nur unzureichend wieder. Systematisch werden sie durch ein geriatrisches Assessment erfasst. Die Integration des geriatrischen Assessments in onkologische Entscheidungsprozesse ist bisher unzureichend, aber eine wesentliche Aufgabe im Rahmen der Verbesserung der zukünftigen onkologischen Versorgung.
Abstract
Ageing is the single most important risk factor for cancer. This is also true for most cancer diseases of the genitourinary tract. In combination with the demographic changes in Germany and most other countries, the consequence is a substantial increase in the number of elderly patients with cancer. Most therapies in oncology have a high risk for toxic side effects. Ageing is a very heterogeneous process. The chronological age of a patient insufficiently reflects the individual resources, deficits and risk factors but this can be assessed by a structured geriatric assessment. Integration of geriatric assessment into oncological treatment decisions is still low and is one of the major tasks in cancer care in the future.
This is a preview of subscription content, log in to check access.
Access options
Buy single article
Instant access to the full article PDF.
US$ 39.95
Price includes VAT for USA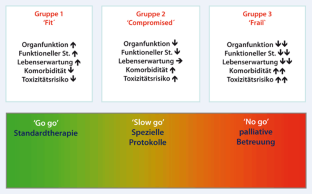 Literatur
1.

Repetto L, Venturino A, Vercelli M et al (1998) Performance status and comorbidity in elderly cancer patients compared with young patients with neoplasia and elderly patients without neoplastic conditions. Cancer 82(4):760–765

2.

Extermann M, Overcash J, Lyman GH et al (1998) Comorbidity and functional status are independent in older cancer patients. J Clin Oncol 16(4):1582–1587

3.

Extermann M, Meyer J, McGinnis M et al (2004) A comprehensive geriatric intervention detects multiple problems in older breast cancer patients. Crit Rev Oncol Hematol 49(1):69–75

4.

Frasci G, Lorusso V, Panza N et al (2000) Gemcitabine plus vinorelbine versus vinorelbine alone in elderly patients with advanced non-small-cell lung cancer. J Clin Oncol 18(13):2529–2536

5.

Freyer G, Geay JF, Touzet S et al (2005) Comprehensive geriatric assessment predicts tolerance to chemotherapy and survival in elderly patients with advanced ovarian carcinoma: a GINECO study. Ann Oncol 16(11):1795–1800

6.

Mahoney FI, Barthel DW (1965) Functional evaluation. Md Med J 14:61–65

7.

Lawton MP, Brody EM (1969) Assessment of older people: self-maintaining and instrumental activities of daily living. Gerontologist 9(3):179–186

8.

Yesavage JA, Brink TL, Rose TL et al (1982) Development and validation of a geriatric depression screening scale: a preliminary report. J Psychiatr Res 17(1):37–49

9.

Watson YI, Arfken CL, Birge SJ (1993) Clock completion: an objective screening test for dementia. J Am Geriatr Soc 41(11):1235–1240

10.

Folstein MF, Folstein SE, McHugh PR (1975) "Mini-mental state". A practical method for grading the cognitive state of patients for the clinician. J Psychiatr Res 12(3):189–198

11.

Kalbe E, Kessler J, Calabrese P et al (2004) DemTect: a new, sensitive cognitive screening test to support the diagnosis of mild cognitive impairment and early dementia. Int J Geriatr Psychiatry 19(2):136–143

12.

Cohendy R, Rubenstein LZ, Eledjam JJ (2001) The mini-nutritional assessment-short form for preoperative nutritional evaluation of elderly patients. Aging (Milano) 13(4):293–297

13.

Tinetti ME (1986) Performance-oriented assessment of mobility problems in elderly patients. J Am Geriatr Soc 34(2):119–126

14.

Podsiadlo D, Richardson S (1991) The timed "Up & Go": a test of basic functional mobility for frail elderly persons. J Am Geriatr Soc 39(2):142–148

15.

Nikolaus T, Specht-Leible N, Bach M et al (1994) Social aspects in diagnosis and therapy of very elderly patients. Initial experiences with a newly developed questionnaire within the scope of geriatric assessment. Z Gerontol 27(4):240–245

16.

Sommer G, Fydrich T (1989) Unterstützung: Diagnostik, Konzepte, F-SOZU. Deutsche Gesellschaft für Verhaltenstherapie, Tübingen

17.

Karnofsky DA, Adelmann WH, Craver FL (1948) The use of nitrogen mustard in the palliative treatment of carcinoma. Cancer 1:634–656

18.

Mor V, Laliberte L, Morris JN et al (1984) The karnofsky performance status scale. An examination of its reliability and validity in a research setting. Cancer 53(9):2002–2007

19.

Buccheri G, Ferrigno D, Tamburini M (1996) Karnofsky and ECOG performance status scoring in lung cancer: a prospective, longitudinal study of 536 patients from a single institution. Eur J Cancer 32A(7):1135–1141

20.

Wedding U, Rohrig B, Klippstein A et al (2007) Age, severe comorbidity and functional impairment independently contribute to poor survival in cancer patients. J Cancer Res Clin Oncol 133(12):945–950

21.

Massie MJ (2004) Prevalence of depression in patients with cancer. J Natl Cancer Inst Monogr (32):57–71

22.

Strauss B, Berger U, Troschke JV et al (2004) Lehrbuch Medizinische Psychologie und Medizinische Soziologie. Hogrefe, Göttingen

23.

Schröder KE, Schwarzer R (1997) Bewältigungsressourcen. In: Tesch-Römer C, Salewski C, Schwarz G (Hrsg) Psychologie der Bewältigung. Psychologie Verlags Union, Weinheim, S 174–195

24.

Rehse B, Pukrop R (2003) Effects of psychosocial interventions on quality of life in adult cancer patients: meta-analysis of 37 published controlled outcome studies. Patient Educ Couns 50(2):179–186

25.

DeBoer MF, Ryckman RM, Pruyn JF et al (1999) Psychosocial correlates of cancer relapse and survival: a literature review. Patient Educ Couns (37):215–230

26.

Read WL, Tierney RM, Page NC et al (2004) Differential prognostic impact of comorbidity. J Clin Oncol 22(15):3099–3103

27.

Corcoran ME (1997) Polypharmacy in the older patient with cancer. Cancer Control 4(5):419–428

28.

Friedrich C, Kolb G, Wedding U et al (2003) Comprehensive geriatric assessment in the elderly cancer patient. Onkologie 26(4):355–360

29.

Extermann M, Aapro M, Bernabei R et al (2005) Use of comprehensive geriatric assessment in older cancer patients: recommendations from the task force on CGA of the International Society of Geriatric Oncology (SIOG). Crit Rev Oncol Hematol 55(3):241–252

30.

Pallis AG, Fortpied C, Wedding U et al (2010) EORTC elderly task force position paper: approach to the older cancer patient. Eur J Cancer 46(9):1502–1513

31.

Pallis AG, Wedding U, Lacombe D et al (2010) Questionnaires and instruments for a multidimensional assessment of the older cancer patient: what clinicians need to know? Eur J Cancer 46(6):1019–1025

32.

Pallis AG, Ring A, Fortpied C et al (2011) EORTC workshop on clinical trial methodology in older individuals with a diagnosis of solid tumors. Ann Oncol 22(8):1922–1926

33.

Puts MT, Papoutsis A, Springall E et al (2012) A systematic review of unmet needs of newly diagnosed older cancer patients undergoing active cancer treatment. Support Care Cancer 20(7):1377–1394

34.

Hamaker ME, Jonker JM, Rooij SE de et al (2012) Frailty screening methods for predicting outcome of a comprehensive geriatric assessment in elderly patients with cancer: a systematic review. Lancet Oncol 13(10):437–444

35.

Seymour MT, Thompson LC, Wasan HS et al (2011) Chemotherapy options in elderly and frail patients with metastatic colorectal cancer (MRC FOCUS2): an open-label, randomised factorial trial. Lancet 377(9779):1749–1759

36.

Droz JP, Balducci L, Bolla M et al (2010) Management of prostate cancer in older men: recommendations of a working group of the International Society of Geriatric Oncology. BJU Int 106(4):462–469

37.

Droz JP, Balducci L, Bolla M et al (2010) Background for the proposal of SIOG guidelines for the management of prostate cancer in senior adults. Crit Rev Oncol Hematol 73(1):68–91

38.

Bellmunt J, Negrier S, Escudier B et al (2009) The medical treatment of metastatic renal cell cancer in the elderly: position paper of a SIOG Taskforce. Crit Rev Oncol Hematol 69(1):64–72

39.

Deutschland R.K.-I.u.d.G.d.e.K.i. (2012) (Hrsg) Krebs in Deutschland 2007/2008. Deutschland R.K.-I.u.d.G.d.e.K.i., Berlin

40.

Wedding (2011) "Therapieentscheidungen und medikamentöse Therapie von Tumorerkrankungen bei alten Patienten" in Wehling und Burkhardt (Hrsg) "Arzneitherapie für Ältere. Springer, Berlin Heidelberg New York
Interessenkonflikt
Keine Angaben
About this article
Cite this article
Wedding, U. Geriatrisches Assessment vor onkologischer Therapie. Urologe 52, 827–831 (2013). https://doi.org/10.1007/s00120-013-3212-7
Schlüsselwörter
Krebs

Alter

Komorbiditäten

Assessment, geriatrisches

Prostatakrebs
Keywords
Cancer

Age

Comorbidity

Assessment, geriatric

Prostate cancer