Zusammenfassung
Hintergrund
Die G-Protein-gekoppelte Signaltransduktion spielt eine Schlüsselrolle bei der Pathophysiologie der Metastasierung. In Position 825 des Gens der G-Proteinuntereinheit Gβ3 wurde ein C/T-Polymorphismus detektiert und der Genotyp dieses Polymorphismus konnte als Risikofaktor für die Progression einzelner Tumoren identifiziert werden.
Material und Methoden
Bei 235 Patienten mit einem Prostatakarzinom und 111 gesunden Kontrollprobanden wurde eine Genotypisierung im GNB3-C825T-Polymorphismus durch Polymerasekettenreaktion und Restriktionsfragmentanalyse durchgeführt. Bei 197 Patienten wurde der klinische Verlauf der Erkrankung aufgearbeitet.
Ergebnisse
Es ließen sich keine Unterschiede in den Genotypenverteilungen im Kollektiv der Tumorpatienten und dem Kontrollkollektiv feststellen (Odds-RatioCT/TT=0,94; 95%-KI=0,58–1,51; p=0,82). Es ergab sich kein Hinweis auf einen Zusammenhang zwischen dem Risiko für eine Progression und dem GNB3-C825T-Genotyp (Hazard-RatioCT/TT=0,77; 95%-KI=0,44–1,37; p=0,38). Auch in der Gruppe der Patienten mit dem Tumorstadium ≤pT2N0M0, die radikal prostatektomiert wurden, bestätigten sich diese Ergebnisse.
Schlussfolgerung
Die hier vorgestellten Daten sprechen gegen eine Assoziation des Genotyps im GNB3-C825T-Polymorphismus und dem Risiko für die Entwicklung und die Progression eines Prostatakarzinoms.
Abstract
Background
G protein-mediated signal transduction plays a key role in pathways of metastasis. A C/T polymorphism (dbSNP rs5443) at position 825 of the GNB3 gene has been described. Previous studies demonstrated an association between the GNB3 C825T genotype and different cancer entities.
Patients and methods
In this report genotyping for this marker was performed in 235 prostate cancer patients and 111 healthy control subjects. Clinical follow-up data were available for a subset of 197 patients.
Results
Neither significant evidence for differences in genotype distributions between the prostate cancer cases and controls (odds ratio CT/TT=0.94, 95% CI 0.58–1.51, p=.82) nor evidence for genotype differences in e.g. progression-free survival in the subset of patients was observable (hazard ratio CT/TT=0.77, 95% CI 0.44–1.37, p=.38). Similar results were obtained in the subgroup of patients with primary tumor stage ≤ pT2 N0 M0 undergoing radical prostatectomy.
Conclusion
Our data do not support an association between prostate cancer and the genotype of the GNB3 C825T polymorphism. This finding might either indicate a much smaller genetic effect undetectable with the given sample size or a possible hormone dependence of the disease superimposed on the potential effect of the GNB3 C825T genotype.
This is a preview of subscription content, log in to check access.
Access options
Buy single article
Instant access to the full article PDF.
US$ 39.95
Price includes VAT for USA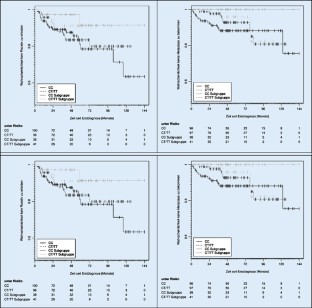 Literatur
1.

Cancel-Tassin G, Cussenot O (2005) Genetic susceptibility to prostate cancer. BJU Int 96:1380–1385

2.

Carey AH, Waterworth D, Patel K et al (1994) Polycystic ovaries and premature male pattern baldness are associated with one allele of the steroid metabolism gene CYP17. Hum Mol Genet 3:1873–1876

3.

Clar H, Langsenlehner U, Krippl P et al (2007) A polymorphism in the G protein beta3-subunit gene is associated with bone metastasis risk in breast cancer patients. Breast Cancer Res Treat 107(3):459–460, DOI:10.1007/s10549-007-9808-0

4.

Eisenhardt A, Siffert W, Rosskopf D et al (2005) Association study of the G-protein beta3 subunit C825 T polymorphism with disease progression in patients with bladder cancer. World J Urol 23:279–286

5.

Frey UH, Alakus H, Wohlschlaeger J et al (2005) GNAS1 T393 C polymorphism and survival in patients with sporadic colorectal cancer. Clin Cancer Res 11:5071–5077

6.

Gsur A, Bernhofer G, Hinteregger S et al (2000) A polymorphism in the CYP17 gene is associated with prostate cancer risk. Int J Cancer 87:434–437

7.

Hao F, Tan M, Xu X et al (2007) Lysophosphatidic acid induces prostate cancer PC3 cell migration via activation of LPA(1), p42 and p38alpha. Biochim Biophys Acta 1771:883–892

8.

Heidenreich A, Aus G, Bolla M et al (2008) EAU guidelines on prostate cancer. Eur Urol 53:68–80

9.

Jäger T, Eisenhardt A, Rübben H, Lümmen G (2007) Does cigarette smoking influence the survival of patients with prostate cancer? Urologe A 46:397–400

10.

Jemal A, Siegel R, Ward E et al (2008) Cancer statistics. CA Cancer J Clin 58:71–96

11.

Lindström S, Zheng SL, Wiklund F et al (2006) Systematic replication study of reported genetic associations in prostate cancer: strong support for genetic variation in the androgen pathway. Prostate 66:1729–1743

12.

Makridakis NM, Ross RK, Pike MC et al (1999) Association of mis-sense substitution in SDR5A2 gene with prostate cancer in African-American and Hispanic men in Los Angeles, USA. Lancet 354:975–978

13.

McCuden CR, Hains ME, Kimple RJ et al (2005) G-protein signalling: back to the future. Cell Mol Life Sci 62:551–577

14.

Neptune ER, Bourne UR (1997) Receptors induce chemotaxis by releasing the betagamma subunit of Gi, not by activating Gq or Gs. Proc Natl Acad Sci USA 94:14489–14494

15.

Neptune ER, Iiri T, Bourne UR (1999) Galphai is not required for chemotaxis mediated by Gi-coupled receptors. J Biol Chem 274:2824–2828

16.

Ntais C, Polycarpou A, Ioannidis JP (2003) Association of the CYP17 gene polymorphism with the risk of prostate cancer: a meta-analysis. Cancer Epidemiol Biomarkers Prev 12:120–126

17.

Nückel H, Frey U, Aralh N et al (2003) The CC genotype of the C825 T polymorphism of the G protein beta3 gene (GNB3) is associated with a high relapse rate in patients with chronic lymphocytic leukaemia. Leuk Lymphoma 44:1739–1743

18.

Robert Koch-Institut (RKI), Gesellschaft der epidemiologischen Krebsregister in Deutschland (GEKID) (2008) Krebs in Deutschland 2003–2004. Häufigkeiten und Trends, 2. Aufl. RKI, Berlin

19.

Sheu SY, Görges R, Ensinger C et al (2005) Different genotype distribution of the GNB3 C825 T polymorphism of the G protein β3 subunit in adenomas and differentiated thyroid carcinomas of follicular cell origin. J Pathol 207:430–435

20.

Siffert W, Forster P, Jöckel KH et al (1999) Worldwide ethnic distribution of the G protein 3 subunit 825 T allele and its association with obesity in Caucasian, Chinese, and black African individuals. J Am Soc Nephrol 10:1921–1939

21.

Siffert W, Rosskopf D, Siffert G et al (1998) Association of a human G-protein b3 subunit variant with hypertension. Nat Genet 18:45–48

22.

Sobin LH, Fleming ID. TNM Classification of Malignant Tumors, fifth edition (1997) Union Internationale Contre le Cancer and the American Joint Committee on Cancer. Cancer 80:1803–1804

23.

Soderstrom T, Wadelius M, Andersson SO et al (2002) 5alpha-reductase 2 polymorphisms as risk factors in prostate cancer. Pharmacogenetics 12:307–312

24.

Stanford JL, Noonan EA, Iwasaki L et al (2002) A polymorphism in the CYP17 gene and risk of prostate cancer. Cancer Epidemiol Biomarkers Prev 11:243–247

25.

Sun A, Ge J, Siffert W, Frey UH (2005) Quantification of allele-specific G-protein beta3 subunit mRNA transcripts in different human cells and tissues by pyrosequencing. Eur J Hum Genet 13:361–369

26.

Virchow S, Ansorge N, Rübben H et al (1998) Enhanced fMLP-stimulated chemotaxis in human neutrophils from individuals carrying the G protein subunit 825T-allele. FEBS Lett 436:155–158
Interessenkonflikt
Der korrespondierende Autor gibt an, dass kein Interessenkonflikt besteht.
About this article
Cite this article
Eisenhardt, A., Scherag, A., Kempin, M. et al. Genotyp des GNB3-C825T-Polymorphismus. Urologe 50, 1137 (2011). https://doi.org/10.1007/s00120-011-2621-8
Schlüsselwörter
GNB3-C825T-Polymorphismus

Genetischer Marker

Genotypisierung

Risikofaktor

Prostatakarzinom
Keywords
GNB3 C825T polymorphism

Genetic marker

Genotyping

Risk factor

Prostate cancer