Zusammenfassung
Hintergrund
Im Rahmen des Forschungsprojekts "Familiäres Prostatakarzinom" werden seit 1999 Prostatakarzinompatienten aus ganz Deutschland rekrutiert. Eine umfassende Auswertung der bis dahin rekrutierten 25.065 Familien erfolgte 2009. Davon waren 77,4% sporadisch, 20,0% familiär und 2,6% hereditär betroffen. Oft gelingt es allerdings nicht, umfassende, validierbare Informationen über sämtliche Angehörige zu erhalten.
Ergebnisse
Das hohe Durchschnittsalter der Patienten, die niedrigere Lebenserwartung in der Elterngeneration, sowie eine geringe Zahl an erstgradigen männlichen Angehörigen erschweren die Einteilung in sporadische, familiäre und hereditäre Fälle. Für die Identifikation von 100 hereditären Patienten ist daher in unserer Datenbank die Rekrutierung von mehr als 5000 Patienten und deren Familien notwendig, für 100 sporadische Patienten mit mindestens 2 erstgradigen männlichen Angehörigen, welche anamnestisch kein Prostatakarzinom haben, fast 1250 Patienten.
Abstract
Background
The German national research project"familial prostate cancer" has been recruiting prostate cancer patients nationwide since 1999. In 2009, a comprehensive data analysis of the 25,065 families recruited was performed. Of these, 77.4% were identified as sporadic, 20.0% as familial and 2.6% as hereditary cases of prostate cancer. However, obtaining comprehensive, validated information about all relatives often fails.
Results
The high average age of the patients, the lower life expectancy in further generations and the low number of first-degree male relatives hampers the classification of sporadic, familial and hereditary cases. Consequently we describe here that in our database the identification of 100 hereditary cases requires a recruitment of more than 5,000 patients with their families. For 100 sporadic patients with 2 first-degree male relatives without a case history 1,250 patients are needed.
This is a preview of subscription content, log in to check access.
Access options
Buy single article
Instant access to the full article PDF.
US$ 39.95
Price includes VAT for USA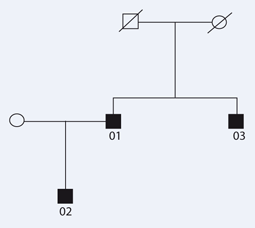 Literatur
1.

Albright LA, Schwab A, Camp NJ et al (2005) Population-based risk assessment for other cancers in relatives of hereditary prostate cancer (HPC) cases. Prostate 64:347–355

2.

Bruner DW, Moore D, Parlanti A et al (2003) Relative risk of prostate cancer for men with affected relatives: systematic review and meta-analysis. Int J cancer 107:797–803

3.

Carter BS, Bova GS, Beaty TH et al ((1993) Hereditary prostate cancer: epidemiologic and clinical features. J Urol 150:797–802

4.

Cui J, Hopper JL (2000) Why are the majority of hereditary cases of early-onset breast cancer sporadic? A simulation study. Cancer Epidemiol Biomarkers Prev 9(8):805–812

5.

Cui J, Staples MP, Hopper JL et al (2001) Segregation analyses of 1,476 population-based Australian families affected by prostate cancer. Am J Hum Genet 68:1207–1218

6.

Cussenot O, Valeri A (2001) Heterogeneity in genetic susceptibility to prostate cancer. Eur J Intern Med 12:11–16

7.

Hemminki K, Sundquist J, Bermejo JL (2008) How common is familial cancer? Ann Oncol 19:163–167

8.

Herkommer K, Autenrieth M, Merkle M et al (2007) Hereditary vs. sporadic prostate cancer: Differences in clinical data and progression-free survival? Eur Urol 6(Suppl):903

9.

Herkommer K, Paiss T, Merz M et al (2006) Association of a positive family history with histopathology and clinical course in early-onset prostate cancer. Urologe A 45:1532–1539

10.

Husmann G, Kaatsch P, Katalinic A et al (2010) Krebs in Deutschland 2005/2006. Häufigkeiten und Trends. Robert-Koch-Institut, Berlin

11.

Johns LE, Houlston RS (2003) A systematic review and meta-analysis of familial prostate cancer risk. BJU Int 91:789–794

12.

Macinnis RJ, Antoniou AC, Eeles RA et al (2009) Prostate cancer segregation analyses using 4390 families from UK and Australian population-based studies. Genet Epidemiol 34(1):42–50

13.

Maier C, Haeusler J, Herkommer K et al (2005) Mutation screening and association study of RNASEL as a prostate cancer susceptibility gene. Br J Cancer 92(6):1159–1164

14.

Maier C, Vesovic Z, Bachmann N et al (2006) Germline mutations of the MSR1 gene in prostate cancer families from Germany. Hum Mutat 27(1):98–102

15.

Plaetke R, Thompson I, Sarosdy M et al (2002) Genetic fieldwork for hereditary prostate cancer studies. Urol Oncol 7:19–27

16.

Powell IJ, Meyskens FL Jr (2001) African American men and hereditary/familial prostate cancer: Intermediate-risk populations for chemoprevention trials. Urology 57:178–181

17.

Steinberg GD, Carter BS, Beaty TH et al (1990) Family history and the risk of prostate cancer. Prostate 17:337–347

18.

Valeri A, Azzouzi R, Drelon E et al (2000) Early-onset hereditary prostate cancer is not associated with specific clinical and biological features. Prostate 45:66–71
Danksagung
Neben den teilnehmenden Patienten und deren Familien möchte ich v. a. den Kollegen in den Kliniken und den niedergelassenen Kollegen für die Unterstützung und das Engagement des nationalen Forschungsprojektes "Familiäres Prostatakarzinom" danken. Herzlichen Dank für die aufgebrachte Zeit und die gute Zusammenarbeit!
Interessenkonflikt
Der korrespondierende Autor gibt an, dass kein Interessenkonflikt besteht.
About this article
Cite this article
Herkommer, K., Schmidt, C. & Gschwend, J. Zehn Jahre nationales Forschungsprojekt "Familiäres Prostatakarzinom". Urologe 50, 813–820 (2011). https://doi.org/10.1007/s00120-011-2552-4
Schlüsselwörter
Prostatakarzinom

Positive Familienanamnese

Hereditär

Hochrisikofamilie
Keywords
Prostate cancer

Family history

Hereditary

High-risk families