Zusammenfassung
Die Strukturierung von Organtumorzentren durch die Deutsche Krebsgesellschaft (DKG) ist Teil der grundlegenden politisch gesteuerten Neuordnung der onkologischen Versorgung in Deutschland. Seit dem Jahr 2007 wurde eine zunehmende Zahl von Prostatakarzinomzentren durch die OnkoZert GmbH der DKG zur Zertifizierung geführt. Aktuell sind 68 Zentren zertifiziert, mit den laufenden Verfahren sind es 81 Prostatakarzinomzentren, die rund ein Viertel der Primärfälle an Prostatakarzinomen abdecken. Der Urologie kommt in der Leitung dieser Zentren eine besondere Bedeutung bei. Meist sind Urologen einer klinischen Einheit die Initiatoren der Zertifizierung und sorgen damit für eine nachhaltige Verankerung der Uroonkologie im Fachgebiet unter Einbindung der ambulanten Leistungserbringer. Ängste um einen Verlust an Kompetenz sind unbegründet solange die Verantwortung für diese Aufgabe ernst genommen wird und die Gestaltungsräume aktiv genutzt werden. Eine vergleichbar wichtige Funktion erfüllen die Hodentumorzweitmeinungszentren, die als Initiative der Urologie gemeinsam mit der Deutschen Krebshilfe das Ziel der Qualitätssicherung für diese Tumorentität verfolgt und dadurch auch diesen Tumor im Fachgebiet der Urologen verankert lässt. Durch solche strategischen Ausrichtungen wird es der Urologie gelingen, ihren Stellenwert in einem sehr kompetitiven Umfeld nachhaltig in der Zukunft zu sichern und den Begehrlichkeiten anderer Fachgebiete durch klare Orientierung zu begegnen.
Abstract
Establishment of organ site-specific cancer centers by the German Cancer Society (GCS) is part of the basic politically driven reform of oncology care in Germany. Since 2007 an increasing number of prostate cancer centers have been guided toward certification by the OnkoZert GmbH of the GCS. Currently 68 centers are certified and together with ongoing certification proceedings will amount to 81 prostate cancer centers, which cover about one fourth of cases of primary prostate cancer. Urology is of particular importance in the management of these centers. For the most part, urologists belonging to a clinical unit are the initiators of the certification process, thus ensuring that uro-oncology is firmly entrenched in the specialty with involvement of outpatient service providers. Fears that authority will be lost are unfounded as long as responsibility for this task is taken seriously and active use is made of the possibilities for creativity. A similarly important function is fulfilled by the testicular cancer centers that offer second opinion services, which were initiated by urology conjointly with German Cancer Aid to pursue the goal of quality assurance for this tumor entity and therefore likewise secure the position of this tumor in the realm of urologists. By applying such strategic approaches, urologists will succeed in sustainably safeguarding their future importance in a very competitive environment and in counteracting the encroachments of other specialties by exhibiting clear orientation.
This is a preview of subscription content, log in to check access.
Access options
Buy single article
Instant access to the full article PDF.
US$ 39.95
Price includes VAT for USA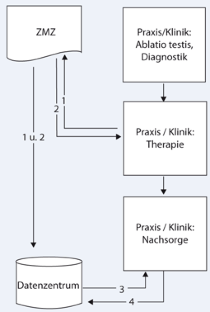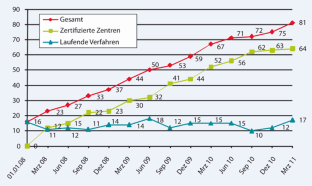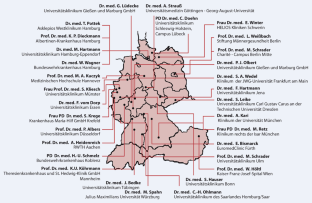 Literatur
1.

Schrader M, Hartmann M, Krege S et al (2006) Second opinion centers Approach for improving the quality of treatment for testicular tumors. Urologe A 45(4):493–494

2.

Busch J, Rollig C, Weissbach L et al (2010) What is most important is what comes across: Urological guidelines from the target group's point of view. Urologe A 49:75–80

3.

Vickers AJ, Bianco FJ, Serio AM et al (2007) The surgical learning curve for prostate cancer control after radical prostatectomy. J Natl Cancer Inst 1171–1177

4.

Prostatakarzinomzentren und Prostatazentren – Gemeinsame Stellungnahme von DGU und BDU Der Urologe 10/2007 S 1449–1450

5.

Schrader M, Weissbach L, Hartmann M et al (2010) Burden or relief: do second-opinion centers influence the quality of care delivered to patients with testicular germ cell cancer? Eur Urol 57:867–872
Interessenkonflikt
Der korrespondierende Autor gibt an, dass kein Interessenkonflikt besteht.
About this article
Cite this article
Gschwend, J., Albers, P. & Schrader, M. Prostatakarzinomzentren und Hodentumorzweitmeinungszentren. Urologe 50, 921 (2011). https://doi.org/10.1007/s00120-011-2540-8
Schlüsselwörter
Prostatakarzinomzentren

Hodentumorzentren

Zweitmeinung

Zertifizierung
Keywords
Prostate cancer centers

Testicular cancer centers

Second opinion

Certification