Zusammenfassung
Regionale Anästhesieverfahren sind ein essentieller Bestandteil der modernen Kinderanästhesie. In unserer Abteilung ist die kontinuierliche lumbale Periduralanästhesie (PDA) ein etabliertes Verfahren im perioperativen Schmerzmanagement mittlerer und großer Eingriffe am unteren Harntrakt. Ziel der vorliegenden Arbeit war es, die PDA im Säuglings- und Kindesalter hinsichtlich ihrer Effizienz, Sicherheit und möglicher Vorzüge gegenüber der rein systemischen perioperativen Analgesie zu analysieren.
Von 21 Säuglingen, die wegen einer kongenitalen Blasenekstrophie primär plastisch-rekonstruktiv versorgt wurden, erhielten 15 präoperativ eine PDA; 6 Kinder ohne PDA dienten als Vergleichsgruppe. Retrospektiv wurden der perioperative Analgetikabedarf, Intensivpflichtigkeit, Nachbeatmungsdauer, Darmmotilität, der Verbrauch an Anticholinergika sowie PDA-assoziierte Komplikationen zwischen beiden Gruppen verglichen.
Kinder mit kombinierter Allgemeinanästhesie und PDA hatten einen um das 6- bis 10-fache niedrigeren intra- bzw. postoperativen Opiatbedarf, konnten zügiger extubiert (59 vs. 210 min) und früher von der Intensiv- auf die Normalstation verlegt werden (1,1 vs. 1,8 Tage). Der postoperative Verbrauch an Anticholinergika lag um 50% niedriger als bei Kindern ohne PDA. PDA-assoziierte Komplikationen traten nicht auf.
Die lumbale PDA stellt im perioperativen Narkose- und Schmerzmanagement bei mittleren und großen plastisch-rekonstruktiven kinderurologischen Eingriffen im Kindesalter ein analgetisch hocheffektives und sicheres Verfahren dar. Durch den signifikant reduzierten Bedarf an Anästhetika und Analgetika begünstigt die PDA eine zeitnahe Extubation mit allen weiteren Vorteilen der postoperativen Versorgung.
Abstract
Regional analgesia is firmly established in modern pediatric anesthetic practice and its popularity continues to grow. In our department continuous epidural anesthesia (CEA) is a frequently used technique of pain management following major reconstructive procedures of the lower urinary tract. The aim of this study was to investigate the efficacy, safety, and potential benefits of CEA over standard analgesics.
We retrospectively reviewed the records of 21 infants who underwent single-stage bladder exstrophy repair in our department. In 15 children an epidural catheter was placed preoperatively for CEA; 6 patients treated without CEA served as controls. Total doses of narcotics and analgesics, length of intensive care unit (ICU) stay and ventilatory assistance, time to first bowel activity, anticholinergic requirements, and CEA-related side effects were documented and compared for both groups.
Children given epidural anesthesia required six- to tenfold lower doses of morphine intra- and postoperatively compared to those without CEA; ventilatory support upon completion of surgery was remarkably shorter (59 versus 210 min) in the CEA group as well as ICU stay (1.1 versus 1.8 days). The total consumption of anticholinergics was twice as high as in patients without CEA. There were no relevant CEA-related complications.
Being a retrospective audit of practice in our institution with a small number of patients, our results are in line with previously published data on CEA in pediatric patients. CEA has been shown to significantly reduce the need for anesthetics and morphine and allows early extubation with all subsequent advantages for a speedy recovery post surgery. Thus, the technique is to be recommended as a safe and efficacious method for pain management following major reconstructive surgery in pediatric urology. Importantly, this type of anesthesia should be performed only by experienced anesthesiologists in institutions where appropriate equipment, staff, and monitoring are available.
This is a preview of subscription content, log in to check access.
Access options
Buy single article
Instant access to the full article PDF.
US$ 39.95
Price includes VAT for USA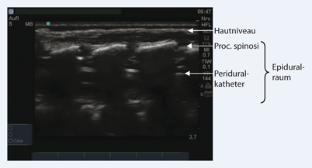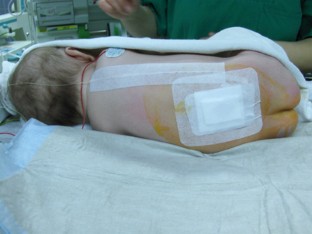 Literatur
1.

Verghese ST, Hannallah RS (o J) Acute pain management in children. J Pain Res 3:105–123

2.

Anand KJ, Hickey PR (1987) Pain and its effects in the human neonate and fetus. N Engl J Med 317(21):1321–1329

3.

Schwentner C, Oswald J, Lunacek A et al (2006) Lich-Gregoir reimplantation causes less discomfort than Politano-Leadbetter technique: Results of a prospective, randomized, pain scale-oriented study in a pediatric population. Eur Urol 49(2):388–395

4.

Chiang D, Ben-Meir D, Pout K, Dewan PA (2005) Management of post-operative bladder spasm. J Paediatr Child Health 41(1–2):56–58

5.

Gish P, Mosholder AD, Truffa M, Johann-Liang R (2009) Spectrum of central anticholinergic adverse effects associated with oxybutynin: comparison of pediatric and adult cases. J Pediatr 155(3):432–434

6.

Ebert AK, Reutter H, Ludwig M, Rosch WH (2009) The exstrophy-epispadias complex. Orphanet J Rare Dis 4:23

7.

Mehler J (2006) Analgesia in pediatric outpatient surgery. Schmerz 20(1):10–16

8.

Ecoffey C (2007) Pediatric regional anesthesia – update. Curr Opin Anaesthesiol 20(3):232–235

9.

Coupe N, O'Brien M, Gibson P, Lima J de (2005) Anesthesia for pediatric renal transplantation with and without epidural analgesia–a review of 7 years experience. Paediatr Anaesth 15(3):220–228

10.

Wolf AR, Doyle E, Thomas E (1998) Modifying infant stress responses to major surgery: spinal vs extradural vs opioid analgesia. Paediatr Anaesth 8(4):305–311

11.

Ben-Meir D, Livne PM, Katz J et al (2009) Continuous epidural versus nonepidural analgesia for post-pyeloplasty pain in children. J Urol 182(Suppl 4):1841–1844

12.

Greenberg RS, Yaster M, Gearhart JP Re (1996) Continuous epidural anesthesia after ureteroneocystostomy in children. J Urol 156(2 Pt 1):482–483

13.

Merguerian PA, Sutters KA, Tang E et al (2004) Efficacy of continuous epidural analgesia versus single dose caudal analgesia in children after intravesical ureteroneocystostomy. J Urol 172(4 Pt 2):1621–1625; discussion 1625

14.

Kost-Byerly S, Jackson EV, Yaster M et al (2008) Perioperative anesthetic and analgesic management of newborn bladder exstrophy repair. J Pediatr Urol 4(4):280–285

15.

Giaufre E, Dalens B, Gombert A (1996) Epidemiology and morbidity of regional anesthesia in children: a one-year prospective survey of the french-language society of pediatric anesthesiologists. Anesth Analg 83(5):904–912

16.

Ecoffey C, Lacroix F, Giaufre E et al (o J) Epidemiology and morbidity of regional anesthesia in children: a follow-up one-year prospective survey of the french-language society of paediatric anaesthesiologists (ADARPEF). Paediatr Anaesth 20(12):1061–1069

17.

Willschke H, Bosenberg A, Marhofer P et al (2007) Epidural catheter placement in neonates: sonoanatomy and feasibility of ultrasonographic guidance in term and preterm neonates. Reg Anesth Pain Med 32(1):34–40

18.

Walker KJ, McGrattan K, Aas-Eng K, Smith AF (2009) Ultrasound guidance for peripheral nerve blockade. Cochrane Database Syst Rev (4):CD006459
Interessenskonflikt
Der korrespondierende Autor gibt an, dass kein Interessenkonflikt besteht.
About this article
Cite this article
Rubenwolf, P., Koller, B., Rübben, I. et al. Perioperatives Schmerzmanagement bei großen plastisch-rekonstruktiven Eingriffen in der Kinderurologie. Urologe 50, 566 (2011). https://doi.org/10.1007/s00120-011-2527-5
Schlüsselwörter
Periduralanästhesie

Blasenekstrophie

Perioperative Schmerztherapie

Plastisch-rekonstruktive Eingriffe

Kinderurologie
Keywords
Peridural anaesthesia

Perioperative pain management

Bladder exstrophy

Reconstructive surgery

Pediatric urology