Zusammenfassung
Harnleiterverletzungen werden in ca. 75% der Fälle iatrogen verursacht. Von den urologischen Verletzungsmustern wird am häufigsten die Ureterorenoskopie (URS) beschrieben, wobei die Komplikationsrate der URS insgesamt gering ist. Nach der "American Association for the Surgery of Trauma" (AAST) werden Ureterverletzungen in 5 Schweregrade eingeteilt. Grad I–II werden als partielle und Grad III–V als komplexe Verletzungen bezeichnet. Zur Vermeidung von höheren Komplikationsraten sollte eine möglichst schnelle Diagnosestellung und Therapieeinleitung erfolgen. Die Therapie richtet sich dabei nach Schweregrad der Verletzung.
Partielle Harnleiterverletzungen werden endoskopisch durch Harnleiterschienung für 14–21 Tage behandelt. Bei komplexen Harnleiterverletzungen kann eine endoskopische Ureteroureterostomie versucht werden. Diese zeigt jedoch abhängig von der Länge der Diskontinuitätsverletzung schlechte Langzeitergebnisse.
Zur operativen Rekonstruktion des Harnleiters werden Techniken mit und ohne Verwendung von Darmsegmenten beschrieben. Die Art der operativen Technik ist dabei abhängig von Lage und Ausmaß der Verletzung. Neben der Harnleiterrekonstruktion kann in Einzelfällen eine Autotransplantation der Niere notwendig sei.
Abstract
Ureteral injuries are caused by iatrogenic reasons in about 75% of cases. Among urological procedures ureterorenoscopy (URS) is mainly described as the reason for ureteral injury, although complication rates of URS are generally low. Injuries of the ureter are divided into five grades by the AAST. Grades I–II are referred to as partial and grades III–V as complex ureteral injuries. To avoid higher complication rates there should be no delay in confirmation of diagnosis and initiation of therapy. Correct therapy depends on grade of injury.
Partial ureteral injuries are treated by endoscopic inlay of a ureteral stent for approximately 14–21 days. In complex injuries endoscopic ureteroureterostomy could be attempted but leads to rather poor long-term results depending on the length of devascularization of the injured ureter.
Procedures with and without use of bowel for ureteral reconstruction and replacement have been described. The type of operative procedure should be selected based on location and degree of ureteral injury. Besides ureteral reconstruction, autotransplantation of the affected kidney can be required in individual cases.
This is a preview of subscription content, log in to check access.
Access options
Buy single article
Instant access to the full article PDF.
US$ 39.95
Price includes VAT for USA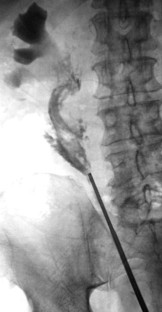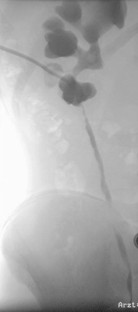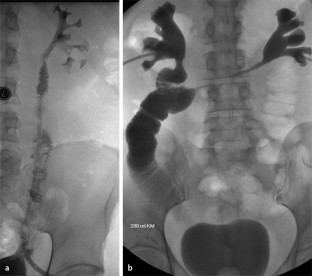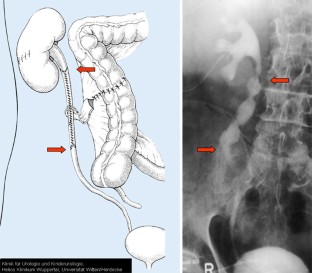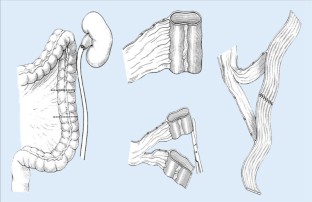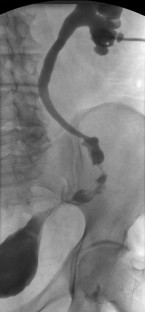 Literatur
1.

Adams J, Djakovic N, Gilfrich C et al (2007) Ureteric replacement with Meckel's diverticulum. BJU Int 99:647–650

2.

Ahn M, Loughlin KR (2001) Psoas hitch ureteral reimplantation in adults–analysis of a modified technique and timing of repair. Urology 58:184–187

3.

Ali-El-Dein B, Ghoneim MA (2003) Bridging long ureteral defects using the Yang-Monti principle. J Urol 169:1074–1077

4.

Armatys SA, Mellon MJ, Beck SD et al (2009) Use of ileum as ureteral replacement in urological reconstruction. J Urol 181:177–181

5.

Bonfig R, Gerharz EW, Riedmiller H (2004) Ileal ureteric replacement in complex reconstruction of the urinary tract. BJU Int 93:575–580

6.

Castellan M, Gosalbez R (2006) Ureteral replacement using the Yang-Monti principle: long-term follow-up. Urology 67:476–479

7.

Chung BI, Hamawy KJ, Zinman LN et al (2006) The use of bowel for ureteral replacement for complex ureteral reconstruction: long-term results. J Urol 175:179–183

8.

Dagash H, Sen S, Chacko J et al (2008) The appendix as ureteral substitute: a report of 10 cases. J Pediatr Urol 4:14–19

9.

Djakovic N, Plas E, Martínez-Piñeiro L et al (2009) Guidelines on urological trauma. EAU Guidelines 31–35

10.

Dobrowolski Z, Kusionowicz J, Drewniak T et al (2002) Renal and ureteric trauma: diagnosis and management in Poland. BJU Int 89:748–751

11.

Fugita OE, Dinlenc C, Kavoussi L (2001) The laparoscopic boari flap. J Urol 166:51–53

12.

Geavlete P, Georgescu D, Nita G et al (2006) Complications of 2735 retrograde semirigid ureteroscopy procedures: a single-center experience. J Endourol 20:179–185

13.

Ghali AM, El Malik EM, Ibrahim AI et al (1999) Ureteric injuries: diagnosis, management, and outcome. J Trauma 46:150–158

14.

Ghoneim MA, Ali-El-Dein B (2005) Replacing the ureter by an ileal tube, using the Yang-Monti procedure. BJU Int 95:455–470

15.

Goodwin WE, Winter CC, Turner RD (1959) Replacement of the ureter by small intestine: clinical application and results of the ileal ureter. J Urol 81:406–418

16.

Harrow BR (1968) A neglected maneuver for ureterovesical reimplantation following injury at gynecologic operations. J Urol 100:280–284

17.

Hofmann R (2006) Ureteroscopy (URS) for ureteric calculi. Urologe A 45:637–647

18.

Iwaszko MR, Krambeck AE, Chow GK et al (n d) Transureteroureterostomy revisited: long-term surgical outcomes. J Urol 183:1055–1059

19.

Kramolowsky EV (1987) Ureteral perforation during ureterorenoscopy: treatment and management. J Urol 138:36–38

20.

Lee DI, Schwab CW, Harris A (2010) Robot-assisted Ureteroureterostomy in the adult: Initial clinical series. Urology 75(3):570–573

21.

Loertzer H, Jurczok A, Wagner S et al (2003) Prosthetic pyelovesical and pyelocutanous bypass. A palliative therapy concept in tumor-induced chronic hydronephprosis. Urologe A 42:1053–1059

22.

Mathews R, Marshall FF (1997) Versatility of the adult psoas hitch ureteral reimplantation. J Urol 158:2078–2082

23.

Meng MV, Freise CE, Stoller Ml (2003) Expanded experience with laparoscopic nephrectomy and autotransplantation for severe ureteral injury. J Urol 169:1363–1367

24.

Moore EE, Cogbill TH, Jurkovich GJ et al (1992) Organ injury scaling. III: Chest wall, abdominal vascular, ureter, bladder, and urethra. J Trauma 33:337–339

25.

Muentener M, Egli J, Knoenagel H (2003) The endourological management of long ureteric defects. BJU Int 92:647–649

26.

Olsson CA, Norlen LJ (1986) Combined boari bladder flap-psoas bladder hitch procedure in ureteral replacement. Scand J Urol Nephrol 20:279–284

27.

Paick JS, Hong SK, Park MS et al (2006) Management of postoperatively detected iatrogenic lower ureteral injury: should ureteroureterostomy really be abandoned? Urology 67:237–241

28.

Patil NN, Mottrie A, Sundaram B et al (2008) Robotic-assisted laparoscopic ureteral reimplantation with psoas hitch: a multi-institutional, multinational evaluation. Urology 72:47–50

29.

Riedmiller H, Becht E, Hertle L et al (1984) Psoas-hitch ureteroneocystostomy: experience with 181 cases. Eur Urol 10:145–150

30.

Selzman AA, Spirnak JP (1996) Iatrogenic ureteral injuries: a 20-year experience in treating 165 injuries. J Urol 155:878–881

31.

Steffens JA, Anheuser P, Reisch B et al (2010) Ureteric reconstruction with reconfigured ileal segments according to Yang-Monti: A 4-year prospective report. Urologe A 49:262–267

32.

Stein RJ, Turna B, Patel NS et al (2009) Laparoscopic assisted ileal ureter: technique, outcomes and comparison to the open procedure. J Urol 182:1032–1039

33.

Teber D, Egey A, Gozen AS et al (2005) Ureteral injuries. Diagnostic and treatment algorithm. Urologe A 44:870–877

34.

Trottmann M, Tritschler S, Graser A et al (2007) Injuries of the renal pelvis and ureter. Diagnosis and management. Urologe A 46:926–934

35.

Tsai CK, Taylor FC, Beaghler MA (2000) Endoscopic ureteroureterostomy: long-term followup using a new technique. J Urol 164:332–335

36.

Ubrig B, Waldner M, Roth S (2001) Reconstruction of ureter with transverse retubularized colon segments. J Urol 166:973–976

37.

Waldner M, Hertle L, Roth S (1999) Ileal ureteral substitution in reconstructive urological surgery: is an antireflux procedure necessary? J Urol 162:323–326

38.

Watson JM, Dawkins GP, Whitfield HN et al (2002) The rendezvous procedure to cross complicated ureteric strictures. BJU Int 89:317–319

39.

Weinberg JJ, Ansong K, Smith AD (1987) Complications of ureteroscopy in relation to experience: report of survey and author experience. J Urol 137:384–385
Interessenkonflikt
Der korrespondierende Autor gibt an, dass kein Interessenkonflikt besteht.
About this article
Cite this article
Brandt, A., von Rundstedt, F., Lazica, D. et al. Harnleiterrekonstruktion nach ureterorenoskopischen Verletzungen. Urologe 49, 812–821 (2010). https://doi.org/10.1007/s00120-010-2333-5
Schlüsselwörter
Harnleiter

Harnleiterverletzungen

Ureterorenoskopie

Komplikationen

Harnleiterrekonstruktion
Keywords
Ureter

Ureteral injuries

Ureterorenoscopy

Complications

Ureteral reconstruction