Zusammenfassung
Hintergrund
Eine Vielzahl von Substanzen sind in der endoskopischen Behandlung des kindlichen vesikoureteralen Refluxes (VUR) eingesetzt worden. Wir stellen die Langzeitergebnisse der endoskopischen Behandlung mit dem Dextranomer/Hyaluronsäurekopolymer (Deflux®) bei Kindern mit VUR Grad I–IV vor.
Patienten und Methoden
Zwischen 2004 und 2008 wurden bei 21 Kindern ambulant 30 Ureteren endoskopisch mit Deflux® unterspritzt: 12 Kinder hatten einen einseitigen (2 Kinder mit Doppelniere), 9 Kinder einen beidseitigen Reflux. Das mittlere Alter war 5 Jahre (6 Monate bis 14,9 Jahre). Ein postoperatives MCU wurde nach 6 Wochen durchgeführt. Kontrolliert wurde im Langzeit-Follow-up das Vorhandensein von Reflux, Harnweginfektionen und der Lebensqualität (Fragebogen der Eltern).
Ergebnisse
Intra- und postoperativ wurden keine Komplikationen beobachtet. In 25 Ureteren (83%) war 6 Wochen postoperativ kein Reflux mehr nachweisbar. Drei Kinder wurden ein zweites Mal unterspritzt, davon 2 erfolgreich. Nach durchschnittlich 2,5 Jahren waren 27 Ureteren (17 Kinder; 90%) reflux- und infektfrei. Die Auswertung der Fragebögen zeigte, dass die Eltern der erfolgreich therapierten Kinder mit dem Behandlungserfolg zufrieden waren und den Eingriff nochmals durchführen lassen würden.
Schlussfolgerung
Die subureterale Defluxunterspritzung bei Kindern mit VUR ist eine effektive, komplikationsarme Therapiemethode in der First-line-Behandlung des VUR.
Abstract
Background
A number of bulking agents have been used for the endoscopic correction of vesicoureteral reflux in children. We present the long-term results of endoscopic use of dextranomer/hyaluronic acid copolymer (Deflux®) for VUR grade I–IV in children.
Patients and methods
Between 2004 and 2008, 21 children underwent endoscopic subureteral injection of Deflux® in 30 ureters as an outpatient procedure. Twelve children had a unilateral reflux (two duplicated systems) and nine had a bilateral reflux. The median age was 5 years (6 months to 14.9 years). Six weeks postoperatively a voiding cystourethrogram (VCUG) was performed. This study examined the disappearance of VUR and urinary tract infection (UTI) as well as the quality of life (parents' questionnaire) during long-term follow-up.
Results
No intra- and postoperative complications were noticed. In 25 ureters (83%) VCUG showed no VUR 6 weeks postoperatively. In three children a second injection was done (two were successful). After a median follow-up of 2.5 years 27 ureters in 17 children (90%) had no UTI and VUR. The results of the questionnaire regarding quality of life were very good in the successfully treated children and the parents would choose the same treatment option again.
Conclusion
Subureteral injection of Deflux® for children with VUR is an effective treatment option for VUR with a low complication rate.
This is a preview of subscription content, log in to check access.
Access options
Buy single article
Instant access to the full article PDF.
US$ 39.95
Price includes VAT for USA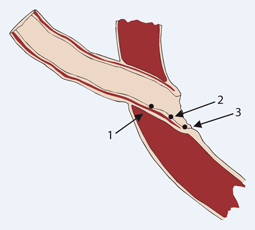 Literatur
1.

Bourchier D, Abbott GD, Maling TMJ (1984) Radiological abnormalities in infants with urinary tract infections. Arch Dis Child 59:620–624

2.

Capozza N, Caione P (2000) Dextranomer/hyaluronic acid copolymer implantation for vesico-ureteral reflux:a randomized comparison with antibiotic prophylaxis. J Pediatr 140:230–234

3.

Capozza N, Lais A, Matarazzo E et al (2003) Treatment of vesico-ureteric reflux:a nex algorithm based on parental preference. BJU Int 92:285–288

4.

Elmore JM, Kirsch AJ, Heiss EA et al (2008) Incidence of urinary tract infections in children after successful ureteral reimplantation versus endoscopic dextranomer/hyaluronic acid implantation. J Urol 179(6):2364–2367

5.

Haferkamp A, Contractor H, Mohring G et al (2000) Failure of subureteral bovine collagen injection for the endoscopic treatment of primary vesicoureteral reflux in long-term follow-up. Urology 55:759–763

6.

Hautkappe A, Goepel M, Rübben H (1995) Harnwegsinfekte im Kindesalter. Urologe B 35:65–67

7.

Hensle TW, Hyun G, Grogg A et al (2006) Examining pediatric vesicoureteral reflux:a real-world evaluation of treatment patterns and outcomes. AUA Annual Meeting, Atlanta, Georgia, p 761

8.

Jakobsson SH, Hansson S, Jakobsson B (1999) Vesico-ureteric reflux: occurrence and long-term risks. Acta Paediatr 431(Suppl):22–30

9.

Kirsch AJ, Perez-Brayfiled MR, Scherz C (2003) Minimally invasive treatment of vesicoureteral reflux with endoscopic injection of dextranomer/hyaluronic acid copolymer: The Cildren's Hospitals of Atlanta experience. J Urol 170:211–215

10.

Kirsch AJ, Perez-Brayfield M, Smith EA et al (2004) The modified STING procedure to correct vesicoureteral reflux: improved results with submucosal implantation within the intramural ureter. J Urol 171:2413–2416

11.

Lackgren G, Wahlin N, Skoldeberg E et al (2001) Long-term followup of children treated with dextranomer/hyaluronic acid copolymer for vesicoureteral reflux. J Urol 166:1887–1892

12.

Lackgren G, Wahlin N, Stenberg A (1999) Endoscopic treatment of children with vesico-ureteric reflux. Acta Paediatr 88(Suppl 431):62–71

13.

Lendvay TS, Sorensen M, Cowan CA et al (2006) The evolution of veicoureteral reflux management in the era of dextranomer/hyaluronic acid copolymer: a pediatric health information system database study. J Urol 176:1864–1867

14.

O'Donnell B, Puri P (1984) Treatment of vesicoureteric reflux by endoscopic injection of Teflon. Br Med J (Clin Res Ed) 289:7–9

15.

Puri P, Chertin B, Velayudham M et al (2003) Treatment of vesicoureteral reflux by endoscopic injection of dextranomer/hyaluronic acid copolymer:preliminary resulta. J Urol 170:1541–1544

16.

Puri P, Mohanan N, Menezes M et al (2007) Endoscopic treatment of moderate and high grade veiscoureteral reflux in infants using dextranomer/hyaluronic acid. J Urol 178:1714–1717

17.

Riccabona M (2000) Management of reccurent urinary tract infection and vesico-ureteral reflux in children. Curr Opin Urol 10:25–28

18.

Stenberg A, Lackgren G (1995) A new bioimplant for the endoscopic treatment of vesicoureteral reflux:experimental and short term clinical results. J Urol 154:800–803

19.

Stenberg AM, Sundin A, Larsson BS et al (1997) Lack of distant migration after injection of a 125iodine labeled dextranomer based implant into the rabbit bladder. J Urol 158:1937–1941

20.

Tekgul S, Riedmiller E, Gerharz P et al (2009) Guidelines on paediatric urology. European Urology Guidelines, pp 44–49

21.

Wadie G, Tirabassi M, Courtney et al (2007) The Deflux procedure reduces the incidence of urinary tract infections in patients with vesicoureteral reflux. J Laparoendosc Adv Surg Tech 17:353–359

22.

Winberg J, Andersen HJ, Bergstrom T et al (1974) Epidemiology of symptomatic urinary tract infection in childhood. Acta Paediatr Scand 252(Suppl):1–20
Interessenkonflikt
Der korrespondierende Autor gibt an, dass kein Interessenkonflikt besteht.
About this article
Cite this article
Seibold, J., Werther, M., Sievert, K. et al. Endoskopische Unterspritzung des vesikoureteralen Refluxes mit Dextranomer/Hyaluronsäure. Urologe 49, 536–539 (2010). https://doi.org/10.1007/s00120-009-2188-9
Schlüsselwörter
Vesikoureteraler Reflux

Minimal-invasive Therapie

Hyaluronsäure/Dextranomer

Lebensqualität

Unterspritzung
Keywords
Vesicoureteral reflux

Minimally invasive therapy

Dextranomer/hyaluronic acid

Quality of life

Subureteral injection