Zusammenfassung
Hintergrund
Die zunehmende Zahl von behandelbaren hereditären neuromuskulären Erkrankungen im Kindesalter erfordert ein Diagnoseverfahren, das nach der Geburt oder bei ersten klinischen Symptomen schnell, sicher und nichtinvasiv Betroffene zu identifizieren vermag. Allein klinisch ist dies sehr schwierig.
Bildgebende Modalität
Die Nahfeldsonographie der Extremitätenmuskulatur hat sich hierfür seit mehr als 35 Jahren als sukzessive erfolgreiche Methode etabliert.
Methodische Innovationen
Die Sonographie erfolgt mittels eines streng standardisierten Protokolls, bestehend aus isotopen Muskelregionen und -schnitten, gleichbleibenden Applikations- und Beurteilungskriterien sowie einer spezifischen Nomenklatur für die Beschreibung der normalen und pathologischen Muskelarchitektur und -echogenität (sonographische Gewebecharakterisierung).
Leistungsfähigkeit
In Fallbeispielen wird die Sonoanatomie und -pathologie bei ausgewählten Myo- und Neuropathien, metabolischen, inflammatorischen und anderen Läsionen dargestellt. Zu deren Differenzialdiagnose mittels Textur- und Echogenitätsanalyse wird Stellung genommen. Betroffene werden je nach Entität zu 70–100 % identifiziert, die Spezifität ist erfahrungs- und trainingsabhängig geringer. Sechs der 12 exemplarisch abgebildeten Entitäten sind aus heutiger Sicht kausal/symptomatisch behandelbar.
Bewertung
Die standardisiert durchgeführte Myosonographie zur Detektion neuromuskulärer Erkrankungen ist bei Kindern das Bildgebungsverfahren der ersten Wahl.
Empfehlungen für die Praxis
Hochfrequenter Linearschallkopf (8–22 MHz). Strikt standardisierte Untersuchungsmodalität. Simultaner Paarvergleich von Betroffenen und Kontrollen. Gegebenenfalls notwendige Muskelgewebsentnahme nur nach Ultraschallnavigation eines geeigneten Areals.
Abstract
Background
The increasing number of treatable hereditary neuromuscular diseases in children requires a diagnostic tool that can quickly, safely, and noninvasively identify affected patients directly after birth or when showing initial clinical symptoms. With clinical analysis alone, this is very difficult.
Imaging modality
Near-field sonography of skeletal muscles has gradually become established as a successful method over the last 35 years.
Methodological innovations
Examination is performed using a strictly standardized protocol in isotopic muscle regions and with standardized sections and application parameters. Interpretation is performed with specific assessment criteria and nomenclature for the description of normal and pathological muscle architecture and echogenicity. This is sonographic tissue characterization.
Performance
Using case studies, the sonoanatomy and sonopathology of selected myo- and neuropathies, metabolic, inflammatory, and other lesions are illustrated. We present their differential diagnosis by texture and echogenicity analysis. Affected persons are identified in 70% up to 100% of cases, depending on the entity; specificity is less dependent on experience and training. Of the 12 disorders presented in this article, 6 are causally/symptomatically treatable today.
Achievements
Standardized myosonography is the imaging modality of first choice for detection of neuromuscular diseases.
Practical recommendations
High frequency (8–22 MHz) linear array transducer. Highly standardized examination modality. Simultaneous, paired comparison of affected persons and controls. If necessary, muscle tissue biopsy only after ultrasonic determination of a suitable area.
This is a preview of subscription content, log in to check access.
Access options
Buy single article
Instant unlimited access to the full article PDF.
US$ 39.95
Price includes VAT for USA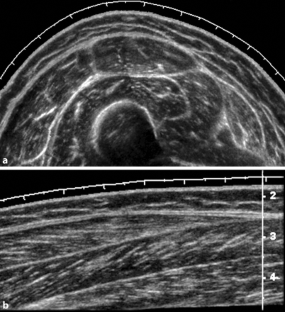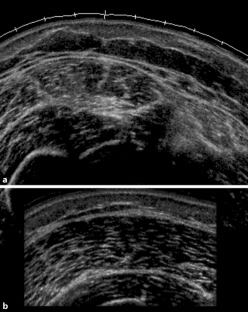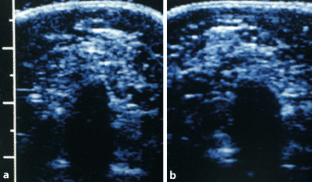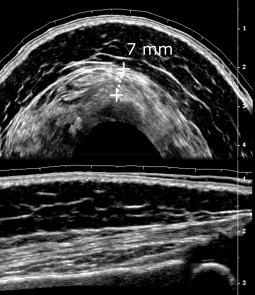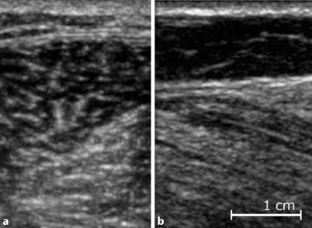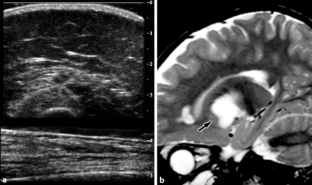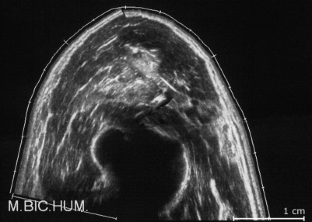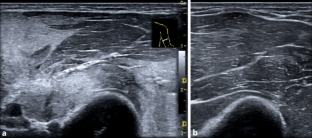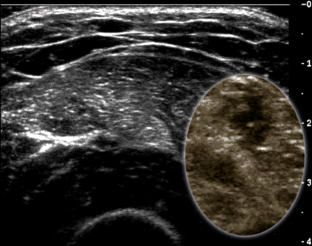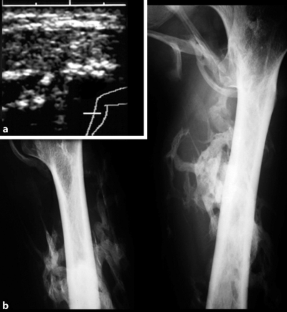 Literatur
1.

Aydinli N, Baslo B, Calişkan M, Ertaş M, Ozmen M (2003) Muscle ultrasonography and electromyography correlation for evaluation of floppy infants. Brain Dev 25(1):22–24

2.

Brady RO (2010) Bone and muscle involvement in Fabry disease. In: Elstein D, Altarescu G, Beck M (Hrsg) Fabry Disease. Springer, New York, S 293–298

3.

Brockmann K, Becker P, Schreiber G, Neubert K, Brunner E, Bönnemann C (2007) Sensitivity and specificity of qualitative muscle ultrasound in assessment of suspected neuromuscular disease in childhood. Neuromuscul Disord 17(7):517–523

4.

Dalakas MC, Hohlfeld R (2003) Polymyositis and dermatomyositis. Lancet 362(9388):971–982

5.

Delorme S, Zuna I (2000) Ad multos annos. 30 Jahre sonographische Gewebedifferenzierung. Ultraschall Med 21(6):230–232

6.

Fischer D (2006) Klinische und bildgebende Differenzialdiagnose von Gliedergürteldystrophien. Klin Neurophysiol 37:180–188

7.

Fleckenstein JL, Crues JV, Reimers CD (1996) Muscle imaging in health and disease. Springer, New York

8.

Heckmatt JZ, Dubowitz V, Leeman S (1980) Detection of pathological change in dystrophic muscle with B‑scan ultrasound imaging. Lancet 1(8183):1389–1390

9.

Klinge L, Straub V, Neudorf U, Voit T (2005) Enzyme replacement therapy in classical infantile pompe disease: results of a ten-month follow-up study. Neuropediatrics 36(1):6

10.

König T, Steffen J, Rak M, Neumann G, von Rohden L, Tönnies KD (2015) Ultrasound texture-based CAD system for detecting neuromuscular diseases. Int J Comput Assist Radiol Surg 10(9):1493–1503

11.

Korinthenberg R (1999) Therapeutische Möglichkeiten bei neuromuskulären Erkrankungen. Monatsschr Kinderheilkd 3:298–308

12.

Pillen S, Verrips A, van Alfen N, Arts IM, Sie LT, Zwarts MJ (2007) Quantitative skeletal muscle ultrasound: diagnostic value in childhood neuromuscular disease. Neuromuscul Disord 17(7):509–516

13.

Pohle R, Fischer D, von Rohden L (2000) Computerunterstützte Gewebedifferenzierung bei der Skelettmuskelsonographie. Ultraschall Med 21(6):245–252

14.

von Rohden L (1989) Ultraschalluntersuchungen der quergestreiften Muskulatur bei neuromuskulären Erkrankungen. Habilitationsschrift, Med. Fakultät Universität Magdeburg

15.

von Rohden L, Steinbicker V (1987) Ultraschalltomographie – ein Verfahren zur Differenzialdiagnostik (neuromuskulärer Erkrankungen). In: Lössner J, Wagner A (Hrsg) Beiträge zur klinischen Myologie. S. Hirzel, Leipzig, S S141–163

16.

von Rohden L, Wiemann D (2014) Erkrankungen der Skelettmuskulatur und der Gelenke. In: Deeg KH, Hofmann V, Hoyer PF (Hrsg) Ultraschalldiagnostik in Pädiatrie und Kinderchirurgie. Thieme, Stuttgart, New York, S 1108–1137

17.

von Rohden L, Wiemann D, Köditz H (1985) Ist Ultraschalldiagnostik (B-Bild) bei Kollagenosen im Kindesalters nützlich? Kinderarzt 16:1345–1350

18.

von Rohden L, Steinbicker V, Krebs P, Wiemann D, Köditz H (1990) The value of ultrasound for the diagnosis of malignant hyperthermia. J Ultrasound Med 9(5):291–295

19.

von Rohden L, Zuna I, Pohle R, Krebs P (1995) Quantitative Myosonographie bei neuromuskulären Erkrankungen. Ultraschall Klin Prax 9:211–215

20.

von Rohden L, Pötzsch S, Mohnike K (2007) Mikrosonographie der Schilddrüse im Kindesalter. Marseille, München, S 55

21.

von Rohden L, Wien F, Pötzsch S (2007) Myosonographie neuromuskulärer Erkrankungen unter besonderer Berücksichtigung des Kindes- und Jugendalters. Klin Neurophysiol 38:141–154

22.

von Rohden L, Oesterreich N, Empting S (2013) Sonographie der Skelettmuskeln und peripheren Nerven. In: Haas D, Mohnike K, Robbin P (Hrsg) Das SLO-Syndrom. Ein Ratgeber für Eltern und Ärzte. Mabuse-Verlag, Frankfurt (Main), S 34–39

23.

Rott HD, Mulz D (1982) Muskeldystrophie Duchenne. Konduktorinnenerfassung mit Ultraschall. Dtsch Med Wochenschr 107(44):1678–1681

24.

Scheel AK, Reimers CD (2004) Sonographische Darstellung von Faszikulationen und anderen Formen muskulärer Hyperkinesien. Ultraschall Med 25(5):337–341

25.

Schmid RG, Schuierer S (1997) Kongenitale Dystrophie. Monatsschr Kinderheilkd 145:588–592

26.

Steinbicker V, von Rohden L, Krebs P, Szibor R (1984) Duchenne muscular dystrophy: carrier detection by ultrasound. Lancet 1(8392):1463

27.

Vielhaber S, Brejova A, Debska-Vielhaber G, Kaufmann J, Feistner H, Schoenfeld MA, Awiszus F (2011) 24-months results in two adults with Pompe disease on enzyme replacement therapy. Clin Neurol Neurosurg 113(5):350–357

28.

Warich-Kirches M, Jakubiczka S, Fischer D, Fritzsch C, von Rohden L, Bettecken T (1997) Molecular genetics, histopathology and muscle sonography : findings in a patient with facio-scapulo-humeral dystrophy (FSHD). Clin Neuropathol 16:266

29.

Weber MA, Wormsbecher S, Krix M (2011) Kontrastverstärkter Ultraschall der Skelettmuskulatur. Radiologe 51(6):497–505

30.

Zuberi SM, Matta N, Nawaz S, Stephenson JB, McWilliam RC, Hollman A (1999) Muscle ultrasound in the assessment of suspected neuromuscular disease in childhood. Neuromuscul Disord 9(4):203–207
Ethics declarations
Interessenkonflikt
L. von Rohden und J. H. W. Jürgens geben an, dass kein Interessenkonflikt besteht.
Alle beschriebenen Untersuchungen am Menschen wurden mit Zustimmung der zuständigen Ethik-Kommission, im Einklang mit nationalem Recht sowie gemäß der Deklaration von Helsinki von 1975 (in der aktuellen, überarbeiteten Fassung) durchgeführt. Von allen beteiligten Patienten liegt eine Einverständniserklärung vor. Im Fall von nichtmündigen Patienten liegt die Einwilligung eines Erziehungsberechtigten oder des gesetzlich bestellten Betreuers vor.
Caption Electronic Supplementary Material
Video 1: Hyperkinesen der Skelettmuskulatur im Ultraschall (aus [16], mit freundlicher Genehmigung des Georg Thieme Verlags)
About this article
Cite this article
von Rohden, L., Jürgens, J.H.W. Ultraschall bei Muskelerkrankungen im Kindes- und Jugendalter. Radiologe 57, 1029–1037 (2017). https://doi.org/10.1007/s00117-017-0318-8
Schlüsselwörter
Neuromuskuläre Erkrankungen

Myosonographie

Echogenität

Textur

Gewebecharakterisierung
Keywords
Neuromuscular diseases

Myosonography

Echogenicity

Texture

Tissue characterization