Zusammenfassung
Klinisches/methodisches Problem
Die Fluordesoxyglukose-Positronenemissionstomographie/Computertomographie (FDG-PET/CT) hat in den letzten Jahren zunehmende Bedeutung zur Bildgebung des kolorektalen Karzinoms erlangt. In diesem Beitrag stellen wir den Stand der Literatur zur Rolle der PET/CT bei Screening, Staging, Bestrahlungsplanung, Beurteilung eines Therapieansprechens und Nachsorge des kolorektalen Karzinoms dar. Zudem wird auf gesundheitsökonomische Aspekte und zukünftige Entwicklungen eingegangen.
Radiologische Standardverfahren
CT, MRT, FDG-PET, beim Rektumkarzinom zusätzlich endorektaler Ultraschall.
Methodische Innovationen
Kombinierte FDG-PET/CT.
Leistungsfähigkeit
Während andere Bildgebungsverfahren eine genauere Visualisierung der lokalen Tumorausdehnung und Infiltrationstiefe ermöglichen, ist die PET/CT die sensitivste Methode zum Nachweis kolorektaler Fernmetastasen.
Bewertung
Wir empfehlen, die PET/CT beim kolorektalen Karzinom gezielt bei unklarem M-Staging, vor Metastasenchirurgie sowie bei begründetem Verdacht auf ein Tumorrezidiv oder -residuum einzusetzen. Die Rolle der PET/CT bei der Bestrahlungsplanung und Beurteilung des Therapieansprechens kann noch nicht sicher beurteilt werden. Ein routinemäßiger Einsatz der PET/CT zum kolorektalen Screening, zum Staging und zur Nachsorge erscheint nach gegenwärtigem Stand nicht sinnvoll.
Empfehlung für die Praxis
Um die Synergie morphologischer und funktioneller Informationen optimal auszunützen, sollte eine FDG-PET beim kolorektalen Karzinom grundsätzlich als integrierte FDG/PET-CT mit kontrastverstärkter CT-Komponente durchgeführt werden.
Abstract
Clinical/methodical issue
Fluorodeoxyglucose-positron emission tomography/computed tomography (FDG-PET/CT) has emerged as a very useful imaging modality in the management of colorectal carcinoma. Data from the literature regarding the role of PET/CT in the initial diagnosis, staging, radiotherapy planning, response monitoring and surveillance of colorectal carcinoma is presented. Future directions and economic aspects are discussed.
Standard radiological methods
Computed tomography (CT), magnetic resonance imaging (MRI) and FDG-PET for colorectal cancer and endorectal ultrasound for rectal cancer.
Methodical innovations
Combined FDG-PET/CT.
Performance
While other imaging modalities allow superior visualization of the extent and invasion depth of the primary tumor, PET/CT is most sensitive for the detection of distant metastases of colorectal cancer.
Achievements
We recommend a targeted use of PET/CT in cases of unclear M staging, prior to metastasectomy and in suspected cases of residual or recurrent colorectal carcinoma with equivocal conventional imaging. The role of PET/CT in radiotherapy planning and response monitoring needs to be determined. Currently there is no evidence to support the routine use of PET/CT for colorectal screening, staging or surveillance.
Practical recommendations
To optimally exploit the synergy between morphologic and functional information, FDG-PET should generally be performed as an integrated FDG-PET/CT with a contrast-enhanced CT component in colorectal carcinoma.
This is a preview of subscription content, log in to check access.
Access options
Buy single article
Instant access to the full article PDF.
US$ 39.95
Price includes VAT for USA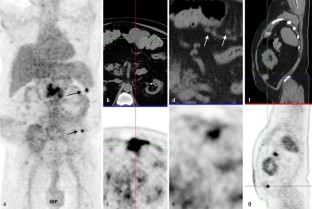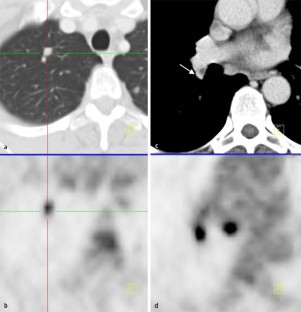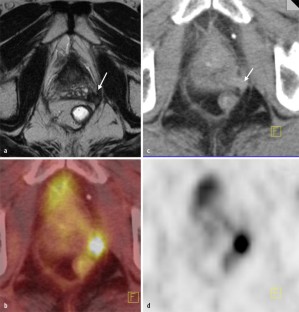 Literatur
1.

Ferlay J, Shin HR, Bray F et al (2010) Estimates of worldwide burden of cancer in 2008: GLOBOCAN 2008. Int J Cancer 127(12):2893–2917

2.

RKI (2010) Krebs in Deutschland 2005/2006 Häufigkeiten und Trends: Robert-Koch-Institut, Berlin

3.

Cunningham D, Atkin W, Lenz H-J et al (2010) Colorectal cancer. Lancet 375(9719):1030–1047

4.

Herbertson RA, Scarsbrook AF, Lee ST et al (2009) Established, emerging and future roles of PET/CT in the management of colorectal cancer. Clin Radiol 64(3):225–237

5.

O'Connor OJ, McDermott S, Slattery J et al (2011) The use of PET/CT in the assessment of patients with colorectal carcinoma. Int J Surg Oncol:846512

6.

Vikram R (2008) PET/CT imaging in the diagnosis, staging, and follow-up of colorectal cancer. Cancer Imaging 8(Special Issue A):46–51

7.

Graser A, Stieber P, Nagel D et al (2009) Comparison of CT colonography, colonoscopy, sigmoidoscopy and faecal occult blood tests for the detection of advanced adenoma in an average risk population. Gut 58(2):241–248

8.

Taylor SA, Bomanji JB, Manpanzure L et al (2010) Nonlaxative PET/CT colonography: feasibility, acceptability, and pilot performance in patients at higher risk of colonic neoplasia. J Nucl Med 51(6):854–861

9.

Bipat S, Glas AS, Slors FJ et al (2004) Rectal cancer: local staging and assessment of lymph node involvement with endoluminal US, CT, and MR imaging – a meta-analysis. Radiology 232(3):773–783

10.

MERCURY Study Group (2007) Extramural depth of tumor invasion at thin-section MR in patients with rectal cancer: results of the MERCURY study. Radiology 243(1):132–139

11.

Yu L, Tian M, Gao X et al (2012) The Method and Efficacy of (18)F-fluorodeoxyglucose positron emission tomography/computed tomography for diagnosing the lymphatic metastasis of colorectal carcinoma. Acad Radiol, in press

12.

Tsunoda Y, Ito M, Fujii H et al (2008) Preoperative diagnosis of lymph node metastases of colorectal cancer by FDG-PET/CT. Jpn J Clin Oncol 38(5):347–353

13.

Gearhart SL, Frassica D, Rosen R et al (2006) Improved staging with pretreatment positron emission tomography/computed tomography in low rectal cancer. Ann Surg Oncol 13(3):397–404

14.

Orlacchio A, Schillaci O, Fusco N et al (2009) Role of PET/CT in the detection of liver metastases from colorectal cancer. Radiol Med 114(4):571–585

15.

Parnaby C, Bailey W, Balasingam A et al (2011) Pulmonary staging in colorectal cancer: a review. Colorectal Dis, in press

16.

Bamba Y, Itabashi M, Kameoka S (2011) Clinical use of PET/CT in peritoneal carcinomatosis from colorectal cancer. Hepatogastroenterology 59(117)

17.

Briggs RH, Chowdhury FU, Lodge JPA, Scarsbrook AF (2011) Clinical impact of FDG PET-CT in patients with potentially operable metastatic colorectal cancer. Clin Radiol 66(12):1167–1174

18.

Seo HJ, Kim MJ, Lee JD et al (2011) Gadoxetate disodium-enhanced magnetic resonance imaging versus contrast-enhanced 18F-fluorodeoxyglucose positron emission tomography/computed tomography for the detection of colorectal liver metastases. Invest Radiol 46(9):548–555

19.

Dizendorf EV, Baumert BG, Schulthess GK von et al (2003) Impact of whole-body 18 F-FDG PET on staging and managing patients for radiation therapy. J Nucl Med 44(1):24–29

20.

Steffen IG, Wust P, Rühl R et al (2010) Value of combined PET/CT for radiation planning in CT-guided percutaneous interstitial high-dose-rate single-fraction brachytherapy for colorectal liver metastases. Int J Radiat Oncol Biol Phys 77(4):1178–1185

21.

Hendlisz A, Golfinopoulos V, Garcia C et al (2011) Serial FDG-PET/CT for early outcome prediction in patients with metastatic colorectal cancer undergoing chemotherapy. Ann Oncol [Epub ahead of print]

22.

Monteil J, Mahmoudi N, Leobon S et al (2009) Chemotherapy response evaluation in metastatic colorectal cancer with FDG PET/CT and CT scans. Anticancer Res 29(7):2563–2568

23.

Bystrom P, Berglund A, Garske U et al (2009) Early prediction of response to first-line chemotherapy by sequential [18F]-2-fluoro-2-deoxy-D-glucose positron emission tomography in patients with advanced colorectal cancer. Ann Oncol 20(6):1057–1061

24.

Even-Sapir E, Parag Y, Lerman H et al (2004) Detection of recurrence in patients with rectal cancer: PET/CT after abdominoperineal or anterior resection. Radiology 232(3):815–822

25.

Maas M, Rutten IJG, Nelemans PJ et al (2011) What is the most accurate whole-body imaging modality for assessment of local and distant recurrent disease in colorectal cancer? A meta-analysis: imaging for recurrent colorectal cancer. Eur J Nucl Med Mol Imaging 38(8):1560–1571

26.

Schmidt GP, Baur-Melnyk A, Haug A et al (2009) Whole-body MRI at 1.5 T and 3 T compared with FDG-PET-CT for the detection of tumour recurrence in patients with colorectal cancer. Eur Radiol 19(6):1366–1378

27.

Sahin DA, Agcaoglu O, Chretien C et al (2012) The utility of PET/CT in the management of patients with colorectal liver metastases undergoing laparascopic radiofrequency thermal ablation. Ann Surg Oncol 19(3):850–855

28.

Kawada K, Nakamoto Y, Kawada M et al (2012) Relationship between 18 F-Fluorodeoxyglucose accumulation and KRAS/BRAF mutations in colorectal cancer. Clin Cancer Res [Epub ahead of print]

29.

Patel S, McCall M, Ohinmaa A et al (2011) Positron emission tomography/computed tomographic scans compared to computed tomographic scans for detecting colorectal liver metastases. Ann Surg 253(4):666–671

30.

Brush J, Boyd K, Chappell F et al (2011) The value of FDG positron emission tomography/computerised tomography (PET/CT) in pre-operative staging of colorectal cancer: a systematic review and economic evaluation. Health Technol Assess (Winchester, England) 15(35):1–192, iii-iv
Interessenkonflikt
Der korrespondierende Autor gibt für sich und seine Koautoren an, dass kein Interessenkonflikt besteht.
About this article
Cite this article
Meinel, F., Schramm, N., Haug, A. et al. Stellenwert der PET/CT zur Bildgebung des kolorektalen Karzinoms. Radiologe 52, 529–536 (2012). https://doi.org/10.1007/s00117-011-2284-x
Schlüsselwörter
Kolorektales Karzinom

Rektumkarzinom

Positronenemissionstomographie/Computertomographie (PET/CT)

Staging

Nachsorge
Keywords
Colorectal cancer

Rectal cancer

Positron emission tomography/computed tomography

Staging

Surveillance