Zusammenfassung:
Weichteilsarkome sind seltene Tumoren und machen nur etwa 1% der malignen Tumoren im Erwachsenenalter aus. Der therapeutische Erfolg beruht bisher wesentlich auf aggressiver chirurgischer Intervention. Die Indikation zur adjuvanten Strahlentherapie ist v. a. vom Grading des Tumors abhängig. Für die Planung einer möglichst vollständigen Tumorentfernung besitzt die bildgebende Diagnostik zentralen Stellenwert. Neben morphologischen Verfahren werden funktionell-bildbasierte Verfahren insbesondere zum Therapiemonitoring weiter an Bedeutung zunehmen.
Abstract
Soft tissue sarcomas are rare malignant neoplasms accounting for only 1% of malignant tumors in adults. Complete surgical resection of tumors is the key to therapeutic success. Indications for adjuvant radiation therapy vary according to the lesion grade. Comprehensive diagnostic imaging significantly contributes to successful preoperative planning procedures. Besides morphological imaging, functional imaging strategies will have an increasing impact on individual risk assessment and contribute to optimized, non-invasive treatment response monitoring.
This is a preview of subscription content, log in to check access.
Access options
Buy single article
Instant access to the full article PDF.
US$ 39.95
Price includes VAT for USA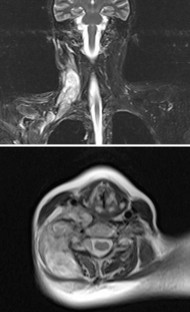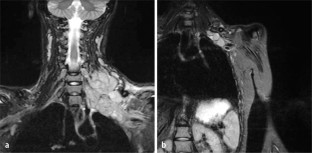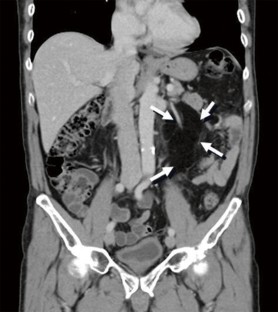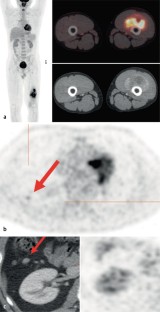 Literatur
1.

Bland KI, Mccoy DM, Kinard RE et al (1987) Application of magnetic resonance imaging and computerized tomography as an adjunct to the surgical management of soft tissue sarcomas. Ann Surg 205:473–481

2.

Demas BE, Heelan RT, Lane J et al (1988) Soft-tissue sarcomas of the extremities: comparison of MR and CT in determining the extent of disease. AJR Am J Roentgenol 150:615–620

3.

Greene FLPD, Fleming ID, Et AL (Hrsg) (2002) American Joint Committee on Cancer. Soft tissue sarcoma. Springer, Berlin Heidelberg New York

4.

Gustafson P, Akerman M, Alvegard TA et al (2003) Prognostic information in soft tissue sarcoma using tumour size, vascular invasion and microscopic tumour necrosis-the SIN-system. Eur J Cancer 39:1568–1576

5.

Heslin MJ, Lewis JJ, Nadler E et al (1997) Prognostic factors associated with long-term survival for retroperitoneal sarcoma: implications for management. J Clin Oncol 15:2832–2839

6.

Hohenberger P, Schwarzbach MH (2009) Management of locally recurrent soft tissue sarcoma after prior surgery and radiation therapy. Recent results in cancer research. Recent Results Cancer Res 179:271–283

7.

Jemal A, Siegel R, Ward E et al (2008) Cancer statistics, 2008. CA Cancer J Clin 58:71–96

8.

Joensuu H, Fletcher C, Dimitrijevic S et al (2002) Management of malignant gastrointestinal stromal tumours. Lancet Oncol 3:655–664

9.

Kransdorf MJ, Jelinek JS, Moser RP Jr (1993) Imaging of soft tissue tumors. Radiol Clin North Am 31:359–372

10.

Lang P, Honda G, Roberts T et al (1995) Musculoskeletal neoplasm: perineoplastic edema versus tumor on dynamic postcontrast MR images with spatial mapping of instantaneous enhancement rates. Radiology 197:831–839

11.

Lewis JJ, Leung D, Casper ES et al (1999) Multifactorial analysis of long-term follow-up (more than 5 years) of primary extremity sarcoma. Arch Surg 134:190–194

12.

Lewis JJ, Leung D, Woodruff JM et al (1998) Retroperitoneal soft-tissue sarcoma: analysis of 500 patients treated and followed at a single institution. Ann Surg 228:355–365

13.

Lisle JW, Choi JY, Horton JA et al (2008) Metastatic osteosarcoma gene expression differs in vitro and in vivo. Clin Orthop Relat Res 466:2071–2080

14.

Mendenhall WM, Zlotecki RA, Hochwald SN et al (2005) Retroperitoneal soft tissue sarcoma. Cancer 104:669–675

15.

Noria S, Davis A, Kandel R et al (1996) Residual disease following unplanned excision of soft-tissue sarcoma of an extremity. J Bone Joint Surg 78:650–655

16.

Pisters PW, Leung DH, Woodruff J et al (1996) Analysis of prognostic factors in 1,041 patients with localized soft tissue sarcomas of the extremities. J Clin Oncol 14:1679–1689

17.

Repasky E, Issels R (2002) Physiological consequences of hyperthermia: heat, heat shock proteins and the immune response. Int J Hyperthermia 18:486–489

18.

Rosenberg SA, Tepper J, Glatstein E et al (1982) The treatment of soft-tissue sarcomas of the extremities: prospective randomized evaluations of (1) limb-sparing surgery plus radiation therapy compared with amputation and (2) the role of adjuvant chemotherapy. Ann Surg 196:305–315

19.

Schuetze SM (2006) Utility of positron emission tomography in sarcomas. Curr Opin Oncol 18:369–373

20.

Sheplan LJ, Juliano JJ (2010) Use of radiation therapy for patients with soft-tissue and bone sarcomas. Cleve Clin J Med 77(Suppl 1):S27–29

21.

Tanabe KK, Pollock RE, Ellis LM et al (1994) Influence of surgical margins on outcome in patients with preoperatively irradiated extremity soft tissue sarcomas. Cancer 73:1652–1659

22.

Tzeng CW, Fiveash JB, Heslin MJ (2006) Radiation therapy for retroperitoneal sarcoma. Expert Rev Anticancer Ther 6:1251–1260

23.

Van de Luijtgaarden AC, De Rooy JW, De Geus-Oei LF et al (2008) Promises and challenges of positron emission tomography for assessment of sarcoma in daily clinical practice. Cancer Imaging 8(Suppl A):S61–68

24.

Weiss SGJ (ed) (2001) General considerations. CV Mosby, Philadelphia
Interessenkonflikt
Der korrespondierende Autor gibt an, dass kein Interessenkonflikt besteht.
About this article
Cite this article
Berger, F., Reiser, M. & Graser, A. Bildgebende Diagnostik und Visualisierung von Bestrahlungsfolgen bei Weichteilsarkomen. Radiologe 52, 222–228 (2012). https://doi.org/10.1007/s00117-011-2193-z
Schlüsselwörter
Weichteilsarkom

Therapieresponse

Monitoring

MRT-Perfusion

Fluordeoxyglukose-Positronenemissionstomographie (FDG-PET)
Keywords
Soft tissue sarcoma

Treatment response

Monitoring

Magnetic resonance imaging perfusion

Fluorodeoxyglucose positron emission tomography (FDG-PET)