This is a preview of subscription content, log in to check access.
Access options
Buy single article
Instant access to the full article PDF.
US$ 39.95
Price includes VAT for USA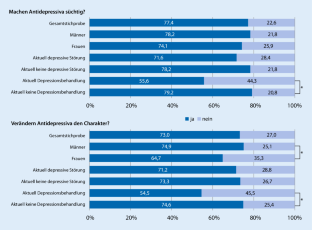 Literatur
1.

Agorastos A, Lederbogen F, Otte C (2015) Treatment of depression in coronary heart disease. Nervenarzt 86:375–385 (quiz 386–377)

2.

Althaus D, Stefanek J, Hasford J, Hegerl U (2002) Knowledge and attitude of the general public regarding symptoms, etiology and possible treatments of depressive illnesses. Nervenarzt 73:659–664

3.

Winter SE, Barber JP (2013) Should treatment for depression be based more on patient preference? Patient Prefer Adherence 7:1047–1057

4.

Hornung J, Kuhlmann SL, Radzimanowski M, Jorgens S, Haverkamp W, Martus P, Ströhle A, Waltenberger J, Arolt V, Muller-Nordhorn J, Rieckmann N (2019) Depressive symptoms and health care within 30 days after discharge from a cardiac hospital unit. Gen Hosp Psychiatry 56:19–27

5.

Wittchen HU, Pfister H (1997) DIA-X-Interviews: Manual für Screening-Verfahren und Interview; Interviewheft Längsschnittuntersuchung (DIA-X-Lifetime); Ergänzungsheft (DIA-X-Lifetime); Interviewheft Querschnittuntersuchung (DIA-X-12 Monate); Ergänzungsheft (DIA-X-12 Monate). Swets & Zeitlinger, Frankfurt (PC-Programm zur Durchführung des Interviews (Längs- und Querschnittuntersuchung); Auswertungsprogramm)

6.

DGPPN, BÄK, KBV, AWMF (2015) S3-Leitlinie/Nationale VersorgungsLeitlinie Unipolare Depression – Langfassung, 2. Auflage. Version 5. www.depression.versorgungsleitlinien.de. Zugegriffen: 28. März 2019
Funding
Die vorliegende Studie ist Teil der Studie "CDCare – Versorgung von Patienten mit koronarer Herzerkrankung und komorbider Depression: eine patientenorientierte Bedarfsanalyse". CDCare wurde vom Bundesministerium für Bildung und Forschung gefördert (BMBF; 01GY1154).
Ethics declarations
Interessenkonflikt
V. Arolt erhielt Honorare für Beratungstätigkeit und Vorträge von Astra-Zeneca, Janssen-Cilag, Lundbeck, Neuraxpharm, Otsuka, Servier, Trommsdorff. Die Tätigkeit für die genannten Unternehmen steht in keinem Zusammenhang mit der dargestellten Untersuchung. S.L. Kuhlmann, W. Haverkamp, A. Ströhle, J. Waltenberger, J. Müller-Nordhorn und N. Rieckmann geben an, dass kein Interessenkonflikt besteht.
Vor der Studiendurchführung wurde die Zustimmung der Ethikkomissionen beider Institutionen eingeholt, die Studie ist registriert unter ClinicalTrials.gov (NCT01626027) und folgt der Deklaration von Helsinki des Weltärztebundes (World Medical Association [WMA]). Dieser Beitrag beinhaltet keine Studien an Menschen oder Tieren.
About this article
Cite this article
Kuhlmann, S.L., Arolt, V., Haverkamp, W. et al. Einstellungen zu Depression und Behandlungsmöglichkeiten von Patienten mit koronarer Herzkrankheit. Nervenarzt 90, 938–940 (2019). https://doi.org/10.1007/s00115-019-0736-0