Zusammenfassung
Die aktuellen Behandlungsleitlinien zur Therapie von Patienten mit psychotischen Störungen empfehlen mehrere wirksame psychotherapeutische Verfahren für unterschiedliche Indikations- und Zielbereiche. Dabei wird besonders kognitive Verhaltenstherapie (KVTp) ohne Einschränkung für die Behandlung der Positiv- und Gesamtsymptomatik in allen Störungsphasen empfohlen. Obwohl KVTp vergleichsweise einfach in die Regelversorgung zu implementieren wäre, haben bislang kaum betroffene Patienten in der stationären oder ambulanten Versorgung Zugang zu diesem evidenzbasierten Verfahren. Die Interventionen der KVTp setzen unmittelbar an den an der Entstehung und Aufrechterhaltung psychotischer Symptomatik beteiligten Faktoren sowie den Symptomen selbst an. Kernmerkmale der KVTp sind eine normalisierende Haltung gegenüber Symptomen, ein individualisiertes Vorgehen und kognitive Interventionen. Neuere Entwicklungen umfassen symptomspezifische Ansätze sowie metakognitive, achtsamkeits- und akzeptanzbasierte Ansätze. Ferner kann die Reduktion komorbider Symptomatik zusätzlich zum Nutzen der Behandlung beitragen. Der vorliegende Artikel bietet eine Übersicht über das Vorgehen in der KVTp sowie über einige der neuesten Weiterentwicklungen in diesem Bereich. Wir hoffen, damit zur Weiterbildung sowie zur besseren Implementierung evidenzbasierter und damit leitliniengerechter Psychotherapie in der Versorgung von Patienten mit psychotischen Störungen beizutragen.
Abstract
The current treatment guidelines recommend several effective psychotherapeutic approaches for different indications or aims in the therapy of patients with psychotic disorders. In particular, cognitive behavior therapy (CBTp) is recommended for the treatment of positive and general symptoms in all phases of the disorder without any restriction. Although CBTp could be easily implemented in routine care, very few of the affected patients have access to this evidence-based procedure in inpatient or outpatient settings. The interventions in CBTp directly address the psychotic symptoms themselves as well as the factors involved in the development and maintenance of symptoms. The core features of CBTp are a normalizing attitude of the therapist towards symptoms, an individualized approach and cognitive interventions. Recent developments include symptom-specific, metacognitive as well as mindfulness and acceptance-based approaches. Moreover, the reduction of comorbid symptoms can add to the benefit of the treatment. This article provides an overview of the basic CBTp techniques and of some of the latest developments in this field. It is hoped that this will contribute to the training of therapists and to the better implementation of evidence-based and guideline-based psychotherapy in the care of patients with psychotic disorders.
This is a preview of subscription content, log in to check access.
Access options
Buy single article
Instant unlimited access to the full article PDF.
US$ 39.95
Price includes VAT for USA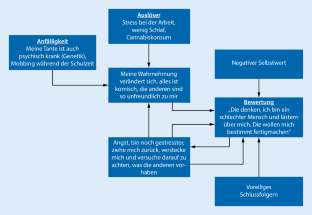 Literatur
1.

Beck AT, Rector NA, Stolar N, Grant P (2009) A cognitive conceptualization of negative symptoms. In: Schizophr. Cogn. theory Res. Ther. GuilfordPress, New York, S 142–159

2.

de Bont PAJM, van den Berg DPG, van der Vleugel BM et al (2016) Prolonged exposure and EMDR for PTSD v. a PTSD waiting-list condition: effects on symptoms of psychosis, depression and social functioning in patients with chronic psychotic disorders. Psychol Med 46:2411–2421

3.

DGPPN e.V.(Hrsg.) für die Leitliniengruppe: S3-Leitlinie Schizophrenie. Langfassung, 2019, Version 1.0, zuletzt geändert am 15. März 2019. https://www.awmf.org/leitlinien/detail/ll/038-009.htm

4.

Freeman D (2007) Suspicious minds: the psychology of persecutory delusions. Clin Psychol Rev 27:425–457

5.

Freeman D, Bradley J, Antley A et al (2016) Virtual reality in the treatment of persecutory delusions: randomised controlled experimental study testing how to reduce delusional conviction. Br J Psychiatry 209:62–67

6.

Freeman D, Dunn G, Startup H et al (2015) Effects of cognitive behaviour therapy for worry on persecutory delusions in patients with psychosis (WIT): a parallel, single-blind, randomised controlled trial with a mediation analysis. Lancet Psychiatry 2:305–313

7.

Garety PA, Bebbington P, Fowler D et al (2007) Implications for neurobiological research of cognitive models of psychosis: a theoretical paper. Psychol Med 37:1377–1391

8.

Hahlweg K, Dürr H, Dose M, Müller MJ (2006) Familienbetreuung schizophrener Patienten. Ein verhaltenstherapeutischer Ansatz zur Rückfallprophylaxe, 2. Aufl. Hogrefe, Göttingen

9.

Hayward M, Overton J, Dorey T, Denney J (2009) Relating therapy for people who hear voices: a case series. Clin Psychol Psychother 16:216–227

10.

Janssen (2005) Leitlinienkonformität und Behandlungsergebnisse in der stationären Schizophreniebehandlung. Ein Klinikvergleich. Nervenarzt 76:315–326

11.

Leff J, Williams G, Huckvale M et al (2014) Avatar therapy for persecutory auditory hallucinations: what is it and how does it work? Psychosis 6:166–176

12.

Lincoln TM (2019) Kognitive Verhaltenstherapie der Schizophrenie: Ein individuenzentrierter Ansatz. 3. überarbeitete Auflage. Göttingen: Hogrefe

13.

Lincoln TM, Heibach E (2017) Psychosen. Hogrefe, Göttingen

14.

Lincoln TM, Pedersen A, Hahlweg K et al (2019) Evidenzbasierte Leitlinie zur Psychotherapie von Schizophrenie und anderen psychotischen Störungen. Hogrefe, Göttingen

15.

Lincoln TM, Peters E (2019) A systematic review and discussion of symptom specific cognitive behavioural approaches to delusions and hallucinations. Schizophr Res 203:66–79

16.

Meaden A, Birchwood M, Trower P (2013) Cognitive therapy for command hallucinations. In: Laori F, Aleman A (Hrsg) Hallucinations a Guid. to treat. Manag. Oxford University Press, Oxford, S 103–122

17.

Mehl S, Lincoln TM (2014) Therapie Tools Psychosen. Beltz, Weinheim, Basel

18.

Moritz S, Veckenstedt R, Randjbar S, Vitzthum F (2011) MKT+: Individualisiertes metakognitives Therapieprogramm für Menschen mit Psychose. Springer, Berlin

19.

Morris EMJ, Johns LC, Oliver JE (2013) Acceptance and Commitment Therapy and mindfulness for psychosis. Wiley-Blackwell, West Sussex

20.

Morrison AP, Pyle M, Chapman N et al (2014) Metacognitive therapy in people with a schizophrenia spectrum diagnosis and medication resistant symptoms: A feasibility study. J Behav Ther Exp Psychiatry 45:280–284

21.

Nelson HE (2005) Cognitive-behavioural therapy with delusions and hallucinations: A practice manual, 2. Aufl. Nelson Thornes, Cheltenham

22.

Nguyen A, Frobert L, McCluskey I et al (2016) Development of the positive emotions program for schizophrenia: an intervention to improve pleasure and motivation in schizophrenia. Front Psychiatry 7:1–13

23.

Opoka SM, Lincoln TM (2017) The effect of cognitive behavioral interventions on depression and anxiety symptoms in patients with schizophrenia spectrum disorders: a systematic review. Psychiatr Clin 40:641–659

24.

Opoka SM, Ludwig L, Lincoln TM (2018) A systematic review of trials targeting depression and anxiety in patients with delusions. An emotion-focused perspective. Z Psychol 226:142–151

25.

Retzer A (2004) Systemische Familientherapie der Psychosen. Hogrefe, Göttingen

26.

Roder V, Brenner H, Kienzele N (2008) Integriertes Psychologisches Therapieprogramm bei schizophren Erkrankten, IPT, 6. Aufl. BeltzPVU, Weinheim

27.

Schlier B, Lincoln TM (2016) Blinde Flecken? Der Einfluss von Stigma auf die psychotherapeutische Versorgung von Menschen mit Schizophrenie. Verhaltenstherapie 26:279–290

28.

Velligan DI, Roberts D, Mintz J et al (2015) A randomized pilot study of MOtiVation and Enhancement (MOVE) Training for negative symptoms in schizophrenia. Schizophr Res 165:175–180

29.

Waite F, Myers E, Harvey AG et al (2016) Treating sleep problems in patients with schizophrenia. Behav Cogn Psychother 44:273–287
Ethics declarations
Interessenkonflikt
M. Pillny und T.M. Lincoln geben an, dass kein Interessenkonflikt besteht.
Für diesen Beitrag wurden von den Autoren keine Studien an Menschen oder Tieren durchgeführt. Für die aufgeführten Studien gelten die jeweils dort angegebenen ethischen Richtlinien.
About this article
Cite this article
Pillny, M., Lincoln, T.M. Moderne kognitive Verhaltenstherapie bei psychotischen Störungen. Nervenarzt 91, 43–49 (2020). https://doi.org/10.1007/s00115-019-00831-w
Schlüsselwörter
Therapie

Schizophrenie

Psychologische Interventionen

Psychose

Behandlung
Keywords
Therapy

Schizophrenia

Psychological interventions

Psychosis

Treatment