Zusammenfassung
Kognitive Störungen bei Schizophrenie korrelieren hoch mit dem psychosozialen Niveau (soziale Beziehungen, Arbeit, Lebensqualität u. a.) und können bereits bei gesunden Angehörigen sowie bei Hochrisikopersonen (UHR) nachgewiesen werden. Sie verstärken sich parallel mit einem psychotischen Schub und bilden sich dann wieder auf das Ausgangsniveau zurück. Auf psychopathologischer Ebene zeigen Negativsymptome sowie auch das Desorganisationssyndrom die deutlichsten Assoziationen zu kognitiven Defiziten. Der Ausprägungsgrad korreliert mit der Symptomatik. Kognitive Remediation kann mithilfe von Trainings die kognitive Leistung verbessern. Im Hinblick auf die medikamentöse Therapie existiert derzeit noch kein Medikament mit positiver Auswirkung auf die kognitiven Störungen.
Abstract
Cognitive disorders in schizophrenia are highly correlated with the psychosocial level (e.g. relationships, quality of life and work). It has been shown that healthy relatives and people at ultrahigh risk also display cognitive dysfunctions albeit to a lesser degree. The cognitive impairment increases simultaneously with an acute phase and then reverts back to baseline levels. At the psychopathological level, negative symptoms and the disorganization syndrome show the strongest associations with cognitive deficits, whereby the extent of manifestation of deficits increases with increasing symptomatology. Cognitive remediation can improve the cognitive performance through training with small to moderate effects. With respect to drug therapy there is currently no drug with a positive effect on cognitive disorders.
This is a preview of subscription content, log in to check access.
Access options
Buy single article
Instant unlimited access to the full article PDF.
US$ 39.95
Price includes VAT for USA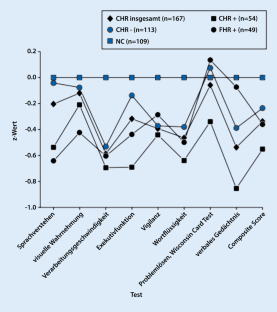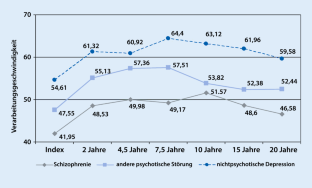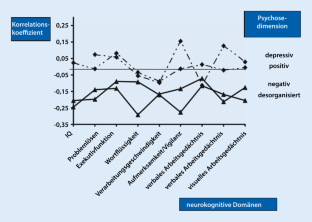 Literatur
1.

Albus M, Hubmann W, Mohr F et al (2019) Neurocognitive functioning in patients with first-episode schizophrenia: results of a prospective 15-year follow-up study. Eur Arch Psychiatry Clin Neurosci. https://doi.org/10.1007/s00406-019-01030-z

2.

Bonner-Jackson A, Grossman LS, Harrow M, Rosen C (2010) Neurocognition in schizophrenia: a 20-year multi-follow-up of the course of processing speed and stored knowledge. Compr Psychiatry. https://doi.org/10.1007/s00406-019-01030-z

3.

Bozikas VP, Kosmidis MH, Kioperlidou K, Karavatos A (2004) Relationship between psychopathology and cognitive functioning in schizophrenia. Compr Psychiatry 45:392–400

4.

Bryson G, Bell MD (2003) Initial and final work performance in schizophrenia: cognitive and symptom predictors. J Nerv Ment Dis 191:87–92

5.

Christensen TØ (2007) The influence of neurocognitive dysfunctions on work capacity in schizophrenia patients: a systematic review of the literature. Int J Psychiatry Clin Pract 11:89–101

6.

DGPPN e. V. (2009) S3-Leitlinie Schizophrenie. Langfassung, Version 1.0, zuletzt geändert am 15. März 2019. https://www.awmf.org/leitlinien/detail/ll/038-009.html. Zugegriffen: 12.08.2019

7.

Fett A‑KJ, Viechtbauer W, Dominguez M‑G et al (2011) The relationship between neurocognition and social cognition with functional outcomes in schizophrenia: a meta-analysis. Neurosci Biobehav Rev 35:573–588

8.

de Gracia Dominguez M, Viechtbauer W, Simons CJP et al (2009) Are psychotic psychopathology and neurocognition orthogonal? A systematic review of their associations. Psychol Bull 135:157–171

9.

Gur RE, Nimgaonkar VL, Almasy L et al (2007) Neurocognitive endophenotypes in a multiplex multigenerational family study of schizophrenia. Am J Psychiatry 164:813–819

10.

Harvey PD, Heaton RK, Carpenter WT et al (2012) Functional impairment in people with schizophrenia: focus on employability and eligibility for disability compensation. Schizophr Res 140:1–8

11.

Heilbronner U, Samara M, Leucht S et al (2016) The longitudinal course of schizophrenia across the lifespan: clinical, cognitive, and neurobiological aspects. Harv Rev Psychiatry 24:118–128

12.

Huang M, Huang Y, Yu L et al (2016) Relationship between negative symptoms and neurocognitive functions in adolescent and adult patients with first-episode schizophrenia. BMC Psychiatry 16:344

13.

Karambelas GJ, Allott KA, Killackey E et al (2018) The contribution of employment duration to 18-month neurocognitive outcomes in first-episode psychosis. Psychiatr Rehabil J 41:319–327

14.

Keefe RSE (2014) The longitudinal course of cognitive impairment in schizophrenia. J Clin Psychiatry 75:8–13

15.

Kircher T, Gauggel S (2008) Neuropsychologie der Schizophrenie: Symptome, Kognition, Gehirn. Springer, Berlin, Heidelberg

16.

Kurtz MM, Richardson CL (2012) Social cognitive training for schizophrenia: a meta-analytic investigation of controlled research. Schizophr Bull 38:1092–1104

17.

Lencz T, Smith CW, McLaughlin D et al (2006) Generalized and specific neurocognitive deficits in prodromal schizophrenia. Biol Psychiatry 59:863–871

18.

Mackenzie LE, Patterson VC, Zwicker A et al (2017) Hot and cold executive functions in youth with psychotic symptoms. Psychol Med 47(16):2844–2853. https://doi.org/10.1017/S0033291717001374

19.

Malla AK, Norman RMG, Manchanda R, Townsend L (2002) Symptoms, cognition, treatment adherence and functional outcome in first-episode psychosis. Psychol Med 32:1109–1119

20.

McGurk SR, Twamley EW, Sitzer DI et al (2007) A meta-analysis of cognitive remediation in schizophrenia. Am J Psychiatry 164:1791–1802

21.

Mesholam-Gately RI, Giuliano AJ, Goff KP et al (2009) Neurocognition in first-episode schizophrenia: a meta-analytic review. Neuropsychology 23:315–336

22.

Nielsen RE, Levander S, Kjaersdam Telléus G et al (2015) Second-generation antipsychotic effect on cognition in patients with schizophrenia—a meta-analysis of randomized clinical trials. Acta Psychiatr Scand 131:185–196

23.

Puig O, Thomas KR, Twamley EW (2016) Age and improved attention predict work attainment in combined compensatory cognitive training and supported employment for people with severe mental illness. J Nerv Ment Dis 204:869–872

24.

Pukrop R, Ruhrmann S, Schultze-Lutter F et al (2007) Neurocognitive indicators for a conversion to psychosis: comparison of patients in a potentially initial prodromal state who did or did not convert to a psychosis. Schizophr Res 92:116–125

25.

Pukrop R, Schultze-Lutter F, Ruhrmann S et al (2006) Neurocognitive functioning in subjects at risk for a first episode of psychosis compared with first- and multiple-episode schizophrenia. J Clin Exp Neuropsychol 28:1388–1407

26.

Reddy LF, Kern RS (2014) Supported employment among veterans with serious mental illness: the role of cognition and social cognition on work outcome. Schizophr Res Cogn 1:144–148

27.

Revell ER, Neill JC, Harte M et al (2015) A systematic review and meta-analysis of cognitive remediation in early schizophrenia. Schizophr Res 168:213–222

28.

Roiser JP, Sahakian BJ (2013) Hot and cold cognition in depression. CNS Spectr 18:139–149

29.

Ruhrmann S, Schultze-Lutter F, Klosterkötter J (2003) Early detection and intervention in the initial prodromal phase of schizophrenia. Pharmacopsychiatry 36:162–167

30.

Seidman LJ, Giuliano AJ, Meyer EC et al (2010) Neuropsychology of the prodrome to psychosis in the NAPLS consortium relationship to family history and conversion to psychosis. Arch Gen Psychiatry 67:578

31.

Velligan DI, Bow-Thomas CC, Mahurin RK et al (2000) Do specific neurocognitive deficits predict specific domains of community function in schizophrenia? J Nerv Ment Dis 188:518–524

32.

Ventura J, Thames AD, Wood RC et al (2010) Disorganization and reality distortion in schizophrenia: a meta-analysis of the relationship between positive symptoms and neurocognitive deficits. Schizophr Res 121:1–14

33.

Watzke S, Brieger P, Kuss O et al (2008) A longitudinal study of learning potential and rehabilitation outcome in schizophrenia. Psychiatr Serv 59:248–255

34.

Wells R, Jacomb I, Swaminathan V et al (2019) The impact of childhood adversity on cognitive development in schizophrenia. Schizophr Bull. https://doi.org/10.1093/schbul/sbz033

35.

Wells R, Swaminathan V, Sundram S et al (2015) The impact of premorbid and current intellect in schizophrenia: cognitive, symptom, and functional outcomes. npj Schizophr 1:15043

36.

Woodward ND, Purdon SE, Meltzer HY, Zald DH (2005) A meta-analysis of neuropsychological change to clozapine, olanzapine, quetiapine, and risperidone in schizophrenia. Int J Neuropsychopharmacol 8:457–472

37.

Woodward ND, Purdon SE, Meltzer HY, Zald DH (2007) A meta-analysis of cognitive change with haloperidol in clinical trials of atypical antipsychotics: dose effects and comparison to practice effects. Schizophr Res 89:211–224

38.

Wykes T, Huddy V, Cellard C et al (2011) A meta-analysis of cognitive remediation for schizophrenia: methodology and effect sizes. Am J Psychiatry 168:472–485

39.

Zhang H, Wang Y, Hu Y et al (2019) Meta-analysis of cognitive function in Chinese first-episode schizophrenia: MATRICS consensus cognitive battery (MCCB) profile of impairment. Gen Psychiatry 32:e100043

40.

Zhu Y, Womer FY, Leng H et al (2019) The relationship between cognitive dysfunction and symptom dimensions across schizophrenia, bipolar disorder, and major depressive disorder. Front Psychiatry 10:253
Ethics declarations
Interessenkonflikt
A. Krug, F. Stein und T. Kircher geben an, dass kein Interessenkonflikt besteht.
Für diesen Beitrag wurden von den Autoren keine Studien an Menschen oder Tieren durchgeführt. Für die aufgeführten Studien gelten die jeweils dort angegebenen ethischen Richtlinien.
About this article
Cite this article
Krug, A., Stein, F. & Kircher, T. Kognitive Störungen bei Schizophrenie. Nervenarzt 91, 2–9 (2020) doi:10.1007/s00115-019-00809-8
Schlüsselwörter
Psychopathologie

Kognitive Remediation

Psychosoziales Funktionsniveau

Negativsymptome

Desorganisationssyndrom
Keywords
Psychopathology

Cognitive remediation

Psychosocial functioning level

Negative symptoms

Disorganization syndrome