Zusammenfassung
Hintergrund
Das idiopathische Parkinson-Syndrom (IPS) ist durch zunehmende motorische und nichtmotorische Symptome charakterisiert, die das jeweilige Krankheitsstadium definieren und unterschiedliche diagnostische und therapeutische Herausforderungen darstellen.
Material und Methoden
Es wurde eine mobile, rechnergestützte, biosensorische Ganganalyse an Patienten im frühen und mittleren Krankheitsstadium im Vergleich zu Kontrollen getestet. Standardisierte Ganguntersuchungen wurden mit am Schuh angebrachten Bewegungssensoren durchgeführt. Die erzeugten Beschleunigungs- und Drehsignale wurden mittels Verfahren der Mustererkennung analysiert.
Ergebnisse
Es konnte eine Unterscheidung zwischen Patienten und Kontrollen erzielt, Patienten in einem frühen Stadium identifiziert und eine krankheitsstadiumspezifische Zuordnung getroffen werden.
Schlussfolgerung
Im Rahmen dieser Studie zeigte sich, dass mobile, biometrische Ganganalysesysteme in der Lage sind, objektivierbare Aussagen über die Gangstörungen beim IPS zu treffen. Diese automatisierte Ganganalyse kann somit sowohl bei der Früherkennung des IPS als auch in der Verlaufsbeurteilung beim Auftreten von motorischen Fluktuationen in der Alltagsumgebung des Patienten hilfreich eingesetzt werden. Durch mobile Bewegungsanalysesysteme werden Patienten, Angehörige und Therapeuten bei der Beurteilung und Therapie von Gangstörungen optimal unterstützt.
Summary
Parkinson's disease (PD) is characterized by progressive motor and non-motor symptoms, leading to distinct diagnostic and therapeutic challenges in all stages of the disease. This study investigated a mobile biosensor-based gait analysis system for patients in early and intermediate stages of PD compared to controls. Subjects wearing a motion sensor-equipped shoe performed a standardized gait exercise. Accelerometer- and gyroscope-based signals were analysed using a complex set of pattern recognition algorithms. The analysis was able (1) to distinguish between PD patients and controls, (2) to identify patients at an early stage of the disease and (3) to distinguish between early and intermediate stage patients. Thus, using this mobile biosensor-based analysis system we were able to obtain objective classifications of gait characteristics in PD. Future studies will show that mobile biosensor-based movement detection technology will support identification of early PD stages and allow objective characterization of motor fluctuations in advanced stages of the disease. This will provide an important and supportive tool for patients, caregivers and therapists.
This is a preview of subscription content, log in to check access.
Access options
Buy single article
Instant access to the full article PDF.
US$ 39.95
Price includes VAT for USA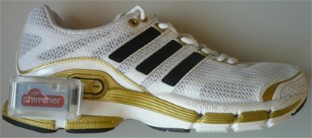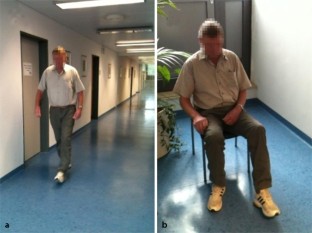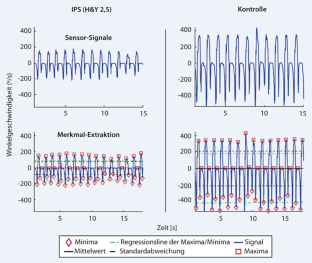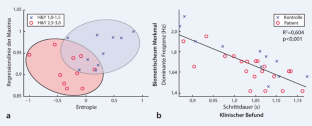 Literatur
1.

Bachlin M, Plotnik M, Roggen D et al (2010) A wearable system to assist walking of Parkinson's disease patients. Methods Inf Med 49:88–95

2.

Dorsey ER, Constantinescu R, Thompson JP et al (2007) Projected number of people with Parkinson's disease in the most populous nations, 2005 through 2030. Neurology 68:384–386

3.

Duda RO, Hart PE, Stork DG (2000) Pattern Classification. 2. ed. Wiley InterScience

4.

Fukunaga K, Kessell DL (1971) Estimation of classification error. Computers, IEEE Transactions on 100:1521–1527

5.

Goetz CG, Poewe W, Rascol O et al (2004) Movement Disorder Society Task Force report on the Hoehn and Yahr staging scale: status and recommendations. Mov Disord 19:1020–1028

6.

Group PS (1998) Mortality in DATATOP: a multicenter trial in early Parkinson's disease. Ann Neurol 43:318–325

7.

Hastie P (2003) The Elements of Statistical Learning. Springer, Heidelberg

8.

Jovanov E, Wang E, Verhagen L et al (2009) defog – A real time system for detection and unfreezing of gait of Parkinson's patients. Conf Proc IEEE Eng Med Biol Soc 5151–5154

9.

Kostic V, Przedborski S, Flaster E et al (1991) Early development of levodopa-induced dyskinesias and response fluctuations in young-onset Parkinson's disease. Neurology 41:202–205

10.

Moessnang C, Frank G, Bogdahn U et al (2010) Altered activation patterns within the olfactory network in Parkinson's disease. Cereb Cortex [Epub ahead of print]

11.

Mutch WJ, Strudwick A, Roy SK et al (1986) Parkinson's disease: disability, review, and management. Br Med J (Clin Res Ed) 293:675–677

12.

Patel S, Lorincz K, Hughes R et al (2009) Monitoring motor fluctuations in patients with Parkinson's disease using wearable sensors. IEEE Trans Inf Technol Biomed 13:864–873

13.

Patel S, Lorincz K, Hughes R et al (2007) Analysis of feature space for monitoring persons with Parkinson's disease with application to a wireless wearable sensor system. Conf Proc IEEE Eng Med Biol Soc:6291–6294

14.

Shannon CE (1948) The mathematical theory of communication. 1963. MD computing computers in medical practice 27:306–317

15.

Steffen T, Seney M (2008) Test-retest reliability and minimal detectable change on balance and ambulation tests, the 36-item short-form health survey, and the unified Parkinson disease rating scale in people with parkinsonism. Phys Ther 88:733–746

16.

Theodoridis S, Koutroumbas K (2008) Pattern Recognition, 4. Aufl. Academic Press

17.

Weiss A, Herman T, Plotnik M et al (2010) Can an accelerometer enhance the utility of the Timed Up & Go Test when evaluating patients with Parkinson's disease? Med Eng Phys 32:119–125

18.

Winkler J, Ehret R, Büttner T et al (2011) Parkinson's disease risk score: moving to a premotor diagnosis. J Neurol 258:311–315

19.

Winner B, Winkler J (2004) Parkinson-Syndrom. In: Winkler J, Ludolph AC (Hrsg) Neurodegenerative Erkrankungen des Alters. Georg Thieme, Stuttgart, S 139–212

20.

Zung WWK (1994) Self Rating Depression Scale. In: Scalarum CIP (Hrsg) Internationale Skalen für Psychiatrie. Beltz Test GmbH, Göttingen, S 101–103
Danksagung
Die Studie wurde durch die ELAN-Förderung (Erlanger Leistungsbezogene Anschubfinanzierung und Nachwuchsförderung – AZ: 1008.17.1) unterstützt. Die Schuhe wurden vom Sportartikelhersteller adidas AG® zu Verfügung gestellt. Wir danken allen Teilnehmern an der Studie.
Interessenkonflikt
Der korrespondierende Autor gibt an, dass kein Interessenkonflikt besteht.
About this article
Cite this article
Klucken, J., Barth, J., Maertens, K. et al. Mobile biometrische Ganganalyse. Nervenarzt 82, 1604–1611 (2011). https://doi.org/10.1007/s00115-011-3329-0
Schlüsselwörter
Parkinson-Syndrom

Gangstörung

Ganganalyse

Mustererkennung

Biosensorik
Keywords
Parkinson's disease

Gait disorder Gait analysis

Pattern recognition

Biosensor system