Zusammenfassung
Hintergrund
Eine qualifizierte Entzugsbehandlung (QE) für alkoholabhängige Patienten wurde mit einer herkömmlichen körperlichen Entgiftung (KE) im stationären Rahmen verglichen. Es sollte die Frage beantwortet werden, ob die Teilnahme an einer QE im Vergleich zu einer KE mit einer höheren Inanspruchnahme poststationärer Behandlungsangebote und mit einer höheren Abstinenzrate einhergeht.
Material und Methoden
Einhundertsiebzehn Patienten wurden in die Studie aufgenommen und nach 2 Monaten nachuntersucht; 61 nahmen an einer QE, 56 an einer KE teil. Für beide Stichproben wurde die Abstinenzzuversicht am Ende der Behandlung erfasst. Es liegen Katamnesedaten für die ersten 2 Monate nach Entlassung vor.
Ergebnisse
Patienten einer QE berichten bei Entlassung eine höhere Abstinenzzuversicht. Zum Katamnesezeitpunkt wurden in der QE-Gruppe eine höhere Abstinenzrate, eine häufigere regelmäßige Teilnahme an Selbsthilfegruppen und eine höhere Inanspruchnahme ambulanter psychotherapeutischer Behandlung berichtet. Eine Regressionsanalyse belegt die Bedeutung der Behandlungsform für den Therapieerfolg und schließt Rekrutierungseffekte weitgehend aus.
Schlussfolgerung
Die Ergebnisse deuten darauf hin, dass eine QE die Patienten besser für weitere Therapieschritte vorbereitet und gegenüber einer KE bessere Erfolgschancen bietet. Methodische Einschränkungen werden diskutiert.
Summary
Aims
The aim of the present study was to evaluate whether attending an extended inpatient detoxification treatment programme for alcohol-dependent patients providing psychotherapeutic interventions and coping skills training (QE) is associated with higher aftercare treatment attendance and higher abstinence rates compared with conventional detoxification treatment (KE).
Methods
A total of 117 patients were investigated. (QE sample n=61, KE sample n=56). Patients were followed up for at least 2 months and attendance at different aftercare treatment facilities and drinking behaviour were assessed.
Results
At discharge from inpatient treatment patients receiving QE report an increased perceived ability to stay abstinent when confronted with high-risk situations in the future. At follow-up, a higher abstinence rate and a higher frequency of self-help group attendance and outpatient psychotherapeutic treatment were reported in the QE sample. A regression analysis supports the chosen treatment as the main factor for success and rules out a potential sampling bias.
Conclusions
Although methodological limitations have to be taken into account, our results suggest that QE provides better chances of treatment success than KE.
This is a preview of subscription content, log in to check access.
Access options
Buy single article
Instant unlimited access to the full article PDF.
US$ 39.95
Price includes VAT for USA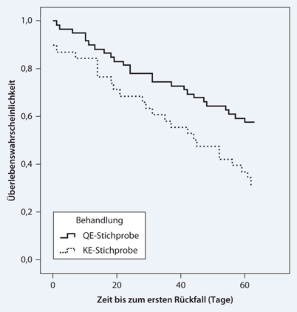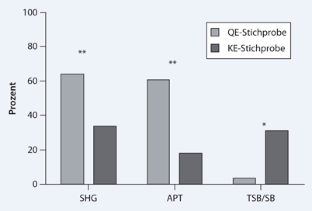 Literatur
1.

Allsop S, Saunders B, Phillips M, Carr A (1997) A trial of relapse prevention with severely dependent male problem drinkers. Addiction 92:61–73

2.

Allsop S, Saunders B, Phillips M (2000) The process of relapse in severely dependent male problem drinkers. Addiction 95:95–106

3.

Annis HM (1987) Situational Confidence Questionnaire (SCQ-39). Addiction Research Foundation of Ontario, Toronto

4.

Bauer I, Hasenöhrl G (2000) Therapieerfolg Alkoholabhängiger nach qualifizierter Entzugsbehandlung und konventioneller Entgiftung (vergleichende 28-Monats-Katamnese). Sucht 46:250–259

5.

Berner M, Günzler C, Frick K et al (2008) Finding the ideal place for a psychotherapeutic intervention in a stepped care approach – a brief overview of the literature and preliminary results from the Project PREDICT. Int J Methods Psychiatr Res 17:S60–S64

6.

Brueck R, Mann K (2007) Alkoholismusspezifische Psychotherapie. Manual mit Behandlungsmodulen. Deutscher Ärzteverlag, Köln

7.

Conigrave KM, Saunders JB, Whitfield JB (1995) Diagnostic tests for alcohol consumption. Alcohol Alcohol 30:13–26

8.

Croissant B, Hupfer K, Loeber S et al (2007) Längsschnittuntersuchung alkoholauffälliger Mitarbeiter in einem Großbetrieb nach werksärztlicher Kurzintervention. Nervenarzt, Epub ahead of print

9.

Croissant B, Löber S, Diehl A et al (2009) Oxcarbazepine in combination with Tiaprid in inpatient alcohol-withdrawal – a RCT. Pharmacopsychiatry (in press)

10.

Czarnecki DM, Russell M, Cooper ML, Salter D (1990) Five-year reliability of self-reported alcohol consumption. J Stud Alcohol 51:68–76

11.

Driessen M, Veltrup C, Junghanns K et al (1999) Kosten-Nutzen-Analyse klinisch evaluierter Behandlungsprogramme. Nervenarzt 70:463–470

12.

Finney JW, Hahn AC, Moos RH (1996) The effectiveness of inpatient and outpatient treatment for alcohol abuse: The need to focus on mediators and moderators of setting effects. Addiction 91:1773–1796

13.

Fleischmann H (2001) Chronisch mehrfach beeinträchtigte Alkoholabhängige (CMA) im psychiatrischen Krankenhaus, Definitionsprobleme, Selektionsprozesse und Ergebnisse, therapeutische Prinzipien. In: Olbrich R (Hrsg) Suchtbehandlung – Neue Therapieansätze zur Alkoholkrankheit und anderen Suchtformen. Roderer, Regensburg, S 11–26

14.

Foster JH, Marshall EJ, Peters TJ (2000) Outcome after in-patient detoxification for alcohol dependence: A naturalistic comparison of 7 versus 28 days stay. Alcohol Alcohol 35:580–586

15.

Gelsi EV, Vanbiervliet G, Cherikh F et al (2007) Factors predictive of alcohol abstention after resident detoxication among alcoholics followed in a hospital outpatient center. Gastroenterol Clin Biol 31:595–599

16.

Geyer D, Batra A, Beutel M et al (2006) AWMF Leitlinie: Postakutbehandlung alkoholbezogener Störungen. Sucht 52:8–34

17.

Greenfield SF, Hufford MR, Vagge LM et al (2000) The relationship of self-efficacy expectancies to relapse among alcohol dependent men and women: A prospective study. J Stud Alcohol 61:345–351

18.

John U, Hapke U, Rumpf HJ (2001) Serie – Alkoholismus: Missbrauch oder Abhängigkeit von Alkohol. Dtsch Ärzteblt 98:A-2438, B-2082, C-1950

19.

John U, Veltrup C, Driessen M et al (2003) Motivational intervention: An individual counselling vs. a group treatment approach for alcohol-dependent in-patients. Alcohol Alcohol 38:263–269

20.

Kahler CW, Read JP, Ramsey SE et al (2004) Motivational enhancement for 12-step involvement among patients undergoing alcohol detoxification. J Consult Clin Psychol 72:736–741

21.

Loeber S, Croissant B, Nakovics H et al (2007) The startle reflex in alcohol-dependent patients: Changes after cognitive-behavioral therapy and predictive validity for drinking behavior – A pilot study. Psychother Psychosoms 76:385–390

22.

Maisto SA, Connors GJ, Zywiak WH (2000) Alcohol treatment, changes in coping skills, self-efficacy, and levels of alcohol use and related problems 1 year following treatment initiation. Psychol Addict Behav 14:257–266

23.

Mann K (2002) Neue ärztliche Aufgaben bei Alkoholproblemen. Dtsch Ärztebl 99:632–644

24.

Mann K, Kiefer F, Smolka M et al (2009) Searching for responders to acamprosate and naltrexone in alcoholism treatment: Rationale and design of the predict study. Alcohol Clin Exp Res (in press)

25.

Mann K, Stetter F (1991) Keine Entgiftung ohne psychotherapeutische Begleitung. Psycho 5:296–304

26.

Mann K, Loeber S, Croissant B, Kiefer F (2006) Qualifizierte Entzugsbehandlung von Alkoholabhängigen: Ein Manual zur Pharmako- und Psychotherapie. Deutscher Ärzteverlag, Köln

27.

Mann K, Schäfer DR, Längle G et al (2005) The long-term course of alcoholism, 5, 10 and 16 years after treatment. Addiction 100:797–805

28.

Marlatt GA, Gordon JR (1985) Relapse prevention. Guilford, New York

29.

Miller WR, Hester RK (1986) Inpatient alcoholism treatment. Am Psychol 41:794–805

30.

Olbrich R (2001) Die qualifizierte Entzugsbehandlung in der stationären Alkoholismustherapie. In: Olbrich R (Hrsg) Suchtbehandlung. Neue Therapieansätze zur Alkoholkrankheit und anderen Suchtformen. Roderer, Regensburg, S 95–109

31.

Rist F, Watzl H (1983) Self-assessment of relapse risk and assertiveness in relation to treamtent outcome of female alcoholics. Addict Behav 8:121–127

32.

Ryan T, Webb L, Meier PS (2006) A systems approach to care pathways into in-patient alcohol detoxification: Outcomes from a retrospective study. Drug Alcohol Depend 85:28–34

33.

Shaw GK, Waller S, Latham CJ et al (1998) The toxification experience of alcoholic in-patients and predictors of outcome. Alcohol Alcohol 33:291–303

34.

Sobell LC, Sobell MB (1995) Alcohol timeline followback user's manual. Addiction research foundation, toronto

35.

Soyka M, Kranzler HR, Berglund M et al (2008) World Federation of Societies of Biological Psychiatry (WFSBP) guidelines for biological treatment of substance use and related disorders, part 1: Alcoholism. World J Biol Psychiatry 9:6–23

36.

Stetter F, Mann K (1997) Zum Krankheitsverlauf Alkoholabhängiger nach einer stationären Entgiftungs- und Motivationsbehandlung. Nervenarzt 68:574–581

37.

Veltrup C (1995) Abstinenzgefährdung und Abstinenzbeendigung bei Alkoholabhängigen nach einer umfassenden stationären Entzugsbehandlung. Waxmann, Münster

38.

Wienberg G (1992) Struktur und Dynamik der Suchtkrankenversorgung in der Bundesrepublik – ein Versuch, die Realität vollständig wahrzunehmen. In: Wienberg G (Hrsg) Die vergessene Mehrheit. Zur Realität der Vorsorgung alkohol- und medikamentenabhängiger Menschen. Psychiatrie-Verlag, Berlin, S 12–60

39.

Wienberg G (2002) Versorgungsstrukturen von Menschen mit Alkoholproblemen in Deutschland – eine Analyse aus Public Health-Perspektive. In: Mann K (Hrsg) Neue Therapieansätze bei Alkoholproblemen. Pabst Verlag, Lengerich

40.

Wieser ST, Kunad E (1965) Katamnestische Studien beim chronischen Alkoholkonsum und zur Frage von Sozialprozessen bei Alkoholikern. Nervenarzt 36:477–483
Interessenkonflikt
Der korrespondierende Autor gibt an, dass kein Interessenkonflikt besteht.
About this article
Cite this article
Loeber, S., Kiefer, F., Wagner, F. et al. Behandlungserfolg nach qualifiziertem Alkoholentzug. Nervenarzt 80, 1085–1092 (2009). https://doi.org/10.1007/s00115-009-2724-2
Schlüsselwörter
Alkoholabhängigkeit

Alkoholentgiftung

Qualifizierter Entzug

Motivationale Interventionen

Psychotherapie
Keywords
Alcohol dependence

Detoxification

Withdrawal

Motivational interventions

Psychotherapeutic treatment