Zusammenfassung
Hintergrund
Die erhöhte Erschöpfbarkeit ("Fatigue") ist ein häufiges Symptom der Multiplen Sklerose (MS). Trotz vielfältiger Fatigue-Skalen existiert bisher kein allgemein gültiges Messinstrument, das an einer ausreichend großen Patientenzahl validiert wurde. In der vorliegenden Studie wurde aus den bisher verfügbaren Skalen eine neue Fatigue-Skala konstruiert und deren psychometrische Eigenschaften an einer repräsentativen Stichprobe von MS-Patienten untersucht.
Patienten und Methodik
Das Fatigue-Syndrom wurde bei 158 MS-Patienten mit 4 weit verbreiteten Skalen (Fatigue Severity Scale [FSS], Modified Fatigue Impact Scale [MFIS], MS-spezifische FSS [MFSS] und eine visuelle Analogskala) vergleichend erfasst. Daraus wurde eine neue Skala mit 17 Fragen und einer numerischen Bewertung von "0" bis "4" konstruiert (WEIMuS, Würzburger Erschöpfungsinventar bei MS). Dieser Fragebogen wurde an einer Untergruppe von 67 MS-Patienten und einer Kontrollgruppe von 68 Patienten validiert.
Ergebnisse
Die MFIS und die FSS, nicht aber die MFSS, zeigten eine hohe interne Konsistenz und Reliabilität. Die neu konstruierte WEIMuS-Skala zeigte eine vergleichbare Reliabilität und war darüber hinaus gut reproduzierbar und mit weniger Fragen ökonomischer auszuwerten als die bisherigen Fragebogen. In der Validierungsstudie konnten zwei getrennte Faktoren extrahiert werden, die sich der "kognitiven" und der "körperlichen Fatigue" zuordnen ließen.
Schlussfolgerung
Die neue, zweidimensionale WEIMuS-Skala zeigt sehr gute psychometrische Eigenschaften und eignet sich damit besonders zur Erfassung der MS-assoziierten Fatigue. Die Faktorenanalyse deutet darauf hin, dass MS-Patienten unter verschiedenen Arten der "Fatigue" leiden und sich dieses Syndrom von "normaler Müdigkeit" unterscheidet.
Summary
Background
Fatigue is one of the most common, yet poorly defined, disabling symptoms in patients with multiple sclerosis (MS). Several fatigue scales have been developed, but rigorous psychometric methods have not always been applied and validation was mainly based on small numbers of patients. We therefore assembled a new fatigue scale from a set of widely used scales and assessed its psychometric properties in a large sample of MS patients.
Patients and methods
Fatigue was assessed in 158 MS patients by four published quantitative scales: the Fatigue Severity Scale (FSS), Modified Fatigue Impact Scale (MFIS), MS-specific Fatigue Severity Scale (MFSS), and Visual Analogue Scale. From these a new fatigue scale, the Würzburg Fatigue Inventory for Multiple Sclerosis (WEIMuS), was assembled. It contains 17 items with values from 0 to 4. The WEIMuS scale was validated in a subgroup of 67 patients and a control group of 68 patients.
Results
The MFIS and FSS but not the MFSS showed high internal consistency and split-half reliability. After applying factor analysis within the scales, fairly reliable and valid items originally found in the MFIS and FSS were selected to construct the final 17-item WEIMuS scale, which showed a high degree of reliability. In the validation study, varimax rotated factor analysis extracted two main factors corresponding to both cognitive and physical fatigue.
Conclusion
The new, two-dimensional WEIMuS showed good psychometric properties, is easy to use, and may therefore be a useful tool for the assessment of MS-associated fatigue. Multiple sclerosis patients suffer from different types of fatigue which could be attributed to cognitive and physical fatigue. Thus, MS-associated fatigue is different from common tiredness.
This is a preview of subscription content, log in to check access.
Access options
Buy single article
Instant access to the full article PDF.
US$ 39.95
Price includes VAT for USA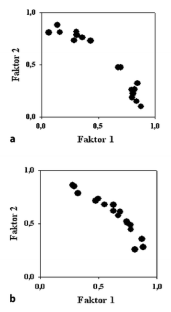 Literatur
1.

Bakshi R, Shaikh ZA, Miletich RS et al. (2000) Fatigue in multiple sclerosis and its relationship to depression and neurologic disability. Mult Scler 6:181–185

2.

Bortz J (1999) Statistik für Sozialwissenschaftler. Springer, Berlin Heidelberg New York

3.

Branas P, Jordan R, Fry-Smith A et al. (2000) Treatments for fatigue in multiple sclerosis: a rapid and systematic review. Health Technol Assess 4:1–61

4.

Engel C, Greim B, Zettl UK (2003) Fatigue bei Multipler Sklerose. Neurol Rehabil 9:263–271

5.

Fisk JD, Pontefract A, Ritvo PG et al. (1994) The impact of fatigue on patients with multiple sclerosis. Can J Neurol Sci 21:9–14

6.

Flachenecker P, Kümpfel T, Kallmann B et al. (2002) Fatigue in multiple sclerosis: a comparison of different rating scales and correlation to clinical parameters. Mult Scler 8:523–526

7.

Hautzinger M, Bailer M (1993) Allgemeine Depressions Skala. Beltz, Göttingen

8.

Keselbrener L, Akselrod S, Ahiron A et al. (2000) Is fatigue in patients with multiple sclerosis related to autonomic dysfunction? Clin Auton Res 10:169–175

9.

Kos D, Kerckhofs E, Carrea I et al. (2005) Evaluation of the Modified Fatigue Impact Scale in four different European countries. Mult Scler 11:76–80

10.

Krupp LB, Alvarez LA, LaRocca NG et al. (1988) Fatigue in multiple sclerosis. Arch Neurol 45:435–437

11.

Krupp LB, Coyle PK, Doscher C et al. (1995) Fatigue therapy in multiple sclerosis: results of a double-blind, randomized, parallel trial of amantadine, pemoline, and placebo. Neurology 45:1956–1961

12.

Krupp LB, LaRocca NG, Muir-Nash J et al. (1989) The fatigue severity scale. Application to patients with multiple sclerosis and systemic lupus erythematosus. Arch Neurol 46:1121–1123

13.

Mohiyeddini C, Hautzinger M, Bauer S (2002) Eine Latent-State-Trait-Analyse zur Bestimmung der dispositionellen und zustandsbedingten Anteile dreier Instrumente zur Erfassung von Depressionen: ADS, BDI und SDS. Diagnostica 48:12–18

14.

Multiple Sclerosis Council for clinical practice guidelines (1998) Fatigue and multiple sclerosis: evidence-based management strategies for fatigue in multiple sclerosis. Paralyzed Veterans of America, Washington D.C.

15.

Schwid SR, Murray TJ (2005) Treating fatigue in patients with MS: one step forward, one step back. Neurology 64:1111–1112

16.

Taphoorn MJ, van Someren E, Snoek FJ et al. (1993) Fatigue, sleep disturbances and circadian rhythm in multiple sclerosis. J Neurol 240:446–448

17.

Zimmermann C, Hohlfeld R (1999) "Fatigue" bei multipler Sklerose. Nervenarzt 70:566–574
Interessenkonflikt
Der korrespondierende Autor versichert, dass keine Verbindungen mit einer Firma, deren Produkt in dem Artikel genannt ist, oder einer Firma, die ein Konkurrenzprodukt vertreibt, bestehen.
About this article
Cite this article
Flachenecker, P., Müller, G., König, H. et al. "Fatigue" bei Multipler Sklerose. Nervenarzt 77, 165–174 (2006). https://doi.org/10.1007/s00115-005-1990-x
Schlüsselwörter
Multiple Sklerose

Erhöhte Erschöpfbarkeit

Fatigue

Selbstbeurteilungsfragebogen
Keywords
Multiple Sclerosis

Fatigue

Questionnaires