Abstract
Between April and June of 2012 mantisflies (Plega hagenella) were found to be extensively parasitizing the nests of two groups of managed colonzies of eusocial stingless bees (Melipona subnitida) in the semi-arid region of northeastern Brazil. The mantisfly larvae developed inside closed brood cells of the bee comb, where each mantispid larva fed on the bee larva or pupa present in a single brood cell. Mature mantispid larvae pupated inside silken cocoons spun in place within their hosts' brood cells then emerged as pharate adults inside the bee colony. Pharate adults were never attacked and killed by host colony workers. Instead, colony workers picked up the pharates and removed them from the nest unharmed, treating them similar to the way that the general refuse is removed from the nest. Adult mantispids subsequently eclosed from their pupal exuviae outside the nest. Manipulative experiments showed that post-eclosion adult mantispids placed back within active bee colonies were quickly attacked and killed. These observations demonstrate that pharate and post-eclosion adults of P. hagenella are perceived differently by colony workers and that delayed adult eclosion is an important functional element in the parasitic life strategy of P. hagenella, allowing adults to escape without injury from the bee colonies they parasitize.
This is a preview of subscription content, log in to check access.
Access options
Buy single article
Instant unlimited access to the full article PDF.
US$ 39.95
Price includes VAT for USA
Subscribe to journal
Immediate online access to all issues from 2019. Subscription will auto renew annually.
US$ 99
This is the net price. Taxes to be calculated in checkout.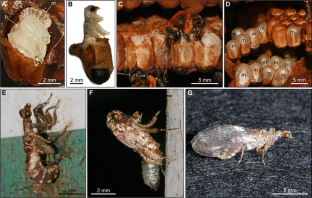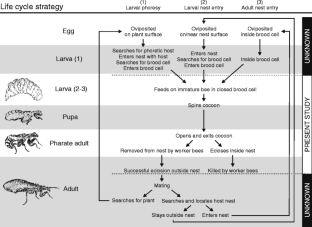 References
Batra SWT (1972) Notes on the behavior and ecology of the mantispid, Climaciella brunnea occidentalis. J Kans Entomol Soc 45:334–340

Buys SC (2008) Observations on the biology of Anchieta fumosella (Westwood 1867) (Neuroptera Mantispidae) from Brazil. Trop Zool 21:91–95

Dejean A, Canard M (1990) Reproductive behavior of Trichoscelia santareni (Navas) (Neuroptera: Mantispidae) and parasitism of the colonies of Polybia diguetana R. du Buysson (Hymenoptera: Vespidae). Neuroptera Int 6:19–26

Greco MK, Hoffmann D, Dollin A, Duncan M, Spooner-Hart R, Neumann P (2009) The alternative Pharaoh approach: stingless bees encapsulate beetle parasites alive. Naturwissenschaften 97:319–323

Hook AW, Oswald JD, Neff JL (2010) Plega hagenella (Neuroptera: Mantispidae) parasitism of Hylaeus (Hylaeopsis) sp. (Hymenoptera: Colletidae) reusing nests of Trypoxylon manni (Hymenoptera: Crabronidae) in Trinidad. J Hymenopt Res 19:77–83

Liang D, Silverman J (2000) "You are what you eat": diet modifies cuticular hydrocarbons and nestmate recognition in the Argentine ant, Linepithema humile. Naturwissenschaften 87:412–416

Linsley EG, MacSwain JW (1955) Two new species of Plega from Mexico. Pan Pac Entomol 31:15–19

Parfin SI (1958) Notes on the bionomics of the Mantispidae (Neuroptera: Planipennia). Entomol News 69:203–207

Parker FD, Stange LA (1965) Systematics and biological notes on the tribe Platymantispini (Neuroptera: Mantispidae) and the description of a new species of Plega from Mexico. Can Entomol 97:604–612

Penny ND (1982) Neuroptera of the Amazon Basin. Part 6. Mantispidae. Acta Amazon 12:415–463

Redborg KE (1998) Biology of the Mantispidae. Annu Rev Entomol 43:175–194

Roubik DW (1989) Ecology and natural history of tropical bees. Cambridge University Press, Cambridge

Roubik DW (2006) Stingless bee nesting biology. Apidologie 37:124–143

Werner FG, Butler GD (1965) Some notes on the life history of Plega banski (Neuroptera: Mantispidae). Ann Entomol Soc Am 58:66–68
Acknowledgments
We would like to thank the organizations CETAPIS (Mossoró-RN) and "De-Olho-Na-Água" (Icapuí-CE) for the facilities to study the stingless bee colonies; Aline de Souza, Pamella Soares, Ulysses Maia and Vinício de Souza for their help with data collection; and Dr. John Oswald for linguistic revision and valuable improvements in the manuscript. We are grateful for valuable comments by three anonymous referees. This study complies with current Brazilian laws and was financially supported by CAPES (CMS, VILF) and CNPq (MH: 304722/2010-3, 481256/2010-5).
Additional information
Communicated by: Sven Thatje
Electronic supplementary material
Below is the link to the electronic supplementary material.
Pharate adult of the mantisfly Plega hagenella ecloding from its cocoon spun inside a brood cell of the stingless bee Melipona subnitida. Video taken by Dirk Koedam (MPG 5514 kb)
Two pharate adults of the mantisfly Plega hagenella completing the ecdysis to full adults. Video taken by Dirk Koedam (MPG 15264 kb)
Pharate adult of the mantisfly Plega hagenella introduced into a Petri-dish together with 10 workers of the stingless bee Melipona subnitida. The mantisfly is first antennated intensely by the bees, then grabbed and carried around. Note that the pharate adult survives these interactions with the host workers. Video taken by Michael Hrncir (MPG 8892 kb)
Post-eclosion adult of the mantisfly Plega hagenella introduced into a Petri-dish together with 10 workers of the stingless bee Melipona subnitida. The host workers attack and dismember the mantisfly. Video taken by Michael Hrncir (MPG 14860 kb)
Pharate adult of the mantisfly Plega hagenella ecloding from its cocoon spun inside a brood cell of the stingless bee Melipona subnitida. Video taken by Dirk Koedam (MPG 5514 kb)
Two pharate adults of the mantisfly Plega hagenella completing the ecdysis to full adults. Video taken by Dirk Koedam (MPG 15264 kb)
Pharate adult of the mantisfly Plega hagenella introduced into a Petri-dish together with 10 workers of the stingless bee Melipona subnitida. The mantisfly is first antennated intensely by the bees, then grabbed and carried around. Note that the pharate adult survives these interactions with the host workers. Video taken by Michael Hrncir (MPG 8892 kb)
Post-eclosion adult of the mantisfly Plega hagenella introduced into a Petri-dish together with 10 workers of the stingless bee Melipona subnitida. The host workers attack and dismember the mantisfly. Video taken by Michael Hrncir (MPG 14860 kb)
About this article
Cite this article
Maia-Silva, C., Hrncir, M., Koedam, D. et al. Out with the garbage: the parasitic strategy of the mantisfly Plega hagenella mass-infesting colonies of the eusocial bee Melipona subnitida in northeastern Brazil. Naturwissenschaften 100, 101–105 (2013). https://doi.org/10.1007/s00114-012-0994-1
Received:

Revised:

Accepted:

Published:

Issue Date:
Keywords
Meliponini

Melipona subnitida

Symphrasinae

Plega hagenella

Parasitism

Mantisfly biology