Abstract
Animal lifespans range from a few days to many decades, and this life history diversity is especially pronounced in ants. Queens can live for decades. Males, in contrast, are often assumed to act as ephemeral sperm delivery vessels that die after a brief mating flight—a view developed from studies of lekking species in temperate habitats. In a tropical ant assemblage, we found that males can live days to months outside the nest, a trait hypothesized to be associated with female calling, another common mating system. We combined feeding experiments with respirometry to show that lifespan can be enhanced over 3 months by feeding outside the nest. In one focal female calling species, Ectatomma ruidum, feeding enhanced male lifespan, but not sperm content. Extended lifespans outside the nest suggest stronger than expected selection on premating traits of male ants, although the ways these traits shape male mating success remain poorly understood.
Access options
Buy single article
Instant access to the full article PDF.
US$ 39.95
Tax calculation will be finalised during checkout.
Subscribe to journal
Immediate online access to all issues from 2019. Subscription will auto renew annually.
US$ 79
Tax calculation will be finalised during checkout.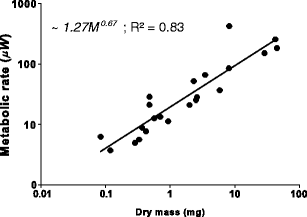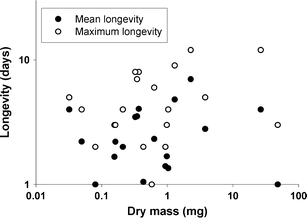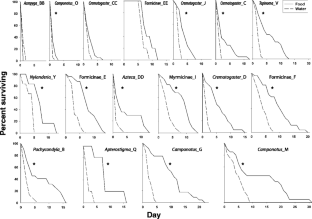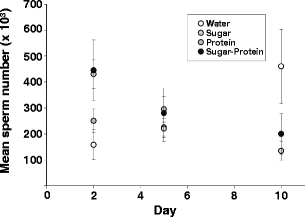 References
Baer B (2011) The copulation biology of ants (Hymenoptera: Formicidae). Myrm News 14:55–68

Baer B, Boomsma JJ (2004) Male reproductive investment and queen mating frequency in fungus-growing ants. Behav Ecol 15:426–432

Baer B, Boomsma JJ (2006) Mating biology of leaf-cutting ants Atta colombica and A. cephalotes. J Morphol 267:1165–1171

Boomsma JJ (2009) Lifetime monogamy and the evolution of eusociality. Phil Trans R Soc B 364:3191–3207

Boomsma JJ, Ratnieks FLW (1996) Paternity in eusocial Hymenoptera. Phil Trans R Soc B 351:947–975

Boomsma JJ, Baer B, Heinze J (2005) The evolution of male traits in social insects. Annu Rev Entomol 50:395–420

Breed MD, Abel P, Bleuze TJ, Denton SE (1990) Thievery, home ranges, and nestmate recognition in Ectatomma ruidum. Oecologia 84:117–121

Brown WL (1968) An hypothesis concerning the function of metapleural glands in ants. Am Nat 102:188–191

Chown SL, Marais E, Terblanche JS, Klok C, Lighton JRB, Blackburn TM (2007) Scaling of insect metabolic rate is inconsistent with the nutrient supply network model. Funct Ecol 21:282–290

den Boer SPA, Baer B, Boomsma JJ (2010) Seminal fluid mediates ejaculate competition in social insects. Science 327:1506–1509

Dunn RR, Parker CR, Geraghty M, Sanders NJ (2007) Reproductive phenologies in a diverse temperate ant fauna. Ecol Ent 32:135–142

Finch CE (1990) Longevity, senescence, and the genome. The University of Chicago Press, Chicago

Heinze J, Hölldobler B (1993) Fighting for a harem of queens: physiology of reproduction in Cardiocondyla male ants. Proc Nat Acad Sci USA 90:8412–8414

Hölldobler B, Bartz SH (1985) Sociobiology of reproduction in ants. In: Hölldobler B, Lindauer M (eds) Experimental behavioral ecology and sociobiology. Sinauer Associates, Sunderland, pp 237–257

Hölldobler B, Haskins CP (1977) Sexual calling behavior in primitive ants. Science 195:793–794

Hung ACF, Vinson SB (1975) Notes on the male reproductive system in ants (Hymenoptera, Formicidae). J NY Entomol Soc 83:192–197

Jemielity S, Kimura M, Parker KM, Parker JD, Cao X, Aviv A, Keller L (2007) Short telomeres in short-lived males: what are the molecular and evolutionary causes? Aging Cell 6:225–233

Jutsum AR, Quinlan RJ (1978) Flight and substrate utilization in laboratory-reared males of Atta sexdens. J Ins Phys 24:821–825

Kammer AE, Heinrich B (1978) Insect flight metabolism. Adv Ins Physiol 13:133–228

Kaspari M, Vargo E (1995) Colony size as a buffer against seasonality: Bergmann's rule in social insects. Am Nat 145:610–632

Kaspari M, Pickering J, Longino JT, Windsor D (2001a) The phenology of a Neotropical ant assemblage: evidence for continuous and overlapping reproduction. Behav Ecol Sociobiol 50:382–390

Kaspari M, Pickering J, Windsor D (2001b) The reproductive flight phenology of a Neotropical ant assemblage. Ecol Ent 26:245–257

Kay AD, Shik JZ, Van Alst A, Kaspari M (2011) Diet composition does not affect ant colony tempo. Funct Ecol (in press)

Keller L, Genoud M (1997) Extraordinary lifespans in ants: a test of evolutionary theories of ageing. Nature 389:255–263

Keller L, Passera L (1992) Mating system, optimal number of matings, and sperm transfer in the Argentine ant, Iridomyrmex humilis. Behav Ecol Sociobiol 31:359–366

Lighton JRB (2008) Measuring metabolic rates: a manual for scientists. Oxford University Press, Oxford

Lindstedt SL, Boyce MS (1985) Seasonality, fasting endurance, and body size in mammals. Am Nat 125:873–878

Mikheyev AS (2003) Evidence for mating plugs in the fire ant Solenopsis invicta. Ins Soc 50:401–402

Mikheyev AS (2004) Male accessory gland size and the evolutionary transition from single to multiple mating in the fungus-gardening ants. J Ins Sci 4:37

Moreau CS, Bell CD, Vila R, Archibald B, Pierce NE (2006) Phylogeny of the ants: diversification in the age of angiosperms. Science 312:101–104

Paradis E, Claude J, Strimmer K (2004) APE: Analysis of Phylogenetics and Evolution in R language. Bioinformat 20:289–290

Passera L, Keller L (1992) The period of sexual maturation and the age at mating in Iridomyrmex humilis an ant with intranidal mating. J Zool (London) 228:141–153

Passera L, Keller L, Grimal A, Chautems D, Cherix D, Fletcher DJC, Fortelius W, Rosengren R, Vargo EL (1990) Carbohydrates as energy source during the flight of sexuals of the ant Formica lugubris (Hymenoptera: Formicidae). Ent General 15:25–32

Peakin G (1964) Food reserves in the reproductive castes of Lasius flavus Fab. (Hymenoptera). Proceedings of the XIIth International Congress of Entomology, London, p 3030

Peters RH (1983) The ecological implications of body size. Cambridge University Press, Cambridge

Robertson HG (1995) Sperm transfer in the ant Carebara vidua F. Smith (Hymenoptera: Formicidae). Ins Soc 42:411–418

Shik JZ, Kaspari M (2009) Lifespan in male ants linked to mating syndrome. Ins Soc 56:131–134

Stearns SC (1992) The evolution of life histories. Oxford University Press, Oxford

Stürup M, den Boer SPA, Nash DR, Boomsma JJ, Baer B (2011) Variation in male body size and reproductive allocation in the leafcutter ant Atta colombica: estimating variance components and possible tradeoffs. Ins Soc 58:47–55

Trivers RL (1972) Parental investment and sexual selection. In: Campbell B (ed) Sexual selection and the descent of man, 1871–1971. Aldine, Chicago, pp 136–179

Vogt JT, Appel AG, West MS (2000) Flight energetics and dispersal capability of the fire ant, Solenopsis invicta Buren. J Ins Physiol 46:697–707

Warton DI, Wright IJ, Falster DS, Westoby M (2006) Bivariate line-fitting methods for allometry. Biol Rev 81:259–291

Weber NA (1972) Gardening in the ants: the attines. American Philosophical Society, Philadelphia

Wheeler DE, Krutzsch PH (1992) Internal reproductive system in adult males of the genus Camponotus (Hymenoptera: Formicidae: Formicinae). J Morphol 211:307–317
Acknowledgements
This project was funded by the National Science Foundation under the grant DEB-0842038 to A. Kay and M. Kaspari. DF was supported by an NSF REU on the same grant. JZS thanks WR Tschinkel for the instruction on the finer points of male ant dissection and SPA den Boer for instruction in the DAPI sperm staining method. JJ Boomsma and three anonymous reviewers provided many excellent suggestions for improving this manuscript. DD Donoso helped verify the identification of males.
Additional information
Communicated by: Sven Thatje
Electronic supplementary materials
Below is the link to the electronic supplementary material.
About this article
Cite this article
Shik, J.Z., Flatt, D., Kay, A. et al. A life history continuum in the males of a Neotropical ant assemblage: refuting the sperm vessel hypothesis. Naturwissenschaften 99, 191–197 (2012). https://doi.org/10.1007/s00114-012-0884-6
Received:

Revised:

Accepted:

Published:

Issue Date:
Keywords
Lifespan

Mating system

Tropical rainforest

Metabolic scaling