Zusammenfassung
Operationsziel
Identifizierung und Behandlung intraartikulärer Verletzungen, Stabilisierung des Syndesmosenkomplexes durch offene Reposition und interne Fixation (ORIF) des posterioren Malleolus (PM).
Indikationen
Bi- und Trimalleolarfrakturen, Patienten mit funktionellem Anspruch
Kontraindikationen
Weichteilschäden/Infektionen im Zugangsgebiet, höhergradige Durchblutungsstörungen, Diabetes mellitus
Operationstechnik
Im Video werden die arthroskopisch assistierte Versorgung (AORIF) und die ORIF des PM über einen dorsolateralen Zugang, exemplarisch an einer Trimalleolarfraktur dargestellt, präsentiert. Lagerung in instabiler Seitenlage, Durchführung der Arthroskopie über ventrale Standardportale, Resektion eingeschlagener Kapsel-Band-Strukturen, Entfernung freier Gelenkkörper, Diagnose und Therapie von Knorpelschäden. Dann dorsolateraler Zugang dorsal der Peronäalsehnen und Eröffnen der Faszien der lateralen und tiefen Unterschenkelkompartimente, Retraktion des M. flexor hallucis longus nach medial, Darstellung des PM, Reposition und Fixierung mit Antigleitplatte. Präparation auf der oberflächlichen Unterschenkelfaszie nach ventral zur Darstellung des lateralen Malleolus, Versorgung nach AO-Prinzipien. Umlagerung auf den Rücken ohne erneutes Abdecken, medialer Zugang zur Versorgung des medialen Malleolus, Stabilitätstestung distales Tibiofibulargelenk, abschließende Arthroskopie und Wundverschluss.
Nachbehandlung
Sechs Wochen Teilbelastung (20 kg), frühfunktionelle Beübung, Übergang zur Vollbelastung nach klinisch-radiologischer Verlaufskontrolle 6 Wochen postoperativ.
Ergebnisse
Bekannt ist, dass relevante chondrale Verletzungen bei komplexen Sprunggelenksfrakturen häufig vorkommen und die ORIF des PM zu einer Stabilisierung des distalen Tibiofibulargelenks führt. Bisher sind wenige klinische Ergebnisse zu AORIF sowie ORIF des PM publiziert. Der überwiegende Teil der vorhandenen Studien zeigte aber signifikant bessere Ergebnisse für AORIF bzw. ORIF des posterioren Malleolus, verglichen mit der konventionellen Versorgung.
Abstract
Objective
Identification and treatment of intra-articular injuries, stabilization of the syndesmotic complex by open reduction and internal fixation (ORIF) of the posterior malleolus (PM).
Indications
Bimalleolar and trimalleolar fractures, patients with functional demands.
Contraindications
Soft tissue injuries/infections in the area of the surgical approach, higher grade circulatory disorders, diabetes mellitus.
Surgical technique
The video exemplarily depicts the arthroscopically assisted treatment (AORIF) of a trimalleolar fracture and ORIF of the PM via the dorsolateral approach. Positioning in an unstable lateral position, arthroscopy via standard ventral portals in external rotation, resection of interposing capsular ligamentous structures, removal of loose bodies, diagnosis and treatment of cartilage lesions. Dorsolateral approach dorsal to the peroneal tendons and incision of the fascia of the lateral and deep lower leg compartments, retraction of the flexor hallucis longus muscle medially, visualization of the PM, reduction and fixation with an antiglide plate. Development of a full thickness flap above the superficial fascia to visualize the lateral malleolus, fixation according to AO principles. Repositioning to the supine position without changing the sterile covers, medial approach for fixation of the medial malleolus, stability testing of the distal tibiofibular joint, final arthroscopy, and wound closure.
Follow-up
Cooling and elevation, 6 weeks of partial weight-bearing (20 kg), early functional exercises, full weight-bearing after clinical radiological follow-up at 6 weeks postoperatively.
Results
It is known that relevant chondral injuries frequently occur in complex ankle fractures and that ORIF of the PM leads to stabilization of the distal tibiofibular joint. So far only few clinical results have been published regarding AORIF and ORIF of the PM; however, the majority of the studies available found significantly better results for AORIF and ORIF of the posterior malleolus compared to conventional treatment.
This is a preview of subscription content, log in to check access.
Access options
Buy single article
Instant access to the full article PDF.
US$ 39.95
Price includes VAT for USA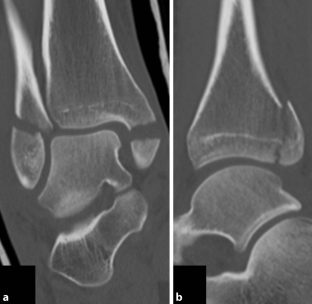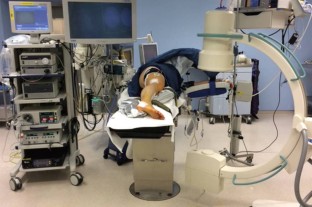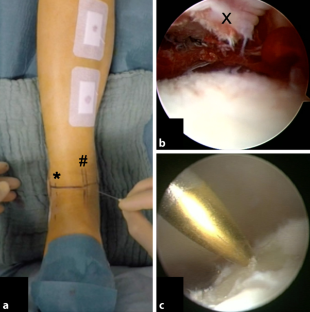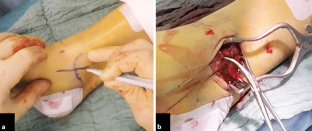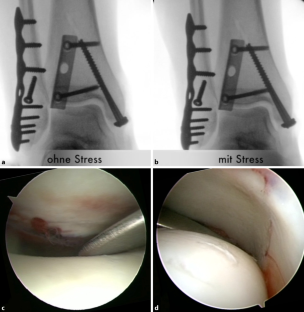 Literatur
1.

Deutsche Gesellschaft für Unfallchirurgie e. V. (DGU) (2015) S2e Leitlinie Sprunggelenkfraktur (https://www.awmf.org/leitlinien/detail/ll/012-003.html)

2.

Bartonicek J, Rammelt S, Kostlivy K et al (2015) Anatomy and classification of the posterior tibial fragment in ankle fractures. Arch Orthop Trauma Surg 135:505–516

3.

Baumbach SF, Herterich V, Damblemont A et al (2019) Open reduction and internal fixation of the posterior malleolus fragment frequently restores syndesmotic stability. Injury 50:564–570

4.

Braunstein M, Baumbach SF, Bocker W et al (2016) Arthroscopically assisted treatment of ankle fractures. Unfallchirurg 119:92–98

5.

Braunstein M, Baumbach SF, Regauer M et al (2016) The value of arthroscopy in the treatment of complex ankle fractures—a protocol of a randomised controlled trial. BMC Musculoskelet Disord 17:210

6.

Choi JY, Kim JH, Ko HT et al (2015) Single oblique posterolateral approach for open reduction and internal fixation of posterior malleolar fractures with an associated lateral malleolar fracture. J Foot Ankle Surg 54:559–564

7.

Fuchs DJ, Ho BS, Labelle MW et al (2016) Effect of arthroscopic evaluation of acute ankle fractures on PROMIS intermediate-term functional outcomes. Foot Ankle Int 37:51–57

8.

Haraguchi N, Haruyama H, Toga H et al (2006) Pathoanatomy of posterior malleolar fractures of the ankle. J Bone Joint Surg Am 88:1085–1092

9.

Lee KM, Ahmed S, Park MS et al (2017) Effectiveness of arthroscopically assisted surgery for ankle fractures: a meta-analysis. Injury 48:2318–2322

10.

Leontaritis N, Hinojosa L, Panchbhavi VK (2009) Arthroscopically detected intra-articular lesions associated with acute ankle fractures. J Bone Joint Surg Am 91:333–339

11.

O'connor TJ, Mueller B, Ly TV et al (2015) "A to p" screw versus posterolateral plate for posterior malleolus fixation in trimalleolar ankle fractures. J Orthop Trauma 29:e151–e156

12.

Schneppenheim M, Philipps B, Schunck J et al (2001) Komplikationen bei arthroskopischen Operationen am oberen Sprunggelenk. Arthroskopie 14:221–225

13.

Takao M, Uchio Y, Naito K et al (2004) Diagnosis and treatment of combined intra-articular disorders in acute distal fibular fractures. J Trauma 57:1303–1307

14.

Tenenbaum S, Shazar N, Bruck N et al (2017) Posterior malleolus fractures. Orthop Clin North Am 48:81–89

15.

Thordarson DB, Bains R, Shepherd LE (2001) The role of ankle arthroscopy on the surgical management of ankle fractures. Foot Ankle Int 22:123–125

16.

Tosun B, Selek O, Gok U et al (2018) Posterior malleolus fractures in trimalleolar ankle fractures: malleolus versus transyndesmal fixation. Indian J Orthop 52:309–314

17.

Turhan E, Doral MN, Demirel M et al (2013) Arthroscopy-assisted reduction versus open reduction in the fixation of medial malleolar fractures. Eur J Orthop Surg Traumatol 23:953–959

18.

Verhage SM, Boot F, Schipper IB et al (2016) Open reduction and internal fixation of posterior malleolar fractures using the posterolateral approach. Bone Joint J 98-B:812–817

19.

Verhage SM, Schipper IB, Hoogendoorn JM (2015) Long-term functional and radiographic outcomes in 243 operated ankle fractures. J Foot Ankle Res 8:45
Ethics declarations
Interessenkonflikt
H. Polzer ist als Berater für die Fa. Arthrex GmbH tätig. Diese Tätigkeit hat aber keinerlei Einfluss auf diesen Beitrag. S.F. Baumbach und W. Böcker geben an, dass kein Interessenkonflikt besteht.
Für diesen Beitrag wurden von den Autoren keine Studien an Menschen oder Tieren durchgeführt. Für die aufgeführten Studien gelten die jeweils dort angegebenen ethischen Richtlinien. Patienten sind anhand des Bildmaterials bzw. anderweitiger Angaben innerhalb des Manuskriptes nicht zu identifizieren. Entsprechend ist eine schriftliche Einwilligung nicht notwendig.
Additional information
Redaktion
P. Biberthaler, München
Caption Electronic Supplementary Material
Video: Arthroskopisch assistierte Frakturversorgung und offene Reposition des posterioren Malleolus. (Mit freundlicher Genehmigung der Autoren, alle Rechte vorbehalten)
About this article
Cite this article
Baumbach, S.F., Böcker, W. & Polzer, H. Arthroskopisch assistierte Frakturversorgung und offene Reposition des posterioren Malleolus. Unfallchirurg (2020). https://doi.org/10.1007/s00113-020-00787-6
Schlüsselwörter
Sprunggelenkfraktur

Arthroskopie

Syndesmose

Video

Knorpelverletzung
Keywords
Ankle fracture

Arthroscopy

Syndesmosis

Video

Chondral lesion