Zusammenfassung
Anschläge mit terroristischem Hintergrund und assoziiert mit einem Massenanfall von Verletzten (TerrorMANV) stellen eine medizinische und organisatorische Herausforderung für jedes Krankenhaus dar. Dies ist hervorgerufen durch die speziellen Verletzungsmuster, den Zeitpunkt und die Entwicklung der Lage, fehlende Informationen zu Beginn, die Anzahl der Verletzten und sich selbst einweisenden unverletzten Betroffenen.
Durch diese Umstände, den hohen Anteil an penetrierenden Verletzungen mit einem permanenten Risiko unkontrollierbarer Blutungen und anderer lebensbedrohlicher Verletzungsfolgen, wird eine strategische und taktische chirurgische Versorgung erforderlich.
Für diese speziellen Situationen, einen terrorassoziierten Massenanfall von Verletzten (TerrorMANV), wurde der Kurs Terror and Disaster Surgical Care (TDSC®) entwickelt und vermittelt medizinisches und chirurgisches Fachwissen und trainiert die chirurgische Entscheidungsfindung. Der TDSC®-Kurs fokussiert hierbei auf die lageabhängige operative Versorgung und Verteilung der knappen Ressourcen, um das Überleben möglichst vieler zu ermöglichen.
Um die individuelle Traumaversorgung zu verbessern, wurden Kursformate wie der ATLS®(Advanced Trauma Life Support)-Kurs etabliert und sind in Deutschland weit verbreitet. Es konnte gezeigt werden, dass standardisierte Vorgehensweisen und eine algorithmusbasierte Versorgung das Outcome von Traumaopfern verbessern.
Mit dem gegenwärtigen permanenten Risiko eines TerrroMANV stellt sich die Frage, wie und in welchem Ausmaß Elemente und Prinzipien aus beiden Kursformaten (TDSC® und ATLS®) genutzt werden können, um die initiale Versorgung eines terrorassoziierten Massenanfalls von Verletzten zu verbessern und zu organisieren.
Es wird erstmalig dargestellt, wie Schlüsselelemente beider Kurse ("primary survey" des ATLS® und das TDSC®-Prinzip: kategorisieren, priorisieren, disponieren, realisieren) etabliert und integrativ genutzt werden können, um die innerklinische initiale medizinische und operative Versorgung zu strukturieren.
Abstract
Terrorist-related mass casualty incidents represent a medical and organizational challenge for all hospitals. The main reasons are the special patterns of injuries, the onset and development of the scenario, the lack of information at the beginning, the overall number of casualties and the number of uninjured but involved patients presenting at the hospital.
Due to these circumstances and the high percentage of penetrating injuries with a permanent risk of uncontrollable bleeding and other life-threatening complications, a strategic and tactical initial surgical care is necessary.
For these special terrorist-related mass casualty (MasCal) situations, the Terror and Disaster Surgical Care (TDSC®) course was developed and imparts special medical and surgical knowledge as well as a scenario-based training in surgical decision-making. The TDSC® course focusses on the scenario-related provision of surgical care and distribution of the limited resources to enable survival for as many patients as possible.
To improve individualized trauma care course formats, such as the Advanced Trauma Life Support (ATLS®) were established and are nowadays widespread in Germany. It could be shown that standardized approaches and algorithm-based treatment could improve the outcome of trauma victims. Faced with the present day permanent risk of a possible terrorist-related MasCal situation, the question arises how and to what extent elements and principles of both course formats (TDSC® and ATLS®) could be used to improve and organize the initial care in a terrorist-linked MasCal incident.
For the first time it is shown that the key elements of both courses (primary survey of the ATLS® and the TDSC® principles: categorization, prioritization, disposition and realization) could be established and integratively used to structure the initial intrahospital medical and surgical care.
This is a preview of subscription content, log in to check access.
Access options
Buy single article
Instant access to the full article PDF.
US$ 39.95
Price includes VAT for USA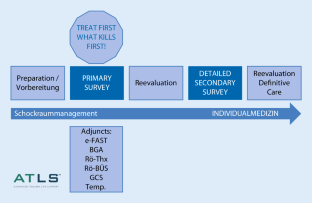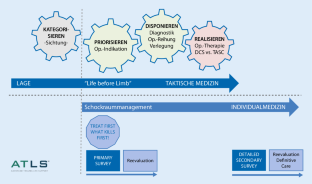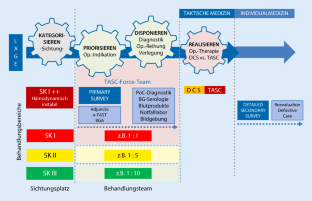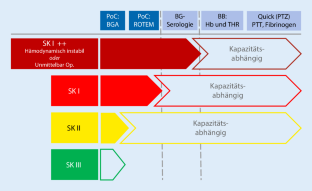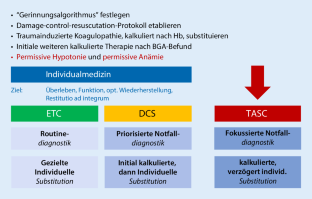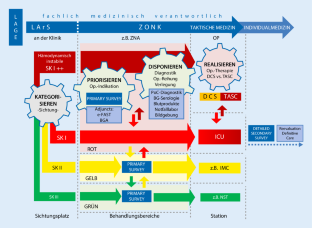 Literatur
1.

Achatz G, Bieler D, Franke A et al (2018) Terrorassoziierter Massenanfall von Verletzten (TerrorMANV). Trauma Berufskrankh 20:188–195

2.

American College of Surgeons (2012) Advanced trauma life support program for physicians: ATLS. ACS, IL

3.

Ashkenazi I, Turegano-Fuentes F, Einav S et al (2014) Pitfalls to avoid in the medical management of mass casualty incidents following terrorist bombings: the hospital perspective. Eur J Trauma Emerg Surg 40:445–450

4.

Bieler D, Kollig E, Achatz G et al (2018) Typische Verletzungen durch terrorassoziierte Ereignisse und ihre Implikationen für die Erstversorgung. Trauma Berufskrankh 20:177–187

5.

Bouillon B, Marzi I (2018) The updated German "Polytrauma—Guideline": an extensive literature evaluation and treatment recommendation for the care of the critically injured patient. Eur J Trauma Emerg Surg 44:1

6.

Deutsche Gesellschaft für Unfallchirurgie e. V. (2016) Weißbuch Schwerverletztenversorgung. 2. erweiterte Auflage. Thieme, Berlin

7.

Franke A, Bieler D, Friemert B et al (2017a) Prä- und innerklinisches Management bei MANV und Terroranschlag. Chirurg 88:830–840

8.

Franke A, Bieler D, Friemert B et al (2017b) Preclinical and intrahospital management of mass casualties and terrorist incidents. Chirurg 88:830–840

9.

Franke A, Bieler D, Friemert B et al (2017c) The first aid and hospital treatment of gunshot and blast injuries. Dtsch Arztebl Int 114:237–243

10.

Friemert B, Franke A, Schwab R et al (2018) Chirurgische Versorgungsstrategien beim TerrorMANV. Notfall Rettungsmed 21:278–288

11.

Frohlich M, Driessen A, Bohmer A et al (2016) Is the shock index based classification of hypovolemic shock applicable in multiple injured patients with severe traumatic brain injury?—An analysis of the TraumaRegister DGU((R)). Scand J Trauma Resusc Emerg Med 24:148

12.

Güsgen C, Schwab R, Kleber C (2018) Sichtung und chirurgische Notfallversorgung im Katastrophenfall. Zentralbl Chir 143:121–130

13.

Hilbert P, Hofmann GO, zur Nieden K et al (2012) Coagulation management of trauma patients with unstabile circulation: establishment of a hemoglobin-oriented standard operating procedure. Anaesthesist 61:703–710

14.

Hilbert P, Hofmann GO, Teichmann J et al (2013) The "coagulation box" and a new hemoglobin-driven algorithm for bleeding control in patients with severe multiple traumas. Arch Trauma Res 2:3–10

15.

Hilbert P, Hofmann GO, Lefering R et al (2015) Trauma bay haemoglobin level. Predictor of coagulation disorder in major trauma. Unfallchirurg 118:601–606

16.

Hossfeld B, Wurmb T, Josse F et al (2017) Massenanfall von Verletzten – Besonderheiten von "bedrohlichen Lagen". Anasthesiol Intensivmed Notfallmed Schmerzther 52:618–629

17.

Keene DD, Nordmann GR, Woolley T (2013) Rotational thromboelastometry-guided trauma resuscitation. Curr Opin Crit Care 19:605–612

18.

Kleber C, Solarek A, Cwojdzinski D et al (2019) Der Berliner Krankenhaus-Sichtungsalgorithmus für den Massenanfall von Verletzten. Unfallchirurg. https://doi.org/10.1007/s00113-019-0668-y

19.

Mutschler M, Nienaber U, Wafaisade A et al (2014) The impact of severe traumatic brain injury on a novel base deficit-based classification of hypovolemic shock. Scand J Trauma Resusc Emerg Med 22:28

20.

Schochl H, Schlimp CJ, Voelckel W (2014) Perioperative coagulation management in multiple trauma patients based on viscoelastic test results. Unfallchirurg 117:111–117

21.

Spahn DR (2014) TEG(R)- or ROTEM(R)-based individualized goal-directed coagulation algorithms: Don't wait—act now! Crit Care 18:637

22.

Spahn DR, Bouillon B, Cerny V et al (2019) The European guideline on management of major bleeding and coagulopathy following trauma: fifth edition. Crit Care 23:98

23.

Stein P, Kaserer A, Sprengel K et al (2017) Change of transfusion and treatment paradigm in major trauma patients. Anaesthesia 72:1317–1326

24.

Theusinger OM, Stein P, Spahn DR (2014) Transfusion strategy in multiple trauma patients. Curr Opin Crit Care 20:646–655

25.

Wafaisade A, Wyen H, Mutschler M et al (2015) Current practice in coagulation and transfusion therapy in multiple trauma patients: a German nation-wide online survey. Unfallchirurg 118:1033–1040

26.

Wurmb T, Friemert B (2018) Die Rolle des Krankenhauses bei Bedrohungslagen. Notfall Rettungsmed 21:585–589

27.

Wurmb T, Kowalzik B, Rebuck J et al (2018) Bewältigung von besonderen Bedrohungslagen. Notfall Rettungsmed 21:664–672
Ethics declarations
Interessenkonflikt
A. Franke, D. Bieler, T. Paffrath, T. Wurmb, F. Wagner, B. Friemert und G. Achatz geben an, dass kein Interessenkonflikt besteht.
Für diesen Beitrag wurden von den Autoren keine Studien an Menschen oder Tieren durchgeführt. Für die aufgeführten Studien gelten die jeweils dort angegebenen ethischen Richtlinien.
Additional information
Redaktion
W. Mutschler, München
H. Polzer, München
B. Ockert, München
About this article
Cite this article
Franke, A., Bieler, D., Paffrath, T. et al. ATLS® und TDSC®: How it fits together. Unfallchirurg (2019). https://doi.org/10.1007/s00113-019-00735-z
Schlüsselwörter
Terror and Disaster surgical care

Advanced trauma life support

Massenanfall von Verletzten

Trauma Management

Chirurgische Notfallversorgung
Keywords
Terror and disaster surgical care

Advanced trauma life support

Mass casualty situation

Trauma management

Surgical emergency care