Zusammenfassung
Operationsziel
Ziele der operativen Versorgung der intraartikulären bikondylären Tibiakopffraktur sind die anatomische Rekonstruktion und direkte, biomechanisch optimale Fixation der frakturierten Gelenkfläche und der Beinachse unter Berücksichtigung häufig assoziierter Weichteilschäden.
Indikation
Es handelt sich um eine im Kadavermodell simulierte komplexe bikondyläre Tibiakopffraktur 41C3 nach AO mit Frakturbeteiligung aller 10 Segmente und Indikation zur Operation bei posteromedialer Abscherfraktur und lateraler artikulärer Destruktion sowie posterolaterozentraler Impaktion.
Kontraindikation
Ausgeprägte Weichteilschäden mit akuten oder unvollständig verheilten Infektionen im Zugangsgebiet.
Operationstechnik
Anhand des vorgestellten Operationsvideos, das online zur Verfügung steht, wird die direkte Versorgung einer intraartikulären komplexen Tibiakopffraktur von dorsal in Bauchlage des Patienten detailliert dargestellt: posterolateral ca. 13 cm lange Hautinzision unmittelbar über dem Fibulakopf mit anschließender schonender Präparation des N. peronaeus am medialen Rand des M. biceps femoris. Retraktion des lateralen Kopfes des M. gastrocnemius nach medial. Proximales Lösen des M. soleus vom Fibulakopf und Retraktion des M. popliteus nach medial. Horizontale Kapselinzision und Frakturdarstellung. Eröffnung des lateralen Fensters ventral des Außenbandes. Bei Bedarf Osteotomie des lateralen Femurepikondylus zur besseren posterolaterozentralen Frakturdarstellung. Winkelstabile osteosynthetische Fixierung. Posteromedialer Zugang medial des medialen Gastroknemiuskopfes. Retraktion des medialen Kopfes des M. gastrocnemius nach lateral, horizontale Kapselinzision unter Schonung des M. semimembranosus medial und hinterer Kreuzbandfasern lateral, Frakturreposition, Fixierung mithilfe einer posteromedialer Abstützplatte, Bildwandlerkontrolle, Wundverschluss.
Nachbehandlung
Postoperative Kühlung und Hochlagerung. Frakturabhängig 6‑ bis 10-wöchige Teilbelastung von max. 20 kg mit frühfunktioneller Nachbehandlung. Vor Steigerung zur Vollbelastung klinisch-radiologische Verlaufskontrollen zur Feststellung der knöchernen Konsolidierung und der Materiallage.
Ergebnisse
Es handelt sich um eine etablierte und sichere Versorgungsstrategie komplexer Frakturmuster mit dorsalen Frakturausläufern. Das Risiko intraoperativer Malrepositionen ist gering. Postoperative Repositionsverluste sind von fraktur-, operations- und v. a. patientenspezifischen Eigenschaften abhängig.
Abstract
Objective
The aim of the surgical treatment of intra-articular bicondylar tibial plateau fractures is the anatomical reconstruction and direct biomechanical optimal fixation of the fractured articular surface and the leg axis, taking the frequently associated soft tissue damage into account.
Indications
This article presents a cadaver model of a simulated complex bicondylar tibial plateau fracture 41C3 according to the AO classification with fracture involvement of all 10 segments and indications for surgery due to a posteromedial shearing fracture and lateral articular destruction with posterolaterocentral impaction.
Contraindications
Pronounced soft tissue damage with acute or incompletely healed infections in the area of the surgical approach.
Surgical technique
In the presented video of the operation, which is available online, the direct treatment of an intra-articular complex tibial plateau fracture from dorsal in a prone position is shown in detail: posterolateral ca. 13 cm long skin incision immediately above the fibular head with subsequent gentle preparation of the peroneal nerve at the medial border of the biceps femoris muscle. Retraction of the lateral head of the gastrocnemius muscle medially. Proximal detachment of the soleus muscle from the fibular head and retraction of the popliteus muscle medially. Horizontal capsule incision for fracture visualization. Opening of the lateral window ventral to the lateral collateral ligament. If necessary, osteotomy of the lateral femoral epicondyle for improved posterolaterocentral fracture visualization. Angular stable osteosynthetic fixation. Posteromedial approach medial to the medial gastrocnemius head. Retraction of the medial head of the gastrocnemius muscle laterally, horizontal capsular incision with sparing of the semimembranosus muscle medially and posterior cruciate ligaments laterally, fracture reduction, fixation with posteromedial support plate, image converter control, wound closure.
Follow-up
Postoperative cooling and elevation of the operated limb. Depending on the fracture 6–10 weeks partial loading of maximum 20 kg. Prior to full load bearing clinical radiological follow-up checks to determine the bony consolidation and material positioning.
Results
This is an established and safe delivery strategy for complex fracture patterns with dorsally running fractures. The risk of intraoperative malreduction is low. Postoperative reduction losses depend on fracture, operation and especially patient-specific characteristics.
This is a preview of subscription content, log in to check access.
Access options
Buy single article
Instant unlimited access to the full article PDF.
US$ 39.95
Price includes VAT for USA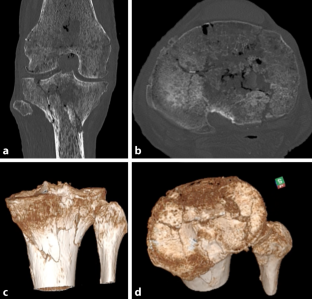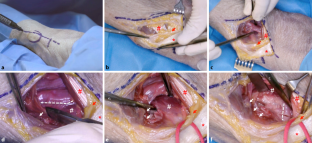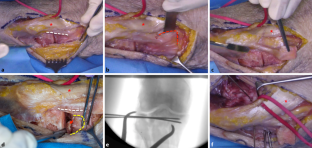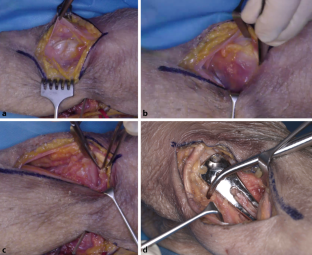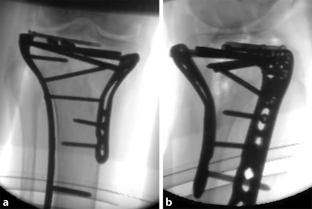 Literatur
1.

Elsoe R, Larsen P, Nielsen NP, Swenne J, Rasmussen S, Ostgaard SE (2015) Population-based epidemiology of tibial plateau fractures. Orthopedics 38(9):e780–e786. https://doi.org/10.3928/01477447-20150902-55

2.

Krause M, Müller G, Frosch KH (2018) Surgical approaches to tibial plateau fractures. Unfallchirurg. https://doi.org/10.1007/s00113-018-0515-6

3.

Kraus TM, Martetschläger F, Müller D, Braun KF, Ahrens P, Siebenlist S, Stöckle U, Sandmann GH (2012) Return to sports activity after tibial plateau fractures: 89 cases with minimum 24-month follow-up. Am J Sports Med 40(12):2845–2852. https://doi.org/10.1177/0363546512462564

4.

Loibl M, Bäumlein M, Massen F, Gueorguiev B, Glaab R, Perren T, Rillmann P, Ryf C, Naal FD (2013) Sports activity after surgical treatment of intra-articular tibial plateau fractures in skiers. Am J Sports Med 41(6):1340–1347. https://doi.org/10.1177/0363546513489524

5.

Manidakis N, Dosani A, Dimitriou R, Stengel D, Matthews S, Giannoudis P (2010) Tibial plateau fractures: functional outcome and incidence of osteoarthritis in 125 cases. Int Orthop 34(4):565–570. https://doi.org/10.1007/s00264-009-0790-5

6.

Krause M, Preiss A, Meenen NM, Madert J, Frosch KH (2016) "Fracturoscopy" is superior to fluoroscopy in the articular reconstruction of complex tibial plateau fractures-an arthroscopy assisted fracture reduction technique. J Orthop Trauma 30(8):437–444. https://doi.org/10.1097/BOT.0000000000000569

7.

Meulenkamp B, Martin R, Desy NM, Duffy P, Korley R, Puloski S, Buckley R (2017) Incidence, risk factors, and location of articular malreductions of the tibial plateau. J Orthop Trauma 31(3):146–150. https://doi.org/10.1097/BOT.0000000000000735

8.

Lobenhoffer P, Gerich T, Bertram T, Lattermann C, Pohlemann T, Tscheme H (1997) Particular posteromedial and posterolateral approaches for the treatment of tibial head fractures. Unfallchirurg 100(12):957–967

9.

Orapiriyakul W, Apivatthakakul T, Phornphutkul C (2018) Posterolateral tibial plateau fractures, how to buttress? Reversed L posteromedial or the posterolateral approach: a comparative cadaveric study. Arch Orthop Trauma Surg 138(4):505–513. https://doi.org/10.1007/s00402-018-2875-3

10.

Solomon LB, Stevenson AW, Lee YC, Baird RP, Howie DW (2013) Posterolateral and anterolateral approaches to unicondylar posterolateral tibial plateau fractures: a comparative study. Injury 44(11):1561–1568. https://doi.org/10.1016/j.injury.2013.04.024

11.

Frosch KH, Balcarek P, Walde T, Stürmer KM (2010) A new posterolateral approach without fibula osteotomy for the treatment of tibial plateau fractures. J Orthop Trauma 24(8):515–520. https://doi.org/10.1097/BOT.0b013e3181e5e17d

12.

Marsh JL, Slongo TF, Agel J, Broderick JS, Creevey W, DeCoster TA, Prokuski L, Sirkin MS, Ziran B, Henley B, Audigé L (2007) Fracture and dislocation classification compendium—2007: orthopaedic trauma association classification, database and outcomes committee. J Orthop Trauma 21(10 Suppl):S1–S133

13.

Schatzker J, McBroom R, Bruce D (1979) The tibial plateau fracture. The Toronto experience 1968–1975. Clin Orthop Relat Res 138:94–104

14.

Moore TM (1981) Fracture—dislocation of the knee. Clin Orthop Relat Res 156:128–140

15.

Krause M, Preiss A, Müller G, Madert J, Fehske K, Neumann MV, Domnick C, Raschke M, Südkamp N, Frosch KH (2016) Intra-articular tibial plateau fracture characteristics according to the "Ten segment classification". Injury 47(11):2551–2557. https://doi.org/10.1016/j.injury.2016.09.014

16.

Luo CF, Sun H, Zhang B, Zeng BF (2010) Three-column fixation for complex tibial plateau fractures. J Orthop Trauma 24(11):683–692. https://doi.org/10.1097/BOT.0b013e3181d436f3

17.

Krause M, Menzdorf L, Preiss A, Frosch KH (2017) Are there four tibial plateau columns? Yes there are, as illustrated by a postero-lateral apple-bite fracture. Response to a letter-to-the-editor. Int Orthop. https://doi.org/10.1007/s00264-017-3686-9

18.

Zhang W, Li N, Chen S, Tan Y, Al-Aidaros M, Chen L (2014) The effects of a tourniquet used in total knee arthroplasty: a meta-analysis. J Orthop Surg Res 9(1):13. https://doi.org/10.1186/1749-799X-9-13

19.

Krause M, Hubert J, Deymann S, Hapfelmeier A, Wulff B, Petersik A, Püschel K, Amling M, Hawellek T, Frosch KH (2018) Bone microarchitecture of the tibial plateau in skeletal health and osteoporosis. Knee. https://doi.org/10.1016/j.knee.2018.04.012

20.

Tao J, Hang DH, Wang QG, Gao W, Zhu LB, Wu XF, Gao KD (2008) The posterolateral shearing tibial plateau fracture: treatment and results via a modified posterolateral approach. Knee 15(6):473–479. https://doi.org/10.1016/j.knee.2008.07.004

21.

Brunner A, Honigmann P, Horisberger M, Babst R (2009) Open reduction and fixation of medial Moore type II fractures of the tibial plateau by a direct dorsal approach. Arch Orthop Trauma Surg 129(9):1233–1238. https://doi.org/10.1007/s00402-009-0841-9

22.

Frosch K‑H (2017) Osteosynthesis of a bicondylar tibial head fracture in prone position. https://www.youtube.com/watch?v=J5rJGl6tvNo. Zugegriffen: 26.10.2018
Ethics declarations
Interessenkonflikt
M. Krause und K.-H. Frosch geben an, dass kein Interessenkonflikt besteht.
Alle beschriebenen Untersuchungen am Menschen wurden mit Zustimmung der zuständigen Ethik-Kommission, im Einklang mit nationalem Recht sowie gemäß der Deklaration von Helsinki von 1975 (in der aktuellen, überarbeiteten Fassung) durchgeführt. Von allen beteiligten Patienten liegt eine Einverständniserklärung vor.
Additional information
Redaktion
P. Biberthaler, München
Caption Electronic Supplementary Material
Video zur Osteosynthese einer bikondylären Tibiakopffraktur in Bauchlage. (Mit freundlicher Genehmigung von Videomedicum und Rimasys)
About this article
Cite this article
Krause, M., Frosch, K. Osteosynthese einer bikondylären Tibiakopffraktur in Bauchlage. Unfallchirurg 121, 1004–1010 (2018) doi:10.1007/s00113-018-0574-8
Schlüsselwörter
Operativer Zugang

Frakturfixierung

Epikondylus

Osteotomie

Behandlungsergebnis
Keywords
Surgical access

Fracture fixation

Epicondyle

Osteotomy

Treatment outcome