Zusammenfassung
Die Reanimation beim traumatisch bedingten Herz-Kreislauf-Stillstand wurde lange Zeit als nicht erfolgversprechend angesehen. Aktuelle Daten zeigen, dass die Erfolgsaussicht jedoch nicht schlechter als bei Reanimation aufgrund kardialer Ursache sein muss. Durch zielgerichtete und rasche Behebung reversibler Ursachen kann die Kreislauffunktion wieder hergestellt werden. Der European-Resuscitation-Council (ERC)-Algorithmus zum traumatisch bedingten Herz-Kreislauf-Stillstand ist hier eine hilfreiche Anleitung. Die Kasuistik zeigt die konsequente Umsetzung dieses Algorithmus im prähospitalen Umfeld bei einem Suizidversuch durch eine thorakale Messerstichverletzung.
Abstract
Resuscitation in the event of traumatic cardiac arrest was for a long time considered to be a less than promising technique to employ; however, current data indicate that the prospects of success need not be any poorer than for resuscitation due to cardiac distress. The targeted and rapid remedying of reversible causes can re-establish the circulatory function and the European Resuscitation Council (ERC) algorithm for traumatic cardiac arrest is a helpful guide in this respect. This case report illustrates the resolute implementation of this algorithm in the prehospital environment in the case of an attempted suicide by a thoracic knife wound.
This is a preview of subscription content, log in to check access.
Access options
Buy single article
Instant unlimited access to the full article PDF.
US$ 39.95
Price includes VAT for USA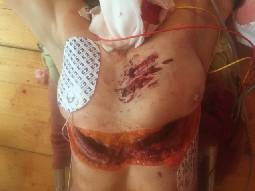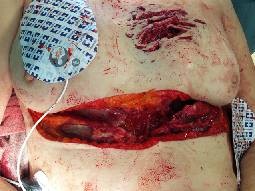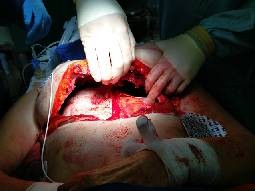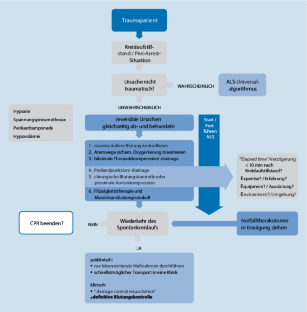 Literatur
1.

Soar J, Perkins GD, Abbas G, Alfonzo A, Barelli A, Bierens JJ et al (2010) European Resuscitation Council Guidelines for Resuscitation 2010 Section 8. Cardiac arrest in special circumstances: electrolyte abnormalities, poisoning, drowning, accidental hypothermia, hyperthermia, asthma, anaphylaxis, cardiac surgery, trauma, pregnancy, and electrocution. Resuscitation 81:1400–1433

2.

Leidel BA, Kanz K‑G (2013) Cardiac arrest following trauma is not a dead end. Resuscitation 84(6):709–710. doi:10.1016/j.resuscitation.2013.03.035

3.

http://www.awmf.org/uploads/tx_szleitlinien/012-019l_S3_Polytrauma_Schwerverletzten-Behandlung_2016-10.pdf. Zugegriffen: 08.12.2016

4.

European Resuscitation Council Guidelines for Resuscitation, Truhlář A, Deakin CD, Soar J, Khalifa GEA, Alfonzo A, Bierens JJLM, Brattebø G et al (2015) Cardiac arrest in special circumstances. Resuscitation 95:148–201. doi:10.1016/j.resuscitation.2015.07.017

5.

Rall M, Gaba DM (2009) Human performance and patient safety. In: Miller RD (Hrsg) Miller's anesthesia. Elsevier Churchhill Livingstone, Philadelphia, S 93–150

6.

Bernhard M, Gräsner JT, Gries A et al (2010) Die intraossäre Infusion in der Notfallmedizin. Empfehlungen des Wissenschaftlichen Arbeitskreises Notfallmedizin und des Wissenschaftlichen Arbeitskreises Kinderanästhesie der Deutschen Gesellschaft für Anästhesiologie und Intensivmedizin. Anästh Intensivmed 51:S615–S620

7.

Bernhard M, Bein B, Böttiger BW, Bohn A, Fischer M, Gräsner JT et al http://www.awmf.org/uploads/tx_szleitlinien/001-030l_S1_Praehospitale_Notfallnarkose_Erwachsene_2015-03.pdf. Zugegriffen: 08.12.2016

8.

Coats TJ, Keogh S, Clark H, Neal M (2001) Prehospital resuscitative thoracotomy for cardiac arrest after penetrating trauma: rationale and case series. J Trauma 50(4):670–673

9.

Lockey DJ, Lyon RM, Davies GE (2013) Development of a simple algorithm to guide the effective management of traumatic cardiac arrest. Resuscitation 84(6):738–742. doi:10.1016/j.resuscitation.2012.12.003

10.

Sherren PB, Reid C, Habig K, Burns BJ (2013) Algorithm for the resuscitation of traumatic cardiac arrest patients in a physician-staffed helicopter emergency medical service. Crit Care:. doi:10.1186/cc12504

11.

https://www.rcseng.ac.uk/courses/course-search/resuscitative-thoracotomy. Zugegriffen: 4. Nov. 2015

12.

Konig T, Perkins Z, Davies GE (2013) Training non-surgeons to perform resuscitative thoracotomy. Scand J Trauma Resusc Emerg Med 21(Suppl 1):A2. doi:10.1186/1757-7241-21-S1-A2

13.

Seamon MJ, Haut ER, Van Arendonk K, Barbosa RR, Chiu WC, Dente CJ, Fox N et al (2015) An evidence-based approach to patient selection for emergency department thoracotomy: a practice management guideline from the Eastern Association for the Surgery of Trauma. J Trauma Acute Care Surg 79(1):159–173. doi:10.1097/TA.0000000000000648

14.

Suzuki K, Inoue S, Morita S, Watanabe N, Shintani A, Inokuchi S, Ogura S (2016) Comparative effectiveness of emergency resuscitative thoracotomy versus closed chest compressions among patients with critical blunt trauma: a nationwide cohort study in Japan. PLOS ONE 11(1):e0145963. doi:10.1371/journal.pone.0145963

15.

Buschmann C, Kleber C (2013) No more tension pneumothorax in unsuccessfully resuscitated patients with penetrating chest trauma at autopsy! Injury 44(11):1659–1660. doi:10.1016/j.injury.2013.03.025

16.

Kleber C, Giesecke MT, Tsokos M, Haas NP, Buschmann CT (2013) Trauma-related preventable deaths in Berlin 2010: need to change prehospital management strategies and trauma management education. World J Surg 37(5):1154–1161. doi:10.1007/s00268-013-1964-2

17.

Bommer WJ, Follette D, Pollock M, Arena F, Bognar M, Berkoff H (1995) Tamponade in patients undergoing cardiac surgery: a clinical-echocardiographic diagnosis. Am Heart J 130(6):1216–1223

18.

Puchwein P, Sommerauer F, Clement HG, Matzi V, Tesch NP, Hallmann B, Harris T, Rigaud M (2015) Clamshell thoracotomy and open heart massage – a potential life-saving procedure can be taught to emergency physicians. Injury 46(9):1738–1742. doi:10.1016/j.injury.2015.05.045

19.

O'Reilly DJ, Morrison JJ, Jansen JO, Apodaca AN, Rasmussen TE, Midwinter MJ (2014) Prehospital blood transfusion in the en route management of severe combat trauma: a matched cohort study. J Trauma Acute Care Surg 77:S114–S120. doi:10.1097/TA.0000000000000328

20.

Bodnar D, Rashford S, Williams S, Enraght-Moony E, Parker L, Clarke B (2012) The feasibility of civilian prehospital trauma teams carrying and administering packed red blood cells. Emerg Med J 31(2):93–95. doi:10.1136/emermed-2012-201969

21.

Holcomb JB, Donathan DP, Cotton BA, Del Junco DJ, Brown G, von Wenckstern T, Podbielski JM et al (2015) Prehospital transfusion of plasma and red blood cells in trauma patients. Prehosp Emerg Care 19:1–9. doi:10.3109/10903127.2014.923077

22.

Puchwein P, Prenner G, Fell B, Sereinigg M, Gumpert R (2014) Successful preclinical thoracotomy in a 17-year-old man. Unfallchirurg 117:849–852. doi:10.1007/s00113-013-2484-0

23.

Davies GE, Lockey DJ (2011) Thirteen survivors of prehospital thoracotomy for penetrating trauma: a prehospital physician-performed resuscitation procedure that can yield good results. J Trauma 70(5):7–78

24.

Huber-Wagner S, Lefering R, Qvick M, Kay MV, Paffrath T, Mutschler W, Kanz KG, Working Group on Polytrauma of the German Trauma Society (DGU) (2007) Outcome in 757 severely injured patients with traumatic cardiorespiratory arrest. Resuscitation 75(2):276–285

25.

Truhlář A, Deakin CD, Soar J (2015) Kreislaufstillstand unter besonderen Umständen. Kapitel 4 der Leitlinien zur Reanimation 2015 des European Resuscitation Council. Notf Rettungsmed. doi:10.1007/s10049-015-0096-7

26.

Wilson MH, Habig K, Wright C, Hughes A, Davies G, Imray CHE (2015) Pre-hospital emergency medicine. Lancet 386(10012):2526–2534. doi:10.1016/S0140-6736(15)00985-X
Ethics declarations
Interessenkonflikt
M. Rudolph, N.R. E. Schneider und E. Popp geben an, dass kein Interessenkonflikt besteht.
Dieser Beitrag beinhaltet keine von den Autoren durchgeführten Studien an Menschen oder Tieren. Alle Patienten, die über Bildmaterial oder anderweitige Angaben innerhalb des Manuskripts zu identifizieren sind, haben hierzu ihre schriftliche Einwilligung gegeben.
Additional information
Redaktion
W. Mutschler, München
H. Polzer, München
B. Ockert, München
Caption Electronic Supplementary Material
Videosequenz 1: Thorakaler Sonographiecheck: Subkostale Anlotung, volumendepletiertes Herz, kein offensichtlicher liquider Perikarderguss
About this article
Cite this article
Rudolph, M., Schneider, N.R.E. & Popp, E. Clamshell-Thorakotomie nach thorakalen Messerstichen. Unfallchirurg 120, 344–349 (2017). https://doi.org/10.1007/s00113-016-0287-9
Schlüsselwörter
Reanimation

Traumatisch

Herz-Kreislauf-Stillstand

Spannungspneumothorax

Perikardtamponade
Keywords
Resuscitation

Traumatic

Cardiac arrest

Tension pneumothorax

Pericardial tamponade