Zusammenfassung
In Deutschland ist der Eisenmangel die häufigste Anämieursache. Die Erkrankung tritt v. a. bei Kleinkindern und in der Adoleszenz bei menstruierenden Mädchen auf. Bei typischer Ernährungsanamnese (verminderter Fleischverzehr) ist die Diagnose einfach zu stellen. Die wichtigsten Differenzialdiagnosen des Eisenmangels sind die heterozygoten α- und β-Thalassämien. Durch die Zuwanderung von Mitbürgern aus Risikogebieten für Hämoglobinopathien (v. a. Afrika, Südostasien, Mittelmeeranrainerstaaten) nimmt auch in Deutschland die Bedeutung der Sichelzellerkrankung, Hämoglobin(Hb)-E-Thalassämie und anderer Hämoglobinopathien zu. Unter optimaler Behandlung erreichen 85–90 % der Kinder mit Sichelzellanämie und 100 % der Kinder mit Thalassämie das Erwachsenenalter. Allerdings wurden diese Hämoglobinopathien noch nicht als Gesundheitsproblem in Deutschland erkannt. Um ein besseres Bewusstsein für Patienten mit Hämoglobinopathien zu schaffen, werden im vorliegenden Beitrag die klassischen Symptome, Diagnosekriterien, Differenzialdiagnosen und Therapieoptionen behandelt. Kinder mit Sichelzellerkrankung und rezidivierenden Schmerzkrisen profitieren vom frühen Beginn einer Hydroxycarbamidtherapie. Wichtig ist, dass auch in Deutschland ein Screening bei Neugeborenen auf Sichelzellerkrankung eingeführt wird. Dies ermöglicht eine antibiotische Prophylaxe mit Penizillin bis zum 5. Lebensjahr. Familien mit Herkunft aus einem Risikoland sollte eine Hb-Analyse mit dem Ziel der pränatalen Diagnostik im Fall der Trägerschaft für eine Hämoglobinopathie beider Eltern angeboten werden. Die dominant vererbte hereditäre Sphärozytose ist bei der kaukasischen Bevölkerungsgruppe die häufigste genetisch bedingte hämolytische Anämie (1:5000). Sie wird in 4 Schweregrade eingeteilt, die wesentlich die Indikation zur Splenektomie bestimmen. Aufgrund der erhöhten Rate an Postsplenektomieinfektionen wird neuerdings die nahezu vollständige Splenektomie gegenüber der vollständigen Milzentfernung empfohlen.
Abstract
Iron deficiency is the most common cause of anemia in Germany. The disease occurs primarily during infancy and adolescence in menstruating girls. The diagnostics in cases with a typical nutritional history (i.e. decreased meat consumption) are relatively simple. The most important differential diagnoses for iron deficiency anemia are heterozygous alpha and beta thalassemia. Due to migration of inhabitants from high-risk areas for hemoglobin diseases, primarily Africa, South East Asia and Mediterranean countries, the importance of sickle cell anemia, hemoglobin (Hb) E thalassemia and other hemoglobin diseases in Germany is also increasing. With optimal care 85–90 % of children with sickle cell disease and 100 % of children with thalassemia reach adulthood. Unfortunately, the diseases are not yet considered a public health problem in Germany. In order to increase awareness for patients with hemoglobin diseases this article discusses the characteristic symptoms, diagnostic criteria and differential diagnoses as well as therapy options. Children with sickle cell anemia and recurring pain crises can profit from early initiation of hydroxycarbamide therapy. It is also essential to establish a sickle cell disease screening for newborns in Germany which would allow an antibiotic prophylaxis with penicillin until 5 years of age. Families from risk areas should be offered an Hb analysis with the goal of prenatal diagnostics in cases where both parents are carriers for hemoglobin diseases. The dominantly inherited hereditary spherocytosis (HS) is the most common genetically determined form of hemolytic anemia (1:5000) in the Caucasian population. It is categorized into four degrees of severity, which essentially determine the indications for a splenectomy. Due to the increased rate of post-splenectomy infections a near total splenectomy has recently been recommended in contrast to total splenectomy.
This is a preview of subscription content, log in to check access.
Access options
Buy single article
Instant unlimited access to the full article PDF.
US$ 39.95
Price includes VAT for USA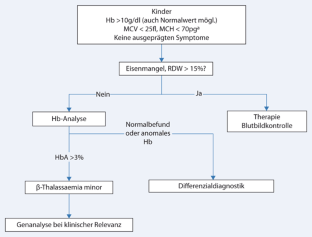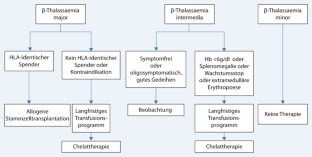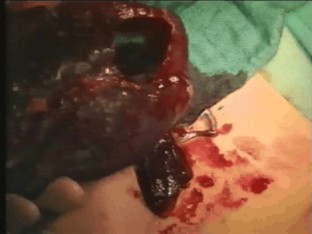 Literatur
1.

Aggett PJ, Agostoni C, Axelsson I et al (2002) Iron metabolism and requirements in early childhood: do we know enough?: a commentary by the ESPGHAN Committee on Nutrition. J Pediatr Gastroenterol Nutr 34(4):337–345

2.

Aygun B, Wruck LM, Schultz WH et al; TCD With Transfusions Changing to Hydroxyurea (TWiTCH) Trial Investigators (2012) Chronic transfusion practices for prevention of primary stroke in children with sickle cell anemia and abnormal TCD velocities. Am J Hematol 87(4):428–430

3.

Ballin A, Waisbourd-Zinman O, Saab H et al (2011) Steroid therapy may be effective in augmenting hemoglobin levels during hemolytic crises in children with hereditary spherocytosis. Pediatr Blood Cancer 57(2):303–305. DOI 10.1002/pbc.22844

4.

Cario H, Kohne E, Eber S et al (2012). Onkopedia Leitlinie Beta Thalassämie. https://www.dgho-onkopedia.de/de/onkopedia/leitlinien/beta-thalassaemie

5.

Dickerhoff R, Rücker A von, Kohne E (2014) Leitfaden fur die Betreuung von Sichelzellpatienten. http://www.sichelzellkrankheit

6.

Eber SW, Cario H, Dickerhoff R et al (2006, 2011) Hereditäre Sphärozytose. Leitlinien zur Diagnostik und Therapie in der pädiatrischen Onkologie und Hämatologie. Arbeitsgemeinschaft Wissenschaftlicher Medizinischer Fachgesellschaften. http://www.awmf.org/leitlinien/detail/ll/025-018.html

7.

Eber SW, Armbrust R, Schröter W (1990) Variable clinical severity of hereditary spherocytosis. Relation to erythrocytic spectrin concentration, osmotic fragility and autohemolysis. J Pediatr 117:409–416

8.

Eber S, Lux SE (2004) Hereditary spherocytosis – defects in proteins that connect the membrane skeleton to the lipid bilayer. Semin Hematol 41:118–141

9.

Iolascon A, De Falco L, Beaumont C (2009) Molecular basis of inherited microcytic anemia due to defects in iron acquisition or heme synthesis. Haematologica 94(3):395–408

10.

Lobitz S, Cario H, Kulozik A et al (2014) AWMF-Leitlinie "Sichelzellkrankheit. (S2). AWMF 025–016

11.

Muckenthaler MU (2008) Fine tuning of hepcidin expression by positive and negative regulators. Cell Metab 8(1):1–3

12.

Stoehr GA, Sobh JN, Luecken J et al (2006) Near-total splenectomy for hereditary spherocytosis: clinical prospects in relation to disease severity. Br J Haematol 132(6):791–793

13.

http://www.nhlbi.nih.gov/news/press-releases/2014/nhlbi-media-availability-nih-ends-transcranial-doppler-tcd-transfusions

14.

Van Wyck DB, Mangione A, Morrison J et al (2009) Large-dose intravenous ferric carboxymaltose injection for iron deficiency anemia in heavy uterine bleeding: a randomized, controlled trial. Transfusion 49(12): 2719–2728
Danksagung
Frau Dr. R. Dickerhoff, Klinik für Kinder-Onkologie-Hämatologie und Klinische Immunologie, Universität Düsseldorf, danke ich für die stetige Unterstützung und Textgestaltung im Kapitel über die Thalassämien und Sichelzellerkrankungen. Besonderer Dank gilt auch meiner Mitarbeiterin, Frau cand. med. Lena Machetanz, für die Ausarbeitung des Manuskripts.
Einhaltung ethischer Richtlinien
Interessenkonflikt. S.W. Eber gibt an, dass kein Interessenkonflikt besteht. Dieser Beitrag enthält keine Studien an Menschen oder Tieren.
Zusatzmaterial online
Video zur subtotalen Splenektomie (AVI 4,2 MB)
About this article
Cite this article
Eber, S. Häufigste Formen und Ursachen der Anämie. Monatsschr Kinderheilkd 163, 28–38 (2015). https://doi.org/10.1007/s00112-014-3188-4
Schlüsselwörter
Hämoglobinopathien

Eisenmangelanämie

Sichelzellerkrankung

Sphärozytose

Thalassämie
Keywords
Hemoglobinopathies

Iron deficiency anemia

Sickle cell disease

Spherocytosis

Thalassemia