Abstract
Hepatocellular carcinoma (HCC) is one of the most prevalent cancers worldwide and the commonest liver cancer. It is expected to become the third leading cause of cancer-related deaths in Western countries by 2030. Effective pharmacological approaches for HCC are still unavailable, and the currently approved systemic treatments are unsatisfactory in terms of therapeutic results, showing many side effects. Thus, searching for new effective and nontoxic molecules for HCC treatment is of paramount importance. We previously demonstrated that lysophosphatidic acid (LPA) is an important contributor to the pathogenesis of HCC and that lysophosphatidic acid receptor 6 (LPAR6) actively supports HCC tumorigenicity. Here, we screened for novel LPAR6 antagonists and found that two compounds, 4-methylene-2-octyl-5-oxotetra-hydrofuran-3-carboxylic acid (C75) and 9-xanthenylacetic acid (XAA), efficiently inhibit HCC growth, both in vitro and in vitro, without displaying toxic effects at the effective doses. We further investigated the mechanisms of action of C75 and XAA and found that these compounds determine a G1-phase cell cycle arrest, without inducing apoptosis at the effective doses. Moreover, we discovered that both molecules act on mitochondrial homeostasis, by increasing mitochondrial biogenesis and reducing mitochondrial membrane potential. Overall, our results show two newly identified LPAR6 antagonists with a concrete potential to be translated into effective and side effect–free molecules for HCC therapy.
This is a preview of subscription content, log in to check access.
Access options
Buy single article
Instant access to the full article PDF.
US$ 39.95
Price includes VAT for USA
Subscribe to journal
Immediate online access to all issues from 2019. Subscription will auto renew annually.
US$ 199
This is the net price. Taxes to be calculated in checkout.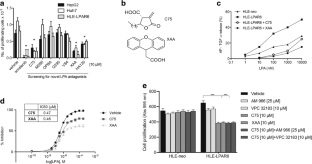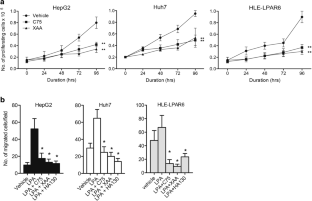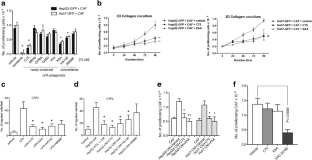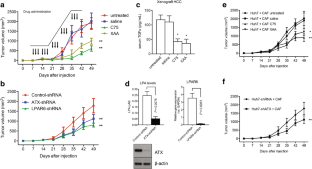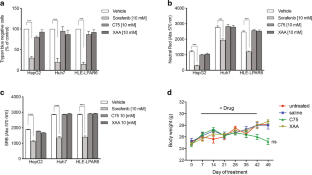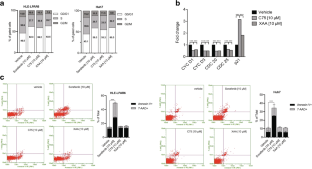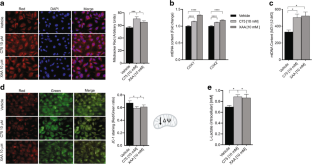 References
1.

de Lope CR, Tremosini S, Forner A, Reig M, Bruix J (2012) Management of HCC. J Hepatol 56(Suppl 1):S75–S87

2.

Forner A, Reig M, Bruix J (2018) Hepatocellular carcinoma. Lancet 391:1301–1314

3.

Kudo M (2018) Systemic therapy for hepatocellular carcinoma: latest advances. Cancers (Basel) 10:E412

4.

Waidmann O (2018) Recent developments with immunotherapy for hepatocellular carcinoma. Expert Opin Biol Ther 18:905–910

5.

Wu Z, Lai L, Li M, Zhang L, Zhang W (2017) Acute liver failure caused by pembrolizumab in a patient with pulmonary metastatic liver cancer: a case report. Medicine (Baltimore) 96:e9431

6.

Kaffe E, Katsifa A, Xylourgidis N, Ninou I, Zannikou M, Harokopos V, Foka P, Dimitriadis A, Evangelou K, Moulas AN, Georgopoulou U, Gorgoulis VG, Dalekos GN, Aidinis V (2017) Hepatocyte autotaxin expression promotes liver fibrosis and cancer. Hepatology 65:1369–1383

7.

Nakagawa S, Wei L, Song WM, Higashi T, Ghoshal S, Kim RS, Bian CB, Yamada S, Sun X, Venkatesh A, Goossens N, Bain G, Lauwers GY, Koh AP, el-Abtah M, Ahmad NB, Hoshida H, Erstad DJ, Gunasekaran G, Lee Y, Yu ML, Chuang WL, Dai CY, Kobayashi M, Kumada H, Beppu T, Baba H, Mahajan M, Nair VD, Lanuti M, Villanueva A, Sangiovanni A, Iavarone M, Colombo M, Llovet JM, Subramanian A, Tager AM, Friedman SL, Baumert TF, Schwarz ME, Chung RT, Tanabe KK, Zhang B, Fuchs BC, Hoshida Y, Precision Liver Cancer Prevention Consortium (2016) Molecular liver cancer prevention in cirrhosis by organ transcriptome analysis and lysophosphatidic acid pathway inhibition. Cancer Cell 30:879–890

8.

Mazzocca A, Dituri F, Lupo L, Quaranta M, Antonaci S, Giannelli G (2011) Tumor-secreted lysophostatidic acid accelerates hepatocellular carcinoma progression by promoting differentiation of peritumoral fibroblasts in myofibroblasts. Hepatology 54:920–930

9.

Mazzocca A, Dituri F, De Santis F, Filannino A, Lopane C, Betz RC, Li YY, Mukaida N, Winter P, Tortorella C et al (2015) Lysophosphatidic acid receptor LPAR6 supports the tumorigenicity of hepatocellular carcinoma. Cancer Res 75:532–543

10.

Inoue A, Ishiguro J, Kitamura H, Arima N, Okutani M, Shuto A, Higashiyama S, Ohwada T, Arai H, Makide K, Aoki J (2012) TGFalpha shedding assay: an accurate and versatile method for detecting GPCR activation. Nat Methods 9:1021–1029

11.

Chazotte B (2011) Labeling mitochondria with MitoTracker dyes. Cold Spring Harb Protoc 2011:990–992

12.

Chazotte B (2011) Labeling mitochondria with JC-1. Cold Spring Harb Protoc 2011:pdb.prot065490

13.

Sokolov E, Eheim AL, Ahrens WA, Walling TL, Swet JH, McMillan MT, Simo KA, Thompson KJ, Sindram D, McKillop IH (2013) Lysophosphatidic acid receptor expression and function in human hepatocellular carcinoma. J Surg Res 180:104–113

14.

Sonntag R, Gassler N, Bangen JM, Trautwein C, Liedtke C (2014) Pro-apoptotic Sorafenib signaling in murine hepatocytes depends on malignancy and is associated with PUMA expression in vitro and in vivo. Cell Death Dis 5:e1030

15.

Qie S, Diehl JA (2016) Cyclin D1, cancer progression, and opportunities in cancer treatment. J Mol Med (Berl) 94:1313–1326

16.

Das SK, Hashimoto T, Kanazawa K (2008) Growth inhibition of human hepatic carcinoma HepG2 cells by fucoxanthin is associated with down-regulation of cyclin D. Biochim Biophys Acta 1780: 743-749. DOI https://doi.org/10.1016/j.bbagen.2008.01.003

17.

Wang L, Zhang J, Wan L, Zhou X, Wang Z, Wei W (2015) Targeting Cdc20 as a novel cancer therapeutic strategy. Pharmacol Ther 151:141–151

18.

Sur S, Agrawal DK (2016) Phosphatases and kinases regulating CDC25 activity in the cell cycle: clinical implications of CDC25 overexpression and potential treatment strategies. Mol Cell Biochem 416:33–46

19.

El-Deiry WS (2016) p21(WAF1) mediates cell-cycle inhibition, relevant to cancer suppression and therapy. Cancer Res 76:5189–5191

20.

Schieke SM, McCoy JP Jr, Finkel T (2008) Coordination of mitochondrial bioenergetics with G1 phase cell cycle progression. Cell Cycle 7:1782–1787

21.

Lee HC, Li SH, Lin JC, Wu CC, Yeh DC, Wei YH (2004) Somatic mutations in the D-loop and decrease in the copy number of mitochondrial DNA in human hepatocellular carcinoma. Mutat Res 547:71–78

22.

Reznik E, Miller ML, Senbabaoglu Y, Riaz N, Sarungbam J, Tickoo SK, Al-Ahmadie HA, Lee W, Seshan VE, Hakimi AA et al (2016) Mitochondrial DNA copy number variation across human cancers. Elife 5:e10769

23.

Reznik E, Wang Q, La K, Schultz N, Sander C (2017) Mitochondrial respiratory gene expression is suppressed in many cancers. Elife 6:e21592

24.

Kudo M (2018) Ramucirumab as second-line systemic therapy in hepatocellular carcinoma. Liver Cancer 7:305–311

25.

Kuhajda FP, Pizer ES, Li JN, Mani NS, Frehywot GL, Townsend CA (2000) Synthesis and antitumor activity of an inhibitor of fatty acid synthase. Proc Natl Acad Sci U S A 97:3450–3454

26.

Li JN, Gorospe M, Chrest FJ, Kumaravel TS, Evans MK, Han WF, Pizer ES (2001) Pharmacological inhibition of fatty acid synthase activity produces both cytostatic and cytotoxic effects modulated by p53. Cancer Res 61:1493–1499

27.

Zhou W, Simpson PJ, McFadden JM, Townsend CA, Medghalchi SM, Vadlamudi A, Pinn ML, Ronnett GV, Kuhajda FP (2003) Fatty acid synthase inhibition triggers apoptosis during S phase in human cancer cells. Cancer Res 63:7330–7337

28.

Enooku K, Uranbileg B, Ikeda H, Kurano M, Sato M, Kudo H, Maki H, Koike K, Hasegawa K, Kokudo N, Yatomi Y (2016) Higher LPA2 and LPA6 mRNA levels in hepatocellular carcinoma are associated with poorer differentiation, microvascular invasion and earlier recurrence with higher serum autotaxin levels. PLoS One 11:e0161825

29.

Yukiura H, Kano K, Kise R, Inoue A, Aoki J (2015) LPP3 localizes LPA6 signalling to non-contact sites in endothelial cells. J Cell Sci 128:3871–3877

30.

Takahashi K, Fukushima K, Onishi Y, Inui K, Node Y, Fukushima N, Honoki K, Tsujiuchi T (2017) Lysophosphatidic acid (LPA) signaling via LPA4 and LPA6 negatively regulates cell motile activities of colon cancer cells. Biochem Biophys Res Commun 483:652–657

31.

Yun CC (2019) Lysophosphatidic Acid and Autotaxin-associated Effects on the Initiation and Progression of Colorectal Cancer. Cancers (Basel) 11:E958
Acknowledgments
We are grateful to Ms. Loredana Acquaro for her precious technical support.
Funding
This work was supported by a research grant from AIRC (Italian Association for Cancer Research) to A. Mazzocca (Investigator Grant (IG) 2015 Id. 17758).
Ethics declarations
All animal procedures were conducted in accordance with the national and international Guidelines for the Care and Use of Laboratory and were approved by the local Institutional Animal Care and Use Committee.
Conflict of interest
The authors declare that they have no conflict of interest.
Additional information
Publisher's note
Springer Nature remains neutral with regard to jurisdictional claims in published maps and institutional affiliations.
Key messages
• Current systemic treatments for HCC are unsatisfactory with notably side effects.
• Lysophosphatidic acid receptor 6 (LPAR6) supports the tumorigenic phenotype in HCC.
• C75 and XAA, two novel LPAR6 antagonists, show anti-HCC growth properties.
• C75 and XAA affect mitochondrial function without toxicity at the effective doses.
• C75 and XAA may be translated into effective and safe molecules for HCC therapy.
Electronic supplementary material
About this article
Cite this article
Gnocchi, D., Kapoor, S., Nitti, P. et al. Novel lysophosphatidic acid receptor 6 antagonists inhibit hepatocellular carcinoma growth through affecting mitochondrial function. J Mol Med 98, 179–191 (2020). https://doi.org/10.1007/s00109-019-01862-1
Received:

Revised:

Accepted:

Published:

Issue Date:
Keywords
Hepatocellular carcinoma (HCC)

Lysophosphatidic acid receptor 6 (LPAR6)

Lysophosphatidic acid receptor 6 antagonists

Drug discovery and design

Drug therapy