Abstract
Angiotensin (Ang) II is a key player in left ventricular (LV) remodeling and cardiac fibrosis. Its effects are thought to be transferred at least in part by mitogen-activated protein kinases (MAPK), transforming growth factor (TGF) β1, and the Smad pathway. In this study we sought to elucidate whether Ang II related effects on LV dysfunction and fibrosis in vivo are mediated via MAPK or rather via Smad stimulation. We treated homozygous REN2 rats (7–11 weeks) with placebo, Ang II type 1 (AT1) receptor blocker or tyrphostin A46 (TYR), an inhibitor of epidermal growth factor receptor tyrosine kinase that blocks extracellular signal-regulated kinase (ERK) activity. REN2 rats had LV hypertrophy (LVH) and LV dysfunction that progressed to heart failure between 10 and 13 weeks. Blood pressure normalized over time. Renin, N-terminal atrial natriuretic peptide (N-ANP), and ERK were activated while p38 MAPK was not. Treatment with AT1 receptor blockade prevented LVH and right ventricular hypertrophy, normalized systolic and diastolic dP/dt, N-ANP levels, and reduced collagen apposition. Similarly, TYR reduced LVH, N-ANP levels, and collagen apposition. Myocardial ERK activation did not depend on AT1 receptor signaling as it was not affected by AT1 receptor blockade. TYR abolished myocardial ERK activity. Smad2 activation was inhibited by AT1 receptor blockade but was unaltered by TYR. Ang II induced LV remodeling and fibrosis are dependent on both ERK and Smad2 activation. This process is prevented by both AT1 receptor blockade and TYR, and therefore inhibition of either pathway is equally efficacious in restoring LV function and architecture.
This is a preview of subscription content, log in to check access.
Access options
Buy single article
Instant access to the full article PDF.
US$ 39.95
Price includes VAT for USA
Subscribe to journal
Immediate online access to all issues from 2019. Subscription will auto renew annually.
US$ 199
This is the net price. Taxes to be calculated in checkout.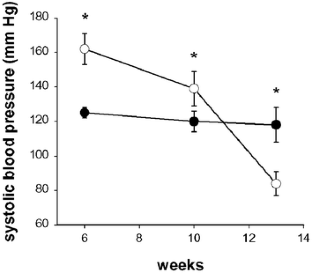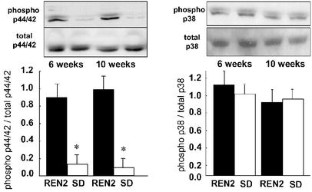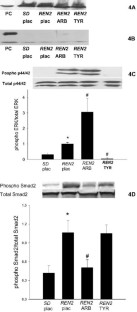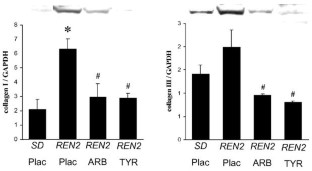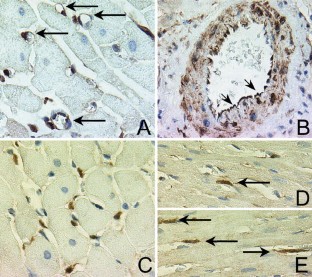 Abbreviations
Ang :

Angiotensin

ARB :

Angiotensin II type 1 receptor blocker

AT 1 :

Angiotensin II type 1

EGF-R :

Epidermal growth factor receptor

ERK :

Extracellular signal-regulated kinase

JNK :

c-Jun N-terminal kinase

LV :

Left ventricle

LVH :

Left ventricular hypertrophy

MAPK :

Mitogen-activated protein kinase

N-ANP :

N-terminal atrial natriuretic peptide

RV :

Right ventricle

SD :

Sprague-Dawley

TBS-T :

Tris-buffered saline plus Tween 20

TGF :

Transforming growth factor

TYR :

Tyrphostin A46
References
1.

Hunter JJ, Grace AA, Chien KR (1999) Molecular and cellular biology of cardiac hypertrophy and failure. In: Chien KR (ed) Molecular basis of heart disease: a companion to Braunwald's heart disease. Saunders, Philadelphia, pp 211–250

2.

Sugden PH, Clerk A (1998) "Stress-responsive" mitogen-activated protein kinases (c-Jun N-terminal kinases and p38 mitogen-activated protein kinases) in the myocardium. Circ Res 83:345–352

3.

Bogoyevitch MA (2000) Signalling via stress-activated mitogen-activated protein kinases in the cardiovascular system. Cardiovasc Res 45:826–842

4.

Tanaka K, Honda M, Takabatake T (2001) Redox regulation of MAPK pathways and cardiac hypertrophy in adult rat cardiac myocyte. J Am Coll Cardiol 37:676–685

5.

Fischer TA, Singh K, O'Hara DS, Kaye DM, Kelly RA (1999) Role of AT1 and AT2 receptors in regulation of MAPKs and MKP-1 by ANG II in adult cardiac myocytes. Am J Physiol 275:H906–H916

6.

Pinto YM, Pinto-Sietsma SJ, Philipp T, Engler S, Kossamehl P, Hocher B, Marquardt H, Sethmann S, Lauster R, Merker HJ, Paul M (2000) Reduction in left ventricular messenger RNA for transforming growth factor beta (1) attenuates left ventricular fibrosis and improves survival without lowering blood pressure in the hypertensive TGR (mRen2)27 Rat. Hypertension 36:747–754

7.

Hayashida W, Kihara Y, Yasaka A, Inagaki K, Iwanaga Y, Sasayama S (2001) Stage-specific differential activation of mitogen-activated protein kinases in hypertrophied and failing rat hearts. J Mol Cell Cardiol 33:733–744

8.

Pellieux C, Sauthier T, Aubert JF, Brunner HR, Pedrazzini T (2000) Angiotensin II-induced cardiac hypertrophy is associated with different mitogen-activated protein kinase activation in normotensive and hypertensive mice. J Hypertens 18:1307–1317

9.

Behr TM, Nerurkar SS, Nelson AH, Coatney RW, Woods TN, Sulpizio A, Chandra S, Brooks DP, Kumar S, Lee JC, Ohlstein EH, Angermann CE, Adams JL, Sisko J, Sackner-Bernstein JD, Willette RN (2001) Hypertensive end-organ damage and premature mortality are p38 mitogen-activated protein kinase-dependent in a rat model of cardiac hypertrophy and dysfunction. Circulation 104:1292–1298

10.

Li D, Shinagawa K, Pang L, Leung TK, Cardin S, Wang Z, Nattel S (2001) Effects of angiotensin-converting enzyme inhibition on the development of the atrial fibrillation substrate in dogs with ventricular tachypacing-induced congestive heart failure. Circulation 104:2608–2614

11.

Kojima M, Shiojima I, Yamazaki T, Komuro I, Zou Z, Wang Y, Mizuno T, Ueki K, Tobe K, Kadowaki T (1994) Angiotensin II receptor antagonist TCV-116 induces regression of hypertensive left ventricular hypertrophy in vivo and inhibits the intracellular signaling pathway of stretch-mediated cardiomyocyte hypertrophy in vitro. Circulation 89:2204–2211

12.

Pokharel S, Rasoul S, Roks AJ, van Leeuwen RE, van Luyn MJ, Deelman LE, Smits JF, Carretero O, van Gilst WH, Pinto YM (2002) N-Acetyl-Ser-Asp-Lys-Pro inhibits phosphorylation of smad2 in cardiac fibroblasts. Hypertension 40:155–161

13.

Kagiyama S, Eguchi S, Frank GD, Inagami T, Zhang YC, Phillips MI (2002) Angiotensin II-induced cardiac hypertrophy and hypertension are attenuated by epidermal growth factor receptor antisense. Circulation 106:909–912

14.

Murasawa S, Mori Y, Nozawa Y, Gotoh N, Shibuya M, Masaki H, Maruyama K, Tsutsumi Y, Moriguchi Y, Shibazaki Y, Tanaka Y, Iwasaka T, Inada M, Matsubara H (1998) Angiotensin II type 1 receptor-induced extracellular signal-regulated protein kinase activation is mediated by Ca2+/calmodulin-dependent transactivation of epidermal growth factor receptor. Circ Res 82:1338–1348

15.

Lee MA, Bohm M, Paul M, Bader M, Ganten U, Ganten D (1996) Physiological characterization of the hypertensive transgenic rat TGR (mREN2)27. Am J Physiol 270:E919–E929

16.

Pai R, Ohta M, Itani RM, Sarfeh IJ, Tarnawski AS (1998) Induction of mitogen-activated protein kinase signal transduction pathway during gastric ulcer healing in rats. Gastroenterology 114:706–713

17.

van Veldhuisen DJ, Boomsma F, de Kam PJ, Man in't Veld AJ, Crijns HJ, Hampton JR, Lie KI (1998) Influence of age on neurohormonal activation and prognosis in patients with chronic heart failure. Eur Heart J 19:753–760

18.

Nelissen-Vrancken HJ, Kuizinga MC, Daemen MJ, Smits JF (1998) Early captopril treatment inhibits DNA synthesis in endothelial cells and normalization of maximal coronary flow in infarcted rat hearts. Cardiovasc Res 40:156–164

19.

Ware JA, Simons M (1999) Angiogenesis and cardiovascular disease. Oxford University Press, New York

20.

Flesch M, Margulies KB, Mochmann HC, Engel D, Sivasubramanian N, Mann DL (2001) Differential regulation of mitogen-activated protein kinases in the failing human heart in response to mechanical unloading. Circulation 104:2273–2276

21.

Smith PK, Krohn RI, Hermanson GT, Mallia AK, Gartner FH, Provenzano MD, Fujimoto EK, Goeke NM, Olson BJ, Klenk DC (1985) Measurement of protein using bicinchoninic acid. Anal Biochem 150:76–85

22.

Wamsley-Davis A, Padda R, Truong LD, Tsao CC, Zhang P, Sheikh-Hamad D (2004) AT1A-mediated activation of kidney JNK1 and SMAD2 in obstructive uropathy: preservation of kidney tissue mass using candesartan. Am J Physiol Renal Physiol 287:F474–F480

23.

Haq S, Choukroun G, Lim H, Tymitz KM, del Monte F, Gwathmey J, Grazette L, Michael A, Hajjar R, Force T, Molkentin JD (2001) Differential activation of signal transduction pathways in human hearts with hypertrophy versus advanced heart failure. Circulation 103:670–677

24.

Bueno OF, De Windt LJ, Tymitz KM, Witt SA, Kimball TR, Klevitsky R, Hewett TE, Jones SP, Lefer DJ, Peng CF, Kitsis RN, Molkentin JD (2000) The MEK1-ERK1/2 signaling pathway promotes compensated cardiac hypertrophy in transgenic mice. EMBO J 19:6341–6350

25.

Aoki H, Richmond M, Izumo S, Sadoshima J (2000) Specific role of the extracellular signal-regulated kinase pathway in angiotensin II-induced cardiac hypertrophy in vitro. Biochem J 347 Pt 1:275–284

26.

Sano M, Fukuda K, Sato T, Kawaguchi H, Suematsu M, Matsuda S, Koyasu S, Matsui H, Yamauchi-Takihara K, Harada M, Saito Y, Ogawa S (2001) ERK and p38 MAPK, but not NF-kappaB, are critically involved in reactive oxygen species-mediated induction of IL-6 by angiotensin II in cardiac fibroblasts. Circ Res 89:661–669

27.

Li D, Chen H, Mehta JL (2001) Angiotensin II via activation of type 1 receptor upregulates expression of endoglin in human coronary artery endothelial cells. Hypertension 38:1062–1067

28.

Rhaleb NE, Peng H, Harding P, Tayeh M, LaPointe, Carretero OA (2001) Effect of N-acetyl-seryl-aspartyl-lysyl-proline on DNA and collagen synthesis in rat cardiac fibroblasts. Hypertension 37:827–832

29.

Xie Z, Pimental DR, Lohan S, Vasertriger A, Pligavko C, Colucci WS, Singh K (2001) Regulation of angiotensin II-stimulated osteopontin expression in cardiac microvascular endothelial cells: role of p42/44 mitogen-activated protein kinase and reactive oxygen species. J Cell Physiol 188:132–138

30.

Wrana JL, Attisano L (2000) The Smad pathway. Cytokine Growth Factor Rev 11:5–13

31.

Nilssen LS, Hege Thoresen G, Christoffersen T, Sandnes D (2002) Differential role of MAP kinases in stimulation of hepatocyte growth by EGF and G-protein-coupled receptor agonists. Biochem Biophys Res Commun 291:588–592

32.

Tharaux PL, Chatziantoniou C, Fakhouri F, Dussaule JC (2000) Angiotensin II activates collagen I gene through a mechanism involving the MAP/ER kinase pathway. Hypertension 36:330–336

33.

Blanchette F, Rivard N, Rudd P, Grondin F, Attisano L, Dubois CM (2001) Cross-talk between the p42/p44 MAP kinase and Smad pathways in transforming growth factor beta 1-induced furin gene transactivation. J Biol Chem 276:33986–33994

34.

Uchida K, Suzuki H, Ohashi T, Nitta K, Yumura W, Nihei H (2001) Involvement of MAP kinase cascades in Smad7 transcriptional regulation. Biochem Biophys Res Commun 289:376–381

35.

Mulder KM (2000) Role of Ras and Mapks in TGFbeta signaling. Cytokine Growth Factor Rev 11:23–35
Acknowledgements
We thank Astrazeneca (Zoetermeer, The Netherlands) for providing the candesartan. D.J.v.V. is supported by the Netherlands Heart Foundation (grant D97-019). Y.M.P. is supported by the Netherlands Organization for Scientific Research (VIDI grant 016.036.346) and the Netherlands Heart Foundation (grant D99-018).
Additional information
R.A.D.B. and S.P. contributed equally to this work
About this article
Cite this article
de Boer, R.A., Pokharel, S., Flesch, M. et al. Extracellular signal regulated kinase and SMAD signaling both mediate the angiotensin II driven progression towards overt heart failure in homozygous TGR(mRen2)27. J Mol Med 82, 678–687 (2004). https://doi.org/10.1007/s00109-004-0579-3
Received:

Accepted:

Published:

Issue Date:
Keywords
Angiotensin II

Signal transduction

Fibrosis

Transforming growth factors

Transgenic animals