Zusammenfassung
Die häufigsten primären malignen Lebertumoren sind das hepatozelluläre Karzinom (HCC) und das intrahepatische cholangiozelluläre Karzinom ("intrahepatic cholangiocellular adenocarcinoma" [iCCA]). Beim HCC in Zirrhose bietet die Lebertransplantation durch die vollständige Hepatektomie neben der größeren chirurgischen Radikalität auch den Vorteil der Entfernung des präkanzerotischen Zirrhosegewebes. Beim HCC in nichtzirrhotischer Leber stellt ebenso wie beim iCCA die Leberresektion die Behandlung der Wahl dar. Heutzutage können in erfahrenen Zentren auch ausgedehnte Leberresektionen mit einer überschaubaren Mortalität durchgeführt werden. Dabei sollte die chirurgische Behandlungsentscheidung in multimodale Konzepte eingebettet sein und im Rahmen interdisziplinärer Tumorkonferenzen mit entsprechender Expertise auf allen Gebieten erfolgen.
Abstract
The most frequent primary hepatic malignancies are hepatocellular carcinoma (HCC) and intrahepatic cholangiocarcinoma (intrahepatic cholangiocellular adenocarcinoma [iCCA]). For HCC in cirrhosis, liver transplantation offers the advantage of a complete hepatectomy radically removing all tumorous tissue along with the surrounding cirrhotic parenchyma, which is otherwise associated with a very high risk of recurrence. For HCC in non-cirrhotic livers and iCCA, liver resection is the treatment of choice. Nowadays, even extended resections can be performed with low mortality in experienced centers. Surgical therapy is more and more embedded into multimodal treatment concepts and decision making should be interdisciplinary as for other gastrointestinal tumors.
This is a preview of subscription content, log in to check access.
Access options
Buy single article
Instant access to the full article PDF.
US$ 39.95
Price includes VAT for USA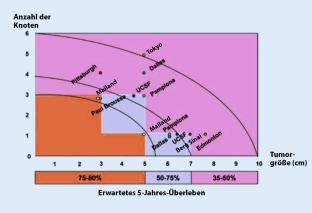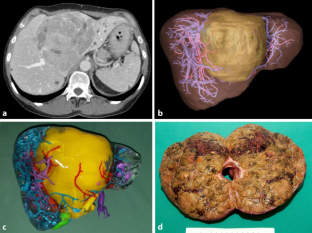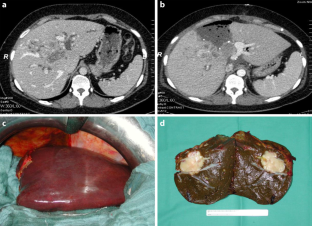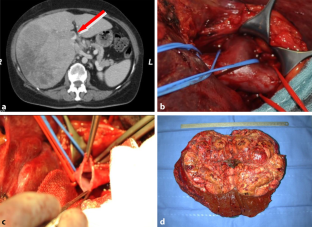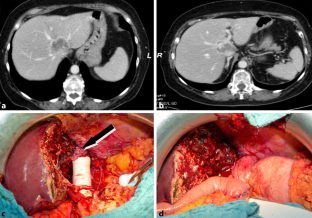 Literatur
1.

Agopian VG, Harlander-Locke MP, Ruiz RM et al (2017) Impact of pretransplant bridging locoregional therapy for patients with hepatocellular carcinoma within Milan Criteria undergoing liver transplantation: Analysis of 3601 patients from the US multicenter HCC transplant consortium. Ann Surg 266:525–535

2.

Akateh C, Black SA, Conteh L et al (2019) Neoadjuvant and adjuvant strategies for hepatocellular carcinoma. World J Gastroenterol 25:3704–3721

3.

Bagante F, Spolverato G, Weiss M et al (2018) Assessment of lymphnode status in patients undergoing resection for intrahepatic cholangiocarcinoma: the new eighth edition AJCC Staging system. J Gastrointest Surg 24:2491–2501

4.

Bagante F, Spolverato G, Weiss M et al (2018) Surgical management of intrahepatic cholangiocarcinoma in patients with cirrhosis: impact of lymphadenectomy on peri-operative outcomes. World J Surg 42:2551–2560

5.

Bartsch F, Paschold M, Baumgart J et al (2019) Surgical resection for recurrent intrahepatic cholangiocarcinoma. World J Surg 43:1105–1116

6.

Bartsch F, Tripke V, Baumgart J et al (2019) Extended resection of intrahepatic cholangiocarcinoma: a retrospective single-center cohort study. Int J Surg 67:62–69

7.

Bhangui P, Allard MA, Vibert E et al (2016) Salvage versus primary liver transplantation for early hepatocellular carcinoma: do both strategies yield similar outcomes? Ann Surg 264:155–163

8.

Bridgewater J, Galle PR, Khan SA et al (2014) Guidelines for the diagnosis and management of intrahepatic cholangiocarcinoma. J Hepatol 60:1268–1289

9.

Brierley J, Gospodarowicz M, Wittekind C (2017) International union against cancer, 8. Aufl. TNM Classification of Malignant Tumours. Wiley-Blackwell, Oxford

10.

Bruix J, Takayama T, Mazzaferro V et al (2015) Adjuvant sorafenib for hepatocellular carcinoma after resection or ablation (STORM): a phase 3 randomized, double blind, placebo-controlled trial. Lancet Oncol 16:1344–1354

11.

Cherqui D, Laurent A, Mocellin N et al (2009) Liver resection for transplantable hepatocellular carcinoma:long-term survival and role of secondary liver transplantation. Ann Surg 250:738–746

12.

Donadon M, Fontana A, Procopio F et al (2019) Dissecting the multinodular hepatocellular carcinoma subset:is there a survival benefit after hepatectomy? Updates Surg 71:57–66

13.

Donadon M, Terrone A, Procopio F et al (2019) Is R1 vascular hepatectomy for hepatocellular carcinoma oncologically adequate? Analysis of 327 consecutive patients. Surgery 165:897–904

14.

Duvoux C, Roudot-Thoraval F, Decaens T et al (2012) Liver transplantation for hepatocellular carcinoma: a model including alpha-fetoprotein improves the performance of Milan criteria. Gastroenterology 143:986–994

15.

El-Diwany R, Pawlik TM, Ejaz A (2019) Intrahepatic cholangiocarcinoma. Surg Oncol Clin N Am 28:587–599

16.

European Association for the Study of the Liver (2018) EASL clinical practice guidelines: management of hepatocellular carcinoma. J Hepatol 69:182–236

17.

Fang JH, Zhou HC, Zhang C et al (2015) A novel vascular pattern promotes metastasis of hepatocellular carcinoma in an epithelial-mesenchymal transition-independent manner. Hepatology 62:452–465

18.

Greten TF, Malek NP, Schmidt S et al (2013) Diagnosis of and therapy for hepatocellular carcinoma. Z Gastroenterol 51:1269–1326

19.

Heinrich S, Baumgart J, Mittler J et al (2016) Gefäßrekonstruktionen in der Leberchirurgie. Chirurg 87:100–107

20.

Bekanntgaben der Herausgeber: Bundesärztekammer (2019) Richtlinien zur Organtransplantation gem. § 16 TPG. Dtsch Arztebl 116(4):A-175 (B-151/C-151)

21.

Imamura H, Matsuyama Y, Tanaka E et al (2003) Risk factors contributing to early and late phase intrahepatic recurrence of hepatocellular carcinoma after hepatectomy. J Hepatol 38:200–207

22.

Isfordink CJ, Samim M, Braat M et al (2017) Portal vein ligation versus portal vein embolization for induction of hypertrophy of the future liver remnant: a systematic review and meta-analysis. Surg Oncol 26:257–267

23.

Lafaro KJ, Pawlik TM (2015) Fibrolamellar hepatocellular carcinoma: current clinical perspectives. J Hepatocell Carcinoma 2:151–157

24.

Lang H, de Santibanes E, Schlitt HJ et al (2019) 10th anniversary of ALPPS-lessons learned and quo vadis. Ann Surg 269:114–119

25.

Lang H, Radtke A, Hindennach M et al (2005) Impact of virtual tumor resection and computer-assisted risk analysis on operation planning and intraoperative strategy in major hepatic resection. Arch Surg 140:629–638

26.

Lang H, Sotiropoulos GC, Sgourakis G et al (2009) Operations for intrahepatic cholangiocarcinoma: single-institution experience of 158 patients. J Am Coll Surg 208:218–228

27.

Lang H, Sotiropoulos GC, Brokalaki EI et al (2007) Survival and recurrence rates after resection for hepatocellular carcinoma in noncirrhotic livers. J Am Coll Surg 205:27–36

28.

Lerut JP, Orlando G, Adam R et al (2007) The place of liver transplantation in the treatment of hepatic epitheloid hemamngioendothelioma:report of the European liver transplant registry. Ann Surg 246:949–957

29.

LeRoy B, Gelli M, Pittau G et al (2018) Neoadjuvant chemothetapy for initially unresectable intrahepatic cholangiocarcinoma. Br J Surg 105:839–847

30.

Lunsford KE, Javle M, Heyne K et al (2018) Liver transplantation for locally advanced intrahepatic cholangiocarcinoma treated with neoadjuvant therapy: a prospective case-series. Lancet Gastroenterol Hepatol 3:337–348

31.

Mazzaferro V, Regalia E, Doci R et al (1996) Liver transplantation for the treatment of small hepatocellular carcinomas in patients with cirrhosis. N Engl J Med 334:693–699

32.

Mazzaferro V, Sposito C, Zhou J (2018) Metroticket 2.0 Model for analysis of competing risks of death after liver transplantation for Hepatocellular Carcinoma. Gastroenterology 154:128–139

33.

Mehrabi A, Kashfi A, Fonouni H et al (2006) Primary malignant hepatic epitheloid hemangioendothelioma. Cancer 107:2108–2121

34.

Mergental H, Adam R, Ericson BG et al (2012) Liver transplantation for unresectable hepatocellular carcinoma in normal livers. J Hepatol 57:297–305

35.

Pinheiro RS, Waisberg DR, Nacif LS et al (2017) Living donor liver transplantation for hepatocellular cancer: an (almost) exclusive Eastern procedure? Transpl Gastroenterol Hepatol 2:68

36.

Primrose JN, Fox R, Palmer DH et al (2019) Capecitabine compared with observation in resected biliary tract cancer (BILCAP): a randomized, controlled, multicenter, phase 3 study. Lancet Oncol 20:663–673

37.

Rubinstein MM, Kaubisch A, Kinkhabwala M et al (2017) Bridging therapy effectiveness in the treatment of hepatocellular carcinoma prior to orthotopic liver transplantation. J Gastrointest Oncol 8:1051–1055

38.

Sapisochin G, Facciuto M, Rubbia-Brandt L et al (2016) Liver transplantation for "very early" intrahepatic cholangiocarcinoma: International retrospective study supporting a prospective assessment. Hepatology 64:1178–1188

39.

Schnitzbauer AA, Eberhard J, Bartsch F et al (2019) The MEGNA Score and preoperative anemia are major prognostic factors after resection in the German Intrahepatic Cholangiocarcinoma Cohort. Ann Surg Oncol. https://doi.org/10.1245/s10434-019-07968-7

40.

Spolverato G, Kim Y, Alexandrescu S et al (2016) Management and outcomes of patients with recurrent intrahepatic cholangiocarcinoma following previous curative-intent surgical resection. Ann Surg Oncol 23:235–243

41.

Stockmann M, Lock JF, Riecke B et al (2009) Prediction of postoperative outcomeafter hepatectomy with a new bedside test for maximal liver function capacity. Ann Surg 250:119–125

42.

Thomas RM, Aloia TA, Truty MJ et al (2014) Treatment sequencing strategy for hepatic epitheloid haemangioendothelioma. HPB 16:677–685

43.

Toso C, Meeberg G, Hernandez-Alejandro R (2015) Total tumor volume and alpha-fetoprotein for selection of transplant candidates with hepatocellular carcinoma: A prospective validation. Hepatology 62:158–165

44.

Tripke V, Heinrich S, Huber T et al (2019) Surgical therapy of primary hepatic angiosarcoma. BMC Surg 19:5

45.

Vigano L, Procopio F, Mimmo A et al (2018) Oncologic superiority of anatomic resection of hepatocellular carcinoma by ultrasound-guided compression of the portal tributaries compared with nonanatomic resection: An analysis of patients matched for tumor characteristics and liver function. Surgery 164:1006–1013

46.

Wang ZY, Chen QL, Sun LL et al (2019) Laparoscopic versus open major liver resection for hepatocellular carcinoma: systematic review and meta-analysis of comparative cohort studies. BMC Cancer 19:1047

47.

Yamasaki S et al (2003) Intrahepatic cholangiocarcinoma:macroscopic type and stage classification. J Hepatobiliary Pancreat Surg 12:134–138

48.

Yao FY (2008) Liver transplantation for hepatocellular carcinoma: beyond the Milan criteria. Am J Transplant 8:1982–1989

49.

Zhang XF, Bagante F, Chakedis J et al (2017) Perioperative and longterm outcome for Intrahepatic cholangiocarcinoma: Impact of major versus minor hepatectomy. J Gastrointest Surg 21:1841–1850

50.

Zhu YP, Chen YM, Matro E et al (2015) Primary hepatic angiosarcoma: a report of two cases and literature review. World J Gastroenterol 21:6088–6096
Ethics declarations
Interessenkonflikt
H. Lang, S. Heinrich, F. Bartsch, F. Hüttl, J. Baumgart und J. Mittler geben an, dass kein Interessenkonflikt besteht und zur Erstellung dieses Artikels keine finanzielle Förderung bezogen wurde.
Für diesen Beitrag wurden von den Autoren keine Studien an Menschen oder Tieren durchgeführt. Für die aufgeführten Studien gelten die jeweils dort angegebenen ethischen Richtlinien.
Additional information
Redaktion
M. Manns, Hannover
T. Wirth, Hannover
About this article
Cite this article
Lang, H., Heinrich, S., Bartsch, F. et al. Chirurgische Therapie bei Lebertumoren – Leberresektion und -transplantation. Internist 61, 147–157 (2020). https://doi.org/10.1007/s00108-020-00754-8
Schlüsselwörter
Hepatozelluläres Karzinom

Intrahepatisches cholangiozelluläres Karzinom

Leberzirrhose

Technik der Leberresektion

Multimodale Therapie
Keywords
Carcinoma, hepatocellular

Cholangiocellular carcinoma, intrahepatic

Liver cirrhosis

Technique of liver resection

Combined modality therapy