Zusammenfassung
Die gewebebasierte Diagnostik der Lebertumoren unterliegt aufgrund umfassender morphologischer und molekularer Forschungsdaten einer erheblichen Dynamik. Neue klinisch relevante Tumorsubtypen wurden definiert und ihre diagnostischen Kriterien verbessert; beispielhaft sind neue morpho-molekular begründete Klassifikationen für das Hepatozelluläre Karzinom und Adenom sowie auch für das Intrahepatische Cholangiokarzinom zu nennen. Hierdurch gewinnt die molekularpathologische Tumordiagnostik in der Identifikation der Tumortypen und auch in der entsprechenden Therapiesteuerung zunehmend an Bedeutung. Diese Entwicklungen haben auch Eingang in die neue WHO-Klassifikation der hepatobiliären Tumoren und in entsprechende Leitlinien gefunden.
Abstract
Based on recent advances in morphological and molecular research, tissue-based diagnostics of liver tumors exhibit a substantial dynamic. New clinically relevant tumor subtypes have been defined and the diagnostic criteria have been improved; examples are the new morphomolecular classifications of hepatocellular carcinoma and adenoma as well as intrahepatic cholangiocarcinoma. Therefore, molecular pathological diagnostics are gaining relevance in the identification of tumor types and therapeutic stratification. These developments are reflected in the new World Health Organization (WHO) classification of hepatobiliary tumors and the respective clinical practice guidelines.
This is a preview of subscription content, log in to check access.
Access options
Buy single article
Instant access to the full article PDF.
US$ 39.95
Price includes VAT for USA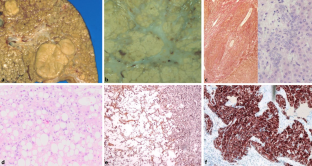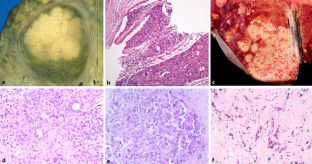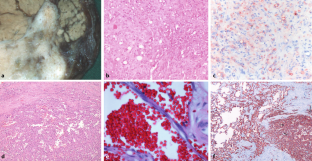 Literatur
1.

Bioulac-Sage P, Sempoux C, Balabaud C (2017) Hepatocellular adenoma: classification, variants and clinical relevance. Semin Diagn Pathol 34:112–125

2.

Di Tommaso L, Destro A, Seok JY, Balladore E, Terracciano L, Sangiovanni A, Iavarone M, Colombo M, Jang JJ, Yu E, Jin SY, Morenghi E, Park YN, Roncalli M (2009) The application of markers (HSP70 GPC3 and GS) in liver biopsies is useful for detection of hepatocellular carcinoma. J Hepatol 50:746–754

3.

European Association for the Study of the Liver (2018) EASL Clinical Practice Guidelines: management of hepatocellular carcinoma. J Hepatol 69:182–236

4.

International Working Party (1995) Terminology of nodular hepatocellular lesions. Hepatology 22:983–993

5.

Longerich T, Schirmacher P (2019) Emerging role of the pathologist in precision medicine for HCC. Dig Dis Sci 64:928–933

6.

Nault JC, Couchy G, Balabaud C, Morcrette G, Caruso S, Blanc JF, Bacq Y, Calderaro J, Paradis V, Ramos J, Scoazec JY, Gnemmi V, Sturm N, Guettier C, Fabre M, Savier E, Chiche L, Labrune P, Selves J, Wendum D, Pilati C, Laurent A, De Muret A, Le Bail B, Rebouissou S, Imbeaud S, GENTHEP Investigators, Letouzé E, Zucman-Rossi J (2017) Molecular classification of hepatocellular adenoma associates with risk factors, bleeding, and malignant transformation. Gastroenterology 152:880–894

7.

Nault JC, Calderaro J, Di Tommaso L, Balabaud C, Zafrani ES, Bioulac-Sage P, Roncalli M, Zucman-Rossi J (2014) Telomerase reverse transcriptase promoter mutation is an early somatic genetic alteration in the transformation of premalignant nodules in hepatocellular carcinoma on cirrhosis. Hepatology 60:1983–1992

8.

The International Consensus Group for Hepatocellular Neoplasia (2009) Pathologic diagnosis of early hepatocellular carcinoma: a report of the international consensus group for hepatocellular neoplasia. Hepatology 49:658–664

9.

Torbenson MS (2019) Hamartomas and malformations of the liver. Semin Diagn Pathol 36:39–47

10.

Torbenson M, Schirmacher P (2015) Liver cancer biopsy—back to the future? Hepatology 61:431–433

11.

WHO Classification of Tumours Editorial Board (2019) Digestive system tumours, 5. Aufl. World Health Organization. International Agency for Research on Cancer, Lyon, S 635
Ethics declarations
Interessenkonflikt
P. Schirmacher weist auf folgende Beziehungen hin: Advisory Boards: Novartis, Incyte, BMS, MSD, Ipsen; Sprecherhonorar: Ipsen, Forschungskontrakte: Novartis, Bayer.
Für diesen Beitrag wurden vom Autor keine Studien an Menschen oder Tieren durchgeführt. Für die aufgeführten Studien gelten die jeweils dort angegebenen ethischen Richtlinien.
Additional information
Redaktion
M. Manns, Hannover
T. Wirth, Hannover
About this article
Cite this article
Schirmacher, P. Pathologie der Lebertumoren. Internist 61, 131–139 (2020). https://doi.org/10.1007/s00108-019-00729-4
Schlüsselwörter
Hepatozelluläres Karzinom

Molekularpathologie

Leberbiopsie

Hepatozelluläres Adenom

Intrahepatisches Cholangiokarzinom
Keywords
Hepatocellular Carcinoma

Molecular Pathology

Liver Biopsy

Hepatocellular Adenoma

Cholangiocarcinoma, intrahepatic