Zusammenfassung
Das hepatozelluläre Karzinom (HCC) ist weltweit einer der häufigsten Tumoren und die Tumorerkrankung mit der zweithöchsten Letalität. Die Behandlung von Patienten mit HCC wird in etwa 80 % der Fälle durch eine zugrunde liegende Leberzirrhose beeinträchtigt. Aufgrund der dadurch eingeschränkten Leberfunktion und der multimodalen Therapien ist die Vorstellung von Patienten mit HCC in einem interdisziplinären Therapiezentrum mit Expertise für Lebererkrankungen obligat. Neben chirurgischen Therapien (Lebertransplantation und Resektion), lokal ablativen Verfahren (unter anderem Radiofrequenz- oder Mikrowellenablation) und lokoregionären Therapieverfahren wie der transarteriellen Chemoembolisation und der selektiven internen Radiotherapie rückt die systemische Therapie zunehmend in den Vordergrund. Nachdem der Multityrosinkinaseinhibitor Sorafenib für eine Dekade die einzige zugelassene Substanz für Patienten mit inoperablem HCC war, sind inzwischen auch die Tyrosinkinaseinhibitoren Lenvatinib, Regorafenib und Cabozantinib sowie der Vascular-endothelial-growth-factor(VEGF)-Rezeptor-Antikörper Ramucirumab verfügbar. Mit der Immuntherapie als Monotherapie konnte bislang kein signifikanter Überlebensvorteil erreicht werden, nach aktuellen Daten steht jedoch die Kombination aus Programmed-death-ligand-1(PD-L1)-Inhibition und VEGF-Antikörper-Gabe kurz vor der Zulassung als Erstlinientherapie. Ausgehend von den vielen neuen Substanzen werden aktuell Kombinationen aus systemischen und lokoregionären Therapien sowohl palliativ als auch kurativ untersucht. Die Therapie von Patienten mit HCC ist durch die zunehmende Vielfalt herausfordernder denn je und bedarf einer engen interdisziplinären Zusammenarbeit. Für die Optimierung der Therapiesequenz und geeigneter Kombinationstherapien sind weitere klinische Studien erforderlich.
Abstract
Hepatocellular carcinoma (HCC) is one of the most common and most lethal cancers worldwide. Treatment of patients with HCC is complicated by the underlying liver disease in up to 80% of all cases. Interdisciplinary and multimodal treatment strategies are essential for successful therapy. Established therapies include surgical interventions (liver transplantation, resection), local ablative therapies (e.g., microwave or radiofrequency ablation), and locoregional therapies (e.g., transarterial chemoembolization [TACE] and selective internal radiotherapy [SIRT/TARE]). Moreover, there are emerging opportunities for systemic therapies. While the multityrosine kinase inhibitor sorafenib has been the only agent approved for patients with unresectable HCC for almost a decade, there are now additional systemic treatment options including the tyrosine kinase inhibitors (TKIs) lenvatinib, regorafenib, and cabozantinib as well as the VEGF-receptor inhibitor ramucirumab. To date, immune checkpoint inhibitor monotherapies have failed to show an overall survival benefit, but according to recent data combined immunotherapy/VEGF inhibition has shown superior activity in first-line treatment compared with sorafenib. The advent of numerous novel systemic agents offers a variety of combination opportunities. Combinations of systemic agents with locoregional treatments in palliative and potentially curative settings are currently being investigated. Today, treatment of patients with HCC is more challenging than ever owing to the multiple therapeutic options available, demanding strict multidisciplinary cooperation in the treatment selection process. There is an urgent need for clinical studies in order to further optimize the therapy sequence and to identify efficacious mono- and combination therapies.
This is a preview of subscription content, log in to check access.
Access options
Buy single article
Instant unlimited access to the full article PDF.
US$ 39.95
Price includes VAT for USA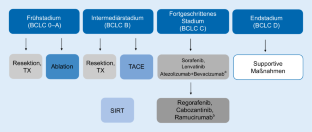 Literatur
1.

El-Serag HB (2011) Hepatocellular carcinoma. N Engl J Med 365:1118–1127

2.

Ferlay J, Soerjomataram I, Dikshit R, Eser S, Mathers C, Rebelo M, Parkin DM et al (2015) Cancer incidence and mortality worldwide: sources, methods and major patterns in GLOBOCAN 2012. Int J Cancer 136:E359–E386

3.

Llovet JM, Bustamante J, Castells A, Vilana R, Ayuso Mdel C, Sala M, Brú C, Rodés J, Bruix J (1999) Natural history of untreated nonsurgical hepatocellular carcinoma: rationale for the design and evaluation of therapeutic trials. Hepatology 29(1):62–67

4.

Baffy G, Brunt EM, Caldwell SH (2012) Hepatocellular carcinoma in non-alcoholic fatty liver disease: an emerging menace. J Hepatol 56(6):1384–1391

5.

Mazzaferro V, Llovet JM, Miceli R, Bhoori S, Schiavo M, Mariani L, Camerini T, Roayaie S, Schwartz ME, Grazi GL et al (2009) Predicting survival after liver transplantation in patients with hepatocellular carcinoma beyond the Milan criteria: a retrospective, exploratory analysis. Lancet Oncol 10:35–43

6.

Izumi N, Hasegawa K, Ishioka Y (2019) A multicenter randomized controlled trial to evaluate the efficacy of surgery vs. radiofrequency ablation for small hepatocellular carcinoma (SURF trial). Clin Oncol 37(suppl):4002

7.

Llovet JM, Real MI, Montaña X, Planas R, Coll S, Aponte J, Ayuso C, Sala M, Muchart J, Solà R, Rodés J, Bruix J, Barcelona Liver Cancer Group (2002) Arterial embolisation or chemoembolisation versus symptomatic treatment in patients with unresectable hepatocellular carcinoma: a randomised controlled trial. Lancet 359(9319):1734–1739

8.

Lo CM, Ngan H, Tso WK, Liu CL, Lam CM, Poon RT, Fan ST, Wong J (2002) Randomized controlled trial of transarterial lipiodol chemoembolization for unresectable hepatocellular carcinoma. Hepatology 35(5):1164–1171

9.

Malek NP, Schmidt S, Huber P, Manns MP, Greten TF (2014) The diagnosis and treatment of hepatocellular carcinoma. Dtsch Arztebl Int 111:101–106

10.

Vilgrain V, Pereira H, Assenat E, Guiu B, Ilonca AD, Pageaux GP, Sibert A et al (2017) Efficacy and safety of selective internal radiotherapy with yttrium-90 resin microspheres compared with sorafenib in locally advanced and inoperable hepatocellular carcinoma (SARAH): an open-label randomised controlled phase 3 trial. Lancet Oncol 18(12):1624–1636

11.

Chow PKH, Gandhi M, Tan SB, Khin MW, Khasbazar A, Ong J et al (2018) SIRveNIB: selective internal radiation therapy versus sorafenib in asia-pacific patients with hepatocellular carcinoma. J Clin Oncol 36(19):1913–1921

12.

Wahl DR, Stenmark MH, Tao Y, Pollom EL, Caoili EM, Lawrence TS, Schipper MJ et al (2016) Outcomes after stereotactic body radiotherapy or radiofrequency ablation for hepatocellular carcinoma. J Clin Oncol 34(5):452–459

13.

Hong TS, Wo JY, Yeap BY, Ben-Josef E, McDonnell EI, Blaszkowsky LS, Kwak EL et al (2016) Multi-institutional phase II study of high-dose hypofractionated proton beam therapy in patients with localized, unresectable hepatocellular carcinoma and Intrahepatic Cholangiocarcinoma. J Clin Oncol 34(5):460–468

14.

Vogel A, Cervantes A, Chau I, Daniele B, Llovet JM, Meyer T et al (2018) Hepatocellular carcinoma: ESMO Clinical Practice Guidelines for diagnosis, treatment and follow-up. Ann Oncol 29(Supplement 4):iv238

15.

Llovet JM, Ricci S, Mazzaferro V, Hilgard P, Gane E, Blanc JF, de Oliveira AC et al (2008) Sorafenib in advanced hepatocellular carcinoma. N Engl J Med 359:378–390

16.

Okamoto K, Ikemori-Kawada M, Jestel A, von Konig K, Funahashi Y, Matsushima T, Tsuruoka A et al (2015) Distinct binding mode of multikinase inhibitor lenvatinib revealed by biochemical characterization. ACS Med Chem Lett 6:89–94

17.

Kudo M, Finn RS, Qin S, Han KH, Ikeda K, Piscaglia F et al (2018) Lenvatinib versus sorafenib in first-line treatment of patients with unresectable hepatocellular carcinoma: a randomised phase 3 non-inferiority trial. Lancet 391(10126):1163–1173

18.

Bruix J, Qin S, Merle P, Granito A, Huang YH, Bodoky G, Pracht M et al (2017) Regorafenib for patients with hepatocellular carcinoma who progressed on sorafenib treatment (RESORCE): a randomised, double-blind, placebo-controlled, phase 3 trial. Lancet 389:56–66

19.

Abou-Alfa GK, Meyer T, Cheng AL, El-Khoueiry AB, Rimassa L, Ryoo BY et al (2018) Cabozantinib (C) versus placebo (P) in patients (pts) with advanced hepatocellular carcinoma (HCC) who have received prior sorafenib: results from the randomized phase III CELESTIAL trial. J Clin Oncol 36(4_suppl):207–207

20.

Zhu AX, Kang YK, Yen CJ, Finn RS, Galle PR, Llovet JM et al (2019) Ramucirumab after sorafenib in patients with advanced hepatocellular carcinoma and increased α‑fetoprotein concentrations (REACH-2): a randomised, double-blind, placebo-controlled, phase 3 trial. Lancet Oncol 20(2):282–296

21.

Finn RS, Ryoo BY, Merle P, Kudo M, Bouattour M, Lim HY et al (2019) Results of KEYNOTE-240: phase 3 study of pembrolizumab (Pembro) vs best supportive care (BSC) for second line therapy in advanced hepatocellular carcinoma (HCC). J Clin Oncol 37(15):4004–4004

22.

Yau T, Kang YK, Kim TY, El-Khoueiry AB, Santoro A, Sangro B et al (2019) Nivolumab (NIVO) + ipilimumab (IPI) combination therapy in patients (pts) with advanced hepatocellular carcinoma (aHCC): Results from CheckMate 040. J Clin Oncol 37(suppl):abstr 4012

23.

Ikeda M, Sung MW, Kudo M, Kobayashi M, Baron AD, Finn RS et al (2018) A phase 1b trial of lenvatinib (LEN) plus pembrolizumab (PEM) in patients (pts) with unresectable hepatocellular carcinoma (uHCC). J Clin Oncol 36(15_suppl):4076–4076

24.

Bruix J, Takayama T, Mazzaferro V, Chau GY, Yang J, Kudo M et al (2015) Adjuvant sorafenib for hepatocellular carcinoma after resection or ablation (STORM): a phase 3, randomised, double-blind, placebo-controlled trial. Lancet Oncol 16(13):1344–1354

25.

Lencioni R, Llovet JM, Han G, Tak WY, Yang J, Guglielmi A et al (2016) Sorafenib or placebo plus TACE with doxorubicin-eluting beads for intermediate stage HCC: The SPACE trial. J Hepatol 64(5):1090–1098

26.

Kudo M, Imanaka K, Chida N, Nakachi K, Tak WY, Takayama T et al (2011) Phase III study of sorafenib after transarterial chemoembolisation in Japanese and Korean patients with unresectable hepatocellular carcinoma. Eur J Cancer 47(14):2117–2127

27.

Ricke J, Sangro B, Amthauer H, Bargellini I, Bartenstein P, De Toni E et al (2018) The impact of combining Selective Internal Radiation Therapy (SIRT) with Sorafenib on overall survival in patients with advanced hepatocellular carcinoma: The Soramic trial palliative cohort. J Hep 68(Supplement 1):102 (LB0–005)

28.

Huo YR, Eslick GD (2015) Transcatheter arterial chemoembolization plus radiotherapy compared with chemoembolization alone for hepatocellular carcinoma: a systematic review and meta-analysis. JAMA Oncol 1(6):756–765

29.

Formenti SC, Demaria S (2013) Combining radiotherapy and cancervimmunotherapy: a paradigm shift. J Natl Cancer Inst 105:256–265

30.

Twyman-Saint Victor C, Rech AJ, Maity A et al (2015) Radiation and dual check-point blockade activate non-redundant immune mechanisms in cancer. Nature 520:373–377
Ethics declarations
Interessenkonflikt
M.M. Kirstein und T.C. Wirth geben an, dass kein Interessenkonflikt besteht.
Für diesen Beitrag wurden von den Autoren keine Studien an Menschen oder Tieren durchgeführt. Für die aufgeführten Studien gelten die jeweils dort angegebenen ethischen Richtlinien.
Additional information
Redaktion
M. Manns, Hannover
T. Wirth, Hannover
About this article
Cite this article
Kirstein, M.M., Wirth, T.C. Multimodale Therapie des hepatozellulären Karzinoms. Internist (2020) doi:10.1007/s00108-019-00722-x
Schlüsselwörter
Lenvatinib

Regorafenib

Cabozantinib

Ramucirumab

Sorafenib
Keywords
Lenvatinib

Regorafenib

Cabozantinib

Ramucirumab

Sorafenib