Zusammenfassung
Myelodysplastische Syndrome (MDS) bezeichnen klonale Erkrankungen der pluripotenten Stammzellen der Hämatopoese, die zu peripheren Zytopenien führen. Charakteristisch sind bei Frühformen im Blut und im Knochenmark dysplastische Veränderungen der Erythropoese, Granulopoese und der Megakaryozyten. Fortgeschrittene MDS weisen eine zunehmende Blastenakkumulation auf. Etwa 30 % gehen in akute myeloische Leukämien über. MDS sind Erkrankungen des älteren Patienten mit Niedrigrisiko- oder Hochrisikoverläufen. Die mediane Überlebenszeit beträgt zwischen 6 Monaten und 10 Jahren. Chromosomale Veränderungen der Hämatopoese sind bei 50 % der Patienten nachweisbar, Einzelgenmutationen treten bei bis zu 80 % auf. Beide gelten als treibende Kraft hinter der Differenzierungsstörung und Blastenvermehrung im Knochenmark. Die therapeutischen Optionen reichen von supportiver Therapie über erythropoesestimulierende Agenzien bis zu demethylierenden Substanzen und allogener Blutstammzelltransplantation.
Abstract
Myelodysplastic syndromes (MDS)—previously called "preleukemias"—are clonal diseases of the pluripotent hematopoietic stem cell. Their hallmark is peripheral cytopenias. Early forms are characterized by dysplasia of mature cells in the peripheral blood or erythropoiesis, granulopoiesis or megakaryocytes in the bone marrow, and later stages tend to accumulate blasts. About 30% transform into acute myeloid leukemia. MDS are diseases of the elderly and are prognostically divided into lower and higher risk diseases. Median survival times vary accordingly between 6 months and 10 years. Chromosomal abnormalities are identified in 50% of patients, and single or multiple gene mutations occur in 80%. They are the driving force leading to abnormalities in differentiation and to the accumulation of blasts in the bone marrow. Therapeutic options include supportive care, erythropoiesis-stimulating agents, demethylating agents, and allogeneic stem cell transplantation.
This is a preview of subscription content, log in to check access.
Access options
Buy single article
Instant unlimited access to the full article PDF.
US$ 39.95
Price includes VAT for USA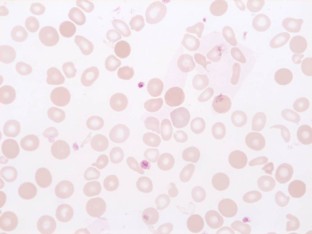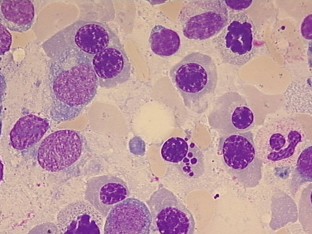 Literatur
1.

Germing U, Aul C, Niemeyer CM et al (2008) Epidemiology, classification and prognosis of adults and children with myelodysplastic syndromes. Ann Hematol 87:691–699

2.

Galbraith D, Gross SA, Paustenbach D (2010) Benzene and human health: a historical review and appraisal of associations with various diseases. Crit Rev Toxicol 40(Suppl 2):1–46

3.

Shuryak I, Sachs RK, Hlatky L et al (2006) Radiation-induced leukemia at doses relevant to radiation therapy: modeling mechanisms and estimating risks. J Natl Cancer Inst 98:1794–1806

4.

Sperling AS, Gibson CJ, Ebert BL (2017) The genetics of myelodysplastic syndrome: from clonal haematopoiesis to secondary leukaemia. Nat Rev Cancer 17:5–19

5.

Chen X, Eksioglu EA, Zhou J et al (2013) Induction of myelodysplasia by myeloid-derived suppressor cells. J Clin Invest 123:4595–4611

6.

Sallman DA, Cluzeau T, Basiorka AA et al (2016) Unraveling the pathogenesis of MDS: the NLRP3 Inflammasome and pyroptosis drive the MDS phenotype. Front Oncol 6:151

7.

Schanz J, Steidl C, Fonatsch C et al (2011) Coalesced multicentric analysis of 2,351 patients with myelodysplastic syndromes indicates an underestimation of poor-risk cytogenetics of myelodysplastic syndromes in the international prognostic scoring system. J Clin Oncol 29:1963–1970

8.

Lee EJ, Podoltsev N, Gore SD et al (2016) The evolving field of prognostication and risk stratification in MDS: recent developments and future directions. Blood Rev 30:1–10

9.

Haferlach T, Nagata Y, Grossmann V et al (2014) Landscape of genetic lesions in 944 patients with myelodysplastic syndromes. Leukemia 28:241–247

10.

Papaemmanuil E, Gerstung M, Malcovati L et al (2013) Clinical and biological implications of driver mutations in myelodysplastic syndromes. Blood 122:3616–3627 (quiz 3699)

11.

Issa J‑PJ (2013) The myelodysplastic syndrome as a prototypical epigenetic disease. Blood 121:3811–3817

12.

Aleshin A, Greenberg PL (2018) Molecular pathophysiology of the myelodysplastic syndromes: insights for targeted therapy. Blood Adv 2:2787–2797

13.

Yoshida K, Sanada M, Shiraishi Y et al (2011) Frequent pathway mutations of splicing machinery in myelodysplasia. Nature 478:64–69

14.

Suragani RN, Cadena SM, Cawley SM et al (2014) Transforming growth factor-beta superfamily ligand trap ACE-536 corrects anemia by promoting late-stage erythropoiesis. Nat Med 20:408–414

15.

Haase D, Steidl C, Schanz J et al (2005) Correlation of cytogenetic findings with morphology, clinical course and prognosis in 2124 patients with MDS. Blood 106:787

16.

Ebert BL, Pretz J, Bosco J et al (2008) Identification of RPS14 as a 5q- syndrome gene by RNA interference screen. Nature 451:335–339

17.

Pellagatti A, Boultwood J (2015) Recent advances in the 5q- syndrome. Mediterr J Hematol Infect Dis 7:e2015037

18.

Malcovati L, Galli A, Travaglino E et al (2017) Clinical significance of somatic mutation in unexplained blood cytopenia. Blood 129:3371–3378

19.

Arber DA, Orazi A, Hasserjian R et al (2016) The 2016 revision to the World Health Organization classification of myeloid neoplasms and acute leukemia. Blood 127:2391–2405

20.

Greenberg PL, Tuechler H, Schanz J et al (2012) Revised international prognostic scoring system for myelodysplastic syndromes. Blood 120:2454–2465

21.

Pfeilstocker M, Tuechler H, Sanz G et al (2016) Time-dependent changes in mortality and transformation risk in MDS. Blood 128:902–910

22.

Platzbecker U, Fenaux P, Ades L et al (2019) Proposals for revised IWG 2018 hematological response criteria in patients with MDS included in clinical trials. Blood 133:1020–1030

23.

Negrin RS, Haeuber DH, Nagler A et al (1990) Maintenance treatment of patients with myelodysplastic syndromes using recombinant human granulocyte colony-stimulating factor. Blood 76:36–43

24.

Giagounidis A, Mufti GJ, Fenaux P et al (2014) Results of a randomized, double-blind study of romiplostim versus placebo in patients with low/intermediate-1-risk myelodysplastic syndrome and thrombocytopenia. Cancer 120:1838–1846

25.

Oliva EN, Santini V, Alati C et al (2015) Eltrombopag for the treatment of thrombocytopenia of low and intermediate‑1 IPSS risk myelodysplastic syndromes: interim results on efficacy, safety and quality of life of an international, multicenter prospective, randomized, trial. Blood 126:91–91

26.

Angelucci E, Li J, Greenberg PL et al (2018) Safety and efficacy, including event-free survival, of Deferasirox versus placebo in iron-overloaded patients with low- and int-1-risk myelodysplastic syndromes (MDS): outcomes from the randomized, double-blind telesto study. Blood 132:234–234

27.

Fenaux P, Santini V, Spiriti MAA et al (2018) A phase 3 randomized, placebo-controlled study assessing the efficacy and safety of epoetin-alpha in anemic patients with low-risk MDS. Leukemia 32:2648–2658

28.

Park S, Grabar S, Kelaidi C et al (2008) Predictive factors of response and survival in myelodysplastic syndrome treated with erythropoietin and G‑CSF: the GFM experience. Blood 111:574–582

29.

Platzbecker U, Germing U, Gotze KS et al (2017) Luspatercept for the treatment of anaemia in patients with lower-risk myelodysplastic syndromes (PACE-MDS): a multicentre, open-label phase 2 dose-finding study with long-term extension study. Lancet Oncol 18:1338–1347

30.

Fenaux P, Mufti GJ, Hellstrom-Lindberg E et al (2009) Efficacy of azacitidine compared with that of conventional care regimens in the treatment of higher-risk myelodysplastic syndromes: a randomised, open-label, phase III study. Lancet Oncol 10:223–232

31.

Prebet T, Gore SD, Esterni B et al (2011) Outcome of high-risk myelodysplastic syndrome after azacitidine treatment failure. J Clin Oncol 29:3322–3327

32.

Welch JS, Petti AA, Miller CA et al (2016) TP53 and decitabine in acute myeloid leukemia and myelodysplastic syndromes. N Engl J Med 375:2023–2036

33.

Estey E, Thall P, Beran M et al (1997) Effect of diagnosis (refractory anemia with excess blasts, refractory anemia with excess blasts in transformation, or acute myeloid leukemia [AML]) on outcome of AML-type chemotherapy. Blood 90:2969–2977

34.

de Witte T, Bowen D, Robin M et al (2017) Allogeneic hematopoietic stem cell transplantation for MDS and CMML: recommendations from an international expert panel. Blood 129:1753–1762
Ethics declarations
Interessenkonflikt
Gemäß den Richtlinien des Springer Medizin Verlags werden Autoren und Wissenschaftliche Leitung im Rahmen der Manuskripterstellung und Manuskriptfreigabe aufgefordert, eine vollständige Erklärung zu ihren finanziellen und nichtfinanziellen Interessen abzugeben.
Autoren
A. Giagounidis: A. Finanzielle Interessen: ja, ohne Angaben. – Reisekosten: Celgene GmbH. – Interne Fortbildungsveranstaltung und internationale wissenschaftliche Referate: Celgene GmbH | Referate bei Fortbildungsveranstaltungen: AMGEN, Novartis. – Aktien: Roche, Novartis, Celgene, BMS, Illumina. – B. Nichtfinanzielle Interessen: Chefarzt Hämatologie und Onkologie, Düsseldorf, Facharzt für Innere Medizin, Hämatologie und Internistische Onkologie | Mitgliedschaften: Deutsche Gesellschaft für Hämatologie und Onkologie, American Society of Hematology, wissenschaftlicher Beirat der Aplastic Anemia and MDS FOUNDATION sowie der Jackstädt Stiftung.
Wissenschaftliche Leitung
Die vollständige Erklärung zum Interessenkonflikt der Wissenschaftlichen Leitung finden Sie am Kurs der zertifizierten Fortbildung auf www.springermedizin.de/cme.
Der Verlag
erklärt, dass für die Publikation dieser CME-Fortbildung keine Sponsorengelder an den Verlag fließen.
Für diesen Beitrag wurden vom Autor keine Studien an Menschen oder Tieren durchgeführt. Für die aufgeführten Studien gelten die jeweils dort angegebenen ethischen Richtlinien.
Additional information
Wissenschaftliche Leitung
G. Hasenfuß, Göttingen
H. Lehnert, Lübeck
E. Märker-Hermann, Wiesbaden
J. Mössner, Leipzig (Schriftleitung)
A. Neubauer, Marburg
CME-Fragebogen
CME-Fragebogen
In der Facharztprüfung für Innere Medizin fragt Ihr Nebenprüfer den Prüfling, ob er schon einmal etwas von myelodysplastischen Syndromen gehört hätte. Gerne würde er sich mit ihm über Differenzialdiagnosen dieser Erkrankung unterhalten. Der Prüfling antwortet korrekt:
Das ist eine Stammzellenerkrankung des Knochenmarks. Die Patienten werden oft mit Anämie auffällig.
Das ist eine Knochenmarkerkrankung, bei der monoklonale Proteine gebildet werden, die Amyloidose hervorrufen können.
Es handelt sich um eine Autoimmunerkrankung, die zu lebensbedrohlicher Thrombozytopenie führen kann.
Diese Infektionserkrankung kann weltweit auftreten und wird durch Babesien hervorgerufen.
Es handelt sich um eine nichtalkoholische Form der Leberentzündung, die schwere Verläufe annehmen kann.
In der Facharztprüfung für Innere Medizin fragen Sie den Prüfling, ob er etwas zur Epidemiologie und Prognose von myelodysplastischen Syndromen (MDS) sagen kann. Er antwortet bestechend und korrekt:
MDS treten generell bei Frauen häufiger auf als bei Männern.
MDS gehen typischerweise nicht in akute Leukämien über.
MDS haben einen Altersmedian von etwa 70 Jahren.
MDS weisen eine Inzidenz von 1:1000 Personen auf.
Patienten können ganz beruhigt sein. An MDS ist noch keiner gestorben.
Ein 72-jähriger Patient stellt sich mit Neutropenie, Anämie und Thrombozytopenie bei Ihnen vor. Folgende Hinweise und Befunde werden erhoben. Welchem Befund messen Sie die geringste Bedeutung bei?
Der Patient arbeitete über 20 Jahre im Uranbergbau.
Er ist vor 8 Jahren wegen eines Non-Hodgkin-Lymphoms chemotherapiert worden.
Zytogenetische Untersuchungen weisen eine Monosomie 7 auf.
Der Blastenanteil im Knochenmark beträgt 10 %.
In der Familienanamnese sind hämatologische Neoplasien unbekannt.
Myelodysplastische Syndrome weisen typischerweise welches der folgenden Merkmale auf?
Balancierte Chromosomenaberrationen (z. B. Translokationen, Inversionen)
Trotz peripherer Zytopenien ein zellreiches Knochenmark
Mikrozytäre Anämien
Einen benignen Krankheitsverlauf
Hohe Heilbarkeit durch Einsatz von Tyrosinkinaseinhibitoren
Die Pathophysiologie der myelodysplastischen Syndrome (MDS) ist komplex. Folgende Veränderungen liegen regelhaft vor:
Bildung von Autoantikörpern gegen Thrombozyten
Molekulare Anomalien in hämatopoetischen Stammzellen
Eine Assoziation mit soliden Neoplasien, genannt Lynch-Syndrom
MDS werden durch Epstein-Barr-Virus-Infektionen ausgelöst und unterhalten.
MDS können neuerdings durch eine Impfung gegen humane Papillomviren verhindert werden.
Ein 66-jähriger Mann fühlt sich völlig gesund. Der Hausarzt stellt eine leichte Thrombozytopenie und leichte Leukopenie fest und überweist ihn zum Hämatologen. Die Knochenmarkpunktion ergibt keine Dysplasien. Die zytogenetische Untersuchung ist unauffällig. In der molekularbiologischen Untersuchung sind eine TET2-Mutation und eine ASXL1-Mutation nachweisbar. Dieser Patient …
leidet auf jeden Fall an einem myelodysplastischen Syndrom.
hat eine klonale Hämatopoese, aber nicht notwendigerweise ein myelodysplastisches Syndrom (klonale Zytopenie unklarer Signifikanz).
weist eine akute Leukämie auf (akute myeloische Leukämie).
sollte rasch stammzellentransplantiert werden.
benötigt regelmäßige Thrombozyten- und Granulozyteninfusionen.
Zur Prognoseerhebung mittels revidiertem internationalem Prognosescore IPSS‑r werden benötigt:
Alter des Patienten
Laktatdehydrogenaseserumspiegel
Chromosomale Aberrationen
Molekulare Aberrationen
Familienanamnese
Ein 76-jähriger Mann kommt mit seiner Ehefrau zu Ihnen. Die Frau beklagt, dass er sich vermehrt vor der Gartenarbeit drückt. Seine peripheren Blutzellwerte sind wie folgt: Leukozyten 5500/µl, Neutrophile 2600/µl, Hämoglobin 8,2 g/dl, mittleres Erythrozytenvolumen 102 fl, Thrombozyten 111.000/µl. Unauffällige Nierenwerte, Leberwerte und Laktatdehydrogenase. Erythropoetinspiegel 45 U/l. Eine Knochenmarkuntersuchung ergab den Befund eines myelodysplastischen Syndroms ohne Blastenvermehrung. Der Chromosomenbefund ist unauffällig. Wie gehen Sie therapeutisch vor?
Bei niedrigem Erythropoetinspiegel ist eine Therapie mit Epoetin alfa sinnvoll.
Außer Bluttransfusionen kann man ihm leider nichts anbieten.
Seine mediane Überlebenszeit liegt bei 6 Monaten, sodass eine spezielle ambulante Palliativversorgung indiziert ist.
Er benötigt eine Therapie mit demethylierenden Substanzen.
Er sollte in einem Transplantationszentrum vorgestellt werden.
Folgende Therapieoptionen sind für Patienten mit fortgeschrittenen myelodysplastischen Syndromen sinnvoll:
Erythropoetin
Deferasirox
Luspatercept
Azacitidin
Vitamin B12 und Folsäure
Für die allogene Blutstammzelltransplantation gilt:
Sie heilt Patienten mit myelodysplastischem Syndrom regelhaft aus.
Sie führt zu Überlebensraten von 30 bis 40 %.
Sie kann altersunabhängig durchgeführt werden.
Sie wird weder durch chromosomale noch durch molekulare Befunde beeinflusst.
Die günstigste molekulare Ausgangssituation ist eine TP53-Mutation.
About this article
Cite this article
Giagounidis, A. Myelodysplastische Syndrome. Internist (2020) doi:10.1007/s00108-019-00718-7
Schlüsselwörter
Epidemiologie

Pathophysiologie

Genetik

Diagnostik

Therapie
Keywords
Epidemiology

Physiopathology

Genetics

Diagnostics

Therapy