Zusammenfassung
Bis vor Kurzem galten Exosomen als Verunreinigung/Staub im Elektronenmikroskop. Diese Sichtweise hat sich in den letzten Jahren dramatisch geändert. Ein neues Forschungsfeld hat sich daraus entwickelt, diese Nanopartikel genauer zu beschreiben und deren Bildung, sowie Funktion zu explorieren. Die Ansicht zur Rolle der Exosomen hat sich von vesikulären Abfalleimern zu biologisch aktiven, selektiv produzierten Partikeln gewandelt. Heutzutage werden sie als neues Botensystem betrachtet, welches Zellen erlaubt, mit entfernteren Zellen zu kommunizieren (vergleichbar mit Hormonen). Von großem wissenschaftlichem Interesse in der Ära der Immuntherapie ist die beobachtete Immunmodulation. Sie stellt attraktive Kandidaten in der Diagnostik und Therapie von Tumorerkrankungen dar.
Abstract
Until recently, exosomes were considered to be dust in electron microscopy. This perception has changed dramatically in the past few years. A new research field has emerged aiming to describe the formation, release, and function of these nanoparticles. The role of exosomes evolved from garbage bins to biologically active, selectively secreted particles that are part of a novel and broader messaging system. They were shown to display immunomodulatory properties. Today, exosomes are regarded as attractive targets for diagnostic and therapeutic purposes, especially in the field of oncology.
This is a preview of subscription content, log in to check access.
Access options
Buy single article
Instant access to the full article PDF.
US$ 39.95
Price includes VAT for USA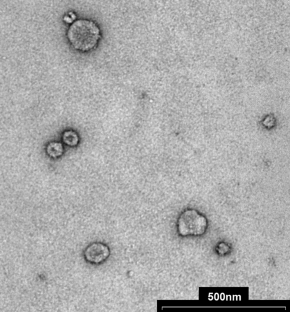 Literatur
1.

Anel A, Gallego-Lleyda A, De Miguel D et al (2019) Role of exosomes in the regulation of T‑cell mediated immune responses and in autoimmune disease. Cells 8(2):E154

2.

The Editors of Encyclopaedia Britannica (1998) Battle of Marathon. https://www.britannica.com/event/Battle-of-Marathon. Accessed 29 Aug 2019

3.

Campanella C, Caruso Bavisotto C, Logozzi M et al (2019) On the choice of the extracellular vesicles for therapeutic purposes. Int J Mol Sci 20(2):E236. https://doi.org/10.3390/ijms20020236

4.

Cohen EEW, Bell RB, Bifulco CB et al (2019) The society for immunotherapy of cancer consensus statement on immunotherapy for the treatment of squamous cell carcinoma of the head and neck (HNSCC). J Immunother Cancer 7:184

5.

Consortium E‑T, Van Deun J, Mestdagh P et al (2017) EV-TRACK: transparent reporting and centralizing knowledge in extracellular vesicle research. Nat Methods 14:228–232

6.

Harding C, Heuser J, Stahl P (1983) Receptor-mediated endocytosis of transferrin and recycling of the transferrin receptor in rat reticulocytes. J Cell Biol 97:329–339

7.

Isola AL, Chen S (2017) Exosomes: the messengers of health and disease. Curr Neuropharmacol 15:157–165

8.

Kim JW, Wieckowski E, Taylor DD et al (2005) Fas ligand-positive membranous vesicles isolated from sera of patients with oral cancer induce apoptosis of activated T lymphocytes. Clin Cancer Res 11:1010–1020

9.

Kim MS, Haney MJ, Zhao Y et al (2016) Development of exosome-encapsulated paclitaxel to overcome MDR in cancer cells. Nanomedicine 12:655–664

10.

Lechner A, Schlosser HA, Thelen M et al (2019) Tumor-associated B cells and humoral immune response in head and neck squamous cell carcinoma. Oncoimmunology 8:1535293

11.

Ludwig S, Floros T, Theodoraki MN et al (2017) Suppression of lymphocyte functions by plasma exosomes correlates with disease activity in patients with head and neck cancer. Clin Cancer Res 23:4843–4854

12.

Rashed MH, Bayraktar E, Helal GK, Abd-Ellah MF, Amero P, Chavez-Reyes A, Rodriguez-Aguayo C (2017) Exosomes: from garbage bins to promising therapeutic targets. Int J Mol Sci 18:538

13.

Maia J, Caja S, Strano Moraes MC et al (2018) Exosome-based cell-cell communication in the tumor microenvironment. Front Cell Dev Biol 6:18

14.

Mathieu M, Martin-Jaular L, Lavieu G et al (2019) Specificities of secretion and uptake of exosomes and other extracellular vesicles for cell-to-cell communication. Nat Cell Biol 21:9–17

15.

Matthews VJ (1974) The "Hemerodromoi": ultra long-distance running in antiquity. Class World 68:161–169

16.

U.S. National Library of Medicine (2019) ClinicalTrials.gov. https://clinicaltrials.gov/. Accessed 29 Aug 2019

17.

Muller L, Hong CS, Stolz DB et al (2014) Isolation of biologically-active exosomes from human plasma. J Immunol Methods 411:55–65

18.

Muller L, Mitsuhashi M, Simms P et al (2016) Tumor-derived exosomes regulate expression of immune function-related genes in human T cell subsets. Sci Rep 6:20254

19.

Muller L, Simms P, Hong CS et al (2017) Human tumor-derived exosomes (TEX) regulate Treg functions via cell surface signaling rather than uptake mechanisms. OncoImmunology 6:e1261243

20.

Pan BT, Johnstone RM (1983) Fate of the transferrin receptor during maturation of sheep reticulocytes in vitro: selective externalization of the receptor. Cell 33:967–978

21.

Raposo G, Nijman HW, Stoorvogel W et al (1996) B lymphocytes secrete antigen-presenting vesicles. J Exp Med 183:1161–1172

22.

Theodoraki MN, Yerneni S, Gooding WE et al (2019) Circulating exosomes measure responses to therapy in head and neck cancer patients treated with cetuximab, ipilimumab, and IMRT. Oncoimmunology 8:1593805

23.

Thery C (2011) Exosomes: secreted vesicles and intercellular communications. F1000 Biol Rep 3:15

24.

Thery C, Boussac M, Veron P et al (2001) Proteomic analysis of dendritic cell-derived exosomes: a secreted subcellular compartment distinct from apoptotic vesicles. J Immunol 166:7309–7318

25.

Thery C, Witwer KW, Aikawa E et al (2018) Minimal information for studies of extracellular vesicles 2018 (MISEV2018): a position statement of the International Society for Extracellular Vesicles and update of the MISEV2014 guidelines. J Extracell Vesicles 7:1535750

26.

Whiteside TL (2017) Exosomes in cancer: another mechanism of tumor-induced immune suppression. Adv Exp Med Biol 1036:81–89

27.

Whiteside TL (2016) Tumor-derived exosomes and their role in cancer progression. Adv Clin Chem 74:103–141

28.

Wong EHC, Dong YY, Coray M et al (2018) Inner ear exosomes and their potential use as biomarkers. PLoS ONE 13:e198029
Ethics declarations
Interessenkonflikt
L. Muller gibt an, dass kein Interessenkonflikt besteht.
Für diesen Beitrag wurden von den Autoren keine Studien an Menschen oder Tieren durchgeführt. Für die aufgeführten Studien gelten die jeweils dort angegebenen ethischen Richtlinien.
About this article
Cite this article
Muller, L. Exosomen: Nanostaub?. HNO 68, 111–114 (2020). https://doi.org/10.1007/s00106-019-00787-y
Schlüsselwörter
Extrazelluläre Vesikel

Nanopartikel

Elektronenmikroskopie

Immunmodulation

Medizinische Onkologie
Keywords
Nanoparticles

Microscopy, electron

Immunomodulation

Medical oncology

Extracellular vesicles