Zusammenfassung
Neurinome treten nur sehr selten im Bereich von Nase und Nasennebenhöhlen auf. In der vorliegenden Arbeit wird erstmals eine dysfigurierende Manifestation dieses benignen Tumors im Bereich der Nasenspitze und der Columella beschrieben. Die Therapie der Wahl besteht in einer kompletten Entfernung des Tumors. Für eine übersichtliche Resektion der Läsion und eine zufriedenstellende plastische Rekonstruktion empfiehlt sich ein offener chirurgischer Zugang.
Abstract
Neurinomas in the nose and the nasal sinuses are rare. In the present work, we present an exceedingly rare case of a disfiguring neurinoma involving the nasal columella. Treatment of choice is complete resection of the tumor. For an optimal view for tumor resection and esthetic and functional reconstruction, we recommend an open surgical approach.
This is a preview of subscription content, log in to check access.
Access options
Buy single article
Instant access to the full article PDF.
US$ 39.95
Price includes VAT for USA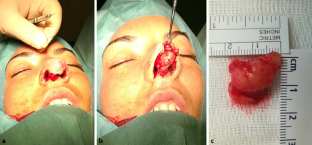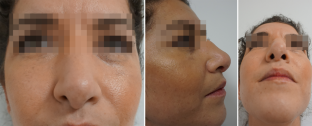 Literatur
1.

Devaraya K, Nayak DR, Ramaswamy B, Rao P (2018) Nasal septal schwannoma: a rare sinonasal tumour with certain peculiarities. BMJ Case Rep. https://doi.org/10.1136/bcr-2017-223850

2.

Draf W, Berghaus A (1993) Tumoren und Pseudotumoren ("tumorähnliche Läsionen") der frontalen Schädelbasis, ausgehend von der Nase, den Nasennebenhöhlen und dem Nasenrachenraum (einschließlich der operativen Zugänge). Europ Arch Otorhinolaryngol 1(Suppl.):105–186

3.

Hillstrom RP, Zarbo RJ, Jacobs JR (1990) Nerve sheath tumors of the paranasal sinuses: Electron microscopy and histopathological diagnosis. Otolaryngol Head Neck Surg 102:257–263

4.

Kim YH, Lee JH, Park Y, Chung KJ (2018) Schwannoma of the membranous nasal septum: a clinical report with aesthetic approach. J Craniofac Surg 29(2):120–140

5.

Min HJ, Hong SC, Kim KS (2017) Nasal septal schwannoma: advances in diagnosis and treatment. J Craniofac Surg 28(1):97–101

6.

Min HJ, Kim KS (2017) Differential diagnosis between nasal septal schwannoma and nasal septal neurofibroma. J Craniofac Surg 28(7):1780–1783

7.

Mühlmeier G, Tisch M, Kraft K, Maier H (2000) Neurinom der Nasenhaupthöhle. HNO 48(7):533–535

8.

Pasic TR, Makielski K (1990) Nasal schwannoma. Otolaryngol Head Neck Surg 103:943–946

9.

Tidmore T, Calhoune KH, Hirschi S, Miick R (2009) Collumellar schwannoma. Ear Nose Throat J 88(10):38–40
Ethics declarations
Interessenkonflikt
H. Maier, K.J. Lorenz, C. Woenkhaus und G. Mühlmeier geben an, dass kein Interessenkonflikt besteht.
Für diesen Beitrag wurden von den Autoren keine Studien an Menschen oder Tieren durchgeführt. Für die aufgeführten Studien gelten die jeweils dort angegebenen ethischen Richtlinien. Für Bildmaterial oder anderweitige Angaben innerhalb des Manuskripts, über die Patienten zu identifizieren sind, liegt von ihnen und/oder ihren gesetzlichen Vertretern eine schriftliche Einwilligung vor.
About this article
Cite this article
Maier, H., Lorenz, K.J., Woenkhaus, C. et al. Dysfigurierendes Neurinom der Nasenspitze und der Columella – rhinochirurgische Aspekte. HNO (2019). https://doi.org/10.1007/s00106-019-00755-6
Schlüsselwörter
Rhinoplastik

Nasenseptum

Nasentumor

Schwannom

Nasenchirurgie
Keywords
Rhinoplasty

Nasal septum

Nasal tumor

Schwannoma

Nose surgery