Zusammenfassung
Einleitung
Das Bogengangsdehiszenzsyndrom ("superior canal dehiscence syndrome", SCDS) ist eine relativ seltene neurotologische Erkrankung. Sie zeichnet sich durch ein heterogenes klinisches Bild aus. Kürzlich wurden vestibulär evozierte myogene Potenziale (VEMP) zur Diagnostik des SCDS etabliert. In der vorliegenden Arbeit wurde eine Fallserie von Patienten mit SCDS analysiert, mit einem Fokus auf den VEMP-Befunden.
Methoden
Vier Patienten mit SCDS wurden prospektiv mittels okulären VEMP (oVEMP) und zervikalen VEMP (cVEMP) untersucht. Dabei wurden die klinischen Befunde sowie die weiteren audiovestibulären Testergebnisse zusammengefasst und analysiert. Die diagnostische Genauigkeit der VEMP-Untersuchungen wurde evaluiert.
Ergebnisse
Die Erhöhung der oVEMP-Amplituden weist in dieser Fallserie eine Spezifität von 100 % auf. Bei allen Patienten fand sich eine normale kalorische Funktion sowie ein unauffälliger Kopfimpulstest. Zwei Patienten wiesen ein Tullio-Phänomen auf, bei 3 Patienten lag eine Autophonie vor. Die Schallleitungskomponente war bei keinem Patienten >10 dB. Ein Patient zeigte einen deutlichen Fremitusnystagmus. Bei allen Patienten zeigte sich in der Computertomographie eine knöcherne Dehiszenz des oberen Bogengangs.
Schlussfolgerung
Beim SCDS ergab sich in dieser Fallserie ein heterogenes Bild bei Anamnese und klinischer Untersuchung. Die oVEMP-Untersuchung jedoch erwies sich als der diagnostisch wertvollste Test. Darüber hinaus wird hier ein neues diagnostisches klinisches Zeichen beschrieben, der Fremitusnystagmus.
Abstract
Background
Superior canal dehiscence syndrome (SCDS) is a relatively rare neurotological disorder that is characterized by a heterogeneous clinical picture. Recently, vestibular evoked myogenic potential (VEMP) measurementwas established for the diagnosis of SCDS. In the present study, a case series of patients with SCDS were analyzed, with a focus on VEMP.
Methods
Four patients with SCDS were prospectively examined with ocular VEMP (oVEMP) and cervical VEMP (cVEMP). The clinical features and the standard audiovestibular test battery results are summarized and analyzed. The diagnostic accuracy of VEMP testing is evaluated.
Results
The increased oVEMP amplitudes had a specificity of 100% in this patient population. All patients had normal caloric function and head impulse testing. The Tullio sign was observed in two patients. Three patients had autophony. The airbone gap was not greater than 10 dB in any of the patients. Two patients had marked fremitus nystagmus. All patients had a bony dehiscence of the superior semicircular canal on computed tomography imaging.
Conclusion
The subjective and clinical features in this case series of SCDS patients were heterogeneous. However, objective oVEMP testing had the highest diagnostic value. Furthermore, we describe a new diagnostic clinical sign: fremitus nystagmus.
This is a preview of subscription content, log in to check access.
Access options
Buy single article
Instant unlimited access to the full article PDF.
US$ 39.95
Price includes VAT for USA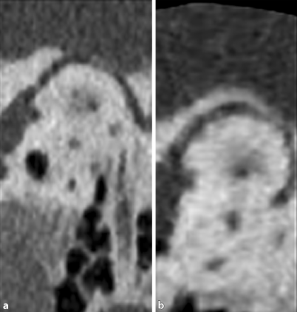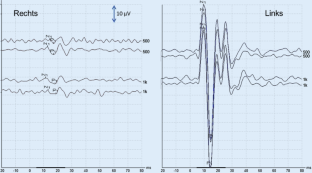 Literatur
1.

Minor LB et al (1998) Sound- and/or pressure-induced vertigo due to bone dehiscence of the superior semicircular canal. Arch Otolaryngol Head Neck Surg 124(3):249–258

2.

Ward BK, Carey JP, Minor LB (2017) Superior Canal Dehiscence Syndrome: Lessons from the First 20 Years. Front Neurol 8:177

3.

Janky KL et al (2013) Air-conducted oVEMPs provide the best separation between intact and superior canal dehiscent labyrinths. Otol Neurotol 34(1):127–134

4.

Jongkees LB, Maas JP, Philipszoon AJ (1962) Clinical nystagmography. A detailed study of electro-nystagmography in 341 patients with vertigo. Pract Otorhinolaryngol (Basel) 24:65–93

5.

Kantner C et al (2013) The effects of rise/fall time and plateau time on ocular vestibular evoked myogenic potentials. Eur Arch Otorhinolaryngol 271(9):2401–2407. https://doi.org/10.1007/s00405-013-2697-4

6.

Rahne T, Weiser C, Plontke S (2014) Neurofeedback-controlled comparison of the head elevation versus head rotation and head-hand methods in eliciting cervical vestibular evoked myogenic potentials. Audiol Neurootol 19(5):327–335

7.

Jerin C et al (2015) Enhancing the reproducibility of ocular vestibular evoked myogenic potentials by use of a visual target originating from a head-mounted laser. Eur Arch Otorhinolaryngol 272(10):2737–2740

8.

Maxwell R, Jerin C, Gurkov R (2017) Utilisation of multi-frequency VEMPs improves diagnostic accuracy for Meniere's disease. Eur Arch Otorhinolaryngol 274(1):85–93

9.

Manzari L et al (2012) Ocular and cervical vestibular evoked myogenic potentials to 500 Hz fz bone-conducted vibration in superior semicircular canal dehiscence. Ear Hear 33(4):508–520

10.

Jerin C et al (2014) Ocular vestibular evoked myogenic potential frequency tuning in certain Meniere's disease. Hear Res 310:54–59

11.

Volgger V et al (2016) Hydropic inner ear disease of the vestibular type. HNO 64(9):676–679

12.

Manzari L et al (2013) An indicator of probable semicircular canal dehiscence: ocular vestibular evoked myogenic potentials to high frequencies. Otolaryngol Head Neck Surg 149(1):142–145

13.

Luers JC, Huttenbrink KB (2013) Acoustic and vestibular effects of superior semicircular canal dehiscence. HNO 61(9):743–749

14.

Cremer PD et al (2000) Eye movements in patients with superior canal dehiscence syndrome align with the abnormal canal. Neurology 55(12):1833–1841

15.

Aw ST et al (2011) Three-dimensional vibration-induced vestibulo-ocular reflex identifies vertical semicircular canal dehiscence. J Assoc Res Otolaryngol 12(5):549–558

16.

Grieser BJ, Kleiser L, Obrist D (2016) Identifying mechanisms behind the Tullio Phenomenon: a computational study based on first principles. J Assoc Res Otolaryngol 17(2):103–118

17.

Curthoys IS (2017) The new vestibular stimuli: sound and vibration-anatomical, physiological and clinical evidence. Exp Brain Res 235(4):957–972

18.

Rohrmeier C, Hilber H, Strutz J (2010) Superior semicircular canal dehiscence syndrome: a case of Tullio phenomenon. HNO 58(10):1057–1060

19.

Schilder AG et al (2015) Eustachian tube dysfunction: consensus statement on definition, types, clinical presentation and diagnosis. Clin Otolaryngol 40(5):407–411

20.

Kaski D et al (2012) The Tullio phenomenon: a neurologically neglected presentation. J Neurol 259(1):4–21

21.

Westhofen M (2013) Indications for operative therapy of vestibular vertigo and the associated success rates. HNO 61(9):752–761

22.

Vlastarakos PV et al (2009) Efficacy assessment and complications of surgical management for superior semicircular canal dehiscence: a meta-analysis of published interventional studies. Eur Arch Otorhinolaryngol 266(2):177–186

23.

Ziylan F et al (2017) A comparison of surgical treatments for superior semicircular canal dehiscence: a systematic review. Otol Neurotol 38(1):1–10

24.

Silverstein H et al (2014) Round window reinforcement for superior semicircular canal dehiscence: a retrospective multi-center case series. Am J Otolaryngol 35(3):286–293
Danksagung
Die Autoren danken David Zee, Lloyd Minor, Paul Carey und Brian Ward für wertvolle wissenschaftliche Diskussionen und Beatrix Lengte sowie Andrea Roßkopf für ausgezeichnete technische Unterstützung.
Ethics declarations
Interessenkonflikt
R. Gürkov erhielt Forschungsgelder vom BMBF und von der VolkswagenStiftung außerhalb der vorliegenden Arbeit und in der Vergangenheit Beratungshonorare von Otonomy Inc ebenfalls außerhalb der vorliegenden Arbeit. C. Jerin, W. Flatz und R. Maxwell geben an, dass kein Interessenkonflikt besteht.
Alle im vorliegenden Manuskript beschriebenen Untersuchungen am Menschen wurden mit Zustimmung der zuständigen Ethik-Kommission, im Einklang mit nationalem Recht sowie gemäß der Deklaration von Helsinki von 1975 (in der aktuellen, überarbeiteten Fassung) durchgeführt. Von allen beteiligten Patienten liegt eine Einverständniserklärung vor.
Caption Electronic Supplementary Material
Video: Aufzeichnung der Augenbewegungen unter der Frenzel-Brille, während der Patient mit Bogengangsdehiszenz links einen Summton produziert ("hmmmmm"). Die schnelle Phase dieses Fremitusnystagmus hat 2 Komponenten: eine vertikale, abwärts gerichtete sowie eine torsionelle, im Gegenuhrzeigersinn schlagende. © R. Gürkov, alle Rechte vorbehalten.
About this article
Cite this article
Gürkov, R., Jerin, C., Flatz, W. et al. Dehiszenzsyndrom des oberen Bogengangs. HNO 66, 390–395 (2018) doi:10.1007/s00106-017-0440-y
Schlüsselwörter
Innenohrerkrankung

Vestibulär evozierte myogene Potenziale

Vestibulum auris

Schwindel

Benommenheit
Keywords
Inner ear didease

Vestibular evoked myogenic potentials

Vestibulum Auris

Vertigo

Dizziness