Zusammenfassung
Hintergrund
Mittels hochauflösenden Ultraschalls ist es möglich, den M. orbicularis oris (MOO) gezielt zu untersuchen und dabei die Morphologie und Funktion zu beurteilen.
Ziele der Arbeit
Ziele sind die Verifizierung sonographisch sichtbarer Strukturen der Lippen anhand histologischer Schnittpräparate sowie eine Empfehlung zur Standardisierung der Ultraschalluntersuchung der Lippen.
Material und Methoden
Verwendet wurde ein Hitachi-Hi-Vision-Avius-Ultraschallgerät mit einem Linearschallkopf (L75, variabler Frequenzbereich: 5,0–18,0 MHz). Die systematische B-mode-Ultrasonographie der Probanden (n = 78, 4–77 Jahre) erfolgte an 5 definierten Punkten und mittels Durchmustern der Lippen. Zur histologischen Verifizierung wurden Präparate von Körperspendern (n = 5; 72–83 Jahre) aufgearbeitet.
Ergebnisse
Die Anteile des MOO waren histologisch und sonographisch jeweils gut voneinander abzugrenzen. Sonographisch sichtbare Strukturen der Lippen konnten histologisch identifiziert werden. Lippendrüsen und -blutgefäße waren mit beiden Methoden erkennbar.
Schlussfolgerung
Narben, Verletzungen und Atrophien der Lippenmuskulatur sind sonographisch gut nachweisbar. Funktionelle Untersuchungen ermöglichen die Erkennung muskulärer Funktionsstörungen und tragen zur Diagnose dystoner oder hypotoner Störungen bei. Für eine standardisierte Lippensonographie sind wichtig: Untersuchung von Ober- und Unterlippe in definierten sagittalen und transversalen Schnittebenen, Verwendung von anatomischen "Landmarken" sowie eine Funktionsdiagnostik bei An- und Entspannung.
Abstract
Background
High-resolution ultrasonography of the lips offers the opportunity to investigate the orbicularis oris muscle (OOM) and evaluate its morphology and function.
Objectives
The goals of this paper are verification of the lip structures visible on ultrasound images by using histological section preparations and recommendation of uniform standards for sonographic examinations of the lips.
Materials and methods
The lips of 78 healthy volunteers (age 4–77 years) where scanned with a Hitachi Hi Vision Avius ultrasound device equipped with a linear transducer (L75, variable frequency range 5.0–18.0 MHz). Systematic B-mode examination was performed at five defined points, and the lips where also scanned dynamically in multiple directions. The ultrasonography findings were verified by using histologic samples from five male body donors (age 72–83 years).
Results
All parts of the OOM could be well distinguished from one another both histologically and ultrasonographically. Sonographically visible lip structures could be verified histologically. Labial glands and blood vessels of the mucosa could be identified with both methods.
Conclusion
Ultrasonography allows identification of lip structures and all parts of the OOM. Scars, injuries and atrophy of the lip musculature are well detectable. Functional examinations can visualize muscular dysfunctions and may support the diagnosis of dystonic or hypotonic functional deficits. The following parameters are mandatory for a standardized examination of the lips: sagittal and transverse images of upper and lower lips; use of anatomical "landmarks"; functional diagnostics in tensed and relaxed conditions.
This is a preview of subscription content, log in to check access.
Access options
Buy single article
Instant unlimited access to the full article PDF.
US$ 39.95
Price includes VAT for USA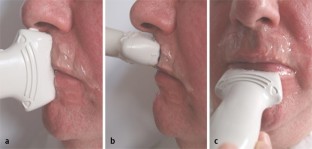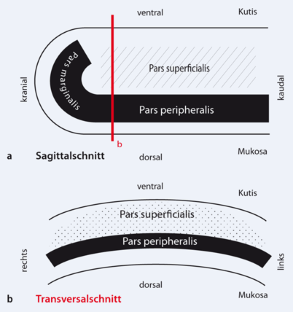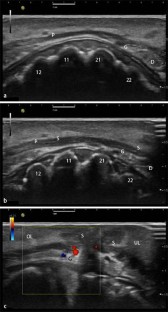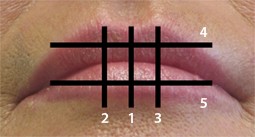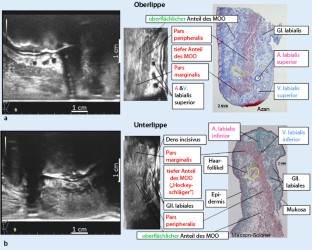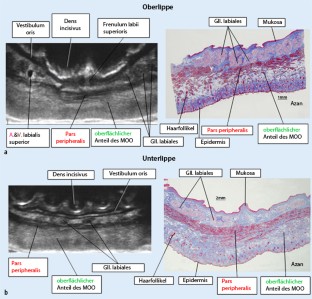 Literatur
1.

Aeby C (1879) Die Muskulatur der menschlichen Mundspalte. Arch Mikr Anat 16:651–664

2.

Arcier AF, Vernay A (1994) Observation clinique: lésions musculaires labiales liées au jeu des cuivres. Médecine des Arts 8:14–19

3.

Souza Barbosa T. de, Duarte Gavião MB, Silveira Pupo L et al (2012) Associations between orbicularis oris thickness and skeletal and dental variables in mixed dentition. Rev Odontol UNESP (online). doi:10.1590/S1807-25772012000600006. http://www.scielo.br/scielo.php?pid=S1807-25772012000600006&script=sci_arttext

4.

Donnet A, Dessi P, Koeppel MC (1996) Le syndrome de Satchmo. La presse medicale 25:173

5.

Eisler P (1912) Die Muskeln des Stammes. In: Von Bardeleben K (Hrsg) Handbuch der Anatomie des Menschen, 2. Bd., 2. Abt., 1. Teil. Fischer, Jena, S 138

6.

Frühwald F (1988) Faciale Weichteile. In: Czembirek H, Frühwald F, Gritzmann N (Hrsg) Kopf-Hals-Sonographie. Springer, Wien-New York, S 62–64

7.

Howard JA, Lovrovich AT (1989) Wind instruments: their interplay with orofacial structures. Med Prob Perf Arts 4:59–72

8.

Kumar TV, Kuriakose S (2004) Ultrasonographic evaluation of effectiveness of circumoral muscle exercises in adenotonsillectomized children. J Clin Pediatr Dent 29:49–56

9.

Lefarth F, Angerstein W (2013) Sonografische Diagnostik von Narbengewebe im Musculus orbicularis oris. Forum HNO 15:187–192

10.

Liu S, Hayden GF (2002) Maladies in musicians. South Med J 95:727–734

11.

Luschka H (1863) Die Leichenveränderung der Mundlippen bei neugeborenen Kindern. Z Rationelle Med 18:188–192

12.

Makielski KH (2004) Cross section of the lips. In: Larrabee WF Jr, Makielski KH, Henderson JL (Hrsg) Surgical anatomy of the face, 2. Aufl. Lippincott Williams & Wilkins, Philadelphia, S 102 (fig 10.7), S 183 (fig 18.3)

13.

Martin RA, Hunter V, Neufeld-Kaiser W et al (2000) Ultrasonographic detection of orbicularis oris defects in first degree relatives of isolated cleft lip patients. Am J Med Genet 90:155–161

14.

Matic DB, Power SM (2011) Correction of the cleft lip lateral bulge deformity using anatomic muscle repair. J Craniofac Surg 22:514–519

15.

Mittal M, Maheshwari N, Ahlawat K et al (2012) Detection of orbicularis oris muscle defects in first degree relatives of cleft lip children using ultrasound. J Indian Soc Pedod Prev Dent 30:237–241. doi:10.4103/0970-4388.105017

16.

Olszewski R, Liu Y, Duprez T et al (2009) Three-dimensional appearance of the lips muscles with three-dimensional isotropic MRI: in vivo study. Int J Comput Assist Radiol Surg 4:349–352. doi:10.1007/s11548-009-0352-8

17.

Papsin BC, Maaske LA, Mc Grail JS (1996) Orbicularis oris muscle injury in brass players. Laryngoscope 106:757–760

18.

Park CG, Ha B (1995) The importance of accurate repair of the orbicularis oris muscle in the correction of unilateral cleft lip. Plast Reconstr Surg 96:780–788

19.

Planas J (1982) Rupture of the orbicularis oris in trumpet players (Satchmo's syndrome). Plast Reconstr Surg 69:690–691

20.

Power SM, Matic DB, Zhong T et al (2010) Definition of the lateral bulge deformity after primary cleft lip repair using real-time high-resolution ultrasound. J Craniofac Surg 21:1493–1499. doi:10.1097/SCS.0b013e3181ef2c21

21.

Ridgway EB, Estroff JA, Mulliken JB (2011) Thickness of orbicularis oris muscle in unilateral cleft lip: before and after labial adhesion. J Craniofac Surg 22:1822–1826. doi:10.1097/SCS.0b013e31822e824f

22.

Rogers CR, Weinberg SM, Smith TD et al (2008) Anatomical basis of apparent subepithelial cleft lip: a histological and ultrasonographic survey of the orbicularis oris muscle. Cleft Palate Craniofac J 45:518–524

23.

Roy JP (1890) Le muscle orbiculaire des lèvres. Thèse med. Bordeaux

24.

Van Hees NJM, Thijssen JM, Huyskens RW et al (2007) Quantitative ultrasound imaging of healthy and reconstructed cleft lip: a feasibility study. Cleft Palate Craniofac J 44:261–268

25.

Vinkka-Puhakka H, Kean MR, Heap SW (1989) Ultrasonic investigation of the circumoral musculature. J Anat 166:121–133

26.

Volk GF, Pohlmann M, Sauer M et al (2014) Quantitative ultrasonography of facial muscles in patients with chronic facial palsy. Muscle Nerve 50:358–365. doi:10.1002/mus.24154

27.

Volk GF, Pohlmann M, Finkensieper M et al (2014) 3D-Ultrasonography for evaluation of facial muscles in patients with chronic facial palsy or defective healing: a pilot study. BMC Ear Nose Throat Disord 14:4. doi:10.1186/1472-6815-14-4

28.

Voss H, Herrlinger R (1971) Taschenbuch der Anatomie. Gesamtausgabe der 13. Aufl. Fischer, Stuttgart, S 290–293

29.

Weinberg SM, Brandon CA, McHenry TH et al (2008) Rethinking isolated cleft palate: evidence of occult lip defects in a subset of cases. Am J Med Genet 146A:1670–1675. doi:10.1002/ajmg.a.32291

30.

Zielke A, Muth T, Massing T, Angerstein W (2012) Zungenbewegungen und Gesichts-Hals-Motorik beim Spielen von Blasinstrumenten. Musikphysiol Musikermed 19:189–195
Einhaltung ethischer Richtlinien
Interessenkonflikt. F.L. Lefarth, A. Prescher und W. Angerstein geben an, dass kein Interessenkonflikt besteht. Alle im vorliegenden Manuskript beschriebenen Untersuchungen am Menschen wurden mit Zustimmung der zuständigen Ethik-Kommission, im Einklang mit nationalem Recht sowie gemäß der Deklaration von Helsinki von 1975 (in der aktuellen, überarbeiteten Fassung) durchgeführt. Von allen beteiligten Patienten liegt eine Einverständniserklärung vor.
Additional information
Auszugsweise vorgetragen und mit dem 2. Posterpreis prämiert beim 116. Westdeutschen HNO-Kongress, Krefeld, 23.–24.03.2012.
Zusatzmaterial online
Video: Sonographievideo des MOO bei entspannter und angespannter Oberlippe (MP4 10MB)
About this article
Cite this article
Lefarth, F., Prescher, A. & Angerstein, W. Vergleichende sonographische und histomorphologische Untersuchungen der Lippen. HNO 62, 879–885 (2014). https://doi.org/10.1007/s00106-014-2918-1
Schlüsselwörter
Mundlippen

M. orbicularis oris

Ultraschall

Histologie

Vergleich
Keywords
Lips

Orbicularis oris muscle

Ultrasound

Histology

Comparison