Zusammenfassung
Hintergrund
Die primäre Antibiotikagabe bei unkomplizierter Otitis media acuta wird kontrovers diskutiert.
Patienten und Methoden
390 Kinder von 1–10 Jahren wurden in einem prospektiven, offenen, kontrollierten Design konventionell (beliebige Kombination von Nasentropfen, Sekretolytika, Analgetika und Antibiotika) oder naturheilkundlich mit Otovowen®, bei Bedarf ergänzt durch obige Medikamente, behandelt.
Ergebnisse
Konventionell behandelte Patienten erhielten mehr Antibiotika (80,5 vs. 14,4%) und Analgetika (66,8% vs. 53,2%). Krankheitsdauer (5,3 vs. 5,1 Tage) und Fehlzeiten in Schule und Kindergarten (jeweils 1,7 Tage) unterschieden sich nicht signifikant. Die Schmerzlinderung war etwas besser mit konventioneller Therapie (−5,8 vs. −5,2 Punkte). Die naturheilkundliche Behandlung wurde sowohl von Ärzten als auch Patienten und Eltern als besser verträglich bewertet.
Schlussfolgerung
Bei akuter Otitis media im Kindesalter kann eine naturheilkundliche Behandlungsstrategie mit Otovowen® ohne Nachteile für den Therapieerfolg den Antibiotikagebrauch erheblich reduzieren.
Abstract
Background
First line antibiotic treatment of uncomplicated acute otitis media has been questioned.
Patients and methods
In an prospective, open, controlled study, 390 children aged 1–10 years were treated either conventionally (free combinations of decongestant nose drops, mucolytics, analgesics and antibiotics) or alternatively with Otovowen, supplemented by conventional medications when considered necessary.
Results
Patients treated conventionally took more antibiotics (80.5% vs 14.4%) and analgesics (66.8% vs 53.2%). The time to recovery (5.3 vs 5.1 days) and absence from school or pre-school nursery (both 1.7 days) were not significantly different between groups. Pain resolution was slightly better with conventional treatment (−5.8 vs −5.2 score points). The alternative treatment was judged both by doctors, and parents, to be significantly better tolerated.
Conclusion
In uncomplicated acute otitis media of childhood, an alternative treatment strategy with the natural medicine Otovowen may substantially reduce the use of antibiotics without disadvantage to the clinical outcome.
This is a preview of subscription content, log in to check access.
Access options
Buy single article
Instant access to the full article PDF.
US$ 39.95
Price includes VAT for USA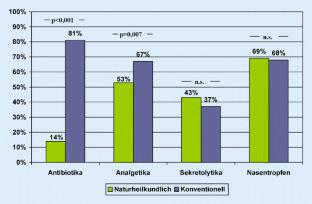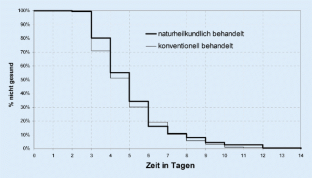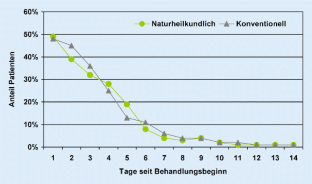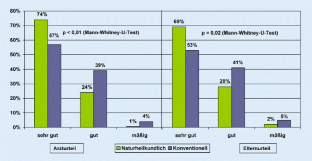 Literatur
1.

Abel U, Koch A (1998) Non-randomised comparative clinical studies. Symposion Publishing, Düsseldorf

2.

Agency for Healthcare Quality and Research (2000) Management of Acute Otitis Media. Summary, Evidence Report/Technology Assessment: Number 15. AHQR, Rockville, MD, USA. Available at: http://www.ahcpr.gov/clinic/epcsums/otitisum.htm. Accessed September 20, 2002

3.

Appelman CL, Bossen PC, Dunk JHM, van de Lisdonk EH, de Melker RA, van Weert HC (1990) Dutch College of Family Doctors Guideline: Acute otitis media. Dutch College of Family Doctors, Utrecht

4.

AWMF online. Leitlinien der Deutschen Gesellschaft für Hals-Nasen-Ohren-Heilkunde, Kopf- und Hals-Chirurgie: Akute Otitis media. AWMF-Leitlinien-Register Nr. 017/005. Stand der letzten Aktualisierung: Juni 2001. Download am 13.01.2004 von: http://www.uni-duesseldorf.de/WWW/AWMF/.

5.

AWMF online. Leitlinien der Gesellschaft für Pädiatrische Pneumologie: Otitis media. AWMF-Leitlinien-Register Nr. 026/004. Stand der letzten Aktualisierung: Juli 1998. Download am 13.01.2004 von: http://www.uni-duesseldorf.de/WWW/AWMF/.

6.

Breuner CC (2002) Complementary medicine in pediatrics: A review of acupuncture, homeopathy, massage, and chiropractic therapies. Curr Probl Pediatr Adolesc Health Care 32:353–384

7.

Cohen J (1988) Statistical power analysis for the behavioral sciences. 2nd ed. Lawrence Erlbaum Associates, Mahwah, New Jersey

8.

European Agency for the Evaluation of Medicinal Products (2001) Committee for Proprietary Medicinal Products (CPMP): Note for Guidance on Clinical Investigation of Medicinal Products for Treatment of Pain (CPMP/EWP/612/00 draft). London: EMEA, 15 November 2001

9.

European Agency for the Evaluation of Medicinal Products (1998) Committee for Proprietary Medicinal Products (CPMP). Note for Guidance on Statistical Principles for Clinical Trials (CPMP/ICH/363/96). London: EMEA, 18 March 1998

10.

Flynn CA, Griffin G, Tudiver F (2002) Decongestants and antihistamines for acute otitis media in children (Cochrane Review). In: The Cochrane Library, Issue 3 2002. Update Software, Oxford

11.

Freid VM, Makuc DM, Rooks RN (1998) Ambulatory health care visits by children: principal diagnosis and place of visit. Vital Health Stat 137:1–23

12.

Friese KH, Kruse S, Lüdtke R, Moeller H (1997) The homeopathic treatment of otitis media in children – comparisons with conventional therapy. Int J Clin Pharmacol Ther 35:296–301

13.

Froom J, Culpepper L, Grob P, Bartelds A, Bowers P, Bridges-Webb C, Grava-Gubins I, Green L, Lion J, Somaini B, Stroobant A, West R, Yodfat Y (1990) Diagnosis and antibiotic treatment of acute otitis media: report from International Primary Care Network. BMJ 300:582–586

14.

Froom J, Culpepper L, Jacobs M, DeMelker RA, Green LA, van Buchem L, Grob P, Heeren T (1997) Antimicrobials for acute otitis media? A review from the International Primary Care Network. BMJ 315:98–102

15.

Glasziou PP, Del Mar CB, Sanders SL, Hayem M (2002) Antibiotics for acute otitis media in children (Cochrane Review). In: The Cochrane Library, Issue 3 2002. Update Software, Oxford

16.

Günther J, Kern WV, Nink K, Schröder H, de With K (2003) Solange sie noch wirken...Kommentare und Analysen zum Antibiotikaverbrauch in Deutschland. Wissenschaftliches Institut der AOK (WIdO) und Universitätsklinikum Freiburg, Bonn, Freiburg

17.

Harrison H, Fixsen A, Vickers A (1999) A randomized comparison of homeopathic and standard care for the treatment of glue ear in children. Complement Ther Med 7:132–135

18.

IMS Health (2002) Verschreibungsindex für Pharmazeutika. IMS Health GmbH & Co. OHG, Frankfurt/Main

19.

Jacobs J, Springer DA, Crothers D (2001) Homeopathic treatment of acute otitis media in children: a preliminary randomized placebo-controlled trial. Pediatr Infect Dis J 20:177–183

20.

de Lange de Klerk ES, Blommers J, Kuik DJ, Bezemer PD, Feenstra L (2001) Homeopathy in acute otitis media in children: treatment effect or spontaneous resolution? Br Homeopath J 90:180–182

21.

Lehmann EL (1998) Nonparametrics. Statistical methods based on ranks. Prentice Hall, New Jersey

22.

Little P, Gould C, Williamson I, Moore M, Warner G, Dunleavey J (2001) Pragmatic randomised controlled trial for childhood acute otitis media. BMJ 322:336–342

23.

Mantel N (1963) Chi-square tests with one degree of freedom: extensions of the Mantel-Haenszel procedure. J Am Stat Assoc 58:690–700

24.

McKee M, Britton A, Black N, McPherson K, Sanderson C, Bain C (1999) Methods in health services research. Interpreting the evidence: choosing between randomised and non-randomised studies. BMJ 319:312–315

25.

O'Neill P (1999) Acute otitis media. BMJ 319:833–835

26.

Schilcher H (2002) Traditional use and current status of phytotherapy in pediatrics. Nutr Today 37:175–177
Interessenkonflikt:
Der korrespondierende Autor weist auf eine Verbindung mit folgender Firma/Firmen hin: Gefördert durch Weber & Weber GmbH & Co. KG, Inning. T.P.U. Wustrow für die Otovowen®-Studiengruppe
About this article
Cite this article
Wustrow, T.P.U. Naturheilkundliche Therapie der akuten Otitis media. HNO 53, 728–734 (2005). https://doi.org/10.1007/s00106-004-1185-y
Schlüsselwörter
Akute Otitis media

Antibiotika

Klinische Studie

Phytotherapie

Homöopathie
Keywords
Acute otitis media

Antibiotics

Clinical trial

Phytotherapy

Homeopathy