Zusammenfassung
Eine isotope Reaktion beschreibt die Entstehung von sekundären, pathogenetisch unabhängigen Hauterkrankungen innerhalb des Entstehungsorts einer primären, bereits abgeheilten Hauterkrankung. Der genaue Pathomechanismus ist unbekannt. Da die primären Hauterkrankungen sich auf T‑Zell-vermittelte Dermatosen begrenzen, wird eine persistierende lokale Immunreaktion als Mitursache angenommen. Wir berichten über den Fall einer 87-jährigen Patientin, die ein bullöses Pemphigoid innerhalb der Grenzen eines bereits abgeheilten Herpes zoster der Dermatome C7–C8 entwickelte. Der Zoster war klinisch diagnostiziert worden und erfolgreich mit Aciclovir oral bei einem niedergelassenen Kollegen behandelt worden. Die histopathologische Untersuchung der Sekundärerkrankung zeigte eine subepidermale Spaltbildung, die indirekte Immunfluoreszenz zeigte gegen die Basalmembran gerichtete Ig(Immunglobulin)G-Antikörper. Die "enzyme-linked immunosorbent assays" (ELISA) für BP180 und BP230 waren positiv. In Zusammenschau der Befunde diagnostizierten wir ein bullöses Pemphigoid auf dem Boden eines bereits abgeheilten Herpes zoster, entstanden durch eine isotope Reaktion.
Abstract
Wolf's isotopic response describes the eruption of a secondary, pathogenically independent skin disease within the borders of a primary, already healed skin disease. The exact mechanism is unknown, but the restriction to diseases with a known T‑cell component in the pathogenesis suggests an involvement of persistent local immune activation. We report the case of an 87-year-old woman who developed bullous pemphigoid lesions within the boundaries of a previous, already healed herpes zoster C7–C8, which had been diagnosed clinically and treated 2 months previously. Histopathological examination revealed subepidermal blisters, and indirect immunofluorescence showed IgG antibodies against the basal membrane zone. Both BP 180 and BP 230 enzyme-linked immunoassays (ELISAs) were positive. Based on these findings, we diagnosed a bullous pemphigoid arising on the site of the already healed herpes zoster, linked by an isotopic response.
This is a preview of subscription content, log in to check access.
Access options
Buy single article
Instant unlimited access to the full article PDF.
US$ 39.95
Price includes VAT for USA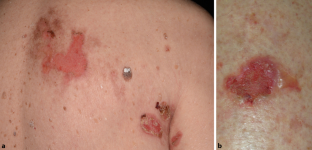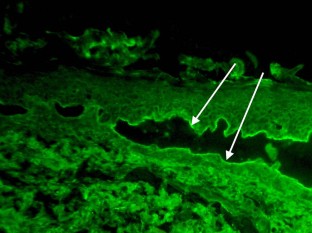 Literatur
1.

Amber KT, Murrell DF, Schmidt E et al (2018) Autoimmune Supebidermal Bullous diseases of the skin and Mucosae: clinical features, diagnosis and management. Clin Rev Allergy Immunol 54:26–51

2.

Antiga E, Quaglino P, Volpi W et al (2014) Regulatory T cells in skin lesions and blood of patients with bullous pemphigoid. J Eur Acad Dermatol Venereol 28:222–230

3.

Baroero L, Coppo P, Bertolino L et al (2017) Three case reports of post immunization and post viral bullous pemphigoid: looking for the right trigger. Bmc Pediatr 17:60

4.

Chun S, Kim B, Kim C et al (2017) A case of Wolf's isotopic response presenting as bullous pemphigoid. Ann Dermatol 29(4):499–500

5.

Cohen PR (2015) Zosteriform impetigo: Wolf's isotopic response in a cutaneous immunocompromised district. Dermatol Pract Concept 5:35–39

6.

Fujinami RS, Von Herrath MG, Christen U et al (2006) Molecular mimicry, bystander activation, or viral persistence: infections and autoimmune disease. Clin Microbiol Rev 19:80–94

7.

Gurel M, Savas S, Bilgin F et al (2016) Zosteriform pemphigoid after zoster: Wolf's isotopic response. Int Wound J 13:141–142

8.

Kamiya K, Aoyama Y, Suzuki T et al (2016) Possible enhancement of BP180 autoantibody production by herpes zoster. J Dermatol 43:197–199

9.

Kasperkiewicz M, Zilikens D (2007) The pathophysiology of bullous pemphigoid. Clin Rev Allergy Immunol 33:67–77

10.

Kroth J, Tischer J, Samtleben W et al (2011) Isotopic response, Köbner phenomenon and Renbök phenomenon following herpes zoster. J Dermatol 38:1058–1061

11.

Mahajan R, De D, Saikia UN (2014) Wolf's isotopic response: report of a case and review of literature. Indian J Dermatol 59:275–282

12.

Patel F, Wilken R, Patel F et al (2017) Pathophysiology of Autoimmune bullous diseases: nature versus nurture. Indian J Dermatol 62(3):262–267

13.

Queiroz MT, Almeida JR, Sementilli  et al (2015) Wolf's isotopic response, presenting as lichen planus. An Bras Dermatol 90(3 Suppl 1):91–93

14.

Ruocco V, Ruocco E, Ghersetich I et al (2002) Isotopic response after herpesvirus infection: an update. J Am Acad Dermatol 46(1):90–94

15.

Shi C, Charrow A, Granter S et al (2018) Unilateral, localized bullous pemphigoid in a patient with chronic venous stasis. Jaad Case Rep 16:162–164

16.

Wolf R, Brenner S, Ruocco V et al (1995) Isotopic response. Int J Dermatol 34:341–348

17.

Wolf R, Wolf D, Ruocco E et al (2011) Wolf's isotopic response. Clin Dermatol 29:237–240

18.

Wollenberg A, Burgdorf WH, Schaller M et al (2002) Long-lasting "christmas tree rash" in an adolescent: isotopic response of indeterminate cell histiocytosis in pityriasis rosea? Acta Derm Venereol 82:288–291

19.

Wollenberg A, Eames T (2011) Skin diseases following a Christmas tree pattern. Clin Dermatol 29:189–194
Danksagung
Wir danken Herrn Prof. D. Zillikens und Herrn Prof. Dr. Dr. E. Schmidt für die Durchführung der autoimmunologischen Spezialuntersuchungen.
Ethics declarations
Interessenkonflikt
D. Böhmer, M. Seegräber, O.N. Horváth und A. Wollenberg geben an, dass kein Interessenkonflikt besteht.
Für diesen Beitrag wurden von den Autoren keine Studien an Menschen oder Tieren durchgeführt. Für die aufgeführten Studien gelten die jeweils dort angegebenen ethischen Richtlinien. Für Bildmaterial oder anderweitige Angaben innerhalb des Manuskripts, über die Patienten zu identifizieren sind, liegt von ihnen und/oder ihren gesetzlichen Vertretern eine schriftliche Einwilligung vor.
About this article
Cite this article
Böhmer, D., Seegräber, M., Horváth, O.N. et al. Bullöses Pemphigoid auf einem ausgeheilten Zoster thoracalis. Hautarzt 71, 53–56 (2020) doi:10.1007/s00105-019-4445-1
Schlüsselwörter
Herpes zoster

T-Zell-vermittelte Dermatosen

Lokale Immunaktivierung

Sekundärerkrankung

Histologie
Keywords
Herpes zoster

T-cell-mediated dermatoses

Local immune activation

Secondary disease

Histology