Weißlich-rötlicher, umschriebener ulzerierender Nodus an der Zunge einer jungen Patientin
Wie lautet Ihre Diagnose?
Anamnese und klinischer Befund
Eine 41-jährige Patientin stellte sich wegen einer seit ca. 1 Monat bestehenden, asymptomatischen, nicht heilenden, ulzerierenden ca. 1 × 2 cm großen weißlich-rötlichen Verhärtung an der linken Zungenunterfläche/-spitze (Abb.
1
) in der Klinik für Mund‑, Kiefer- und Gesichtschirurgie des Hauses vor.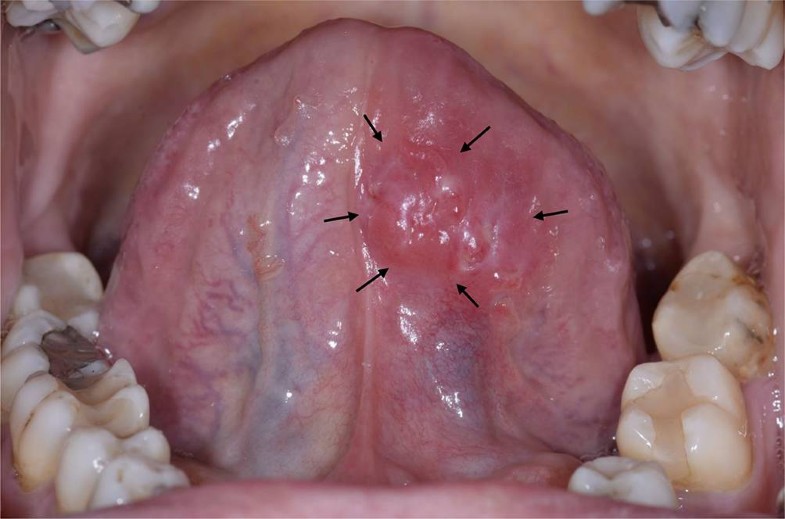 Whitish-reddish circumscribed ulcerated nodule on the tongue of a younger woman
Notes
Einhaltung ethischer Richtlinien
Interessenkonflikt
S. Tratzmiller, U. Schneider, A. Dunsche und C.-D. Klemke geben an, dass kein Interessenkonflikt besteht.
Dieser Beitrag beinhaltet keine von den Autoren durchgeführten Studien an Menschen oder Tieren. Für Bildmaterial oder anderweitige Angaben innerhalb des Manuskripts, über die Patienten zu identifizieren sind, liegt von ihnen und/oder ihren gesetzlichen Vertretern eine schriftliche Einwilligung vor.
Copyright information
© Springer Medizin Verlag GmbH, ein Teil von Springer Nature 2019