42/m mit derben erythematösen Knoten im Bereich der Leiste
Vorbereitung auf die Facharztprüfung: Folge 46
Fallschilderung für den Prüfungskandidaten
Ein 42-jähriger Patient stellt sich mit seit ca. 7 Jahren zunehmend wachsenden derben erythematösen Knoten im Bereich der linken Leiste vor (Abb.
1
). Die Hautveränderungen verursachen schmerzhafte Missempfindungen in diesem Bereich. Ansonsten fühlt sich der Patient gesund und fit. In der Vorgeschichte lässt sich eruieren, dass bereits vor 15 Jahren an derselben Stelle ein Knoten entfernt wurde sowie bei einem Wiederauftreten des Knotens eine weitere Operation vor 10 Jahren erfolgte.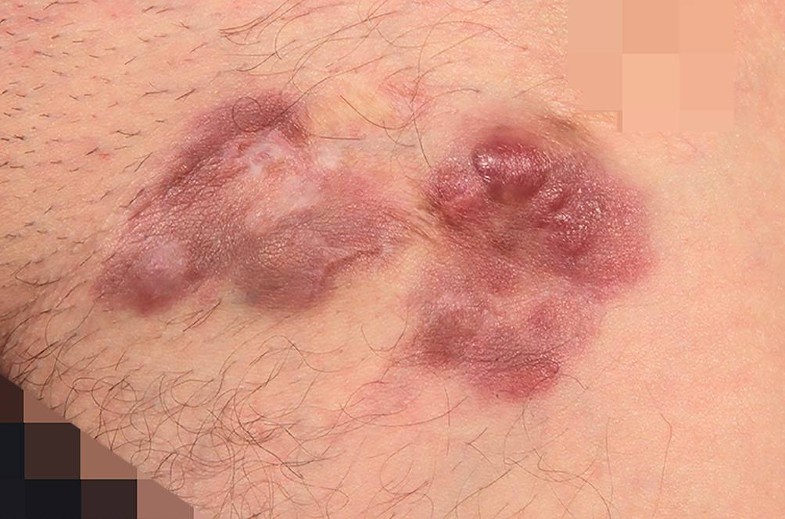 Schlüsselwörter
Dermatofibrosarcoma protuberans  
Lokalrezidiv 
Therapie 
Nachsorge 
Mesenchymaler Tumor 
42-year-old male with firm erythematous nodules in the groin area
Preparation for the specialist examination: part 46
Notes
Einhaltung ethischer Richtlinien
Interessenkonflikt
N. Booken, A. Menz und S.W. Schneider geben an, dass kein Interessenkonflikt besteht.
Dieser Beitrag beinhaltet keine von den Autoren durchgeführten Studien an Menschen oder Tieren.
The supplement containing this article is not sponsored by industry.
Copyright information
© Springer Medizin Verlag GmbH, ein Teil von Springer Nature 2019