49/w mit schleichendem frontotemporalem Haarverlust
Vorbereitung auf die Facharztprüfung: Folge 47
Fallschilderung für den Prüfungskandidaten
Eine 49-jährige Patientin klagt über progredienten Haarausfall. Dieser habe schleichend begonnen, sodass sie zunächst kaum etwas bemerkt habe. Nun aber sei ihre Stirnhaargrenze definitiv stark nach hinten verlagert, ihre Stirn werde immer höher, auch über den Ohren beidseits seien schon kahle Stellen.
Auf Nachfrage bejaht sie leichten Juckreiz in dem Areal und gelegentlich ein Brennen.
Anamnese
Keine bekannten Vorerkrankungen

Keine häusliche Medikation

Keine bekannten Allergien
Klinische Untersuchung
Es besteht eine bandförmige frontotemporale Haarlosigkeit.
In der kahlen Zone finden sich einzelne alleine stehende Haare ("lonely hairs").
Am Haaransatz bestehen ausgeprägte graurote perifollikuläre Erytheme und spikulaartige Hyperkeratosen in den Ostien. Die Augenbrauen imponieren stark ausgedünnt (Abb.
1
). Sonst komplett unauffälliger Haut‑, Nagel- und Schleimhautbefund.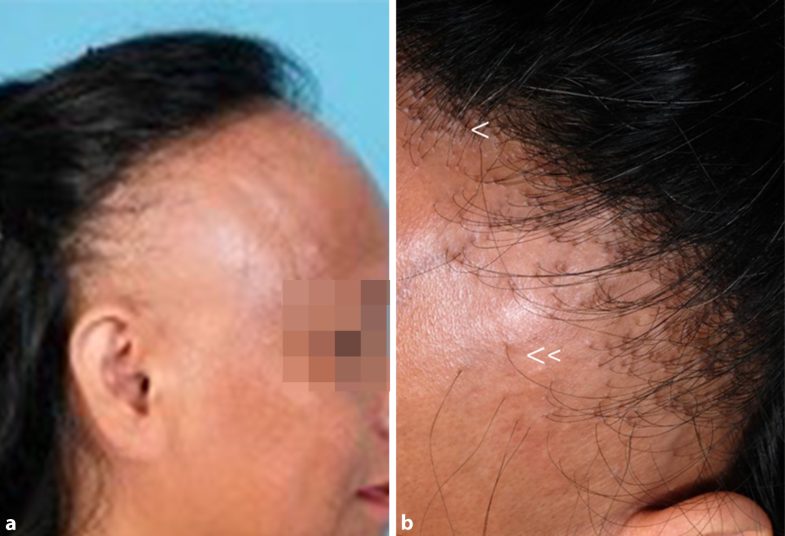 Schlüsselwörter
Vernarbende Alopezie 
Lichen planopilaris 
Frontotemporale fibrosierende Alopezie Kossard 
Postmenopausal 
Lymphozytäre Follikulitis 
49-year-old female with slowly receding frontotemporal hairline
Preparation for the specialist examination: part 47
Notes
Einhaltung ethischer Richtlinien
Interessenkonflikt
C. Thomas und T. Vogt geben an, dass kein Interessenkonflikt besteht.
Dieser Beitrag beinhaltet keine von den Autoren durchgeführten Studien an Menschen oder Tieren. Für Bildmaterial oder anderweitige Angaben innerhalb des Manuskripts, über die Patienten zu identifizieren sind, liegt von ihnen und/oder ihren gesetzlichen Vertretern eine schriftliche Einwilligung vor.
The supplement containing this article is not sponsored by industry.
Copyright information
© Springer Medizin Verlag GmbH, ein Teil von Springer Nature 2019