76/w mit schmerzlosem Tumor gluteal
Vorbereitung auf die Facharztprüfung: Folge 31
Fallschilderung für den Prüfungskandidaten
Eine 76-jährige Patientin stellt sich mit einem seit 4 Monaten wachsenden, schmerzlosen Tumor links gluteal vor. Eine Beeinträchtigung des Allgemeinzustands liegt nicht vor.
Anamnese
Bekannte arterielle Hypertonie, mit Metoprolol, Olmesartan und Hydrochlorothiazid gut eingestellt

Zustand nach Appendektomie und Zustand nach Sectio

Keine Allergien bekannt
Klinische Untersuchung
Links hochgluteal findet sich ein scharf begrenzter, halbkugelig aufsitzender, erhabener, rötlich livider Knoten ohne Ulzeration von ca. 3 × 3 cm (Abb.
1
). Die Umgebung tastet sich weich und nicht induriert. Links inguinal tasten sich mehrere noduläre Verhärtungen, ebenfalls schmerzlos. In der rechten lateralen Mamma tastet sich eine knapp 3 cm große tief liegende Verhärtung.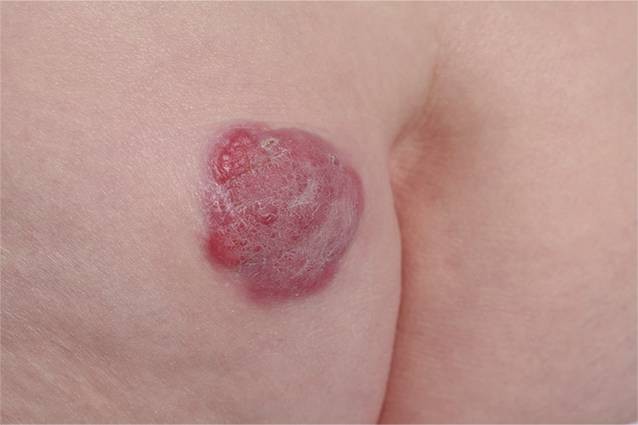 Schlüsselwörter
Merkel-Zell-Karzinom 
Avelumab 
PD-L1-Antikörper 
Merkel-Zell-Polyomavirus 
Schnell wachsender Tumor 
76-year-old female with a painless gluteal tumor
Preparation for the specialist examination: part 31
Notes
Einhaltung ethischer Richtlinien
Interessenkonflikt
N. Kreuzberg, D. Helbig und C. Mauch geben an, dass kein Interessenkonflikt besteht.
Dieser Beitrag beinhaltet keine von den Autoren durchgeführten Studien an Menschen oder Tieren. Für Bildmaterial oder anderweitige Angaben innerhalb des Manuskripts, über die Patienten zu identifizieren sind, liegt von ihnen und/oder ihren gesetzlichen Vertretern eine schriftliche Einwilligung vor.
The supplement containing this article is not sponsored by industry.
Copyright information
© Springer Medizin Verlag GmbH, ein Teil von Springer Nature 2019